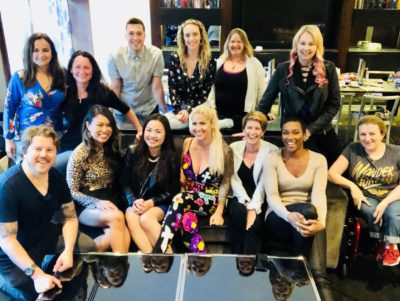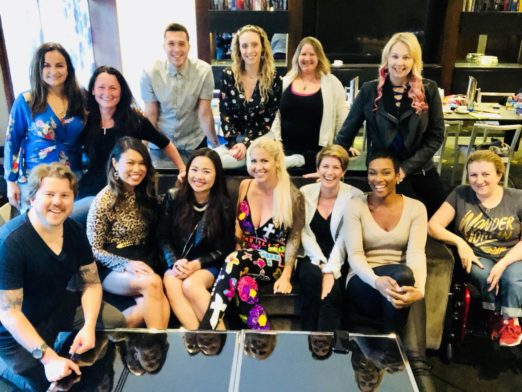 If you already knew you were good enough, what else would be true right now?
What else are you not yet doing, that you think you have to still 'get to', or earn the right to be able to even consider?!
Do you realise you are ALREADY worthy of a life that takes care of you, honours you, meets your every need, and gives you what you want and most desire?
Do you realise that every time you shy away from that, and treat yourself as NOT yet worthy or ready, you actually dial down abundance, and the ability to receive?
These are some of the things of which we must speak today.
What would you do and who would you be and what would you be creating, NOW, if you understood that you already have everything, are everything, and have done enough to be ALLOWED TO BE YOU?
If you believed that the way you do business, love, life, you, was already enough – and it is! – then what is it, which comes right away to mind, no need to pretend otherwise, I KNOW! –
– that you've been putting off for another day, another week, another year, for 'one day', which of course then never comes?
Are you telling yourself a story, perhaps, as so many of US so often do?
That you're not yet worthy of being seen, being known, being heard?
Shall I tell you something which your soul already knows?
You were born with the innate gift of being worthy of being seen and heard, it's not just something you 'can' do, it's something you MUST.
For the sake of your own soul, firstly, because come now, no need to play coy – you damn well KNOW that nourishment to your soul IS being seen, heard, attended to!
But, it's not only that. Is it? It's also a fact – a fact, Your Honour! – that the WORLD DOES INDEED NEED TO HEAR WHAT YOU HAVE TO SAY.
That your message can change LIVES.
That your art will leave people breathless.
That a single WORD from you can be a gut punch to the soul which leaves people reeling, and realising, all of a sudden, that they have to walk away from everything –
And finally say yes to their soul.
And all of a sudden, because of something so simple, so offhand, so 'obvious', to YOU, that you allowed to come through from you –
They for the first time feel that they can.
And yet here you are, considering whether or not you are GOOD ENOUGH, or ready, to share these missives of truth which pour out of you, on the occasions when you get the fuck out of your own way, and allow yourself to simply BE.
Be?
#bemoreyou, be ALL of you, what else is there?
How –
IRRESPONSIBLE of you! To not simply allow this, daily, naturally, always.
Imagine …
Imagine – !
Imagine if you understood that your ACTIONS, and the way you show up, don't need to be connected to emotion.
Imagine!
Imagine if you just 'got' that it's your damn JOB –
To be the transformational badass leader
To share your message with the world with the sort of fervour it actually deserves
To do WHATEVER it takes to make space for your art, your heart, your soul
Imagine!
Imagine if, from this moment forward, you DECIDED to simply flick the damn switch –
To remove emotion.
And just do the work.
The work?
The work of being YOU, m'dear, you know that.
And what work is that, pray tell?
What WOULD you be doing and who would you be and what would you ALREADY be saying yes to? If you knew that you were already enough, that you were worthy of the WHOLE ENTIRE FUCKING WORLD SEEING YOU, and then some?
What are the EXACT SPECIFIC THINGS you've been waiting to do?
Waiting –
As the whole world does, for their whole entire lives, and in the way we've somehow told ourselves we ALSO must –
'Waiting for a train to go
or a bus to come, or a plane to go
or the mail to come, or the rain to go
or the phone to ring, or the snow to snow
or the waiting around for a Yes or No
or waiting for their hair to grow.
Everyone is just waiting.
Waiting for the fish to bite
or waiting for the wind to fly a kite
or waiting around for Friday night
or waiting, perhaps, for their Uncle Jake
or a pot to boil, or a Better Break
or a string of pearls, or a pair of pants
or a wig with curls, or Another Chance.
Everyone is just waiting.
NO!
That's not for you!'
Is it?
Is that the way this is going down for you, is this who you're choosing to ALLOW yourself to be? Is this what you desire to create your LIFE from?!
YOU KNOW YOU'RE ALREADY DOING IT?
What is it, exactly, that you think will make you any more good enough, or ready, than what you are now?!
Do you REALISE that if you don't start THIS VERY SECOND you likely never will?!
Your excuses and justifications are NOT FUCKING VALID, and never where.
Just look around – !
YOU tell yourself you need to look better, or speak better, or know more, or have done more, but look the fuck around at ALL the people who are proving you wrong! Showing up PERFECTLY NOT READY, showing up messy, unprepared, disorganised, just as who they are now and with what they KNOW now! Putting themselves out there! Taking a stand! Being SEEN! Being HEARD! Creating the life that YOU DREAM OF LIVING, doing the exact fucking THINGS you want to one day be known for –
Or one day get to simple enjoy.
And you … you feel jealous, or you feel upset, or you feel perhaps as though somebody has beaten you to the punch, hey – ! That person took my idea! And maybe my LIFE; I was the one supposed to be up their on that stage, doing those things, spinning the world on its head!
Yes, maybe you were.
But who can say?
When you simply –
Did not.
Your EXCUSES are no longer valid, do you get that?
THEY NEVER FUCKING WERE.
LOOK AROUND.
It doesn't REQUIRE being perfect.
It doesn't REQUIRE looking any certain way.
It doesn't REQUIRE speaking any certain way.
It doesn't REQUIRE being able to spout forth like a textbook.
It doesn't REQUIRE anything –
Except decision.
And choice.
To SHOW UP LIKE YOU MEAN IT AND ARE SURE OF YOURSELF –
Sure that it's what's meant to be DONE, even if not sure of ANY of the how of doin' it!
And an attitude of determination which says –
I get to be here.
And I'm GONNA damn well be.
And I wonder, don't you?
I wonder …
If you changed it all today.
If you said yes to soul.
If you removed the 'when I'm ready, or when this or that or the other thing is in place' bullshit.
And if you just began doing EVERY fucking thing you see inside of you, and being all that you know you're meant to be, now, no matter how messy, or awkward, or clumsy –
I wonder what we'd be looking at,
When we look at you a year from now, or less, or more, or ANYTIME –
And I wonder, don't you?
I wonder if you'll look back ever, on anything, and say, well yes –
It was SUCH a good fucking thing that I waited so long to press fucking play.
Such a smart move, to delay being me, and delay doing what I was meant to do, delay creating the life I was born for!
I wonder –
I wonder if we'll ever even know you.
Or if you'll continue to wait in the wings of your own life, but also hiding from the world, hiding from us, and if that's your choice, well, I guess I'll never know that you didn't show up for service –
But you will.
And I guess that's something to go to bed at night with, isn't it?
Don't forget –
Life is Now. Press Play.
Kat x

PS
Rich Hot Empire starts next week, January 29!
>>> Work With Me for 6-Weeks Personally to Grow Your Perfect Cult Tribe, Create and Launch Your Low-High End EMPIRE, and Set Up Multiple Recurring Income Streams to Take You to 7-Figures and Beyond, Doing What You Love! <<<
I so deeply believe and know that women (and men!) like us – we just CAN'T do it in the normal way. We're never going to fit in the Internet Marketer box. We don't want to fit in the box! And even if we could fit in the damn box we'd blow that shit up! It'd be messy AF … and often IS.
It's just not going to get us the results we want, because for those who are so soul-led, like you, like me, and have that whole crrrrrraazzzzzy creator thang going on (with a hefty dose of chaos!) –
We gotta do it a different way.
BUT.
Being that person, the crazy creator soul-led one, can all too commonly result in work, yep, the actual ASSKICKIN' work that needs to be done for YOUR empire to be created to, well –
Not get done.
The crazy ones have a tendency, from time to time, to get so caught up in 'I gotta FEEL it', that they don't necessarily ground, plant, DECIDE, and make shit happen.
You may have noticed 😉
Maybe because there's fear there of having to conform! And knowing from experience or just 'cause you KNOW, that you're not going to, you won't follow their rules, and so why even try.
Yet at the same time you know:
I have to lay myself on the line.
It's time to back myself, but FULLY.
I gotta dig my damn heels in and DO the darn thing now!
This? This is what Rich Hot Empire, and the work I do with you as a private client in this 6 week time together, is all about. It's a time to really get into the structure and strategy in a DIFFERENT kind of way. To go behind the scenes of how I've done it, to build a multiple 7-fig per year biz which breaks all the rules, lets me be me, and yet is also highly structured … without at all feeling that way!
It's a pretty cool thing, to realise you figured out how to unleash ALL your madness, but fully, and NEVER compromise on what feels fuck yes and fly for you, and yet know you got your biz shiz sorted!
Guess what??
You get to have that too.
In Rich Hot Empire I take you fully behind the scenes of how I do this thing, and I help you to craft and also implement and FULLY action all the ins and outs YOU need to grow your soulmate tribe, and activate low right through to high end income streams, so you too can create the empire you dream of, FULLY ON YOUR TERMS.
You do this in a mastermind with my other private 1:1 clients, and you get to keep all content, all BTS of my biz, all templates, 'how we dos' (all based on being the crazy creator type), you name it, it's all right there for you for life, showing you exactly what to set up, and how! I'll give you a detailed rundown of that 6 weeks when you message me.
AND! Alongside the mastermind you're simultaneously doing 6 weeks 1:1 with me. All in. You and me. Completely tailored. Daily conversation flow. Alignment and asskickery to infinity, baby.
We dig ALL the way in to your belief stuff, mindset stuff, energetic alignment and ability to receive, everything INTERNAL that is stopping you from already being where you know you should and could, and what to do about it.
Rich Hot Empire gets such incredible results for people because it marries these two areas together. Full alignment to that next level identity you KNOW is waiting for you –
And full asskickery to do what you know you gotta do, with me right there by your side showing you how to do that, how to find the exact way that feels good and works for YOU.
Ready to dig those damn heels in sister, but for real this time??
Message me for the full overview. Do it now. You don't need another fucking person who will NEVER think like you telling you how to do shit you'd rather fork your own eyeballs than do. Even if it's your own fear mind haha. You need someone who has done it for real from crazy. From madness. From flow. From SOUL. And can show you how to go all in on yours.
It's motherfreakin' time.