News
Incredible Bodies #2 – Those Legs Are AMAZING: And Here's How To Achieve Them
Have you ever seen a more perfectly sculpted pair of legs? Carrie Underwood (of American Idol fame) has the sort of definition and tone that most women only dream about. And she's clearly worked hard to get them – so we can hardly blame her for showing them off, can we?
Don't imagine for a second that owning a pair of pins like this is out of your reach. A few minutes on Google will tell you that Carrie was 2 sizes heavier than this when competing in Idol and has only recently displayed such a lean physique. Of course we can assume she already had the groundwork in place – muscle like that doesn't come from body fat loss alone. Want to start laying the steps for your own incredibly defined legs? Here's what you need to do:
How To Dramatically Sculpt Your Legs In 4 Easy Steps
1. Choose compound exercises that work all your major leg muscles in one hit. Weight machines are for people who want to take the easy route and create some major postural dysfunction to boot. Not only that, they build poorly balanced, chunky muscles. So not what you're after! Exercises like squats, lunges, side-ways lunges, dead-lifts, 1-leg dead-lifts or squats, and stability ball work like lying leg curls (pictured below) are absolutely the best way to define your legs.
To achieve the bonus effect of some powerful fat burning while working with weights, perform 4 or 5 types of the above exercises back to back, for about 8-12 reps each, with no rest between exercises. Rest for 30 seconds after completing the circuit. Repeat this 3-4 times. Aim for at least 2 sessions like this each week (assuming you will also be working your core and upper body at some stage during the week).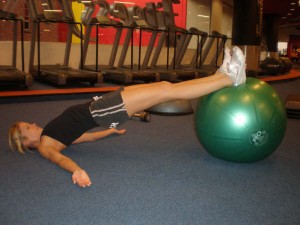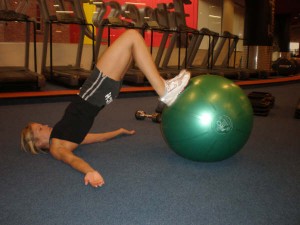 2. Sprint, baby, sprint! Don't be fooled into thinking that endless boring amounts of endurance cardio will do you any favors either on the weight loss or the toning side of things. Have you ever compared a sprinters body to a marathon runners? Think about that for a moment. And then check out this piece I put together on how to blast off body fat with sprint and interval cardio. I'd recommend 2-3 sessions of 15-20 minute sprint work each week, either on it's own, or right after a weight session. Be at your freshest by doing your sprints after an upper/core dominant weight session rather than after a big leg workout.
3. Drain out any excess fluid that may be puffing you up. It's more than certain that a good percentage of your despised 'fat' is actually excess fluid (water retention) that you are carrying due to a combination of too much caffeine, too much sugar, too many grain-based foods, and a hormonal imbalance brought on by all this bad food couple with daily stress. Talk about a recipe for bloating and disaster!
It's easy to trim your body of excess fluid by making a few simple changes to the way you eat. No, I'm not talking about going without water! Try cutting all of the above-mentioned foods out of your diet for 2 weeks, as well as any form of table salt. Remember that sugar, caffeine, salt and starch are often hidden in processed foods, so you may as well cut them as well. I promise you will be amazed at the difference this will make in as little as a few days – sticking to it for 2 weeks will ensure that you actually start to lose body fat as well. Sound too tough for you? Tough luck then – you won't be looking any leaner anytime soon.
4. Develop a long-term nutritional plan that you know you can stick with. All the exercise in the world isn't going to sculpt your legs if you don't trim off the, ahem, insulation. You can build perfect leg muscles and even a full six-pack but still have it well and truly hidden under a layer or 3 of jelly. Now without assessing you I have no idea of your eating or exercise lifestyle, your stress levels, how well you sleep, or what sort of hormonal imbalances may (without your knowledge let alone your consent!) be sabotaging you. So it's hard for me to give you an individualized nutrition prescription.
Here are 5 works-for-anyone rules that I know will put you on the right track and make a difference in as little as a week.
Eat animal protein at least twice daily and preferably with each meal.

Choose from (organic where possible) beef, lamb, game meat, eggs, dairy, poultry and (wild) seafood.
Avoid sugar.

Always. Yes, that includes no-added-sugar-so-called-healthy-stuff like fruit juice. Sugar is bad bad news if you want to get lean. Or live long.
Go easy on the starches.

Truth be told I've found that the vast majority of people cannot tolerate starchy carbs at all. But maybe you're the exception. Who knows? Even if you feel convinced that carbs (no, it doesn't really make any difference if they're whole-grain unless you're talking 100% whole-grain and virtually unprocessed, i.e. inedible) are okay for you, I'd suggest you check for sure by following my advice in Step 3 above.
Don't skip meals and don't imagine for a second that coffee and muffin/croissant/low-fat yogurt counts as breakfast.

Breakfast is a real meal. Eat carbs from vegetables, fats and animal protein and I promise you'll be dramatically more energetic than what you are now and immediately on your way to a leaner pair of legs.
Don't think all that is worth the effort? Well that's your call. I know what mine is. Here's that pic again just in case I need to tip the balance for you ..
Ready to take action Gorgeous and lean your legs up!?
21 DAY LEAN IT UP CHALLENGE!!
Want to Shed Some Extra Layers Fast and Reveal Your 'New' Best, You? Join my Lean It Up Challenge and Receive 21 Days of Meal Plans, Workout Guides, Motivation and Support to Help You Create the Body You Want – Fast!


If you've been struggling to form a consistent habit and get results or if you can't shake that annoying last few kilos, then you NEED to be on this program. You will shape up FAST! It's pretty simple. And the truth is you DO pretty much know what you should be doing, but that doesn't mean you're doing it!
I want to give you the kick up the butt you need to get revved up and organised about peeling off the extra layers in a way that is sane, healthy and gets results! The Lean It Up Challenge is based on the exact nutrition and training that I'll personally follow when I need to get photo-shoot read!
So trust me when I say that this system works!
A snapshot of what my clients have to say!
"Thank you, thank you, thank you!  I lost 10cm in Week One! - Katrina Tuscano
Holy moly! That first day workout makes me sweat more than my balance & combat classes combined. Awesome work!  So far loving it!  U rock Kat! - Chason Gripton


READY GORGEOUS?!
Life is Now. Press Play.
Kat x
Don't forget to leave a comment on this post by clicking on 'leave a comment' just below. If you're reading from RSS or email you'll have to enter the blog to do this. You can do that by clicking on the title of this piece. 'Leave a comment' is at the article end, right under the 'share this' and 'other articles you may enjoy' option.
If you haven't yet subscribed to this feed, what are you waiting for? Do it now. You can choose either email or RSS by clicking here. If you enjoyed this article please forward to your friends. Thank-you!
PS
Expansion.
10 Days of Live Soul Transmissions, to Help You Find and Follow the Messages Within
Day 1) Trust
Day 2) Certainty
Day 3) Self-Belief
Day 4) Empire Creation
Day 5) Your Deepest Message
Day 6) Following Soul Guidance in All Areas
Day 7) Faith vs Fear
Day 8) Accessing Flow, and Superflow
Day 9) Expanding Time
Day 10) Expanding Money
Every day will be a LIVE soul led transmission.
This will take place on Facebook video, held at a variety of times in order to account for varying time zones, and scheduled only once we have begun. Our daily soul transmissions will be guided from MY higher self and directed from and for YOURS, to help you find and FOLLOW the messages within. The messages of your spirit, your consciousness, of the who you've always been and yet have managed quite well to cover up a lot of the time.
This is about stripping away –
And getting back to the CORE.
We'll dive day by day into the above mentioned areas –
And you'll receive all content and bonuses to keep for life.
There will be daily spirit prompts which you'll receive after each training.
And plenty of time opportunity connect with me throughout, receive transmissions direct to YOUR questions, and absorb more even than what comes through on the trainings, via the energy we'll create in this collective!
It's very rare for me to know in advance exactly what is coming through day to day.
I certainly don't have the details of each day's content. But I know that these areas have been on my heart to talk about, in particular around belief, around certainty, around living from FAITH.
We know that exactly what is meant to come through for you WILL, and then some. And that if you intend and allow for it to, it will change, most likely before we even begin, due to your energetic commitment, the direction of your LIFE!
Meaning: direct it back to absolute soul alignment.
*** NEVER Seen Before Bonus! ***
As part of this, I've been guided to offer a NEVER before seen bonus … one I feel super vulnerable about sharing!
It's the exact journaling I did to allow the download of THIS offer through. How I allowed the idea to bubble up. You'll see my doubt, uncertainty, annoyance. You'll see what I discarded. How I went through the layers. And how I KNEW, this was the one.
I'll ALSO add in copies (screenshots) of my conversation with my COO Ash, where I was talking through the idea and allowing it to come to life.
I want to show you the exact Idea to Launch process!
This bonus alone is EASILY worth the cost of this program, particularly when you hear the mindset side of it, in terms of STAYING THE COURSE and refusing to back away from my self until the idea showed up!
I refuse not to create!!
AND, when you register for EXPANSION today (and how could you not?!) you'll also receive early access to the Pre-Work. This is ALSO never seen before, and brand new just for you – and it's a guided meditation on remembrance, to help you connect back to deepest self and the most certain truth of your destiny, before we even begin.
Perfect priming, for when we expand RAPIDLY into all that is coming through in this work!
Of course I could now go on and on here, about what I could or should have charged for this, and what it's actually going to be …
Or about all my accomplishments on line and off, with money, with purpose, with passion, with flow …
I think you know all this anyway. Even if you just me! Your soul feels what matters. And that's ALL that matters.
But I will say this:
You've always known it's supposed to be about ALL that is inside of you. That it's meant to COME from a place of purpose, passion, and SUPER super flow. And that if you just.freaking.trusted, and showed up FULLY from that place, you'd be living in a different reality already.
THE ONE INSIDE OF YOU.
If that's true for you right now, then LET'S GO CREATE THAT REALITY.
Right now
Press play for regular, (super fuck yes!!) upfront or payment plan
OR
Press play like a VIP, and receive the full course, plus 10 days direct photos or screenshots of my ACTUAL personal journaling, so you can see how I create and expand my life, PLUS a VIP only follow-on live Hotseat, where you'll receive a personal transmission just for you, if you'd like one! Payment plan also available.
>>> https://thekatrinaruthshow.com/expansion
We start Monday 17 December, US time!