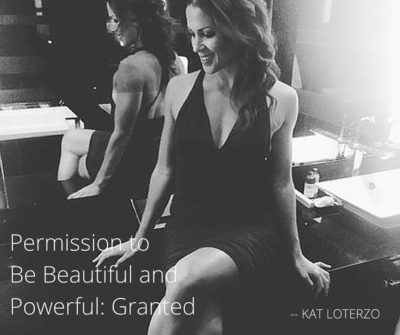 This is going to possibly REALLY be the most arrogant thing I've ever written. I kind of can't believe I'm going to say this actually! But okay, here goes:
Yesterday I realised – REALLY realised – that I can be beautiful. That I am beautiful. And sexy. And even stunning when I bother to be.
Side note: I literally just re-wrote that intro section 14x, crossed words out, wrote them again, changed them, then finally managed to get it down at the rate of about 2 words per eon of time.
It's not really the done THING, is it now, to write blog posts announcing ones beauty. I feel unsure whether I'm impressed at my own audacity, amused at my sheer nerve, or just plain scared of what people must think about the ego on me. But the truth is, mostly:
I'm aware that it really shouldn't be this hard to step into our power and own who we are as women.
As entrepreneurs, leaders, artists with a MESSAGE we understand the importance of taking ownership of our gifts and the work we are here to do and SO WE DO. One of the things that most excites me is when I see a client not only step into alignment around her true calling but also into PERMISSION around being allowed to live her calling.
My clients are warrior fucking revolutionaries with a message to change the world.
They are POWERFUL.
Their gifts run THROUGH them and are downloaded FROM them, and once they release the whole 'am I allowed to do this or be this' thing their truth is UNLEASHED with passion and awe.
THEY ARE WOMAN AND THEY ROAR.
Me too.
In business I am a warrior a revolutionary fucking leader at times a furious whirlwind of energy passion asskickery relentless freaking do what it takes no matter what it takes and I will align you then asskick you and I WILL ROAR.
I long ago learned that it's not only okay but it is CRITICAL for me to own the message I am here to share and also the way I share it.
I long ago released whether what I say in business and how I show up is going to disrupt and polarise people (it does) … whether some people would not like me or even hate me (they do) … whether it was too over the top, too aggressive, to STRONG ALPHA woman of me … (it is, depending on your take!!) …
I learned to stand up and shine.
I learned to speak my truth with pride.
I learned that it was never about me it was about the message I MUST unleash, about living my calling, about doing what I CAME HERE TO DO and SO I DID.
I also learned, somehow, along the way, to be the chick who is super fit super ON, super in your face and super hot from a slightly edgy angry don't mess with me sort of way.
But here is what I never learned to be, because I never allowed myself to be, because I never saw myself that way, because since I was a child I just knew I was NOT.
I never let myself be beautiful.
I don't DO the 'girly' thing.
Even on the odd occasion when I dress up and get dolled up, say for a wedding or something, I tend to walk around feeling and acting like I've put someone else's pretty girl skin on for the day. I also feel like 'well, that's not really me the whole PRETTY thing'. I'm the passionate ranty one who is hot in THAT way … but beautiful? Stunning? Gorgeous?
Not for me.
I don't want to be like every other chick online with the same beautiful styled headshot and hair blowing in the wind.
I want to stand out.
I want to be different.
I am FIERY.
That's all true anyway. The fire ain't going out of this bitch!! But what I haven't acknowledged in all of this:
I was scared to stand up and be beautiful because a deeper part of me has felt like that's just not who I am.
I'm the awkward always slightly out of her comfort zone uncool ugly duckling girl.
Except no Kat, you're not and maybe you never were. That's just who you thought you were when you were a child, a teenager, and yes also a woman but maybe you can now choose to move on from that.
Lately, with just one or two of the photos I've put up – from my best friend Kat's wedding, and then yesterday from my event – I've been hearing people say words that for as long as I can remember made me feel very uncomfortable and squirmy; like I don't know how to deal with that and so it's better to NOT BE THAT PERSON.
You look beautiful.
Stunning.
Gorgeous.
DAMN.
Etc 🙂

Yes yes, this is entirely a post about me celebrating my looks. Okay – see – I nearly just deleted that line but I'll leave it in because see what I'm DOING? I'm trying to make a joke out of it right away.
Okay.
No.
I can be beautiful.
No.
I AM BEAUTIFUL.
And then there is this, and this is why I knew I must write this post for this:
The REAL TRUTH is that deep down I know I am beautiful.
Also I'm not completely deluded (God does this make me sound even MORE arrogant unbelievably!) … I know I am hot already. I see men looking at me everywhere I go. I get attention. I know who I am IN A CERTAIN WAY.
But beautiful is different to being the fit hot fired up chick.
Beautiful is vulnerable.
Beautiful is a little bit scary.
Beautiful is, in my personal life –
I might even let a man look after me.
Take care of me.
And let me be a Queen.
And if I let him in, in that way, maybe, well maybe –
I would get hurt.
My heart would be open to be wounded.
Or it would turn out I'm not worthy of that in the first place.
So safer, then, to be fiery! Angry! Hot! Dominant! This bitch can take CARE of herself!
Yes.
But also, maybe if I let myself be beautiful?
I could also let myself be loved.
Beautiful is, in my business life –
Also vulnerable.
Feminine.
Soft.
Definitely things I actively strive to AVOID most of the time. I AM WOMAN HEAR ME ROAR.
But also there is this, and here is where I do believe my real avoidance of being beautiful comes from:
BEAUTIFUL IS FUCKING POWERFUL.
And if I let myself be beautiful –
With the vulnerable but also Queen-like strength that comes along with that –
Then the power of what I've already created – I believe – will be unleashed in a laser-beam focused tidal wave of transformation the likes of which I can't even yet fully picture and have also no doubt been SCARED to.
When you're born to impact millions, make millions, be a leader and head a revolution, there is always going to be a part of you that trys to play small.
I thought I dealt with that part, because I learned to take ownership of my message and speak my truth. My business BLEW THE FUCK UP accordingly when I did this.
Yesterday it hit me:
I am beautiful.
I have so much power within – not to do with what being beautiful means VISUALLY but to do with what it means INTERNALLY about owning my womanhood and the strength that comes with that.
Not giving myself permission to be beautiful is just another way I hid my light and tried to play small.
And now, now that I've realised this?
I'm going to be beautiful 🙂
AND I'm going to keep roaring.
And I will be the super fucking fit crazy bitch diva as well.
And honey that combo?
Is a hands down wow and I WILL blow this shit up to the next level.
Because I can and because it's time, but mostly?
It's what I'm here to do.
We've battled long enough to be okay with standing up and owning our power and our voice as woman, with learning not to feel BAD about saying we were born for more and to lead.
Maybe it's time to stop feeling like it's WRONG to own our womanly fucking beauty. Our GORGEOUSNESS.
Whether or not the beauty thing resonates with you, here is what I do know for sure:
Somewhere, right now, there's something that exists within you which you've not been allowing yourself to be.
Because you're scared that in doing so you open yourself up to a level of vulnerability or visibility you've not been ready for.
This is valid, and not insignificant, but also there is this:
What if in doing so you opened yourself up to a level of RECEIVING you've just not known was there?
Remember –
Life is Now. Press Play.
Kat
Life is Now. Press Play.
Kat x

PS
I want to help you to build a business you LOVE, and that meets your every want and desire, in a real and true way, whilst also resulting in you making a LOT of money, fast, and impacting a lot of people, also fast, in the way you know you were born for!
My most transformative 1:1 intensive EVER … shifting people into EPIC income and success since 2016 is back, for the first time in 2019! I'm so excited to bring this signature transformative work back!
Rich Hot Empire!
Work With Me for 6-Weeks Personally to Grow Your Perfect Cult Tribe, Create and Launch Your Low-High End EMPIRE, and Set Up Multiple Recurring Income Streams to Take You to Multiple 7-Figures and Beyond, Doing What You Love!
This round is even more special as I will be re-recording all original content, with you there live with me and alongside me AND you will also receive all original content; the exact trainings which has made this program my most successful ever, with clients repeatedly saying they achieved more in 6 weeks with me than they had in 2 YEARS beforehand! This work is for entrepreneurs at ANY starting point, as it's about who you are as a person not where you're at. I've had clients anywhere from total start-up, to already doing 500k+ / year go through Rich Hot Empire and all who have done this work have gone to a level of income as well as alignment and FLOW which they couldn't previously even imagine!
6-week personalised intensive high level mastermind
Weekly group training and support; multi-media training: visual + audio
'Done for You' Templates and Step-by-Step Worksheets
Personalised 1:1 coaching included, plus DAILY unlimited 1:1 access
My personal hand on your business success
Weekly group coaching call and hotseat with my other private clients
24/7 mastermind forum, networking and support
Very limited spaces
Results guaranteed
Not for everyone
STARTS THIS MONTH!
I'm so excited to do this work with a small group of badasses who are willing to SHOW UP FOR THEIR SOUL no matter what. To walk away from all that is not serving, not actually working, not FILLING you. And to all yourself to bring your truest desires to life. If that's you, or you've felt the call to work with me at this level, PM me now. Bonuses and fast action-taker investments apply to all successful applicants, but for the first 5 to say yes there is a very special $2000+ bonus specific around Soul Shifts & Money Makin', and which, in and of itself even before we begin RHE will have shit changing for you FAST.
Apply via PM only. I can't wait to speak with you!
PPS
HAVE YOU JOINED PURPOSE PASSION FLOW ACADEMY?
My 'Going Fully Quantum' training will break down ALL of what we've discussed today, and teach you the finer details and finesse of it, as well as exactly what needs to be true for you to APPLY it, not only into the practical actions you need to create THAT money flow and THOSE results, but also in terms of ALL the energetics of it, especially the 'being and non-being' around dropping in to superflow so you can be shown, create, receive, AND of course the being around not being one of those people who just can't seem to choose faith and are ruled by fear. We'll also talk about creating and integrating the exact wording, beliefs, emotions, energies YOU need for all of this to switch effortlessly for you, as you've always known it would.
In other words: EVERYTHING you need to know to go fully quantum, and double your income in 30 days or less, or whatever else you choose!
Where will you find this training?
Why, it's one of the very first training in 'Remembering Who You Always Were', which. is our June intensive for Purpose Passion Flow Academy, my SUPER low-cost monthly membership mastermind!
And this training?
Will change your freaking reality. Well – it will REMEMBER it.
It's all available to you gorgeous.
You know this already.,In the quantum it is DONE. And in Purpose Passion Flow Academy, and especially our June intensive 'Remembering Who You Always Were'? We gon' done do it.