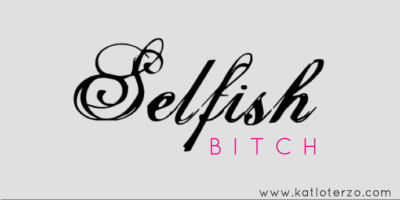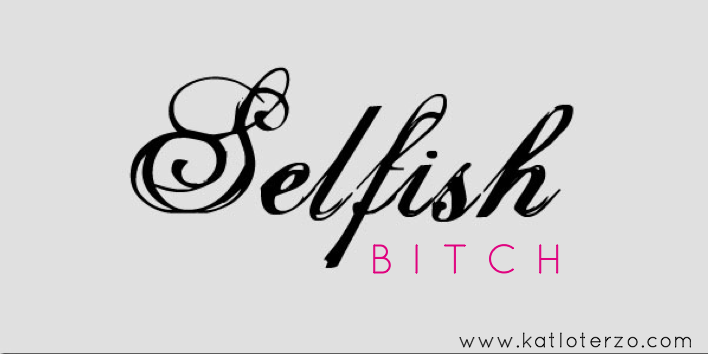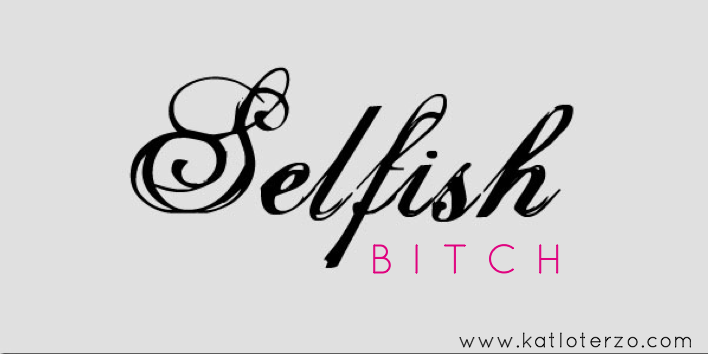 Do you ever feel like you just can't help yourself you are SO damn selfish with your time and what you want to be doing?
I can't tell you how many times a DAY I feel torn between whether to work on
my business
or spend time playing with my 4 year old daughter or my 6 month old son, or maybe even relaxing with my husband once in a while … and I have to be honest here (even though I'm scared to say this) –
My preference is working on
my business
. My eyes are covered right now. Please don't throw things at me! I swear I love love LOVE being a Mum and there is no sweeter sound than that of my kids laughing but full disclosure?
There is no sweeter feeling than the satisfaction of knowing I showed up in my business today and I did the work I know I am born to do.
And I'm not gonna pretend any longer –
I am a workaholic, and proud of it.
And you know what else? I am really freaking selfish about getting time for my work.
I leave the house in a mess most days.
My bills don't get paid until I get the reminder notice (not because I don't wanna pay them, just cause I forget!)
I have a TON of stuff I've been meaning to put on ebay for ages.
I HATE when my kids or husband or ANYONE speaks to me when I'm working, especially if it's when I'm writing.
I will go out of my way to avoid people, situations, meetings and tasks – pretty much to whatever extent I need to – if it means I can get to be alone with my laptop.
I find small talk EXCRUCIATING because I'd rather be creating in my biz, sending something out there into the world.
I forget to do things my husband has asked me to do – this is such an issue that our system is now that he emails me a reminder, as that way I am sure to see it!
I could go on and on here, but I don't want to appear any more of a selfish bitch than what I already am!

But here's the thing, the thing about being such a god-darn selfish bitch!

Because I am so selfish and INSIST on having my mornings to myself while Enzo looks after the kids from 7-9, I've written and published 12 new Amazon books this year in that time.

Because I am so selfish and REFUSE to clean my house or tidy up (actually it's more like forget or not notice than refuse) I spend an extra hour a day creating new sh*t for my people (that's you) and launching it, making money and being of service.

Because I am so selfish and I avoid boring social situations like the plague I have an extra 3 or so hours a week which I've found is more than enough time to come up with, draft out and launch an entirely new product.

Because I'm so selfish and I deliberately lock myself away from my children and husband for a few hours each afternoon, my new and bright shiny ideas get DONE and then they get marketed, sold, leveraged and dusted.

Because I am so selfish I say no to doing favours or pesky admin tasks and instead act like a prima donna at times in my business and life and as a result my average hourly input is worth in the thousands of dollars rather than $10 an hour.

And because I am so unbelievably selfish, such a god-damn selfish bitch in fact, I have built up an online company that makes anywhere from 30-60k per month, that now allows me to work a total of less than 25 hours a week, that means my family and I could pack up our lives at the drop of a hat last year, move to our current beach-side abode and are taking off in June of this year for a couple years living the laptop lifestyle.

And because I am SUCH a selfish bitch I now don't have to send my kids to daycare (unless I wanna!) because both Enzo and I work from home and even though I throw a complete and utter tanty if he tries to talk to me when I'm working I work around 2 hours in the morning and 2 hours in the arvo, maybe a bit more at night at times and in between we are together as a family. Playing, working out, hanging out. Whatever.

And because I am just RIDICULOUSLY selfish I can now choose NOT to work anytime I please.

If I want to spend a day at the beach and having an outing, I can.

If I want to take my daughter on a girls date, I can.

And if I want to hear that sweet sweet sound of her laugh, I can. Any old time I choose.

You might not naturally be a selfish bitch like I am. But I'm guessing that if you're reading it's not because you're aghast at the awfulness that is me.

It's because you can relate.

Because you are RELIEVED to hear you're not alone.

Because you need somebody to tell you that you're NOT a bad Mum, wife, partner or friend and that it doesn't make you a bad person to want to be alone with your laptop, your ideas, and a never-say-die determination to make your dream business and life HAPPEN.

Because you need somebody to tell you that it's okay to be a selfish bitch. That it might just not only be OKAY but that it is absolutely NOT okay to not be! Because the truth, the truth that I KNOW you know but yet tell yourself you are just trying to 'justify' with, is simple –

Us selfish bitches get sh*t done. We dream big, act fast, think later, and run at a speed so dizzying most can't even see us let alone try to keep up. We light up the world, spin it on it's head and then dance on top of it. We leave a wake of devastation in our path at times but if we do we do it in the name of creating something bolder, more beautiful, more transformational than ever existed before. We take risks. We gamble at times with the things that matter most to us – our energy, our sleep, our children for God's sakes, our partners, and definitely our sanity.

But if we do things that make others raise an eyebrow at how selfish we are it's because we believe, no we KNOW that in order to create the life we truly dream about for ourselves and for our family we must make choices that many simply won't make. We must do what others won't so that we can live like they can't.

I'm proud to be such a selfish bitch. And if you're with me, then you should be proud to. Us selfish bitches have to stick together! Which brings me to the reason I actually sat down to write to you (I did NOT expect it to go in this manner!) –

I've created a tribe of sorts. A hub. A place for learning, training, strategy and getting sh*t done. A place where women unite to act fast, think later, to do in a day what most do in a week, in a week what most do in a month, in a month what most do in a lifetime or not at all. It's a place for driven, fast-thinking, creative and utterly utterly selfish women entrepreneurs who know that in order to live the life they truly CRAVE they must be willing to press play NOW.

It's my Rich Chick Mastermind,  And to top it all off? You'll get to come meet all the other selfish bitches who are out there changing the world.

Come join us gorgeous. Say yes to the life you really want. Say yes to doing what it takes. Say yes to being a selfish bitch, and proud of it. Say yes to you.

And remember, of course –

Life is Now. Press Play!
PS The Rich Chick Mastermind – Right now you can join and receive instant access to my very best training, my personalised support, a ton of cool extras and our official and absolutely KICKASS Rich Chick Mastermind (aka Selfish Bitch!) forum. We'd love to have you come change your world with us!
PS
Expansion.
10 Days of Live Soul Transmissions, to Help You Find and Follow the Messages Within
Day 1) Trust
Day 2) Certainty
Day 3) Self-Belief
Day 4) Empire Creation
Day 5) Your Deepest Message
Day 6) Following Soul Guidance in All Areas
Day 7) Faith vs Fear
Day 8) Accessing Flow, and Superflow
Day 9) Expanding Time
Day 10) Expanding Money
Every day will be a LIVE soul led transmission.
This will take place on Facebook video, held at a variety of times in order to account for varying time zones, and scheduled only once we have begun. Our daily soul transmissions will be guided from MY higher self and directed from and for YOURS, to help you find and FOLLOW the messages within. The messages of your spirit, your consciousness, of the who you've always been and yet have managed quite well to cover up a lot of the time.
This is about stripping away –
And getting back to the CORE.
We'll dive day by day into the above mentioned areas –
And you'll receive all content and bonuses to keep for life.
There will be daily spirit prompts which you'll receive after each training.
And plenty of time opportunity connect with me throughout, receive transmissions direct to YOUR questions, and absorb more even than what comes through on the trainings, via the energy we'll create in this collective!
It's very rare for me to know in advance exactly what is coming through day to day.
I certainly don't have the details of each day's content. But I know that these areas have been on my heart to talk about, in particular around belief, around certainty, around living from FAITH.
We know that exactly what is meant to come through for you WILL, and then some. And that if you intend and allow for it to, it will change, most likely before we even begin, due to your energetic commitment, the direction of your LIFE!
Meaning: direct it back to absolute soul alignment.
*** NEVER Seen Before Bonus! ***
As part of this, I've been guided to offer a NEVER before seen bonus … one I feel super vulnerable about sharing!
It's the exact journaling I did to allow the download of THIS offer through. How I allowed the idea to bubble up. You'll see my doubt, uncertainty, annoyance. You'll see what I discarded. How I went through the layers. And how I KNEW, this was the one.
I'll ALSO add in copies (screenshots) of my conversation with my COO Ash, where I was talking through the idea and allowing it to come to life.
I want to show you the exact Idea to Launch process!
This bonus alone is EASILY worth the cost of this program, particularly when you hear the mindset side of it, in terms of STAYING THE COURSE and refusing to back away from my self until the idea showed up!
I refuse not to create!!
AND, when you register for EXPANSION today (and how could you not?!) you'll also receive early access to the Pre-Work. This is ALSO never seen before, and brand new just for you – and it's a guided meditation on remembrance, to help you connect back to deepest self and the most certain truth of your destiny, before we even begin.
Perfect priming, for when we expand RAPIDLY into all that is coming through in this work!
Of course I could now go on and on here, about what I could or should have charged for this, and what it's actually going to be …
Or about all my accomplishments on line and off, with money, with purpose, with passion, with flow …
I think you know all this anyway. Even if you just me! Your soul feels what matters. And that's ALL that matters.
But I will say this:
You've always known it's supposed to be about ALL that is inside of you. That it's meant to COME from a place of purpose, passion, and SUPER super flow. And that if you just.freaking.trusted, and showed up FULLY from that place, you'd be living in a different reality already.
THE ONE INSIDE OF YOU.
If that's true for you right now, then LET'S GO CREATE THAT REALITY.
Right now
Press play for regular, (super fuck yes!!) upfront or payment plan
OR
Press play like a VIP, and receive the full course, plus 10 days direct photos or screenshots of my ACTUAL personal journaling, so you can see how I create and expand my life, PLUS a VIP only follow-on live Hotseat, where you'll receive a personal transmission just for you, if you'd like one! Payment plan also available.
>>> https://thekatrinaruthshow.com/expansion
We start Monday 17 December, US time!