News
Should Soda And Junk Food Have A Luxury Tax?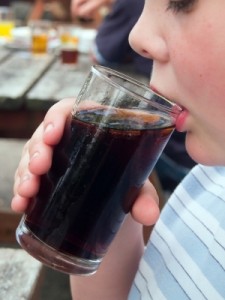 We spend so much time thinking and talking about the need to improve our health and our fitness, don't we? And hopefully some additional time is invested in actually doing something about it! Whether you're a daily gym rat, an outdoor enthusiast, or a stressed professional or busy student or parent snatching the occasional workout, chances are your fitness is important to you. You wouldn't be here if it weren't. And the same rule applies to your nutritional choices, doesn't it? Sure, you might indulge from time to time in something that you know to be unhealthy but for the most part you're happy and willing to spend the extra time and money on smart food choices and food preparation.
And it all adds up, doesn't it? Organic food, gym or club dues, personal training fees, exercise gear, time and money spent researching the latest trends and news, good quality supplements. But it's not as though you ever seriously question whether it's worth it. Right? Because what's the alternative? It's not as though fast food or takeaway comes cheap. And I'm certain you could find somewhere else to send the funds that you use on every other aspect of your health, but at what price? If you're lucky, all it will be is increased doctor's visits and medical bills now, and the risk of serious chronic illness later in life. Not to mention an overall reduced quality of life. I made my choice years ago – I'd rather invest the money now and live my life the way I want it to be; feel the way I want to feel, than struggle along with low energy and poor health and then be forced to fork it over for health-care down the track.
The Truth Is That You'll Pay For Healthcare Whether You Like It Or Not

Wherever you sit as you read this, I'm guessing you've heard about the rising costs of health-care to your nation. In Australia, for example, obesity is estimated to cost taxpayers 1.5 billion per year – a number that experts predict will continue to increase. In America, obesity related health-care costs a whopping $147 billion per year and subsidies for federal health reform are expected to sum up at around $1 trillion over the next decade.
Fortunately, the wellness industry is now growing faster than the sickness industry. Paul Zane Pilzner, world-renowned as an economic expert and leading forecaster of economic trends, predicts that the wellness industry will be worth $1 trillion per year a decade from now. I'd say that's pretty amazing for an industry that didn't even really exist until quite recently.
But it's still not enough, is it?
Look around you. You only have to walk past a children's playground at snack time to know that the right nutritional wisdom is not being passed on. That's if there are any kids outdoors at all rather than glued to their PS3s, of course. Take a stroll past a high school and you'll see where these childhood habits are leading. And before you know it you've got another generation of overweight or obese, unhealthy and unhappy adults who are genuinely addicted to their sugar-dense, low-nutrient junk food diets.
The question, of course, is not whether something needs to be done, but what it is that should be done.
The Great Soda-Tax Debate
At the moment there is quite the debate going on over whether an additional tax should be imposed on soda drinks. In the US, Congress has seen a proposal for a tax on non-diet sodas and high-calorie fruit drinks, energy drinks, sports drinks and ready-to-drink teas, and the proposal has the backing of the President as something "worth exploring". In Australia, we've taken things a step further. The start of this month saw the Government's preventative health taskforce release a proposal to phase out junk food advertising at certain times, increase the cost of cigarettes to over $20 per packet, and hit soft drinks (which already attract GST) and certain types of alcohol with a higher tax. The US proposal comes with an expert prediction that the tax could generate an easy $16 billion per year in revenue, and reduce soda consumption by as much as 13%.
There's no question that sodas and soft drinks have been proven to affect the growing rate of overweight and obesity. Check out this brief video to learn the full story, gain an insight into what the proposed tax could be used towards, and learn what both sides of this controversial story have to say for themselves.
Have Your Say
So what do you think? Is it the government's role to play nutritional arbitrator? To use increased prices as a means of telling us what we should or shouldn't be eating? Aren't we each responsible for ourselves and for our own dietary and health choices? Or does our nation's indisputably poor ability to make healthy choices and pass on correct nutritional wisdom to our children mean that we deserve this or some other equally controversial recompense?
DON'T FORGET –
Life is Now. Press Play.
Kat
PS. The Own Your Value + Worth free 10-day challenge is OFFICIALLY UNDERWAY!

> Live training has just begun
> 10 days with me to become the you it's time to be. Choose your true choices. Say yes to all of you. And watch your life change, now!
> Mindset + inner game focus AND practical application to impact your business, money flow, and life right away
> Feel the FUN and joy of tapping in to all of you and understanding fully that your enoughness is not up for negotiation
> My first free live challenge in years so do.not.miss!
I love you. Yay!