Purpose
THE REAL SECRET IS TO DO TODAYS WORK TODAY, BUT FULLY
Trust in todays work being enough for today.
Trust that it's all playing out as it's meant to.
Trust that the real secret is to do todays work today, and the catch is – but fully.
Hardly a catch when it IS fully the thing which will give you what you crave, and what you so often look for in every other place except for today.
Certainty. Fulfilment. The knowledge you are on track.
These things exist in the place where you go all the way in with what is, and BE there.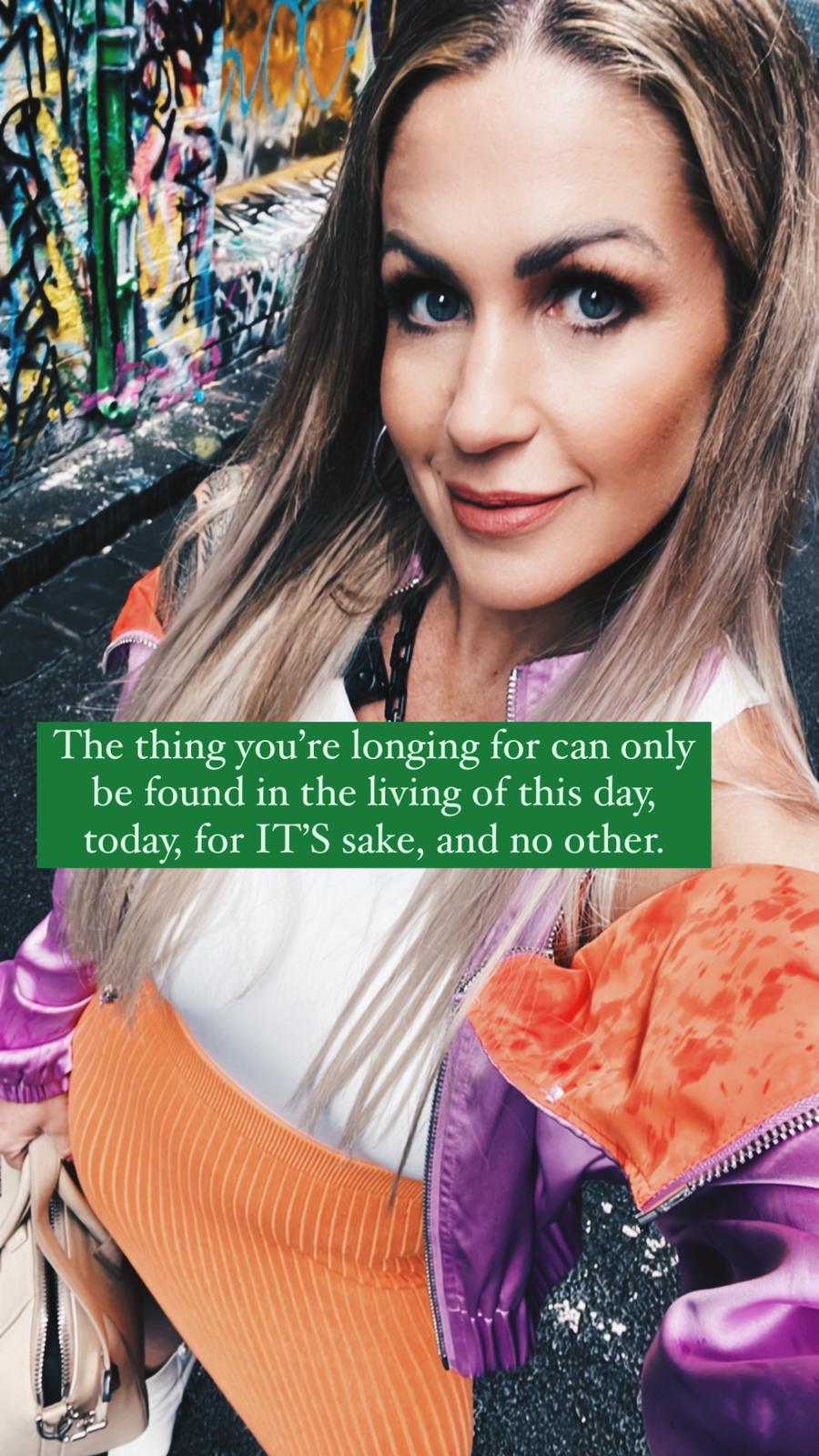 You cannot and WILL not create the vision you see inside of you by trying to go there in every facet now.
How can you, when you haven't fucking seen every facet? And when the vision itself is shifting changing evolving becoming as a direct follow on of being with what is TODAY?!
Which also means … that if you refuse to be with what is today, you disable the vision from being revealed to you more deeply. You prevent it from coming to life. You keep yourself stuck on a loop of re-living THIS day until you finally allow it TO live.
It's not your job, and never has been, to try and add things that you think should be there in order to make your business, your life, your growth, or any part of your self, into something that it simply is not yet.
It's not your job to jump ahead to create.
But instead to create FULLY, today.
THE THING YOU'RE LONGING FOR IS THE SENSE OF BEING WHICH CAN ONLY BE FOUND IN THE FULL LIVING OF THIS DAY, TODAY.
It's about giving your life for what your life was given to you for, and having that be ENOUGH. Knowing that it actually is the only thing which CAN ever be enough. Knowing that everything you think you want to transpire … or even know in your heart, believe in your heart will one day transpire …
CAN only transpire when the days are stacked one on top of each other having been fully lived, and lived properly.
Imagine …
a person knew that they were born to make millions. Impact millions. And change the world.
Imagine …
they knew that this is some sort of as-yet-not-fully-seen eventuation of the fact that they just showed up each day for what's inside of them, did the damn work of this day, let the message be the message, the selling be the selling, the serving be the serving, the unleashing be the unleashing, and that bit by bit over time it just –
became.
And then imagine …
that they refused to show up for that every day unleashing of what is,
because the millions hadn't yet shown up.
The ridiculousness.
The tragedy.
The TRAVESTY.
And yet,
this is what so many do
as they refuse to remember
Now remember –
Life is Now. Press Play.
Kat
PS.
GORGEOUS ONE. WARRIOR WOMAN. LEADER. REVOLUTIONARY. CALLED ONE. YES, YOU.
WARRIOR LEADER begins May 1st. Our PRE-WORK begins this week! (It is personalised to you!)
And?
The initial price has been extended / is still on!
Here is what this comes down to though. Because it's not really whether or not you join in the initial price intake.
This is 6 weeks in which you will be SHARPENED THROUGH FIRE TO BE WHO HE SENT YOU TO BE.
Yes this pertains to business.
It pertains to life.
It pertains to YOU.
This is work unlike anything I've ever led or created before.
And unlike anything you've ever encountered.
It is 100% God revealed. God led. And God ENTRUSTED.
It is,
quite simply,
WHAT IT IS TIME FOR
FOR WHO IT IS TIME FOR
AND NOW
Details
+ your place
+ visions God shared with me for you
www.thekatrinaruthshow.com/warriorleader
WARRIOR LEADER:
For the Woman With a Burning Desire for MORE, Who Is Ready to See Fire Raining From the Heavens in Every FACET of Her Life as She Says Fully Yes to Who God Designed Her to Be.
FOR YOU.