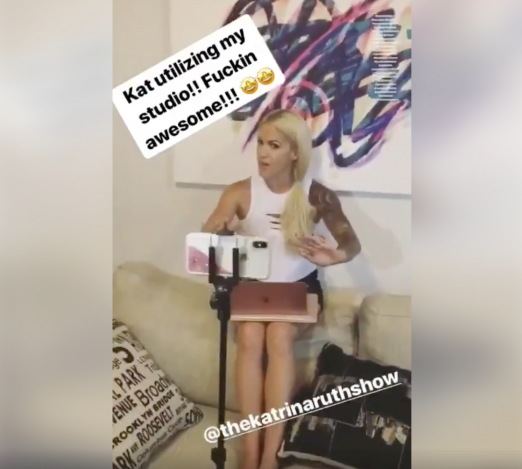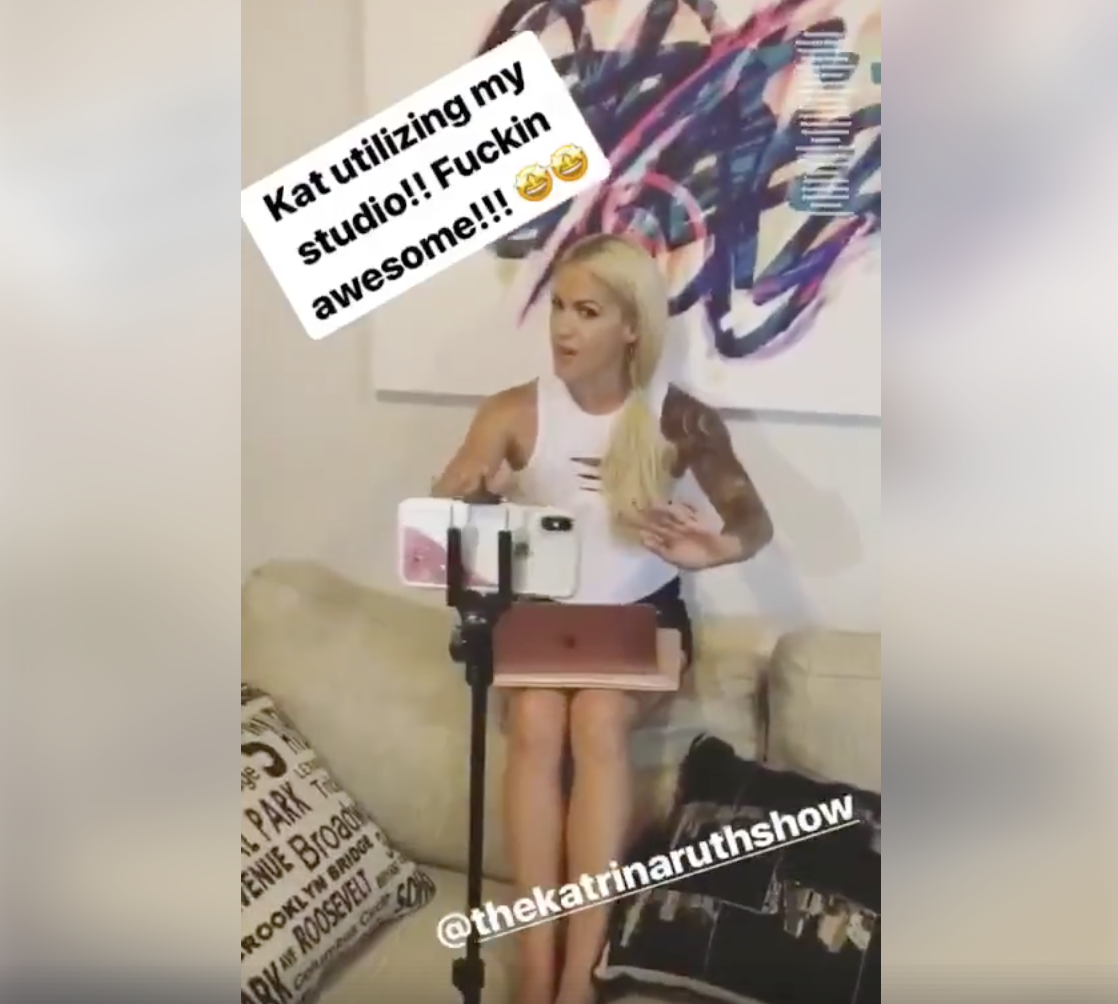 This is embarrassing, but I'm gonna admit it nonetheless –
I re-watch my own livestreams. Like … a LOT.
Wanna know what's maybe even more embarrassing??
I sit there and take fucking notes sometimes. Haha. Like, right now I have my own workshop / livestream replay on from yesterday, from my High-Ticket with Super Ease Sales Workshop. I was talking to a friend about it, and then I just got curious about what I'd even said and (okay, TRUE admission!!) how funny I'd hopefully been … lol … and I started to watch it again.
Next thing, as often happens, I find myself responding to the journaling prompts I was giving my students in the training, and I'm studiously writing that shit down.
Yes, I create my reality from within!
Yes, I can choose whatever I want, and I do so consciously!
Yes, I get to choose all my results!
Yes, when I forge an emotional connection to my clients and followers, a connection between their emotional desires and ME, and then they buy ANYTHING I sell, often without even reading the offer!
This is good shit!
Haha, and then I catch myself … doh. You're literally sitting there fangirling over your own SELF … that's a little bit much!
But ACTUALLY, I'm fangirling on my message and what's coming THROUGH me, not on me.
The truth of the matter is that when I do a live training, whether a free Facebook live, or an actual workshop like what I taught on yesterday, I get the fuck out of my own way, and I let the message THROUGH.
It's actually the BIGGEST secret I can tell you, about how to magnetically attract in your soulmate clients, just draw them to you like bees to honey, and then they BUY.
Once?
Twice?
Every time you prove the value of your offer to them?
Nah …
On REPEAT.
In the live training yesterday, I actually asked – 'who here bought into this workshop (which runs over the next week or two, by the way, so you can still join us, we are going into ALL the process of high ticket sales with ease, the strategy AND of course the inner game of being that person who just gets paid!) … anyway, 'who here bought into this workshop without even READING the sales page?'
The replies came through thick and fast … 'that'd be me. lol'
Of course. I'm used to this. It's how my tribe ARE with me, and it's even how it is with my HIGHEST end stuff. I know for sure that if I surveyed my highest-paying clients in my Inner Circle right now it's unlikely that even a single one of them would be able to FULLY state everything they're even paying for. They'd have a pretty decent idea … but really, they don't pay for the stuff.
They actually don't even pay for the results! Although that's a given.
But really? What they're paying for is ME. To be in my energy. To be in my space. To be part of what I've got going ON, and yeah, sure, they certainly know they're gonna learn some cool shit and get EPIC fucking results and shifts, on money + biz + body + hot as fuck sex life + all the things.
It's just what we do
But – !
If you think that people are paying me up to 80k+ per SALE just to be around ME, and because I'm so cool, you've got another think coming, or, more so, you're missing the point –
What people are paying for –
What YOU pay for, if you pay me (and thank you, if so!) –
Or simply perhaps why you follow me and can't seem to look away, even if or when I shit you up the wall and you want to, as my clients Cliff and Marta so lovingly put it, punch me through the computer screen … told you, like bees to honey …
 –
The REASON is –
You're actually fucking fascinated by YOU.
I know.
It's a LIL bit embarrassing! No need to cover your eyes monkey emoji style though; clearly I have the same issue. Re-watching my own livestreams anyone? lol.
You're fascinated, magnetised by, and can't look away from, the truth of your own higher self and what's inside your SOUL. BECAUSE YOU KNOW HOW DAMN POWERFUL YOU ARE.
And POSSIBLY …
Just possibly –
Are not living into that.
Hmmm?
Hmmm!
So, as to why you are so drawn to ME, even when you kinda sorta wanna smack me, is because there's a RECOGNITION there.
The power in you is drawn to the power in me, and then you BUY bitch
Haha.
But really.
It'd be kind of EVIL GENIUS-Y of me to sell to you like this if I was doing it FOR the purpose of selling.
But actually all I'm doing?
Is shining my light so damn hard so that YOU can no longer look away from the true light inside of YOU.
And THEN you buy, because you just can't face up to ignoring your TRUTH any longer.
BUT HERE IS HOW THIS WORKS.
HOW THE SALES COME IN!
HOW I EVEN GET YOUR ATTENTION, AS A SOULMATE CLIENT, IN THE FIRST PLACE!
It ALL starts (and finishes!) with me BEING FULLY ME.
This can ONLY work if I stand fully in my truth.
This means –
I speak my truth
My whole truth
Nothing but my truth
And ALL of my truth, every single day, even if (especially if!) it's uncomfortable or scary to do so!
Plus – !
I show you ALL of who I am.
You get to see DAILY inside my soul.
I bare my naked REALITY to you.
I show not only the 'yay' inspirational or aspirational stuff, but I repeatedly share my true struggles, vulnerabilities, ALLLLLL my shit.
The good.
The bad.
The crazy.
The random.
The UGLY.
The what in the actual FUCK.
AND THEN THEY BUY. They being the TRUE soul aligned people who I am here to impact! And anybody who is NOT that, is no doubt turned off by the way I show up, or just doesn't GET it.
Just like in real life, some people are turned off by you, or just don't GET it!
You know?
Now, of course you also still have to MAKE FUCKING OFFERS. On repeat. Duh. You're PROBABLY not gonna get paid for being you if you don't actually ask for the sale … all day and every day, as part of your messaging, is the easy way! In fact, I had a dreadful case of not being able to make any money in my first few years online. I was outraged! And then finally I realised –
Huh.
MIGHT help a little bit if I actually sold some shit! lol. I honestly had some sort of delusion in my head that I 'couldn't' figured out how to make money online, when my ONLY FUCKING PROBLEM WAS I WASN'T SELLING.
Let me tell you something right now –
THERE IS NOTHING ELSE YOU NEED TO KNOW OR PROVE OR FIGURE OUT OR GET READY FOR BEFORE YOU START SELLING.
Start selling today!
And fuck it if nobody buys, you in this for real, or not? Don't be like that crazy ass chick crying on the scales in the gym 'cause she didn't get a fitness model body after DOING EVERYTHING RIGHT FOR A DAY … or even a week, a month, whatever!
YOU WOULD HAVE TO BE AN IDIOT TO THINK LIKE THAT.
But then again, people do. ALL THE TIME.
When actually ALL you gotta do to get paid for being you, is just make it into part of who you ARE, that this is what you do.
Err' damn day.
For the rest of your life.
Share your God damn ART, and then ask people to buy shit.
Oh, and don't forget to BE FULLY YOU, no filter and NO holds barred, unapologetically, too!
It's pretty much my whole system
And here is what else –
You realllllllyyyyyyyyyy do not need to think about HOW to do this.
Are you gonna tell me that when you go to dinner with your girls you have to quickly take a crash course in how to be you so that you're on point for the evening? You write down some topics to cover? You formulate scripts in case you get into a heated discussion? Haha. Imagine!
SO WHY THE FUCK WOULD IT BE ANY DIFFERENT IN BUSINESS?!
Just be you.
The real you.
The SAME you who you are in PRIVATE, or with your closest peeps, the people who you're most comfortable and relaxed with and who you KNOW fully accepts you as you, be THAT you.
Imagine …
Just imagine if you knew that THE ONLY PEOPLE YOU NEED TO WORRY ABOUT IN BUSINESS ARE THE ONES WHO FULLY ACCEPT YOU AS YOU.
Imagine!
Imagine you knew you are safe to be you.
You are FULLY loved and accepted.
People actually WANT you to be you.
They are EXCITED by you being you.
You being you empowers them to be able to be all of them!
Do you see how EASY it is to find your soulmate tribe?
And then yeah, don't forget – gotta make 'em offers and sell shit. (ALSO only from what is true and real inside of you of course!)
HOWEVER –
For this to work you really DO gotta be all of you.
In LIFE, you wouldn't attract in a soulmate lover OR any of your best crazy-ass friends, if you weren't being all of you.
THEY WOULDN'T EVEN NOTICE YOUR BLAND AND BORING ASS IF YOU WERE HIDING YOUR TRUE SELF.
Same in business.
So.
Here's the deal, okay?
You wanna get paid BIG?
You want people to be throwing money at you on repeat?
You wanna just LET OUT WHAT'S INSIDE OF YOU and throw it at the internet and people want it 'cause it's YOU?
Kinda the same as how the people who love you most just say YES to hanging with you, it's not based on what the freakin' schedule for the Saturday night festivities is …?
Then SHOW ALL OF WHO YOU ARE.
Don't hold back a SINGLE truth you're thinking.
BARE YOUR SOUL.
DO IT DAILY.
DO IT NO MATTER WHAT.
DO IT BECAUSE YOU CAN'T NOT.
And then ask for money for shit you deeply believe in.
THAT'S ALL.