Success Mindset
HAIR STYLIST: "DO YOU WANT SOME TRASH TO READ? OH, OF COURSE NOT – YOU ARE THE TRASH HONEY"
If you want to be seen and followed obsessively online, have them magnetized by your every move and unable to look away, you're going to need to be the perfect blend of inspiring, empowering, badass AND entertaining as fuck whilst also being just EVER so slightly horrifying, where they can't QUITE figure out if you're a train-wreck about to happen, and they're not sure if they like or at ALL approve of it, but one thing we ALL know for sure is this –
They definitely can't look away.
"Oh, that Katrina Ruth, she's SO annoying! She wastes my time so much! Who does she think she IS? She never gets to the point! She thinks she's ALL that!" 
These are just a few of the comments which have found their way back to me about how I show up on my live videos, or in general. I always find it fascinating that people feel the need to report this stuff back to me (I don't mind!), but mostly? It makes me smile so damn hard.
Oh really? Really honey? I'm annoying? I waste your time? I'm not really even SAYING anything? Cool cool … I definitely don't feel that everybody has to like me, so it's fine if you don't, no problem at ALL, but just one thing –
Just one TEENY tiny thing – 
I mean – 
The fact that you KNOW how damn annoying I am and you're actively talking about me?
Well. Baby you a FAN, and YOU CAN'T LOOK AWAY.
MU-HAHA. #magneticasFUCK
And back I go to cavorting around merrily on my throne with my sceptre, or whatever the fuck it is I am doing, which is truly only whatever the fuck I WANT, and if I get to the point then awesome, and if I don't, well REALLY we both know the truth, and the truth is this:
I AM THE FUCKING POINT.

Beatch 
"What's the Katrina Ruth Show about then", Facebook wanted to know, when I applied to change my business page name to The Katrina Ruth Show. I found it quite an unseemly question, because isn't it OBVIOUS? I AM the show. This is it. It's happening right here, wherever I am, and EVERYBODY (who matters!) is watching, as well as quite a few who really don't, but who are either trying to reverse engineer this shit (ha! good luck with THAT!), or I guess they just can't seem to turn away … and then they're going to do a fabulous job of marketing me FOR me by telling err'one about the horror that IS me.
Look –
I'm not saying you gotta be 'trash', and neither do you have to be on the verge of being a train-wreck, in order to have a following of hell yes soulmate peeps + extra hangers-on who obsessively soak up all your content and buy your shit.
I mean –
I couldn't help but laugh aloud last week when my hair stylist reprimanded himSELF for offering me 'trash' to read, stating "of course not, silly question, you ARE the trash!"
I laughed out loud and said, well – exactly. I mean … it's not normally quite how I'd term it, but girl I do not READ the news or CONSUME the content, I AM the news, I AM the show, I AM the content, and there is not a single point in time at which I'm not worth observing, listening to, soaking up.
You WISH there was a camera on me 24/7 so you could see the FULL truth about what goes on up in here.
Yeah … I know. Maybe you wanna punch me in the face or turn away with an eye roll and a 'who does she think she is?' at a statement like that, but also …
I bet you'd watch 
Here's the thing, okay –
You can't pussy-foot around the internet hoping and playing safe to get people to like you and that you're 'of value or interest' and then act all confused and disappointed when you don't gets the BIG-ass money results or fame flow coming through.
You're either OWNING your shit or you're just taking up space around here and NOBODY IS NOTICING YOU OR GIVING A FUCK.
If your life right now was a show –
Would anybody tune in?
And if YES –
And you're not SHOWING it –
ALLLLLLLL of it, the good, the bad, the UGLY, the random, the crazy, the MESSY, the seriously what-in-the-actual fuck was THAT (see my video from yesterday about pulling bloody tubes out of my body after my breast job …) –
Then WHY IN THE HELL ARE YOU WONDERING WHY NOBODY IS DIALING IN?
It's pretty straightforward –
You either be WATCHING the trash, or you ARE the trash.

Okay, okay, we can term it in a way we all feel happier about 
You either be watching the creators or you ARE the creator, and the one they can't look away from.
Here's what I bet you're missing though, if you're try try trying SO damn hard to be the one they watch –
I bet you're just showing one side of you. Maybe a couple sides. But YOU AIN'T A BOX BITCH WITH 4 SIDES AND A TOP AND BOTTOM, ARE YOU? You are fancy as FUCK, you're all hexagon and shit except you're probably metamorphising (is that a word?) into some OTHER crazy ass shape just when peeps think they got you figured OUT!
And yet here you are –
Just carefully letting us peek at your ankles.
SO pretty …
But actually …
It's just not enough.
You tease!
Except it's not even a TEASE, let's be honest, or else we WOULD still be watching in fascination.
It's actually –
Sorry to say –
When you let out your truth, lil bits of it in dribs and drabs and stuff, and you KNOW you're sharing good content, but yet you're not letting us see the FULL SHOW OF YOU, including the slightly horrifying or just plain bizarre behind the curtain shit –
It's ACTUALLY –
Just kind of boring.
It's not even a show that's gonna get CANNED, it's one that's never gonna get picked up.
And yet here you are –
Trying to push it on out there day after day –
Showing the SURFACE BULLSHIT – 
When ACTUALLY, underneath the surface there, you are the freakiest | funniest | most insane or just plain SERIOUSLY compelling lunatic of awesome in the world.
Here's a simple way to sort this shit out –
The person you are when your hair is ALL down and out and messy and you're rolling with your closest peeps and being ALL of you?
Or get buried under trash like me 
Either way –
I'll be over here.
And you'll be watching.
Sure of myself? I should damn well hope so. Aren't you?
Might be time to show it then.
Remember –
Life is Now. Press Play! 
Kat x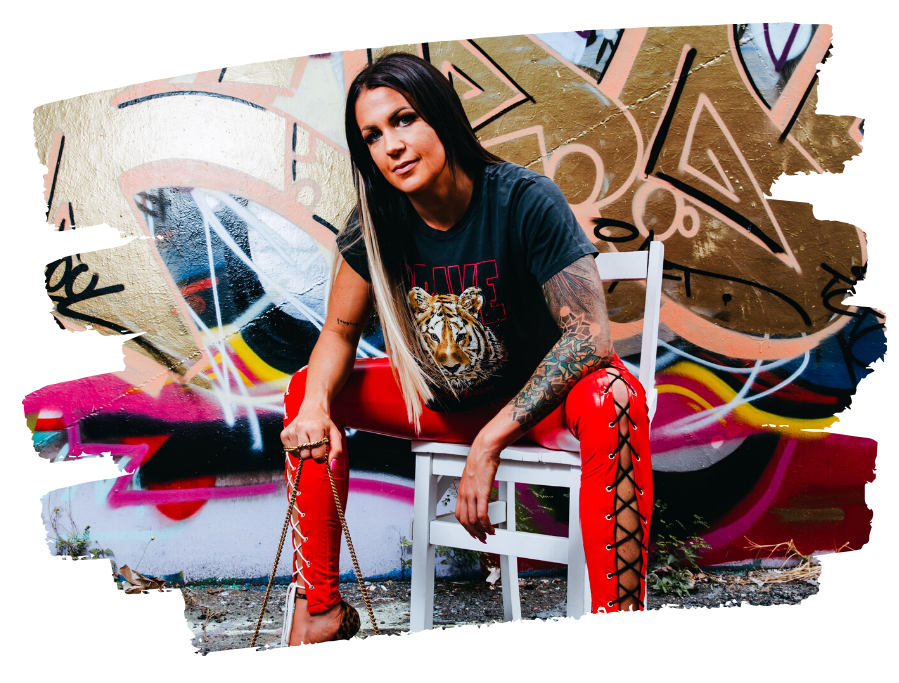 PS.
The Rebel Millionaire Coaching Certification:
The Only Coaching Cert in the World Where You'll Learn How to Explode the Damn Thing By Being Fully You, and the Place? You Just Become It.
Fuck What They Told You. Unleash The Madness Within. Get Paid Like a Mofo to Be YOU. Build the Damn Coaching Empire You See Inside You, Not the Boring AF One You Almost Convinced Yourself You Should! Oh, and?
Become Fully Certified as a Rebel Millionaire Coach While You're At It.
The Rebel Millionaire Coaching Certification starts live for 2022 intake on October 10.
6 months with me to unleash your fucking crazy. And build the damn thing, FULLY, on.your.terms.