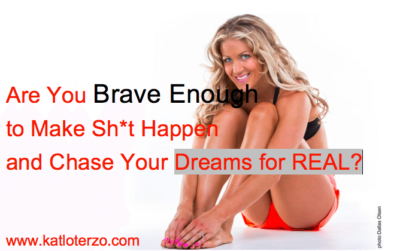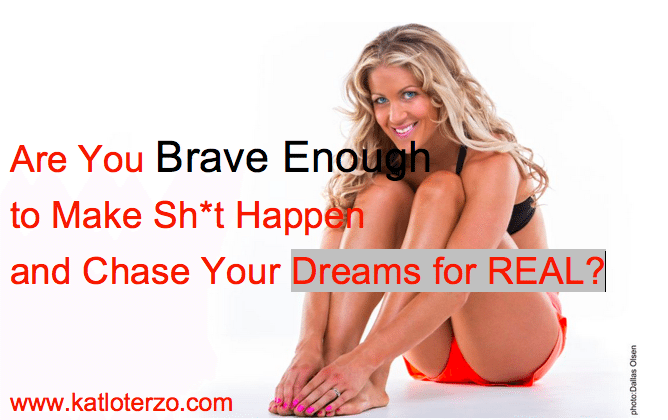 Live Your Passion
Are You Brave Enough to Make Sh*t Happen and Chase Your Dreams for REAL?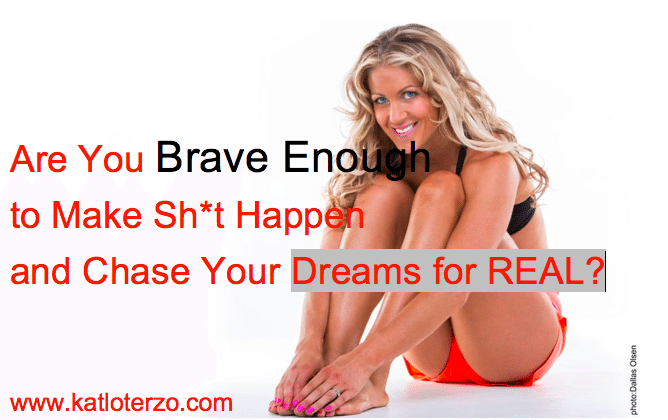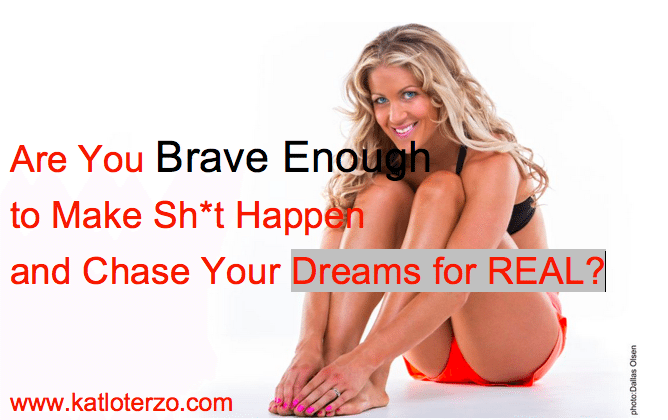 Things are going to be a-changing around here.
It's probably not going to come as a massive shock when I say that I'm kind of passionate about personal development and dream life creation. I feel like I've spent the past few years attached to the end of a slowly tightening pulley, being more and more drawn away from being the 'fat loss and nutrition expert' and more and more drawn toward being an inspirational leader and coach across multiple areas of life.
Yes – I love the body stuff and I am good at it. But it's not my core passion.
Here's what is –
I want you to live an incredible life.
I want you to truly see feel and live the reality that you have ultimate choice over everything you are, everything you have, and everything you do.
I want to show you how you CAN create a body you love, but also the business of your dreams, and your most passionate life yet.
I want to empower you to step off that cliff with faith that your dream life WILL catch you.
Specifically, I want to show you how you too can live with passion and change your world.
You are not designed to live in fear, uncertainty, and overwhelm.
And whilst it's natural to be caught up in 'things we think we need to be happy', such as losing the last 5kg, this is not the stuff that defines you. It's also not the stuff that is ever going to be easy to reach and then maintain whilst you still hold onto a lot of deeper fear and resistance toward living your dream life.
The truth is that when you start living fearlessly and truly identifying and then chasing your really freaking BIG dreams, you send out a powerful message to the universe.
That you are willing to do what it takes.
That you won't accept average.
That just because most people think 'that's just how life is', that it doesn't have to be that way for you.
That you will do what it takes, find how it takes, to live life on your terms.
To create the body of your dreams, yes, in a sane way, but also to ruthlessly chase down and build a business you love. A lifestyle that most don't even dare to dream about. And ultimately, your most passionate life yet.
Take a look around you today beautiful.
Look at who you're surrounded with, both on and offline. Are you letting your ideas of what you are 'allowed' in life be guided by those who accept the status quo, who think there's no such thing as being able to choose your own destiny? Or do you endeavour to spend time with other dreamers? People who will cheer you on when you reveal your wildest, most out there, and most (so-called) unrealistic dreams and fantasies ever?
People who will tell you that you CAN do anything you want.
Choose your own income and how you create it.
Let go of fears, self sabotage, destructive behaviour.
Find the real you and then BE the real you and not give a damn what anybody thinks.
Live, work and play from anywhere in the world.
Be, do and have anything you want. Anything, yes anything at all.
I don't know exactly what you DO need to be fulfilled, to live your most passionate life yet. Quite possibly, you don't really know either. More than likely, you need to get in the habit of making space for your dreams. Of deliberately dreaming big, and then bigger. Of being around those who will lift you to a higher level rather than drag you down to a 'realistic' one.
But here is what I do know you do NOT need to be fulfilled, aligned, to live an incredible life, to live your most passionate life –
A job and so-called 'stable' income
To own a mortgage
The right house or living environment
To be a certain body fat percentage or 'have abs'
To have the right clothes
Kids in the right schools. Perhaps kids in school at all?!
To stay bound in friendships or relationships that you know deep down are not serving you
To climb the next rung on the ladder when the current one is already sucking your soul
Recognition at work or from others whose lives you (deep down) truly wouldn't want at all, because whilst they may seem impressive on the surface they are clearly not free and passion fuelled
To remain bound by ANYTHING that you've been told is important for your success and happiness but yet which you have never really questioned or chosen consciously for yourself
And so much more
When I say you don't need the above, I don't mean you shouldn't want it. If you really freaking want it. What I mean is – do you want it or have you just gone along with the idea that happiness and inner peace lies in being a certain size, having the right home and clothes, the right job title, the right outer image to present to the world, basically.
It's fine to have goals and desires that the world understands and accepts. Just make sure that YOU truly understand and accept them, because if you dare here is some of what you can choose instead –
To love yourself and your body RIGHT now, just as you are. Not one day.
To live anywhere in the world.
To create your own income and run your own dream business
To create your own dream LIFE and be the mistress of it and of your future.
Things are going to be a-changing around here beautiful. I want to show you how to finally create a body you love, the business of your dreams, and your most passionate life.
I hope you'll join me for the ride. It's time to live those big dreams!
Life is Now. Press Play.
Don't forget –
Life is Now. Press Play.
Kat x

PS
1:1 INTAKE IS OFFICIALLY OPEN!

🔥
Next Level Empire is officially open for late November intake! 💜
I'm calling in my next intake of driven badass LEADER women who want to work with me 1:1 to FOLLOW SOUL and achieve ALIGNED AF fame, income growth, more.
Yeahhhhhh … this is about unapologetically claiming your place as one who is MEANT to be seen and heard by everyone!!
Next Level Empire baby!
Multi 7-Figure Empire Expansion For Unapologetically Badass & Driven Women Who Are Ready to Be Seen By the WHOLE Damn World
6 weeks.
1:1
You and me
This is for the women who already have a message, an audience, and are making money online and who are now ready to put some damn WHEELS on the thing.
We will be going deeper into message clarity
We WILL be nailing down what you're selling, and how you're selling it, for maximum conversion and flow
We WILL be getting you fully connected to the badass leader within who KNOWS she is meant to run the damn thing
But these things are just the warm-up, because let's face it –
You already message
You already show up
You already sell
You're already ROCKING what you're doing right now
So what you're here for, and what I'm here for with you?
Is to blow the damn thing up.
MAXIMUM reach.
RAPID growth of audience
MASS visibility
MEDIA TAKEOVER
NEXT level leadership status, and being the one who is KNOWN as the Queen
And sales EXPLOSION
I'm taking what I'm doing in my business to CONTINUALLY claim my place at the top, and to take my message to the masses whilst also RAPIDLY growing following and income,
And showing it all to you
Exactly how we do it
What precisely is in place
What we had to have in place for it to work
What we do day to day to elevate fame, income, purpose, ALL of it
And then I'm going to work with you personally to roll it out
Next Level Empire baby:
For the women who were born for more,
And who are done with circling repeatedly around the same damn pond and kidding themselves they're gonna find it there.
Ready, and know it's time? It just might be 

😉

💜
PM me now

for the full overview, and to know if it's for you. x