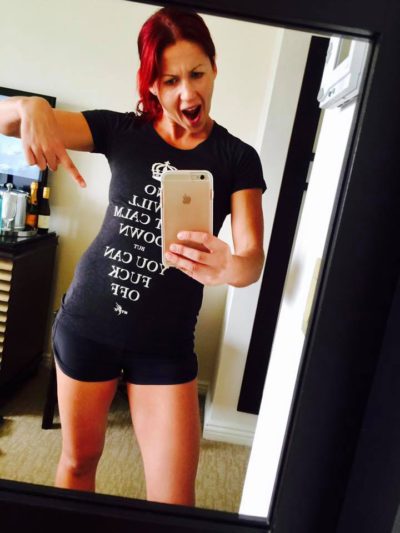 I'm gonna say something straight up to you and I'm gonna say it hard and fast and now before one of us gets scared and opts out:
All this talk of ease and flow and slowing dowwwwwnnnnn in order to have more space, take your time, have PAUSE and REST and STOP in your day on repeat has REALLY got to fucking go. Or at the very least, get its ass-kicked and redefined for US.
And I know, I know, I KNOW! I talk all the time about ease and flow and getting to do LESS. FEAR NOT! I'll 'splain, and it'll all make NEXT LEVEL PERFECT SENSE.
But for now, let's get real:
You're bored because you're not doing your purpose work.
You've succumbed to the myth that less is ALWAYS more.
You're moving like a fucking ICEBERG, and not in a powerful way. Just in a NO WONDER NOBODY GIVES A COMPLETE FUCK INCLUDING YOU way, 'cause you're BLENDING baby.
Blending.
Right on into the environment!
It's just … sad.
And it's no wonder your energy is SHIT, your digestion is FUCKED, you're a physical and emotional bloated mess and you just feel so TIRED all the time.
YOU'VE FORGOTTEN WHO YOU ARE.
WHY YOU CAME HERE.
AND POSSIBLY EVEN HOW TO STAND UP STRAIGHT.
No wonder you look so SAD!
Hence – all the shit you somehow manage to create into your life to stay occupied with. The pepertual list. The sabotage. The things not working properly with men or women, or your body, or your moods, or what the fuck ever.
And as for what you really WANT? You've gone and screwed that RIGHT the fuck up, haven't you? Just taken on board general ideas for general PEOPLE.
I can tell you that YOU are not the common man, and also? You're not the common ENTREPRENEUR, so stop paying attention to what the supposed 'end goal' is even in THIS world.
I can tell you WHOLE-heartedly it's not 'money with ease'. THAT'S NOT THE WHOLE STORY, not by a long shot, even though sure sure, making money is easy. Easier STILL, when you give in to being you. All of which I suppose is to say?
It's time to act like you've got the OOMPH to give a fuck about purpose, about passion, about flow, the way WE do it!
I'm just getting warmed up here. Because while sure SURE you can have a fucking REST and switch OFF anytime you actually need or really WANT one, duh, you really really REALLY mostly don't. That's not how we. Rejuvenate. That's not how we. Play life. And if you get (God forbid!) so TIRED from PUSHING one day that you actually need to be all human and shit and sleep or something, then so what? Do the damn thing, then get back to LIVING. Stop making it such a big DEAL to push to your limits! It's only what we were born for.
If your ears are pricking up in reading this even though you also feel slightly horrified at my very sacriligious denouncing of EASE, then lemme tell you something:
YOU didn't come here for easy in the way the WORLD sees it, even the world of so-called SUCCESSFUL folks.
YOU didn't come here for 'done' without having to lift a finger.
YOU didn't come to build a business that would allow you to COAST.
Did you?!
Admit it:
You've become slow.
You've become boring.
You've become bland.
You've become meh.
You're asleep at the fucking wheel.
And it's time to get back to the core of YOU.
So, say it with me:
Here's what else, since we're denouncing shit:
Fuck being so damn bored because you've forgotten HOW to push and that it's what you love, it's what you crave, it's what you LONG for.
Fuck the fact that you don't even notice you're SO fucking bored with not being BUSY … which is to say not living a full LIFE … that you've allowed all this SMALL stuff to creep up on you.
Relentless minutia tearing you down –
Exhausting you –
When all you REALLY need is to get busy doing what MATTERS and watch yourself LIGHT UP FROM WITHIN SO BRIGHT THAT NOBODY CAN EVEN LOOK AT YOU. Which in turn would mean you'd find suddenly that all of the small things which seemed so never-ending just magically take care of themselves.
Fuck the constant SABOTAGE, and escapism, the feeble attempts to get yourself to FEEL something, because you've allowed your entire business and life to become devoid of the emotional energy YOU really need. When you wake up and ADMIT who you are and then LIVE for it, guess what? The SABOTAGE you constantly get pulled into would just … fade. No longer needed. Thank you very much. I'm over here ACTUALLY PRESSING PLAY and being in TRUE flow.
You know this.
And I know THIS:
THEY will tell you –
Less is more.
The end goal is to just sit around and be.
You're doing too much.
You need to rest.
Slow down.
Take it easy for a moment!
Well, reality:
You can CONTINUE to buy into this if you like, but let me ask you something? How's it working out for you so far, this whole not being who you ARE thing?
And if you think back, wasn't there a time when you were going like a bat out of hell and THAT'S what felt like flow and ACTUAL ease and also –
By the way – !
JOY?
You know this.
I'm NOT telling you shit you don't know here. You just lost your way somehow … you got scared … or tired … and instead of just having a quickie nap in the corner then getting back into the fray of your DREAM LIFE, you bought into the nonsense … the norm … and (gasp!) being ONE OF THEM. Don't worry – me too. That's how I know these things 
🙂 … I must have learned this lesson half a dozen times, maybe more. And each time I do I just feel like I got a rocket up the ass as I think –
FUCK ME.
No WONDER!
No wonder.
No wonder!!
So again, let me REMIND you –
The TRUTH is you don't need to slow down and breathe, you never HAVE. That's not who you ARE. You need to wake up and LIVE, and realise that for you to live your mission and your PURPOSE, then you GET to push, you GET to burn, you GET to sprint and strive.
And flow?
Flow is being under the pump.
RUNNING.
Not knowing if you're going to make it!
Lungs burning.
DYING.
By which obviously I mean LIVING, because isn't it just, well, freaking OBVIOUS?
This is how we live.
Those who are like you, and like me.
And hell YEAH we're a rare fucking breed, rarer STILL – much more so – than the 1% within the 1%.
We wake up (did we sleep?! Maybe a second!), we turn the world on its head, we get more done before breakfast before most people do in a week, a month, maybe even a year, and THEN WE GO BACK FOR MORE.
Our FLOW, our BLISS, and as odd as it sounds our EASE, is sweat and blood and tears and yelling and screaming and hearing the ROAR of the crowd and being so.fucking.high VIBE, it's not even funny.
So here is what you do. Here is what you do NOW.
You STOP.
STOP.
STOP ALL THE SHITTY LITTLE SHITTY THINGS.
You get back to what MATTERS. What EXCITES you.
To making space for the message.
Preacher mode, ON.
PERFORMING.
And doing mad as fuck crazy shit in time that doesn't exist and in a way nobody has ever heard of, always slightly late, slightly hyper, slightly frazzled and sweaty and slightly fucking ALIVE.
While the rest of the world …
Does whatever the fuck it is they think they wanna do.
Here is some other cool news by the way, you who thinks you're SO busy and overwhelmed and there's no TIME –
If you have PURPOSE work to do AND YOU'RE DOING IT, then you automatically GET your other shit done. All that stuff. Which you're currently allowing to take up your LIFE. And wondering why on earth it is you feel so DRAINED. The world conspires to work WITH you when you follow what your soul orders. Not just of WHAT to do, but the energy, with which, to do it.
Farrrrkkkk, don't you see how un.be.LIEVABLE it is that you've once again given in to the myth of SLOW?
This is the same shit you've known since day one, and you DO keep on coming back to.
Your fucking MISSION is to wake up the WORLD with your message, well guess what? You MIGHT just have to wake yourself the fuck up first for that!
And for that to happen?
You need to be charged.
On fire.
Do MORE.
EXCITE people and CHARGE them with your energy and passion.
TEAR SOME FUCKING STRIPS OFF!
FUCK SLOW AND EASY, you WANT the push, you NEED the push, you want to sweatttttt!!!
It's time to stop letting your life and every part of who you are be so BLOATED.
It's time to quit buying into BULLSHIT that's true for the REST of the world. WE AREN'T THEM!
It's to to stop FAILING to own your TRUTH.
It's time to wake up.
SHAKE shit up.
GET the fuck up.
AND DO.THE.WORK.
You think you need to take a nap, have a massage, get more organised, create more automation and ease, NO.
You need to press fucking play. The WAY IT'S ALWAYS BEEN FOR YOU.
Period.
The end.
SLOW IS DONE.
Okay?
Okay.
OFUCKINGKAY.
Don't forget:
Life is Now. Press Play.
Kat
Don't forget –
Life is Now. Press Play.
Kat x

PS
1:1 INTAKE IS OFFICIALLY OPEN!

🔥
Next Level Empire is officially open for late November intake! 💜
I'm calling in my next intake of driven badass LEADER women who want to work with me 1:1 to FOLLOW SOUL and achieve ALIGNED AF fame, income growth, more.
Yeahhhhhh … this is about unapologetically claiming your place as one who is MEANT to be seen and heard by everyone!!
Next Level Empire baby!
Multi 7-Figure Empire Expansion For Unapologetically Badass & Driven Women Who Are Ready to Be Seen By the WHOLE Damn World
6 weeks.
1:1
You and me
This is for the women who already have a message, an audience, and are making money online and who are now ready to put some damn WHEELS on the thing.
We will be going deeper into message clarity
We WILL be nailing down what you're selling, and how you're selling it, for maximum conversion and flow
We WILL be getting you fully connected to the badass leader within who KNOWS she is meant to run the damn thing
But these things are just the warm-up, because let's face it –
You already message
You already show up
You already sell
You're already ROCKING what you're doing right now
So what you're here for, and what I'm here for with you?
Is to blow the damn thing up.
MAXIMUM reach.
RAPID growth of audience
MASS visibility
MEDIA TAKEOVER
NEXT level leadership status, and being the one who is KNOWN as the Queen
And sales EXPLOSION
I'm taking what I'm doing in my business to CONTINUALLY claim my place at the top, and to take my message to the masses whilst also RAPIDLY growing following and income,
And showing it all to you
Exactly how we do it
What precisely is in place
What we had to have in place for it to work
What we do day to day to elevate fame, income, purpose, ALL of it
And then I'm going to work with you personally to roll it out
Next Level Empire baby:
For the women who were born for more,
And who are done with circling repeatedly around the same damn pond and kidding themselves they're gonna find it there.
Ready, and know it's time? It just might be 

😉

💜
PM me now

for the full overview, and to know if it's for you. x