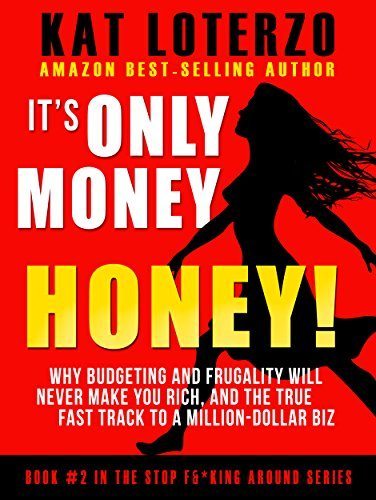 IT'S ONLY MONEY, HONEY!
WHY BUDGETING AND FRUGALITY WILL NEVER MAKE YOU RICH, AND THE TRUE FAST TRACK TO A MILLION-DOLLAR BIZ
What if I was to tell you that there's a secret to creating wealth, one that many truly RICH and 'overnight rags to riches' people already know and are in fact HIDING from you?
And what if I was to tell you that making a lot of money – heck even ANY money – does NOT have to be hard, and with just a few simple changes to the way you THINK about money, you too could create a flow of wealth that becomes so damn strong you couldn't stop it if you wanted to?
And what I was to tell you, that despite EVERYTHING you've ever been taught or deep-down-no-matter-how-hard-you've-fought-it, held to be true, you can do all of this NOW, in an instant, with the click of your fingers?
Would you scoff, roll your eyes, assume I have some kind of scam to offer?
Or would you lean forward –
Poised to listen –
To actually HEAR –
And to ACT –
Because deep down, deep, deep, deep within where you often truly FAIL to pay attention, there is a part of you that already knows –
You can have it all.
And it can happen now.
So get ready baby. Because money? It wants to love ya. You just gotta be willing to flick that switch. Let me show you how.
PS
BECOMING MAGNETIC IS HERE, OMG!!!!
THIS one is gonna go down as THE most rocket-fuel-up-your-ass WAKE you up shis ever!!
SO good!
www.thekatrinaruthshow.com/becomingmagnetic
An 11 Day Immersion.
With Me, Katrina Ruth.
To Return You to The Deepest Power and Magic Of Your Soul,
From Whence You Shall TRANSFIX The World,
As You Release ALL Strategy …
And SELL
THE PEOPLES
AUTOMATICALLY
ON YOU!
The Way It Was Always Meant To Be!
Just wait till you see what THIS is about!! www.thekatrinaruthshow.com/becomingmagnetic