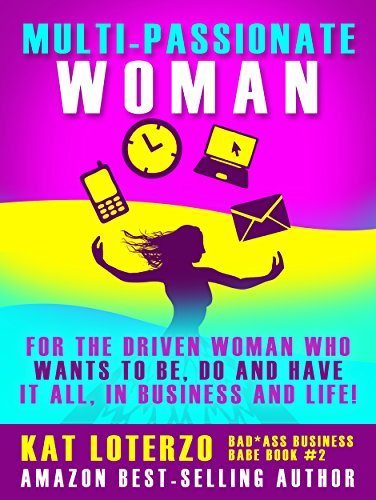 MULTI-PASSIONATE WOMAN
WHY IT'S OKAY TO WANT AND DO IT ALL, AT ONCE IF NOT SOONER – AND HOW TO MAKE IT WORK!
Bad*Ass Business Babe Book 2
So Richard Branson, this British dude you MIGHT have heard about, perhaps spent some money investing in from time to time, has started over 400 companies under the banner of The Virgin Group.
I have no idea how many of those 400 companies have been wild success stories, and I can't be bothered looking it up, but just off the top of my head now I can name a bunch. And either way you look at it – the guy is worth approximately 4.9 billion dollars and seems to bounce around on a cloud of happiness and natural joie de vivre.
He seems to be doing okay.
But wait, hang on just a second! How CAN he be doing okay when his energy is so scattered, when he is quite literally here there and everywhere, when he clearly has multiple passions and not even that but they span multiple INDUSTRIES!
It's just not ON, and I for one won't stand for it! Aren't we, as SUCCESSFUL entrepreneurs supposed to focus on ONE thing? Decide on our one true PATH? Develop and then LEVERAGE THE FUCK OUT OF our one key PRODUCT?
Isn't that what they tell us WORKS?! 
In Multi-Passionate Woman we cover:
• Scattered? Multi-Passionate? Can't Just DECIDE Already? Stop Trying to Fight It Honey!
• Let's Get Real: You're Wasting Your Life
• Fire it Up, Bitch!
• So Who Do You Wanna Be Gorgeous?
• The BIG Secret to Taking Action, Launching Successfully, and Getting Results!
• The Myth of Relaxation
• Success is Not a Fucking List
• Wake Up, Leader! It's Go Time
• YOU Are a Very Wealthy Woman
• Honesty: Are You Rising UP, or Sinking Down?
Us multi-passionate 'preneurs, we have to stick together you know.
The world would tell us to slow down, to do less, that less is more, that we need to pick a lane already.
THIS IS THE WAY OF THE WORLD.
So if you want to be of the WORLD, then by all MEANS –
Follow your little heart.
But don't let the door hit you on your way out of THIS community, because this? this is NOT a group of women trying to 'make money online', or market a program.
THIS IS ABOUT REVOLUTION.
This is a tribe of WARRIORS.
These are the women who will CHANGE THE WORLD.
These are the new wave of LEADERS.
These are the ones we will look to and be AWED and HUMBLED by what they have created, who they are, what they STAND for and what it means for everyone else.
I'm talking about YOU, you know.
YOU are that woman.
YOU are that leader.
YOU are the face of change.
So wake UP sister.
OWN WHO YOU ARE.
Be crazy.
Be creative.
Be PROUDLY scattered.
Do what you LIKE.
Do as MUCH as you like.
Do it ALL.
But for the love of GOD, do it based on what it means and based on what you stand for.
One thing?
You mastered that ages ago.
Now you just gotta let all the juice outta it.
It's time to shine beautiful, because the world? It does not NEED another lemming, another zombie, another clone another NOTHER.
The world needs you.
Let her out!
PS
I'm calling in my next intake of driven badass LEADER women who want to work with me 1:1 to FOLLOW SOUL and achieve ALIGNED AF fame, income growth, more.
Yeahhhhhh … this is about unapologetically claiming your place as one who is MEANT to be seen and heard by everyone!!
Next Level Empire baby!
Multi 7-Figure Empire Expansion For Unapologetically Badass & Driven Women Who Are Ready to Be Seen By the WHOLE Damn World
6 weeks.
1:1
You and me
This is for the women who already have a message, an audience, and are making money online and who are now ready to put some damn WHEELS on the thing.
We will be going deeper into message clarity
We WILL be nailing down what you're selling, and how you're selling it, for maximum conversion and flow
We WILL be getting you fully connected to the badass leader within who KNOWS she is meant to run the damn thing
But these things are just the warm-up, because let's face it –
You already message
You already show up
You already sell
You're already ROCKING what you're doing right now
So what you're here for, and what I'm here for with you?
Is to blow the damn thing up.
MAXIMUM reach.
RAPID growth of audience
MASS visibility
MEDIA TAKEOVER
NEXT level leadership status, and being the one who is KNOWN as the Queen
And sales EXPLOSION
I'm taking what I'm doing in my business to CONTINUALLY claim my place at the top, and to take my message to the masses whilst also RAPIDLY growing following and income,
And showing it all to you
Exactly how we do it
What precisely is in place
What we had to have in place for it to work
What we do day to day to elevate fame, income, purpose, ALL of it
And then I'm going to work with you personally to roll it out
Next Level Empire baby:
For the women who were born for more,
And who are done with circling repeatedly around the same damn pond and kidding themselves they're gonna find it there.
Ready, and know it's time? It just might be 😉
PM me now for the full overview. x