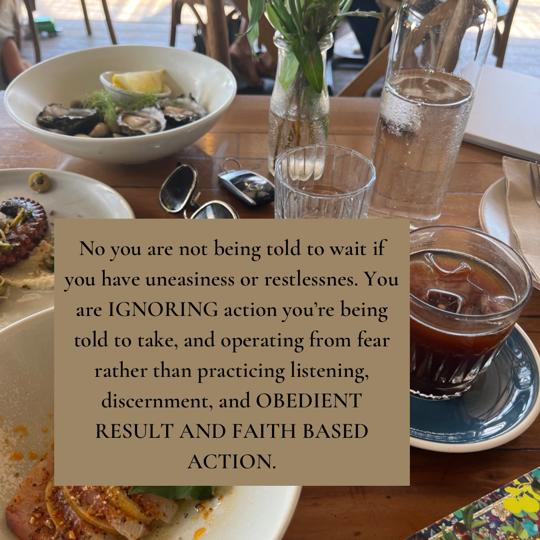 If you were willing to be brutally honest with yourself today about who you are, what you are NOW appointed as, and where it is time for you to take action, either from a new way of being or simply a continuation,
of what you've had on pause,
you would have no choice but to admit that the reason you're not already more ALL IN
(which is to say you're not all in ;))
is because you're not accustomed to being the person who takes action ANYWAY.
Anyway meaning:
in spite of not fully 'feeling' it
in spite of a weaker faith than what you think you need or think you need to feel
in spite of not knowing how
in spite of not feeling ready
in spite of for some God forsaken reason (and it really is!) operating as though you shouldn't make a move unless you get a literal knock on the head with a stone that has a note wrapped around it telling you what to do.
Well, guess what?
* Faith is something you choose not feel.
* It's disobedient (to God) and also just plain stoopid (to yourself) not to choose it fully now
* You have to get practiced at HEARING instruction within, and having the discernment to know that that instruction is real, and is from the right place, and this does not happen by waiting!
Unless you are most definitely being told to wait, and I can promise you that you would KNOW with absolute peace in your heart and a clear repeat of the word WAIT if that were true. Being told to wait feels like peace and rest (even if you wish things would move sooner) and it does NOT feel vague unease or restlessness.
What unease and restlessness indicates? BABY THERE IS WORK TO BE DONE, GOOD WORK, GOD WORK, THE WORK OF YOU SAYING YES TO SOUL PLANTED IN TRUTH, THE WORK OF YOU BEING FULLY YOU, AND YOUUUUUUUUUUUU –
just haven't been listening!
So put down your pen (unless the work is to write!),
and get up off your knees (but don't stop that daily lololol),
and TRUST in the fact that when you take the action in front of you the next will be shown.
"Oh, but Kat I would, but it's just that I don't even know the ACTION!"
Listen you beautiful wonderful yet DELUDED into stagnation FOOL –
If.you.had.faith.
what.would.you.commit.to?
I don't know is not an option.
Close your eyes.
LISTEN.
And find even the SMALLEST thing you'd just –
say yes on.
It may not even be RELATED on the surface of it to the areas you want massive change!
But if you can't get in a habit of listening to what you ARE being shown,
DECIDING it,
and then taking the action which WILL be revealed when you do,
how do you expect to be shown more?!
Faith is a HABIT.
Discipline to God and truth and soul a PRACTICE.
And the fulfilment of your wildest most yes visions and desires?
Available freaking now.
But without your yes?
IT'S A NO.
And that is all
there is to say about that.
Now remember –
Life is Now. Press Play.
Kat
PS.
GORGEOUS ONE. WARRIOR WOMAN. LEADER. REVOLUTIONARY. CALLED ONE. YES, YOU.
WARRIOR LEADER begins May 1st. Our PRE-WORK begins this week! (It is personalised to you!)
And?
The initial price has been extended / is still on!
Here is what this comes down to though. Because it's not really whether or not you join in the initial price intake.
This is 6 weeks in which you will be SHARPENED THROUGH FIRE TO BE WHO HE SENT YOU TO BE.
Yes this pertains to business.
It pertains to life.
It pertains to YOU.
This is work unlike anything I've ever led or created before.
And unlike anything you've ever encountered.
It is 100% God revealed. God led. And God ENTRUSTED.
It is,
quite simply,
WHAT IT IS TIME FOR
FOR WHO IT IS TIME FOR
AND NOW
Details
+ your place
+ visions God shared with me for you
www.thekatrinaruthshow.com/warriorleader
WARRIOR LEADER:
For the Woman With a Burning Desire for MORE, Who Is Ready to See Fire Raining From the Heavens in Every FACET of Her Life as She Says Fully Yes to Who God Designed Her to Be.
FOR YOU.