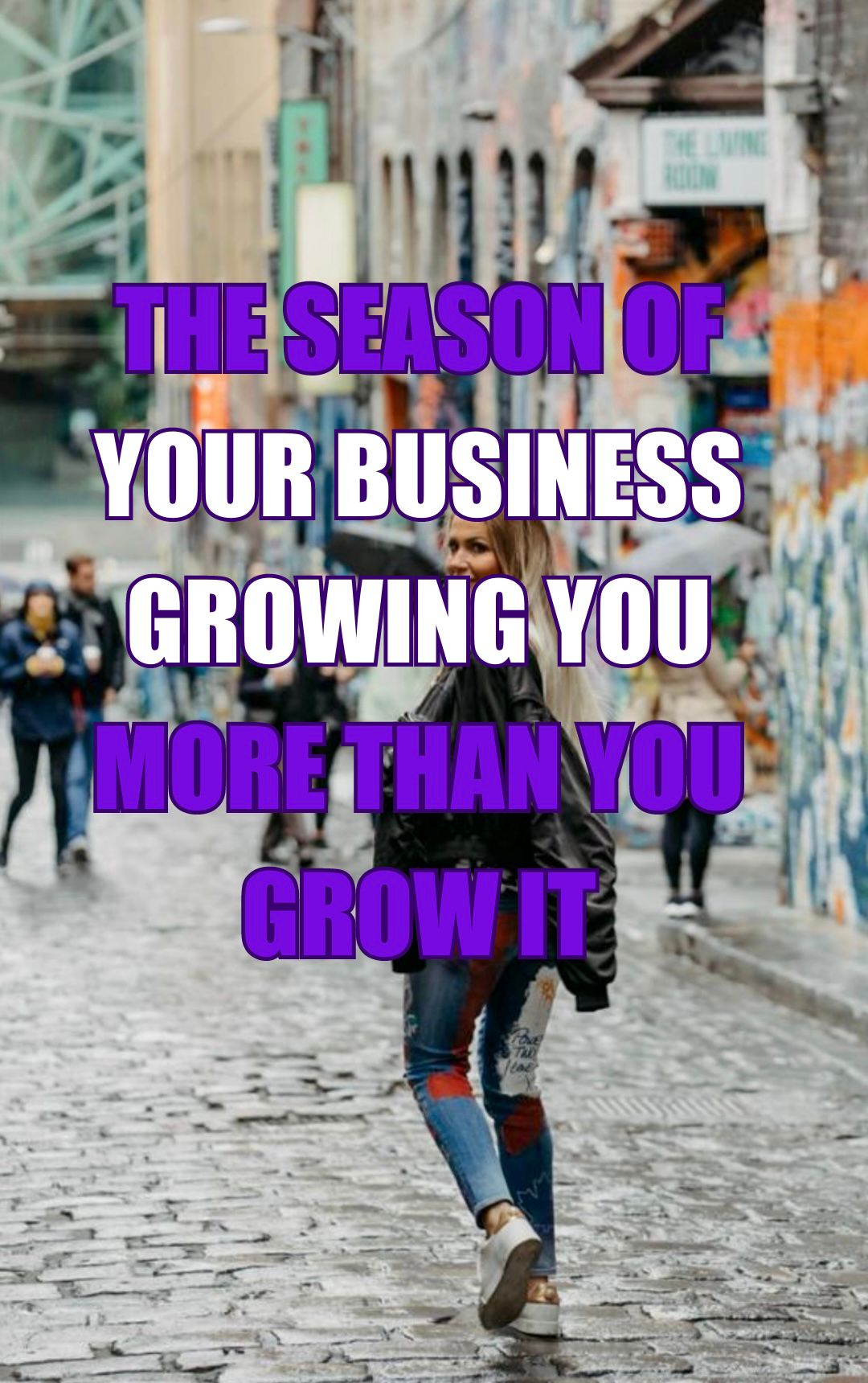 Purpose
THE SEASON OF YOUR BUSINESS GROWING YOU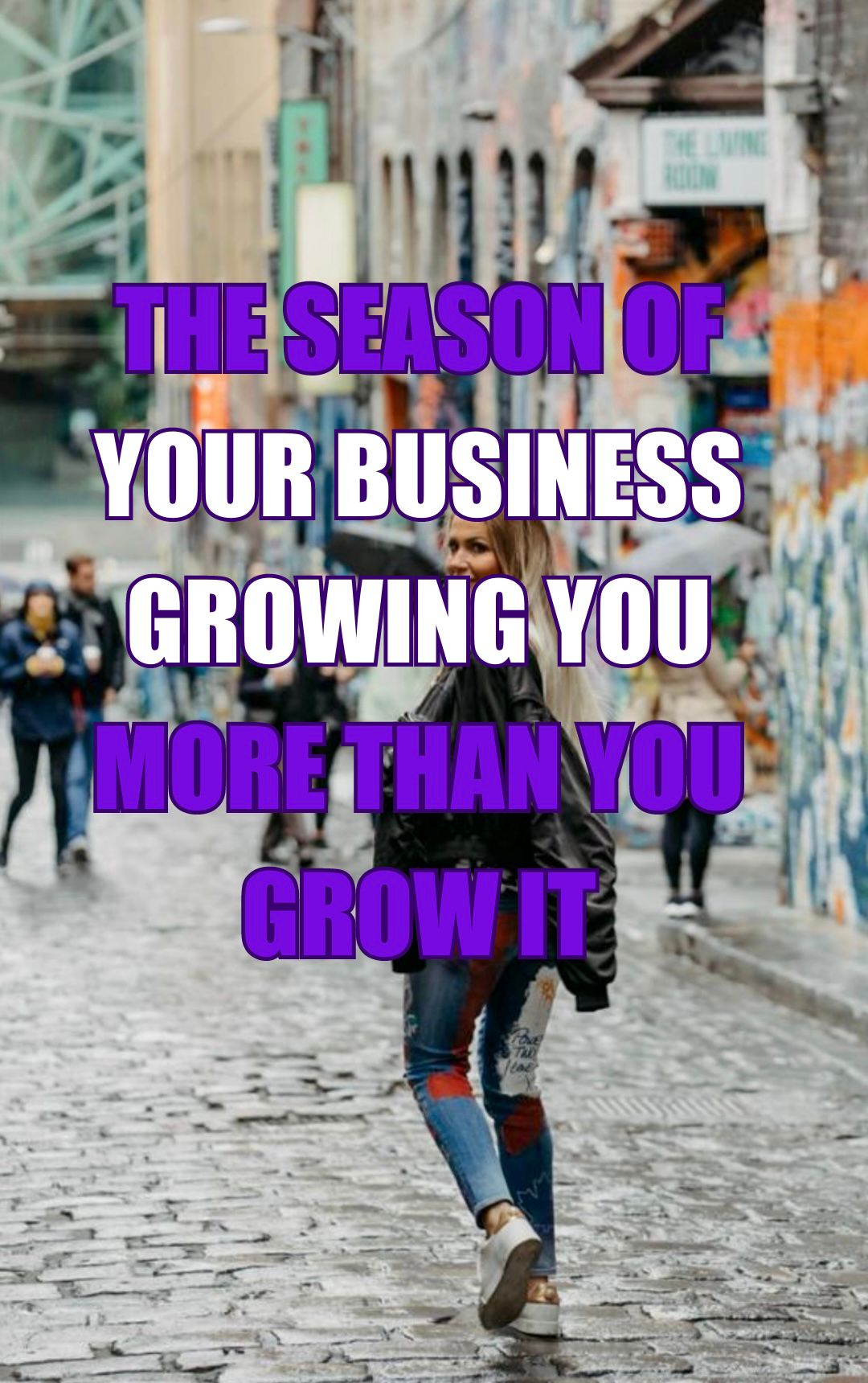 For many many years, so many that at the time I truly thought it would be forever and that it was FINITE fact, I truly believed that my business and I were one and the same.
I proudly spoke about this all.the.time. I shared passionately that if you saw your business as being something separate to you, you weren't doing it right! Not for THIS kind of business at least. And I swore swore swore, well … literally a lot but also – that this was the way of flow. Ease. Just 'being'. And yes.
I was sharing about this season in one of my groups earlier today, and the reason I was doing so is that I was sharing that nowadays? I see my business as something separate to me entirely, with a lifeforce of its own, something which certainly flows through and from as well as to me, and which is of course in part fed by me, but 'IS' me?
No. No no no no no! I broke that covenant a long time ago.
But here's why I was sharing this story –
I was talking about the fact that at the time? My business saved me. It was healing for me. It GREW me. And really what it did? Was that it became a vehicle for me to learn to use my voice. To become clear in my messaging. To learn how to unapologetically back myself. And to speak up for what I stand for, as I bit by bit BECAME who that business needed me to be in order to lead it!
My business GREW me. Honestly, a lot more than I ever grew it.
Any season of growth must inevitably come to an end, not because of DEATH necessarily, but perhaps because – from that growth has sprung forth new fruit. A fresh harvest. And with it – a season for something new.
The something new for me – and I've seen many of my clients over the years transcend this same season of entanglement with their business – was that I was ready to STEP FORTH IN BEING UNAPOLOGETICALLY ME WITH OR WITHOUT MY BUSINESS.
I became the woman who knew she could be who she is.
Spoiler: I'm still becoming her 😉
Now … I see my business a thing with its OWN lifeforce, energy, characteristics, needs and requirements, evolutionary path which is absolutely NOT just about me, and I see that I am in a RELATIONSHIP with my business.
This means:
I listen.
I communicate.
I hear.
I respond.
I lean in.
Or away.
I use DISCERNMENT in how I press play.
I LET THE THING SPEAK TO ME AND I ALLOW MYSELF TO BE SHOWN.
Not that I didn't do this before in a way, but like I said – new season.
Being in a relationship with my business rather than BEING my business has meant that I am able to more clearly and cleanly determine what is needed, I give and receive in alignment, I allow my business to be of service with or without me, and perhaps most noteworthy of all –
I FLOURISH OR BETTER SAID – MAINTAIN MY TRUE EQUILIBRIUM – REGARDLESS OF WHAT IS GOING ON WITH MY BUSINESS.
The point of this story is two-fold:
1) There is nothing wrong with 'being' your business. I NEEDED this. I almost couldn't stand up in a PHYSICAL sense as a woman without my business propping me in those earlier years. I was abused. Hurting. Lost. And a powerful born leader prophetess revolutionary minister for God in the making. Not yet READY however to step into that without a 'reason' which felt safe to do so outside of 'because I just for me deserve to be me'. I GOT there because I GREW there.
My business was instrumental for that, and me breathing through the business was transformational for the thousands of people who needed that work in that way at that time.
2) Being in a RELATIONSHIP with your business, or even an individual offer, may be the season it is time for YOU to acknowledge right now. It may be time to separate yourself. Step back. And SEE that OH –
IT GETS TO BE THIS WAY BECAUSE I DECREE IT SO, AND IT'S NOT ABOUT ME! Meanwhile I am good no GREAT regardless!
This.is.FUN!
3) (I know I said two points. Whatevs). It is critical, for your NOW alignment and success, that you BE WHO YOU ARE NOW AND ALLOW WHAT THE NOW YOU NEEDS.
You'll see all manner of people saying all manner of things on the internet. Newsflash! This will not stop!
Only YOU (and God) can know for certain what is ACTUALLY required for you to give of or to your business. So don't let anyone tell you you 'should' do this that or the other.
IT IS OKAY TO BE FED THROUGH THE UMBILICAL CORD OF YOUR BUSINESS IN A SEASON.
AND IT IS OKAY TO CUT THAT CORD LOOSE.
Today I feel it's time for some people to CUT LOOSE THE CORDS NO LONGER NEEDED TO FEED THEM.
And to realise, that OH –
What next?
YOU decide. You're in charge here. But I will say this –
I bet it involves you standing up straight and owning EVERY last part of who you are,
and what you came here to do.
So go do that.