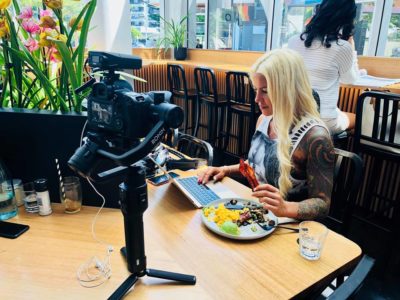 Don't you feel as though I've written this blog 100x already, talked about it 1000 more, livestreamed on it, like – once a week, minimum?
I don't care! It gets to be spoken about again and again and again and AGAIN!
Until it sinks in, until it becomes on with you and you with it and you actually fucking realise that everything –
EVERYTHING – 
You dream of one day being, becoming, stepping into, 'having', is available to you now.
YOU JUST GOTTA FUCKING CLAIM IT.

Take right now, for example –
It's my 39th birthday today (woot!) –
And I'm spending the day filming 'a day in the life of Katrina Ruth'. Kinda making a docu-movie about how I do this whole make millions online on my terms thang.
As part of that, I'm literally being filmed right now while I sit in a coffee shop eating and writing this.
So far we've filmed me playing Uno and having breaky with the kids (madness! My kids are cheaters as FUCK, and then they crack it if they don't win!), doing my journaling, driving to and from the gym, working out, getting hair done ready for the rest of the day ahead, and now we're here.
REALLY – who the fuck wants to watch footage of somebody else living a pretty normal day, as a Mum and online entrepreneur? And also – (says the voice in my head) – who the fuck do I think I am, to be swanning around the coast at cafes and salons and gyms being FILMED like I'm somebody important!
People DO look, and then I think I can almost hear them wondering who I AM, and why I'm being filmed. 
The self-conscious side of me literally wants to run and hide. She feels squirmy, embarrassed, uncomfortable, silly. As though she's 'making herself out to be' more than she is, or plain and simple something she is NOT.
Trying to be all important and what-not! Never mind imagining that people would want to KNOW about what my day looks like, or see behind the scenes in it!
In some ways, THAT side of me – the shy, 'uncool' one, who worries continually about what EVERYBODY thinks of her – is the real me.
But in other ways? That bitch can move the fuck over, 'cause this LEADER here, this#BadassGoldCoastBarbie (lol) is ready to step up and also STAY.
And indeed she already has stepped up, AND appears also to have appointed herself to stay!
Here's what you have to understand:
The people who you look at online and think 'have it all together', or are SO confident, or sure of themselves, or genuinely badass, how the fuck do YOU know to what degree they woke up like that, and to what degree they are choosing INTO that?
I can tell you that for me it's something I consciously chose INTO, and continue to choose into, daily.
But, because I have been actively making that choice for years now (since I got tired of not everybody knowing who I was – it was outrageous!) – it has now started to BECOME 'who I wake up as'.
Let the leader within out, and give her free reign, and repeatedly tell the 'I can't' scaredy-cat version of you to take a backseat and at some point the leader WILL take over.
That's just how it works.

And then … everybody starts to assume, well, that's just who you are.
And they then think you have the results you do because you have magical skills that they don't. Which is not a very helpful mindset for THEM, and it's also just not true!
Meanwhile, AS the badass leader, here is reality:
Every day, in some way, you will have to CHOOSE to be the person who you know you're meant to be.

Today I had alllllllll the bullshit coming up, around how maybe I don't 'feel' like spending my day on this today (I don't mean 'cause it's my birthday; what else would I want to do on my birthday?! I mean just in general!), or maybe it's stupid, or who wants to see it, or maybe I'm not good enough, I should have lost more weight blah blah blah BULLSHIT.
I choose to put it aside.
Just like I put it aside EVERY day in some way, and I show up as who I know I'm meant to be.
Look, nobody ever said it was gonna be easy. It IS going to require you to daily get out of your comfort zone, do what others won't so you can live like they can't.
But really – what is actually harder? Saying NO to what's inside of you, because you don't FEEL like it, or you feel uncomfortable, or getting the fuck over yourself and getting on with being who you know you're meant to be?
I choose the latter, every day of the week and twice on Sundays.
Being the next level you is always available, and you're always worthy, but do you know what else?
It's also always a motherfucking choice.
What are YOU choosing?
Don't forget –
Life is Now. Press Play.
Kat x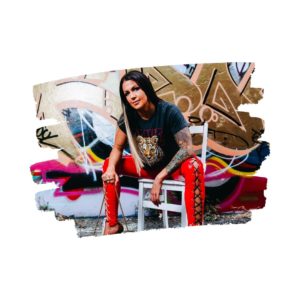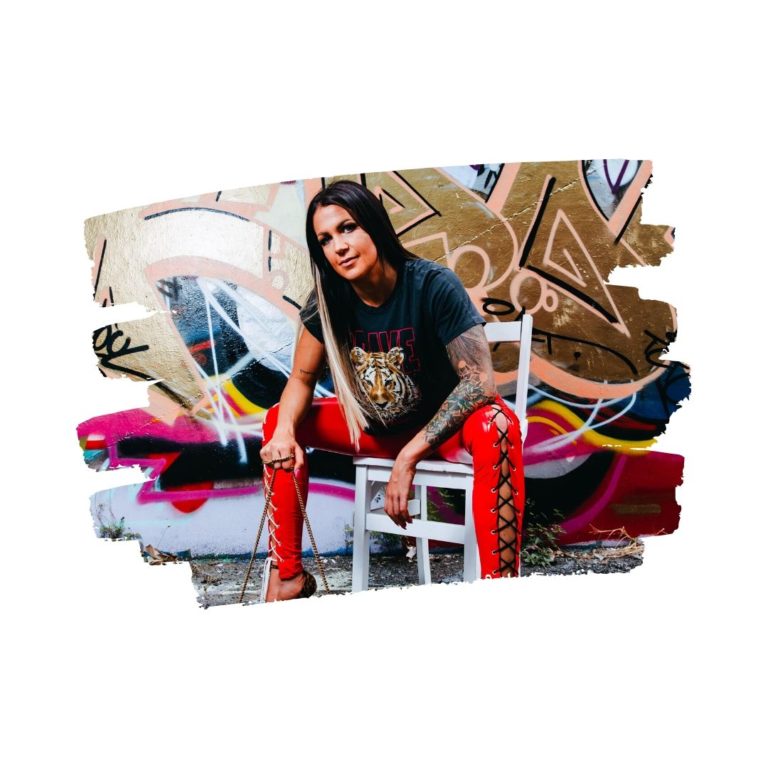 P.S.
I decided, once upon a time, to make $100,000 in a month! I kept on deciding! It took a little time … (far less than I thought, actually, in the end) … but it happened.
Since then I have decided my way up to over 4x that per month.
I have produced this level of income at The Katrina Ruth Show for nearly 5 years now. (6-figure months and eventually, starting 9 months after the first 6-figure month, multiple 6-figure months. Consistently!).
I have also mentored countless badasses in the online (and offline!) space who have, during the time mentoring with me, and / or afterwards, achieved this 'milestone' income goal as well.
I am known in the entrepreneur world for flicking the damn switch for the called ones.
One of said called ones asked me a week or two which of my existing courses would be most helpful for understanding the mindset of myself and my clients who have hit and surpassed the 100k per month goal! Understanding the mindset as well as the strategy, or whatever else was part of it.
I said I'll have a little think about that … and then instantly I thought – "huh! Why do I not have a course on that! That would be a GREAT course!"
Guess what?? I NOW HAVE A COURSE ON THAT! Well .. it opens officially tomorrow! But there's a sneak attack secret-y sort of thing happening already.
>>> The 100k Per Month Formula just opened for registration! <<<
For the Entrepreneurs Who Were ALWAYS Gonna Run the Damn Thing!
10 modules (all new live content)
11th bonus one (duh)
3 insane extra bonuses (one is an entire brand new course on finding and building your Soulmate Team .. I'll be launching this after THIS, at $199, but you get it free in the 100k Per Month Formula!). Another is an entire 30-day mindset course on 100k+ mindset, with daily journal prompts. Yes, this is a BONUS, in addition to the 10 modules + 1 + (did I mention!) Q&A hotseats and more with me.
I am so excited for all of this!
People have been signing up already. I may have done a secret sneaky stealth launch to a few peeps, and they hopped RIGHT on, especially when they saw how freakin' wow the vibe was not to mention OH – the VIP / Super VIP options. You gotta keep your eyes peeled!
Full Sales Page + Success Stories + ALL the Vibe of the 100k Per Month Formula coming in the official launch May 28! Join Now in the Secret Drop and Receive the 'Stealth' Bonus … this extra bonus goes away once the launch officially goes live tomorrow!
Shhhh deets below:
Time to decide freakin' bigger baby.
It's go time.
LET'S GO.
Amen!