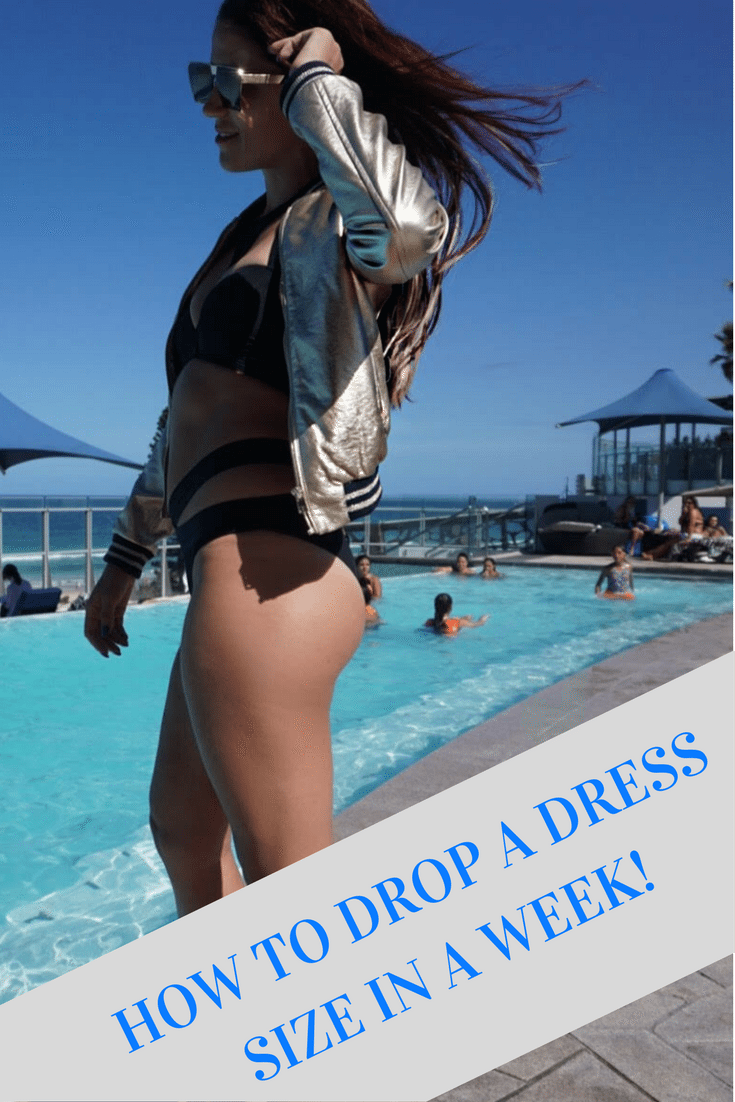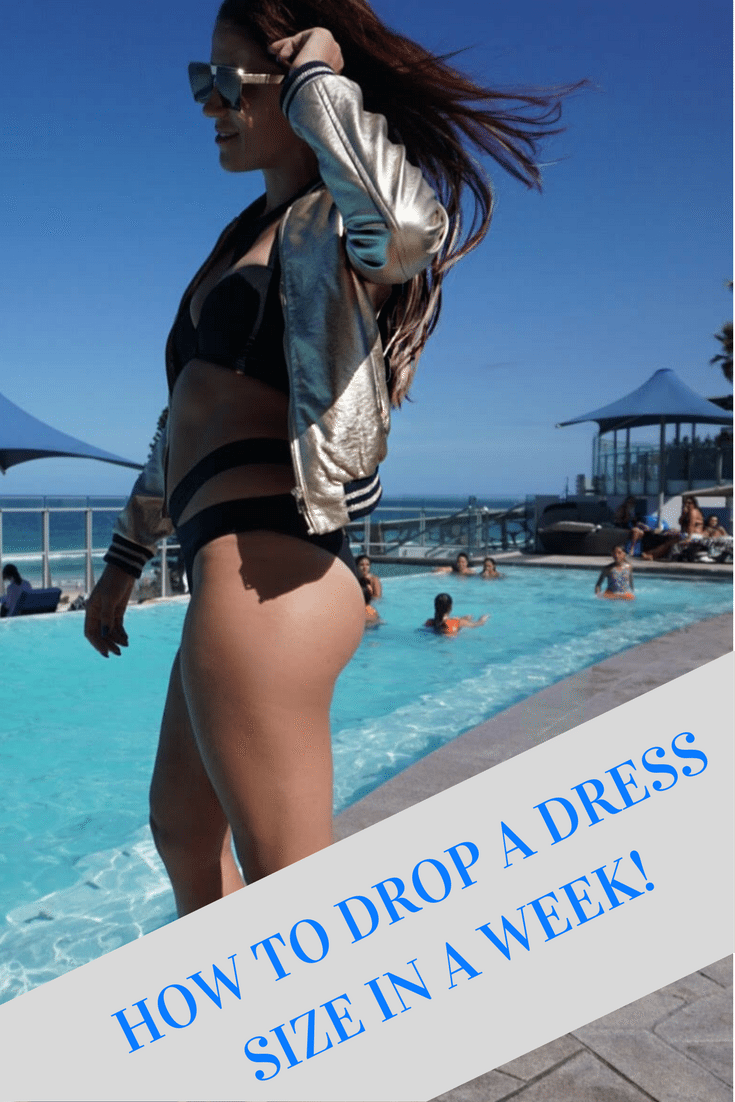 Did you know it really is possible to drop as much as a dress size in a week?
Not only that, but I can show you how to do it in a way that is healthy and that you'll easily be able to maintain! Pretty cool, huh?
Just imagine – in as little as 7 days you could be sliding effortlessly back into those 'just a little bit too tight' skinny jeans or LBD. Let's talk details.
First up – truth time. Most women are holding at least 1 kilo, and up to 3 or 4, that is pretty easy to get rid of. Some of the most common reasons why this is so include:
sleep deprivation
stress
eating intolerant or processed foods
a lack of water
too much of the wrong type of fluid
too much sugar or carbohydrate
lack of effective exercise
build up of toxins
It's quite likely that your body is currently being impacted by at least 3 or 4 of the things on the above list, and possibly even all of them!
I know what you might be thinking right about now – if I can lose 1-4 kilos in a week, surely most of that would be fluid?
Yes. Most of it will be. But doing it the right way (as I'm about to show you) will also cause you to start burning more fat. And to continue doing so well beyond the next 7 days.
For example, in my Lean It Up Challenge it's not uncommon for members to report losing as much as 4 kilos in the first week. For sure most of it is fluid. But hey – a dress size is still a dress size, right?! And more importantly, my bootcamp beauties continue to burn fat and slim down right through the 6 week program as well as beyond. I've had emails from members months later thanking me for how fast they were able to change their body in such a short time and telling me that they've kept it off since. Which is exactly my goal for you. There's no point doing a quick fix or fast to drop weight only to rebound back with an extra kilo or two the week after.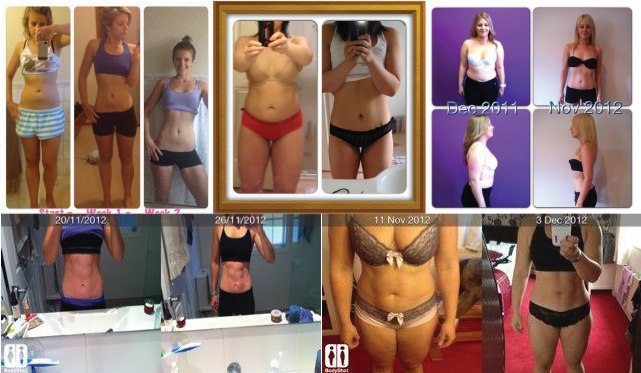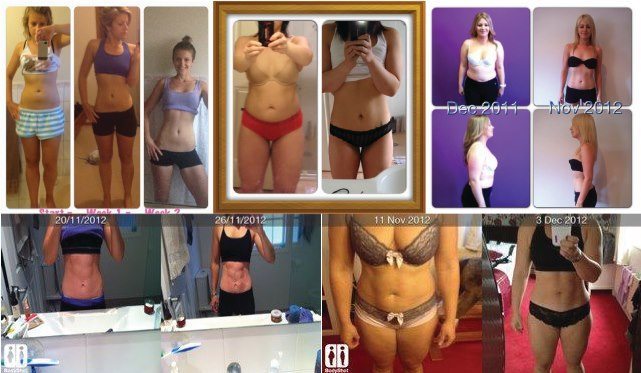 Here's what you need to do to change your body in a week!
The truth is there are tons of ways you can lose weight fast. But these next 6 points are what I would call the biggies. They'll get you seeing and feeling results STAT and they'll also set you on a path of healthy and sustainable long-term fat burning.
1. Drop sugars and (unnecessary) carbs.
When you're tired, busy and stressed it's all too easy to fuel yourself on more carbs than you really need (they're so convenient!) as well as too much sugar. This can give you a short-term energy kick but it doesn't do you any favours when it comes to getting rid of that muffin top. The first thing you need to drop a dress size in a week is to cut back on extra sugars and carbs.
2. Get your sweat on!
We all know there's working out and then there's working out. Which are you doing, hmmm? I'm all for lifting heavy weights with controlled tempos and getting that metabolic and hormonal response but you cannot discount the importance of a good old-fashioned sweat session. This week when you hit the gym or front up for your home workout I want you to have one goal in mind – sweat that butt off girl! Literally! Sweating helps you clear toxins and excess fluid and can be a great starting point for a healthier lymphatic system and a speedier metabolism.
3. Cleanse and detox
One of the reasons you hold extra fluid and extra fat is due to a build up of toxins. This can come from so many factors and to be honest it's impossible to be toxin-free these days. So you need to deal with it. You can help your body detox by drinking enough (quality) water, eating plenty of fresh vegetables, sweating, and using various tricks like starting the day with a mix of water, lemon and apple cidar vinegar.
4. Take a load off
Did you know stress really does can you fat? It can also cause you to hold onto fluid and feel constantly puffy and bloated. Two of the most common sources of stress are a lack of sleep, and constant overwhelm. Make a commitment to yourself to let go of some of your busy-work this week and take at least 20 minutes each day just for you. A walk or a podcast meditation or some journalling are all great ways to fill this time. Do this as well as kicking the late-night TV or Facebook or work habit and you'll start draining your body of fat-making cortisol. You'd be surprised just how fast you can see results when you learn to regularly take a load off!
5. Eat regularly
It's a no brainer, right? But yet for some reason it's often so hard to do, and we find ourselves out and disorganised or busy and letting hours go by without eating anything. Enter food cravings and rebound binge eating. Start planning your meals and snacks the day before and get in the habit of eating a small meal every 2-3 hours. This is one of the key things you need to do to get fast results, especially if you're prone to binge or emotional eating or giving in to food cravings.
6. Get your head in the right place
You'll never get results (either fast or gradually) if you don't really get clear on why it's important to you. It's not enough to just say 'because I want to be leaner' or even 'because I want to look hot in my clothes'. You have to dig a little deeper than that. When you understand your true motivation for changing your body – such as feeling proud of yourself or feeling more confident – you'll naturally be more motivated to do what it takes. Spend some time this week either walking and thinking or else writing about why you really want this, why it's important enough to you.
Okay Gorgeous…
LET'S LEAN IT UP WITH MY 21 DAY LEAN IT UP CHALLENGE!!



Want to Shed Some Extra Layers Fast and Reveal Your 'New' Best, You? Join my Lean It Up Challenge and Receive 21 Days of Meal Plans, Workout Guides, Motivation and Support to Help You Create the Body You Want – Fast!



If you've been struggling to form a consistent habit and get results or if you can't shake that annoying last few kilos, then you NEED to be on this program. You will shape up FAST! It's pretty simple. And the truth is you DO pretty much know what you should be doing, but that doesn't mean you're doing it!
I want to give you the kick up the butt you need to get revved up and organised about peeling off the extra layers in a way that is sane, healthy and gets results! The Lean It Up Challenge is based on the exact nutrition and training that I'll personally follow when I need to get photo-shoot read!
So trust me when I say that this system works!
A snapshot of what my clients have to say!
"Thank you, thank you, thank you!  I lost 10cm in Week One! - Katrina Tuscano
Holy moly! That first day workout makes me sweat more than my balance & combat classes combined. Awesome work!  So far loving it!  U rock Kat! - Chason Gripton



And don't forget to share that link with your friends.
Life is Now. Press Play.
Kat x
Life is Now. Press Play.
Kat x

PS
I want to help you to build a business you LOVE, and that meets your every want and desire, in a real and true way, whilst also resulting in you making a LOT of money, fast, and impacting a lot of people, also fast, in the way you know you were born for!
My most transformative 1:1 intensive EVER … shifting people into EPIC income and success since 2016 is back, for the first time in 2019! I'm so excited to bring this signature transformative work back!
Rich Hot Empire!
Work With Me for 6-Weeks Personally to Grow Your Perfect Cult Tribe, Create and Launch Your Low-High End EMPIRE, and Set Up Multiple Recurring Income Streams to Take You to Multiple 7-Figures and Beyond, Doing What You Love!
This round is even more special as I will be re-recording all original content, with you there live with me and alongside me AND you will also receive all original content; the exact trainings which has made this program my most successful ever, with clients repeatedly saying they achieved more in 6 weeks with me than they had in 2 YEARS beforehand! This work is for entrepreneurs at ANY starting point, as it's about who you are as a person not where you're at. I've had clients anywhere from total start-up, to already doing 500k+ / year go through Rich Hot Empire and all who have done this work have gone to a level of income as well as alignment and FLOW which they couldn't previously even imagine!
6-week personalised intensive high level mastermind
Weekly group training and support; multi-media training: visual + audio
'Done for You' Templates and Step-by-Step Worksheets
Personalised 1:1 coaching included, plus DAILY unlimited 1:1 access
My personal hand on your business success
Weekly group coaching call and hotseat with my other private clients
24/7 mastermind forum, networking and support
Very limited spaces
Results guaranteed
Not for everyone
STARTS THIS MONTH!
I'm so excited to do this work with a small group of badasses who are willing to SHOW UP FOR THEIR SOUL no matter what. To walk away from all that is not serving, not actually working, not FILLING you. And to all yourself to bring your truest desires to life. If that's you, or you've felt the call to work with me at this level, PM me now. Bonuses and fast action-taker investments apply to all successful applicants, but for the first 5 to say yes there is a very special $2000+ bonus specific around Soul Shifts & Money Makin', and which, in and of itself even before we begin RHE will have shit changing for you FAST.
Apply via PM only. I can't wait to speak with you!
PPS
HAVE YOU JOINED PURPOSE PASSION FLOW ACADEMY?
My 'Going Fully Quantum' training will break down ALL of what we've discussed today, and teach you the finer details and finesse of it, as well as exactly what needs to be true for you to APPLY it, not only into the practical actions you need to create THAT money flow and THOSE results, but also in terms of ALL the energetics of it, especially the 'being and non-being' around dropping in to superflow so you can be shown, create, receive, AND of course the being around not being one of those people who just can't seem to choose faith and are ruled by fear. We'll also talk about creating and integrating the exact wording, beliefs, emotions, energies YOU need for all of this to switch effortlessly for you, as you've always known it would.
In other words: EVERYTHING you need to know to go fully quantum, and double your income in 30 days or less, or whatever else you choose!
Where will you find this training?
Why, it's one of the very first training in 'Remembering Who You Always Were', which. is our June intensive for Purpose Passion Flow Academy, my SUPER low-cost monthly membership mastermind!
And this training?
Will change your freaking reality. Well – it will REMEMBER it.
It's all available to you gorgeous.
You know this already.,In the quantum it is DONE. And in Purpose Passion Flow Academy, and especially our June intensive 'Remembering Who You Always Were'? We gon' done do it.