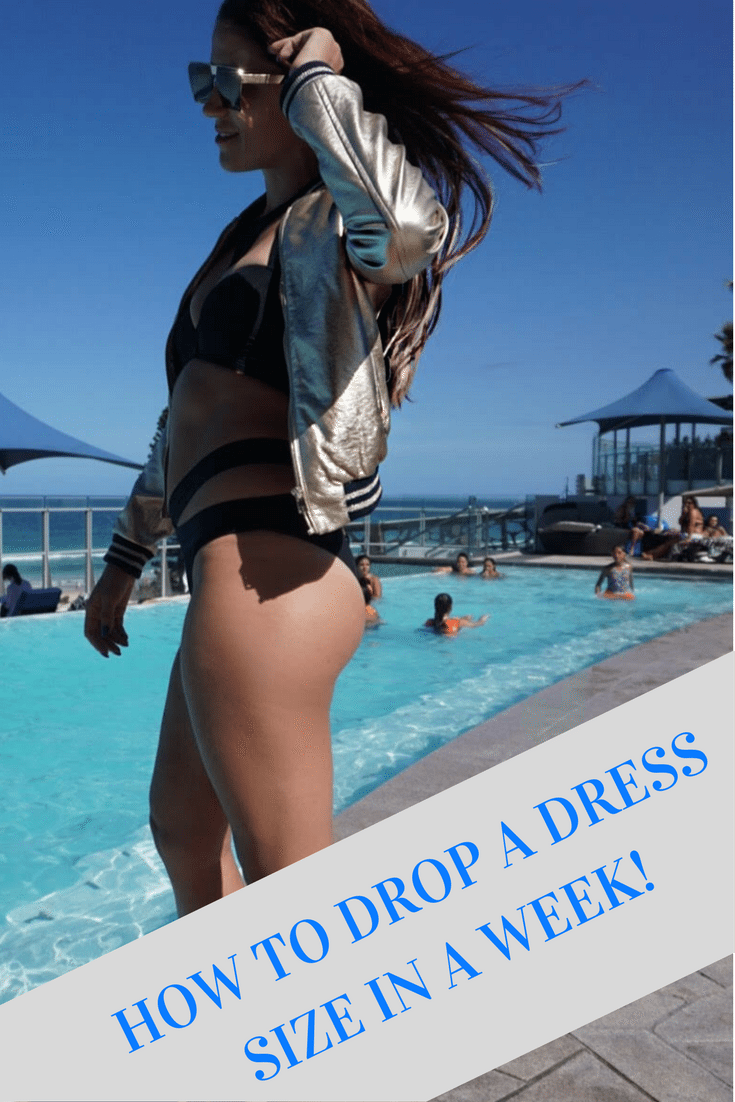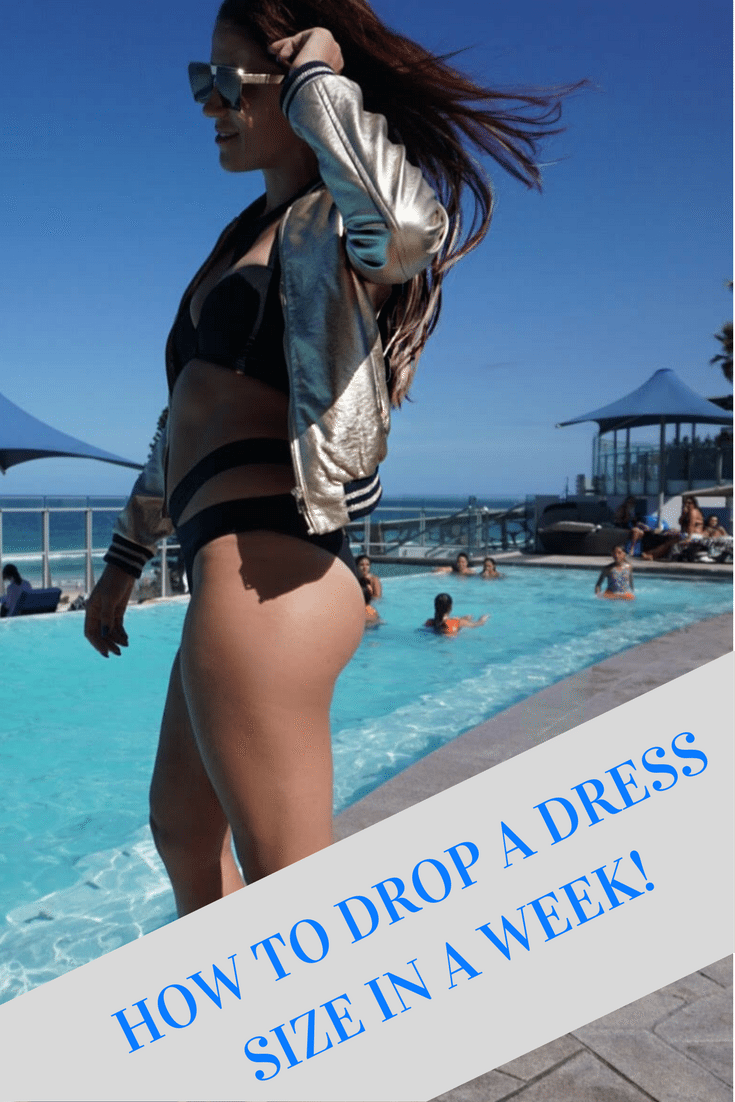 Did you know it really is possible to drop as much as a dress size in a week?
Not only that, but I can show you how to do it in a way that is healthy and that you'll easily be able to maintain! Pretty cool, huh?
Just imagine – in as little as 7 days you could be sliding effortlessly back into those 'just a little bit too tight' skinny jeans or LBD. Let's talk details.
First up – truth time. Most women are holding at least 1 kilo, and up to 3 or 4, that is pretty easy to get rid of. Some of the most common reasons why this is so include:
sleep deprivation
stress
eating intolerant or processed foods
a lack of water
too much of the wrong type of fluid
too much sugar or carbohydrate
lack of effective exercise
build up of toxins
It's quite likely that your body is currently being impacted by at least 3 or 4 of the things on the above list, and possibly even all of them!
I know what you might be thinking right about now – if I can lose 1-4 kilos in a week, surely most of that would be fluid?
Yes. Most of it will be. But doing it the right way (as I'm about to show you) will also cause you to start burning more fat. And to continue doing so well beyond the next 7 days.
For example, in my Lean It Up Challenge it's not uncommon for members to report losing as much as 4 kilos in the first week. For sure most of it is fluid. But hey – a dress size is still a dress size, right?! And more importantly, my bootcamp beauties continue to burn fat and slim down right through the 6 week program as well as beyond. I've had emails from members months later thanking me for how fast they were able to change their body in such a short time and telling me that they've kept it off since. Which is exactly my goal for you. There's no point doing a quick fix or fast to drop weight only to rebound back with an extra kilo or two the week after.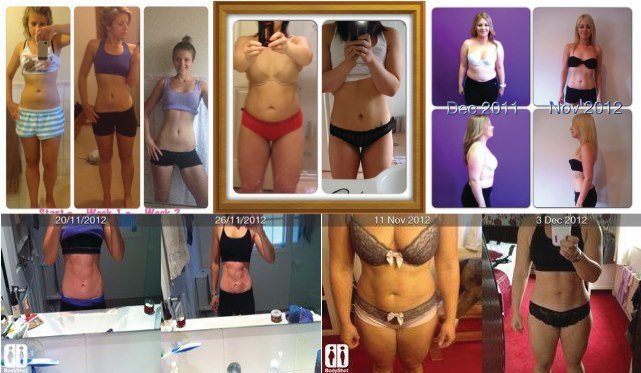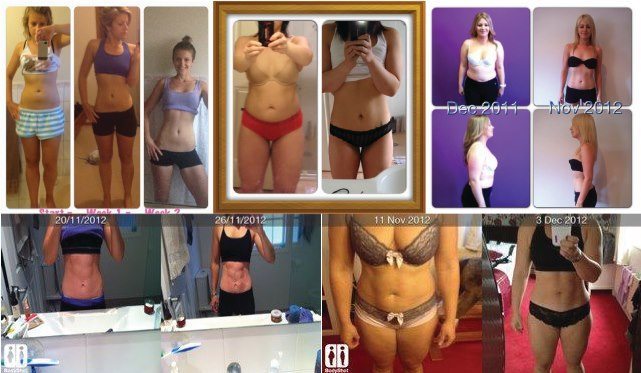 Here's what you need to do to change your body in a week!
The truth is there are tons of ways you can lose weight fast. But these next 6 points are what I would call the biggies. They'll get you seeing and feeling results STAT and they'll also set you on a path of healthy and sustainable long-term fat burning.
1. Drop sugars and (unnecessary) carbs.
When you're tired, busy and stressed it's all too easy to fuel yourself on more carbs than you really need (they're so convenient!) as well as too much sugar. This can give you a short-term energy kick but it doesn't do you any favours when it comes to getting rid of that muffin top. The first thing you need to drop a dress size in a week is to cut back on extra sugars and carbs.
2. Get your sweat on!
We all know there's working out and then there's working out. Which are you doing, hmmm? I'm all for lifting heavy weights with controlled tempos and getting that metabolic and hormonal response but you cannot discount the importance of a good old-fashioned sweat session. This week when you hit the gym or front up for your home workout I want you to have one goal in mind – sweat that butt off girl! Literally! Sweating helps you clear toxins and excess fluid and can be a great starting point for a healthier lymphatic system and a speedier metabolism.
3. Cleanse and detox
One of the reasons you hold extra fluid and extra fat is due to a build up of toxins. This can come from so many factors and to be honest it's impossible to be toxin-free these days. So you need to deal with it. You can help your body detox by drinking enough (quality) water, eating plenty of fresh vegetables, sweating, and using various tricks like starting the day with a mix of water, lemon and apple cidar vinegar.
4. Take a load off
Did you know stress really does can you fat? It can also cause you to hold onto fluid and feel constantly puffy and bloated. Two of the most common sources of stress are a lack of sleep, and constant overwhelm. Make a commitment to yourself to let go of some of your busy-work this week and take at least 20 minutes each day just for you. A walk or a podcast meditation or some journalling are all great ways to fill this time. Do this as well as kicking the late-night TV or Facebook or work habit and you'll start draining your body of fat-making cortisol. You'd be surprised just how fast you can see results when you learn to regularly take a load off!
5. Eat regularly
It's a no brainer, right? But yet for some reason it's often so hard to do, and we find ourselves out and disorganised or busy and letting hours go by without eating anything. Enter food cravings and rebound binge eating. Start planning your meals and snacks the day before and get in the habit of eating a small meal every 2-3 hours. This is one of the key things you need to do to get fast results, especially if you're prone to binge or emotional eating or giving in to food cravings.
6. Get your head in the right place
You'll never get results (either fast or gradually) if you don't really get clear on why it's important to you. It's not enough to just say 'because I want to be leaner' or even 'because I want to look hot in my clothes'. You have to dig a little deeper than that. When you understand your true motivation for changing your body – such as feeling proud of yourself or feeling more confident – you'll naturally be more motivated to do what it takes. Spend some time this week either walking and thinking or else writing about why you really want this, why it's important enough to you.
Okay Gorgeous…
Don't forget –
Life is Now. Press Play.
Kat x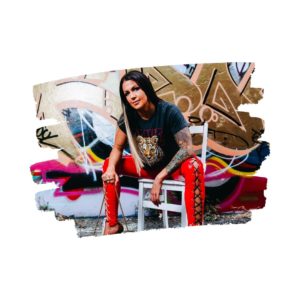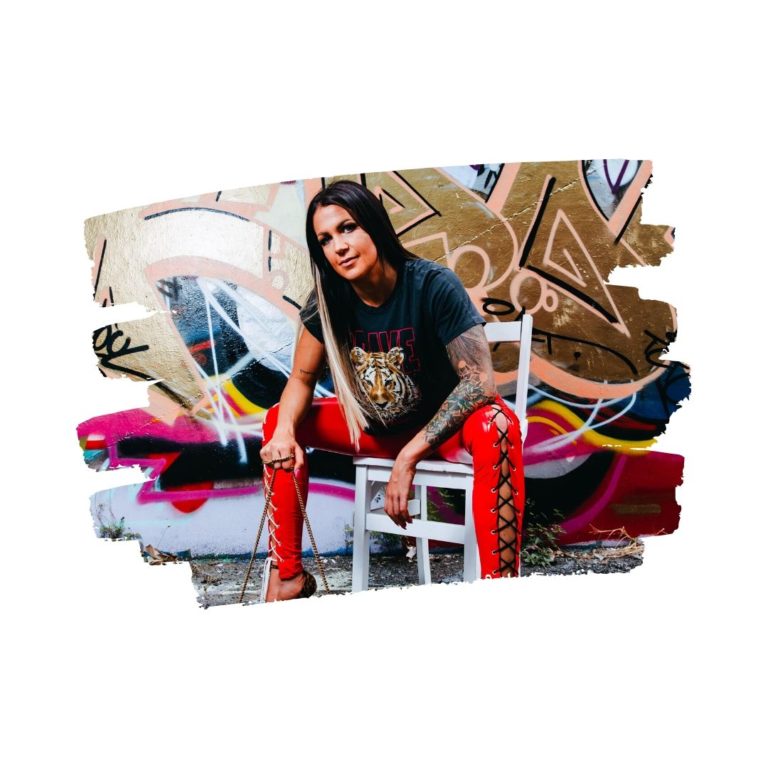 P.S.
I've been doing 100k months (and 4x+ that) since December 2014. I have mentored numerous badass peeps as they crossed that milestone. Now, for the first time ever, I'm taking you into the thought processes, patterns and also showing-up-edness of peeps who do THAT, while simultaneously teaching you how to access, activate and act from the deepest and truest blueprint of YOU.
My brand new digital course, The 100k Per Month Formula is HERE!
Are you sick of trying to teach and shift everyone else on how to expand their mindset and capacity to receive, and wondering where the person is who is going to hold THAT level of space for YOU?
Are you so.freaking.done with EVER having to tell yourself that the next level you're looking for requires you to do a, b or c that you don't wanna do, would rather claw your eyeballs out than do, thank you very much, and deep down don't believe you have to do?
DO YOU NEED SOME KAT IN YOUR LIFE TO KICK YOUR BUTT WITH ALIGNMENT AND LOVE AND MAYBE SOME BONUS BOOTY SLAPS TO WHERE IT'S MEANT TO BE?
The 100k Per Month Formula 

💃

💸

🔥
Registrations are off to a ROARING start already. And no small wonder, when you see all that we're doing.
10 modules + one extra (stealth!) one.
3 killer bonuses (including 2 entire new courses)
All new live course, starting June 8.
For the Entrepreneurs Who Were Always Gonna Run the Damn Thing.
You and me and a group of like-minded revolutionary leaders who specifically desire THAT money goal (and beyond) and know that they know that they know that it's where they should be.
Who are willing to do what it takes,
no matter what it takes,
until it takes,
AND THEN KEEP GOING.
To get there.
With integrity and soul and badass truth and BELLS on.
https://thekatrinaruthshow.com/100kpermonthformula
Check out the bonuses! 🔥
>>> Soulmate support $199 bonus.
A course I'm going to create alongside this one, and sell separately for a full $199, is on building a soulmate team. You will see me launch this at some point in the next month or so. You get this entire course FREE as a bonus with the 100k Per Month Formula!
>>> Mindset of a 100k Per Month and Beyond Entrepreneur –
I'm creating 30 days of journal prompts and mini asskickin' messages for you that go into the mindset of a 100k per month (and beyond) entrepreneur, in order to drop you deeper and deeper into being that person as we go. This is based on what I have observed in myself as well as the MANY badasses on and offline who I have coached who make this sort of money. This bonus could and likely will be sold separately for $199 as a home-study course!
>>> Q&A bonus!
My Q&As are famous for being one of the ways the GREATEST gold and magic comes out from me! You will have live access (and / or replay access) to two Q&A only sessions recorded JUST for 100k Per Month Formula students, and you'll be able to ask or submit your questions on these!
>>> Pay in full bonus!
Claim your place with the upfront payment choice (regular, VIP, or Super VIP) and receive an exclusive and UNAVAILABLE FOR SALE 'Fuck the How' Katrina Ruth graffiti T. Hot off the press, and just for you!
Everything you need to know and feel + your place here! https://thekatrinaruthshow.com/100kpermonthformula