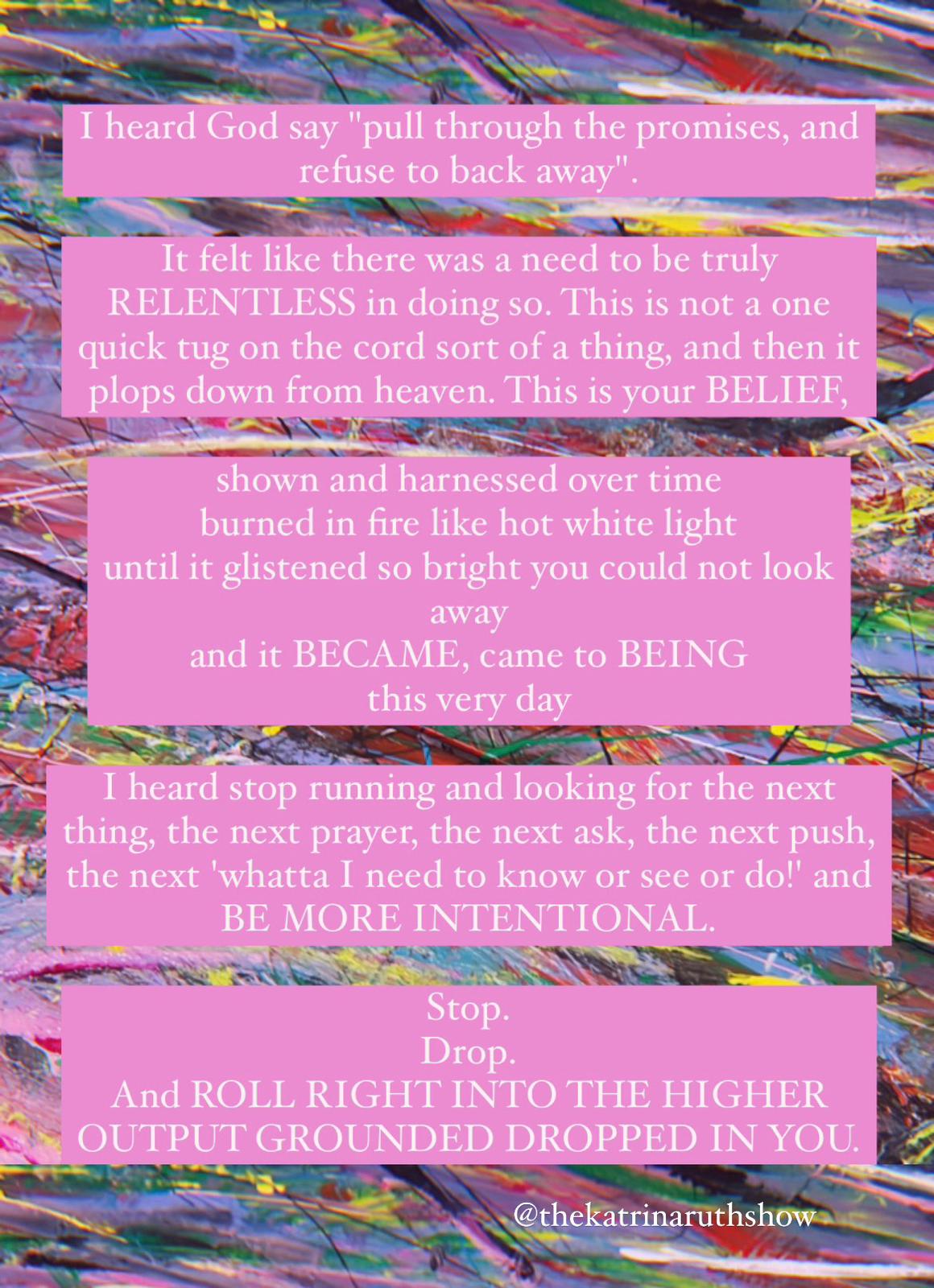 Purpose
START TO EXPECT THAT THIS LIFE HAPPENS FOR YOU NOW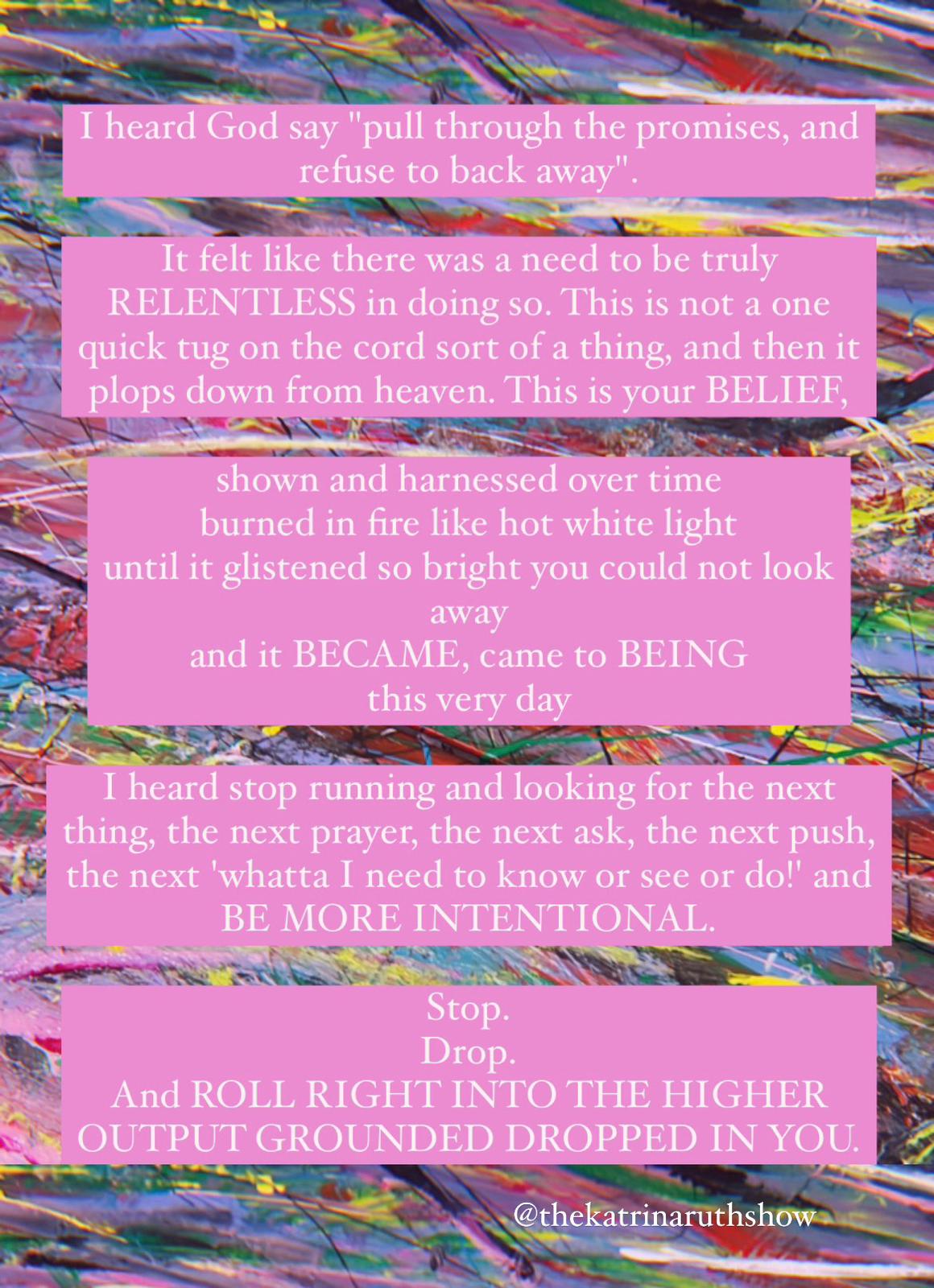 It's time to pull through the promises God has written for you, and refuse to back away.
It's time to be RELENTLESS in your prayer and your prophecy, and CAUSE WHAT HE TOLD YOU TO FALL.
It's time to dust off the words, the whispers, the Holy Spirit downloads you tucked away,
buying into an OH so mistaken idea they're for another day,
and CALL THEM INTO BEING.
It felt like there was a need to be truly RELENTLESS in doing so. This is not a one quick tug on the cord sort of a thing, and then it plops down from heaven. This is your BELIEF,
shown and harnessed over time
burned in fire like hot white light
until it glistened so bright you could not look away
and it BECAME, came to BEING
this very day
I heard stop running and looking for the next thing, the next prayer, the next ask, the next push, the next 'whatta I need to know or see or do!' and BE MORE INTENTIONAL.
Stop.
Drop.
And ROLL RIGHT INTO THE HIGHER OUTPUT GROUNDED DROPPED IN YOU.
You know –
the one He sees you as,
made you as,
wants you as!
(As do YOU).
I heard – keep your eyes fixed your heart established and your mind determined. RELENTLESSLY PRAY IT THROUGH. PULL IT THROUGH. BELIEVE IT THROUGH. WALK IT THROUGH.
I heard – if you truly KNEW,
you would not be flitting here and there and everywhere.
Analysing.
Wondering.
Back and forth all over the place.
'Should I do this, or that, or the other? Maybe I heard right but maybe not but maybe I should keep asking just in case?!'
I heard – be the person NOW who refuses to question.
Refuses to back down.
Asks for confirmation or additional information when truly LED to,
because it is right and the Holy Ghost said to,
not as a way of being which in actuality underpins a spirit of I JUST DON'T KNOW I NEVER KNOW I'LL NEVER BE CERTAIN.
I heard – be still. Be CERTAIN. And know that I am God.
I heard – YOUR PROOF IS WHAT I SAID. And when you DO know that you will know that I am God.
I heard – QUIET now. QUIET the mind. EQUIP the spirit. And SPEAK FORTH WHAT IT IS TIME TO SEE RAIN DOWN.
What I tell you will stay AWAY from you if you do not pray it through. Believe it through. Walk it out. SPEAK it out.
I heard – SAY WHAT WILL BE. SAY WHAT WILL BE. SAY WHAT WILL BE. As you make EVERY day the day you walk in the AUTHORITY,
I did not give you as a back up.
I did not give you for when YOU are sure.
I did not give you to QUESTION.
And I did not give you to first pull apart and decide whether or not you CAN.
I heard – today is the day. Today is the day. TODAY IS THE DAY YOU WILL SAY THAT THIS IS THE DAY EVERYTHING CHANGED.
I heard –
that day will never come unless or until you know it's now.
I heard –
I have given you the power to decide whether or not it's now.
I heard –
you are deciding already if it can be now.
I heard –
Your deciding needs to be a practice.
And your prayers should be my voice.
Now SPEAK FORTH WHAT I GAVE YOU.
And INSIST on the promise today.
I heard –
It's time.
But whose time,
that's up to you.
Now don't forget –
Life is Now. Press Play.
Kat
PS.
It's TIME gorgeous, don't you see?
THE TIME IS NOW THE TIME IS NOW THE DAY IS NOW LET'S GO.
The things which He has given you are for today.
The promises He showed you won't GO away.
But they will stay at BAY,
if you refuse to NOW press play.
YES THERE IS A DIFFERENT KINGDOM A DIFFERENT WAY A DIFFERENT PLAY AND THERE IS NO WAY,
for you to continue the path you're on
ever pushing forcing trying and seeking something outSIDE of you
and somehow to find yourself in the place you dream of long for and which is planted in you which IS in you,
as you fall into HIM.
Business … money … relationships … purpose … YOU,
it was never meant to be like that.
Are you ready for a new way?
And to be supported in faith and a TRUE supernatural walk?
Come and walk with me
Come and talk with me
Come and work with me
In the place God gave me for both of us
as my new low cost membership
and The Secret Garden
of your life
We have only just begun …
and we are still in launch pricing
Our 2 live classes this week kick off – tomorrow!
And your seat is waiting.
FAITH LED WARRIOR WOMAN, DON'T YOU KNOW?
You're supposed to be in.
It's time x