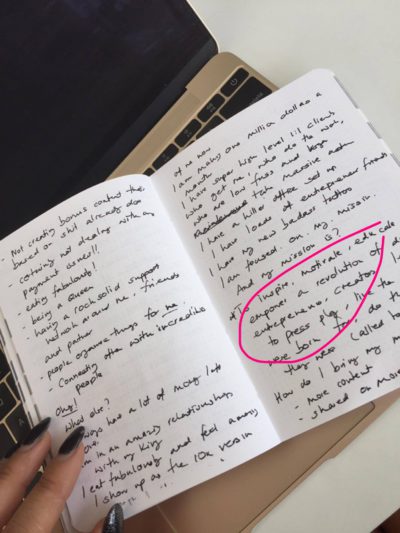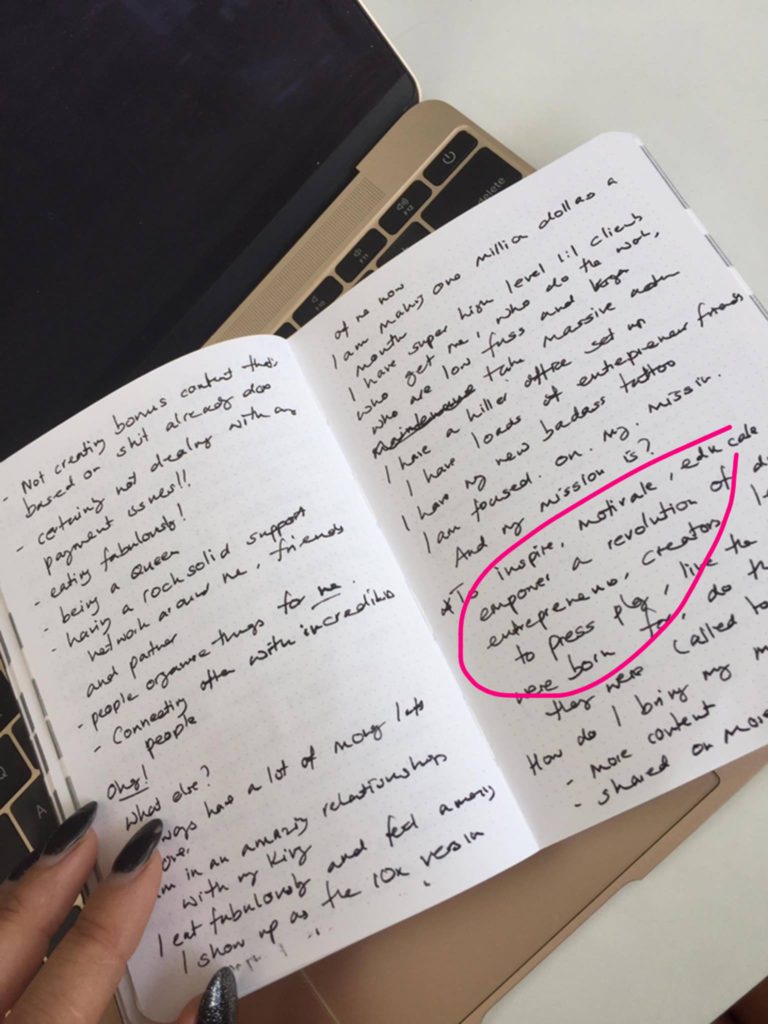 I've been doing a ton of inner work lately around who I'd be NOW if I were already at 10x the income, impact, commitment to purpose and flow. These are the sort of questions I ask of myself constantly, truth be told, and a big part of why I do continue to uplevel so FAST … although never as fast as I could, hence the continual journey of inner exploration and push to GROW!
I love getting my clients to think about this stuff too, as it makes it so damn CLEAR.
Of course you wouldn't be putting up with THAT … accepting THIS … spending your time or energy or emotion like you are now … if you were already at the next stage! You'd be acting like the motherfucking boss version of you who is THERE, amiright?
I'm right 🙂
Which means that just being very LOGICAL and PRACTICAL about it, if you wanna go from here to THERE, if you want to NOW be the end of year version, even, of you, 2.0 you, which you expect to be and know you CAN be, well you can just fast-track and guarantee that process by simply taking ownership now of what that version of you would be up to!
I mean, really:
Would she be spending half her fucking day scrolling the Facebook feed looking for the meaning of life?
Would she eat like that, take care of herself like that?
Would she be so freakin' reactive to everybody else?
Would she be selling from such obvious scarcity instead of OWNING it?
Would she be so damn precious about not letting other people do stuff for her, because even though maybe she CAN do it better it's NOT HER FUCKING JOB?
Would she be letting hours … and hours … days … weeks … even YEARS … of her life slip slowly down the drain, moments given and added up to a really quite TERRIFYING amount of time lost over to tasks, people, problems, emotions, beliefs, indecision, that never actually required HER to give even an ounce of energy?
Would YOU?
Would you –
If you were already at the next stage –
And fully pressing play –
ACCEPT THE WAY YOU ACT AND SHOW UP RIGHT NOW?
I think not. In fact, I KNOW not, because, well, fucking DUH.
And also because I have to constantly address this stuff within myself 🙂
And here is what I realised. As I journaled and dug deep on this just now.
What it comes down to is SIMPLE.
If I were already playing at that next level, yes I'd be doing more of this and less of that and allowing myself to be more deeply supported, but REALLY, I can sum all of that up with one simple statement:
I'd be focused on my motherfucking MISSION. Bitch. 🙂
And my mission is?
What it's always been.
What I've always known.
What has always pulled at me from DEEP within my core.
What I have journaled on for over a decade, in these EXACT SAME WORDS, but yet for over half a decade and maybe more told myself I couldn't do –
Not yet –
That it made no sense –
And besides – !
How on earth would it make me MONEY?
Can I tell you a secret? Can I tell you something which I WISH I had heard from somebody way back when? Which I wish I would have LISTENED to, even if I did hear it?
You can do whatever the fuck you want baby.
And you can do it now.
In fact the thing which will actually make you the MONEY and allow you to have the IMPACT and allow you to achieve both these things from FLOW, where you get to make money doing what you love and KNOW you are living your life on PURPOSE –
Is the thing that it's always been.
Don't TELL me you don't know what that thing is!
It's ALWAYS been there.
Fucking OWN it.
Stop looking for something fancier! It's THAT. It's that feeling. That craving. That deep deep DEEP knowing that this? This is what you really want to tell people, talk about, create about, build a business from, build a LIFE from, be YOU from.
YES it's enough just like that.
YES people want to hear it from you.
NO you don't have to add anything to it!
But you do have to own it.
Give yourself permission to live it.
And understand that there is zero need to filter it, nor to add to it.
The thing that's gonna get you there –
Is when you give in to giving all of you –
To simply being you.
And sharing it with the world.
So stop waiting and readying, to do work that you were born already prepared for. Stop looking for other shit you need to add to yourself when you could just USE WHAT GOD GAVE YOU.
And I think –
Really –
The blueprint you CAME PACKAGED WITH –
Is the one that's gonna work best for you!
My mission is to inspire, motivate, educate and empower a revolution of DRIVEN leaders, entrepreneurs and artists to press fully play, unleash their true work, create the life they were born for, now and on their terms!
And no matter how much bigger my dreams and goals grow, no matter the depth and vastness of the impact I want to create and all that comes with it, here is what I know for sure:
It's going to be what it's always been.
What it was always meant to be.
The thing which, every time I DO fully give myself to, elevates me in all ways without fail.
Which is?
The more I write and speak, the more I sell.
The more I show up, through my chosen art, to inspire, motivate, educate and empower a REVOLUTION –
You – !
To press fully play.
Do whatever it fucking takes to create the life you were born for.
On.Your.Terms.
Which means, quite simply, that if I want to grow and go FASTER, I need to ruthlessly eliminate anything that is NOT this … DIRECTLY this … ALL of this … and keep doing?
This.
How about you?
Don't forget –
Life is Now. Press Play.
Kat x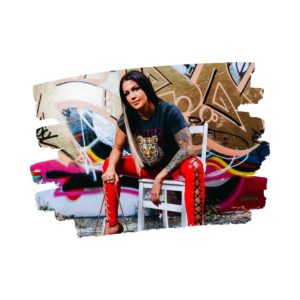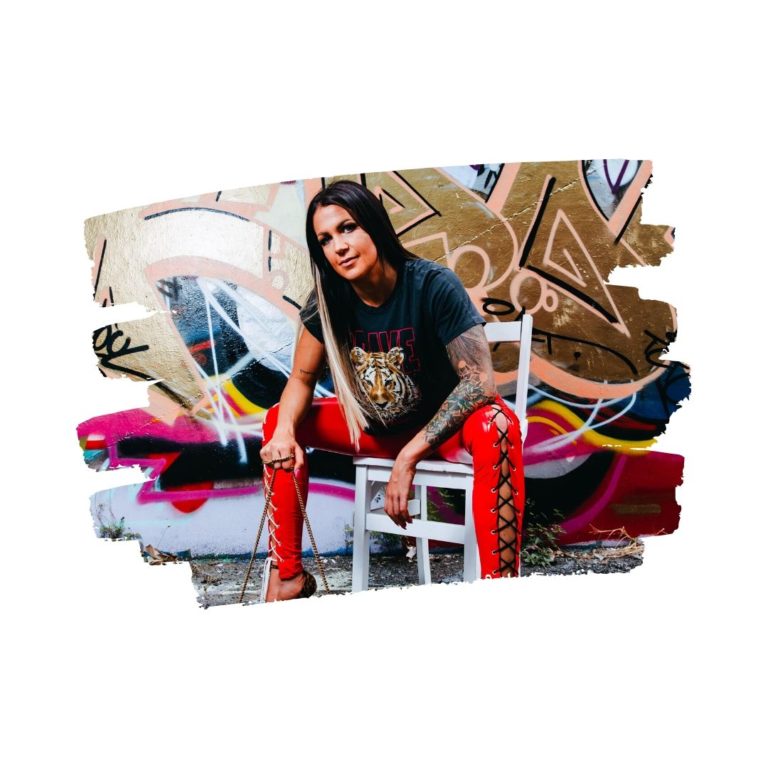 P.S.
Exclusive. Unseen. Unfiltered. Never Before Available for Sale.
You are hellfire magic! 🌟🌟
You have access to a level of power and superflow and truth and knowledge beyond what most peeps even know exist, you can literally look at something, decide it's yours and it happens, fuck, you don't even need to look at it, you can just SEE it and decide it and it's done.
You can click your fingers anytime you want and the world shape shifts around you.
Click your ruby red heels together 'cause hold up, you just changed your mind, and woot, there it goes again.
Being supernatural is part of being you.
But the thing IS –
You still gotta choose it.
Practice it.
Understand it.
And then ACTION it.
Now, finally, for the first time ever, I've created the worlds first comprehensive course for entrepreneurs,
leaders,
the GAME-CHANGING ELITE, who know they were born for MORE than the more they've already created and are ready to live into it,
to do
and access
and activate
exactly.
fucking.
that.
Introducing The Quantum Files babbyyyyyy!
Exclusive. Unseen. Unfiltered. Never Before Available for Sale.
18 days.
Daily video / audio content.
EVERYTHING you need to know to activate the supernatural badass you've been pretending not to be.
My BEST work.
Largely NEVER before taught publicly!
The ONLY place on the internet where you can receive a complete (supernatural level!) education on the 'how' AND the implementation / all encompassing accessing of all that is there for you when you 'go quantum' … and exactly what that means!
This is Not Your Social Media Guru's Quantum 
If you've been wanting to understand what it really means to utilise your God-given supernatural abilities, the unseen parts of you which are part and parcel of being HUMAN, but which most humans for their entire LIFE make 'mystical', 'woo woo', taboo, or simply don't believe in –
and if, like me, you're fascinated with playing with time and space and KNOW there is a way to create, shift, receive, BE, which transcends the physical world –
and if you love learning shit that lights your SOUL on fire with how real and true and WOW you know it is, and which allows you to INSTANTLY shift paradigms to where you're finally flowing with life the way you've your entire life known you could and SHOULD –
and if you love kickass deals in which you receive access to hours and hours and hours and hours and HOURS of exclusive, unseen, unfiltered, and NEVER BEFORE AVAILABLE FOR SALE content on stuff that 99.99%+++++++ of the world doesn't even dare to imagine EXISTS –
and if you're ready to start claiming reality shifts faster than even YOU dreamed possible –
Well!!
CLEARLY THE QUANTUM FILES ARE FOR YOU!
But hurry! This offer is open ONLY for the 5 days!
It's a one time sort of a thang I'm putting together for you.
The Quantum Files.
Exclusive.
Unseen.
Unfiltered.
Previously Unavailable for Sale.
5 days to claim your access.
When the clock hits zero it goes.
It's time to stop pretending not to be the supernatural badass you are baby.
And to blow shit up by pulling it TF down from the other place.
Let's demystify being who and what you've been waiting to be.
And let's do it now.