News
Lose Weight Faster By Cheating On Your Diet
If you've ever followed a strict diet plan for any length of time, then you know what the 'cheat meal' is. That longed for indulgence of forbidden foods and sweet delights. The meal you spend the entire week counting down toward. Or sometimes it's just a sudden break in your healthy-eating armour. That moment when you just. could. not. hold. out. any. more.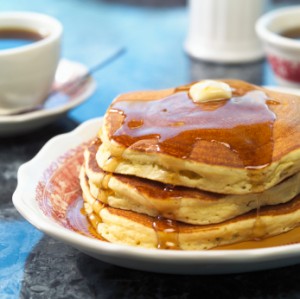 When I think of cheat meals I remember back to the first time I followed a truly strict diet. It was about 7 years ago, and I was a fresh-faced body sculpting competitor. The diet I was following was truly horrible (that's how I felt at the time, and given how much more I now know about nutrition, I definitely still feel that way). The basic rundown was tuna, broccoli, 20 raw nuts per day, the occasional slice of sweet potato, chicken breasts, plenty of black coffee, and at least a couple of protein shakes. Yum yum.
The one thing that kept me going through it all was Pancake Sunday. That's right, it's an official day, and it deserves capitals. Pancake Sunday was the best – I'd head down to the Pancake Parlour with my fellow starvees and we'd set to eating. With the utmost seriousness. It was great.
At the time I looked on it simply as a way to preserve my sanity. But these days I prescribe cheat meals for my clients for reasons that go far beyond the idea of having earned a night off.
Did you know that a smart cheat meal can drastically accelerate your weight loss? It's true, and what's even better, it actually requires you to indulge in starchy carbohydrates. Yep, that includes Pancakes!
When you're eating right for your body every day it pays to mix things up now and then. A carefully planned cheat meal increases your body's ability to oxidize branch chain amino acids (important for maintaining muscle tissue and keeping food stored in your muscles rather than as fat) causing a metabolic reaction that has you burning fat faster for at least 48 hours afterwards.
Pretty good news, isn't it?
Before you get all excited and head off for a 24-hour binge, let me be quite clear on the following few points. They're crucial to your success.
A cheat meal is a meal, not an evening. Or a day.
This means that you need to decide in advance what you're going to eat, put it on the table, and enjoy. But once that booty leaves the chair, it's over. No heading to the cupboard for sneaky treats (which probably shouldn't be stored there anyway!) once the food has settled.
You can't eat your cheat meal until you've consumed 100grams of animal protein. No ifs, no buts.
If you go too crazy, it's entirely possible to undo a week of good eating in one night. Be smart about your cheats. Don't stuff yourself till you can't move, and always include some form of fats to slow down digestion. Cheese or cream-based pastas are better than tomato-based. Chocolate almonds are better than sugar candies. Ice-cream is better than sorbet.
Once the meal is over, it's over! And that's it for at least 6 more days.
Oh – and it should go without saying that a cheat meal only works if you've been eating clean the rest of the week. And I mean completely. The good news is that this definitely does not mean following the broccoli and tuna diet!
And yes – of course Pancake Sunday still features in my eating plan!
Life is Now. Press Play.
Kat
PS: To find out exactly what is right for your body and whether your hormones are currently working for or against you, contact me now for your Biosignature assessment.
Don't forget –
Life is Now. Press Play.
Kat x
PS
I HAVE SOME BIG NEWS TO SHARE!
As of today, I'm opening up the doors to my Inner Circle, my 12 month private client mastermind.
This is THE most badass high level mastermind in the world for women who want it all – and are prepared to do what it takes to get it! Really what we're talking about is being prepared to be the PERSON.
And that's what I do. I help you remember ALL that you were, and then become it. ALL Of it.
This is my highest level private mentoring circle. The exact place where I have personally mentored dozens of this industry's most elite female entrepreneurs to break income barriers ranging from 10k months to multiple 7 FIGURE months, and everything in between. But more importantly than that – to become who and what they always were.
But know that this is not only (obviously) not just for the masses, this is also not just for someone who can afford to invest in a high level private coach. Being willing to throw money down is something which has absolutely zero correlation to being somebody who has what it takes to TRULY go next level as a leader.
If anything, in this industry, investing in a high level coach such as myself, is a rite of passage which veers just a little too much on the side of 'trend'. It's become something which 'everybody does', almost as a way of proving they play business and life a certain way.
Maybe even of trying to prove it to themselves.
Here is the reality which those who I am truly here to personally mentor and lead KNOW, the reality which my clients and all women like me as well as of course me personally have ALWAYS known:
We are VERY VERY DIFFERENT.
We are simply, smarter, faster, and have more presence. We can do more in our minds before breakfast than what most people can do in a freakin' WEEK, a month, a year.
We are not basic ass coaches trying to heave ho our way up a few extra thou a month.
We are the ones who have ALWAYS known we are 1% within the 1% within the 1% in terms of how we think, create, operate, how and WHAT we are tapped in too.
This is not arrogance, this is fact.
And there has NEVER been any question but that we will go all the way.
My clients are high level badasses who do the work, who have a proven track record BEFORE coming to me, and a BEING-ness which unquestionably separates them from the rest. They don't come to me to save them or lean down and hold my hand out so they can clamber up. They come because they are, quite simply, ready to go to the next level, already absolutely on their WAY there, and see in me something which they recognise because it is in them.
That 'can't stop won't stop' fire, and a level of 'unapologeticness' which, when truly understood and applied, can literally be the difference between 5-figure or low 6-figure and 7 or multi-7-figure entrepreneur.
So if you know who you are and it is THAT –
And you feel certain that you are ALREADY well on your way to to precisely where you're meant to be, but that being in MY energy could help you to drop in and get there even faster, and that with a couple of simple tweaks your current revenue could be doubling, tripling, heck QUADRUPLING and beyond in months, as it has done with numerous of my clients previously, well then –
PM me here http://m.me/katrinaruthofficial and we'll see if it's a fit. I'm excited to talk to you, and maybe – do biz and life with you.