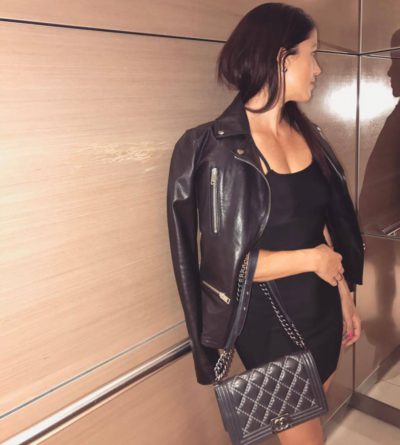 Purpose
REFRAME YOUR BUSINESS, AND DO IT JUST FOR YOU {I'm done with trying to save you}
"It's not what you believe you can achieve that will get you there, it's what you decide you can't NOT, and lock in as done".
This is how I started my blog this morning, so yes, I've evolved to where I now quote myself in appropriate quotation marks, but as soon as I wrote the first line, I knew –
It was shit.
I mean, yes. It ISN'T what you believe which will get you there, it absolutely IS what you decide and then lock the fuck in, but really?
Who cares.
You should already know that. I feel like if you don't KNOW that already then you and I just ain't a fit and won't NEVER be. (Send me to the grammar police, GO AHEAD).
Anyway –
Sometimes I get sick of saying things over and over again, and I DEFINITELY get bored with myself when I'm turning a one-line STATEMENT OF MOTHERFUCKING FACT into an entire freaking blog post.
It's almost as though I'm just forcing myself to write something for the sake of it, you know? Because it's my thing. Because I have to show up! Because I think that maybe you need to hear it again and again and again before you REALLY GET IT.
I couldn't even bring myself to keep writing beyond the first line though, so bored was I already with myself, so I penned a question, to help me unleash:
"What do people really need to hear from me today?"
An oldie, but a goodie.
And then it hit me:
Fuck ME. Why the FUCK am I asking that? REFRAME, mofo, I said to myself – !
Who CARES what they need to hear from me, what do I need to SAY? For ME baby, not for you. Actually, I talk a lot about how EVERYTHING I write I write first and foremost for me, but the truth is there's an element there also, of wanting to make sure I write something GOOD. Something which will get me seen, heard, liked, validated, something which will PROVE I am WORTHY.
That little girl from way back is still always looking for proof 🙂
It's tough to ever completely let go of that need to have others accept us. I know for me it's something I need to choose to consciously tune in to, often, To remind myself, that hey – '
I'm doing this for me bitches.
The writing, the art, the message, in fact my ENTIRE FUCKING BUSINESS –
I'm doing it for me.
Reframe.
Reset.
Remember.
Yesterday, two things happened which caused me to remember that it doesn't matter a jot what YOU or anybody else thinks about what I create.
1) I saw a FB post which said something to the effect that if you have to convince people to be motivated / take action / etc, they're not your true people. That they should ALREADY GET IT and be living it. I wish I could remember whose post it was, and I'd shout them out. Anyway, this concept is profoundly TRUE, and I've long preached it myself.
I'm not here to CONVERT people, I'm here to speak to those who already have an ear to listen, who are ALREADY the same person as me, who come to me because I help them to be MORE of who they ARE, not because I somehow magically fashion them into a success-minded person where once they were not.
I look at my current client list and see that I have fully embodied what I preach here as well. My clients are without exception ALREADY SUCCESSFUL BADASSES when they come to me.
Once upon a time, when I was less sure of myself and less okay in filtering people OUT, I'd sign up anyone who wanted me to SAVE them. They thought that if they paid me they'd become successful. I allowed them to think that. This did not bode well, for either of us.
But still, when I saw this post yesterday, it made me realise:
Tune in to these sort of truths. Ever more ever more ever more. No matter how much you already believe or teach or preach or even live by something, the more you tune in and LOCK it in the better. It's like being on a journey, having the destination in mind, not noticing you're drifting, slightly off course, wondering at the end why you didn't land at the right place.
You MUST check that internal compass at least daily, and probably more so, until your DEFAULT thought patterns are missile-focused to where you want them to be.
You'll know that this is true because you don't have to think or do ANYTHING and yet you create exactly the outcomes you want.
2) The second thing which happened is I had a call with my mentor and realised there is still that part of me where I show up (in my free content, for example) in order to GET A RESPONSE.
Looking for the titles, the ideas, the energy, that will WAKE people, SHIFT people, EXCITE people, get them to like me! And follow me! And buy from me! And also, yes, transform their lives!
"Why do you actually wan to be rich and famous?", she asked me?
Well, I've always known I will be. That's what comes up first. But, why?
Okay – ego is definitely part of it, I can admit that. I want the validation of being at a certain level, being the best. MAYBE IF I'M FAMOUS I'M GOOD ENOUGH …!
There's that little girl again 🙂
But also, putting ego aside, I said, because I feel SUCH A SENSE OF URGENCY to impact people to live a purposeful life. I know my message can help people. That I came here to do that. That everybody should SHUT THE FUCK UP AND LISTEN WHEN I TALK!
And she said something which really got me thinking, and which ties in (of course!) with things I've been livestreaming and thinking about all week anyway.
"It's not your job to save people. Your message and work WILL help millions of people. But that's not why you do it. You do it for YOU. You do it because you can't NOT."
Sounds like something I would say, doesn't it?
I told you I was gonna find me 2.0 🙂 🙂
Anyway.
The saving people thing. It's definitely been a theme of mine in multiple areas of my life. When I left my first husband I was SO WORRIED about how he was going to survive or ever have a happy life without me. I felt responsible for his happiness, for his LIFE. What a martyr, hey?! I was almost AFFRONTED when I found out a year or so later that he was in a new relationship, and happy.
I remember catching myself, and thinking – WOW. Why do I feel ripped off that he is happy? I actually had the nerve to think at the time – "hey! You're not supposed to be ABLE to be happy without me!"
I totally WANTED him to be happy, by the way, I didn't begrudge him the happiness, I had left HIM! But I thought it was my cross to bear.
I have to admit … I feel that way about the marriage (my second one) which I left last year.
I am conscious that it's NOT my responsibility. But yet here I am, worrying that who else is going to do it, if not me?
Sometimes I think that my whole life revolves around worrying about who else will save the WORLD, if not me?
It's quite a load to carry around 🙂
And I suspect you might just be carrying the same load around too, hmm? I'll fight you for it!! YOU can't save the world because it's ME who is going to!
Haha.
Except –
Not so funny, really, is it? When it infiltrates your art. Your truth. Your message. How you show up. Who you BECOME. And ultimately, how you live your life.
And it's such a small distinction, really.
I haven't changed my message in order to try and save you.
But yet …
If my dominant thought is that it's my JOB to rescue people from their otherwise aimless lives (lol! sorry! but it's what my mind so often thinks, and I bet yours TOO!) …
Then certainly the WAY I create, show up, unleash, will be different.
Just a little different.
From how it would be if I did it just for me.
If, as I sat here, strong black coffee and post-yoga buzz fueling me, at a cafe in the sun, and instead of asking myself –
"What do they need to hear frome me?", and writing a blog to MOTIVATE or PROPEL you, I instead decided to reframe:
"What do I need to say? What do I want to say? Do I even FEEL like writing?!"
Well, the truth is I always feel like creating. It's only when I put rules around it, try and make it dance or perform or generate an OUTCOME, whether likes or sales or what the fuck EVER, that I don't really enjoy it quite as much.
That I can still churn out CONTENT.
But I don't get the release, the sense of completeness, the ability to breathe again, the KNOWINGNESS that I just did what I came here to do.
That I did what I needed to do for ME.
That I RELEASED, what was within. As opposed to CREATED, based on what I in even the SMALLEST way, thought I should.
Want to know how to know you've really done what you needed to do for you?
You feel completely done. Like – nothing else matters. You have ABSOLUTE confidence that you have done the work for the day, there is no feeling of needing to prove or push or tick off, anything. That part can be kind of annoying if you still have an empire you wanna run, or people to get back to 🙂
But it's a good marker.
Today, I remind myself to look for that marker, daily. To say fuck the world, it can go down in flames for all I care, I'm just gonna be over here in the sun creating cool shit for me.
So, sorry, but I just can't bring myself to wanna save you anymore.
I don't think you'll mind anyway …
I think we're the same, you and me.
Which brings me to my other point:
Life is Now. Press PLAY.
And just do it for you.
Kat
PS The truth is … I've always known … and certainly I've PROVEN, to date, as well …
That money and fame and ALL that stuff actually only flows when you create what you can't not anyway. Isn't it funny how easily we distract ourselves from being ourselves, thinking that it's the only way to achieve the BIG SHIT, when all along just BEING ourselves is what will get us there?
PPS The High Vibe Coach Certification Program is here!!
🌟🌟 Become an Internationally Accredited Badass (& Coach!) and Work in My Company, or Explode Your Own! 🌟🌟
And the doors are open NOW for application + registration, for a May 22 start date! The High Vibe Coach Certification Program runs over 5 weeks of EXTREMELY condensed immersion-based coach training. Here's a little of what to expect!
* Week One you'll be thrown straight in the deep-end into COACHING, in my trademark #laserasskickery style, which I've perfected over the past nearly two decades of coaching thousands of entrepreneurs, artists and leaders both on and offline. It's completely hands on learning right through the High Vibe Coach Certification, so in this week you will both coach and BE coached, by me as well as your fellow High Vibe Coaches, and I'll teach you the 'how' of these intense sessions, and why it is I am so rapidly able to get to the core with coaching clients, and then get them into ACTION.
As part of this we also look at, of course, your purpose and dreams. You will after all be being COACHED!
Week Two we CONTINUE TO COACH (live + recorded with constant feedback throughout), and we also dive into my Alignment & Asskickery process, which is, for want of a better way of explaining it, my coaching 'system'. I teach you how to add your personality, message, spin to the concept of getting clients into ALIGNMENT and then massive fucking action, so they get RESULTS.
Week Three we KEEP ON COACHING (obviously!) and we also get into how to brand like a badass, how to position yourself as THE must-follow person within your industry, how to create an entire CULT TRIBE and market consisting only of YOU. YES High Vibe Coach is in part about me identifying coaches to hire into my company however it is also fully about coaching YOU to be a badass high vibe coach, whether or not you do that for your own business, in mine, or a blend of the two. Either way: I want coaches with BADASS SASS and that's what I'll be teaching!
Week Four is STILL MORE COACHING OF EACH OTHER, annddddddd this is the week you get to coach ME, as part of your application to then receive a place AS a #KatCoach, if you're wanting to use the Certification for that reason and not just your own biz. I can't wait to have you kick my ass – in public!! (Within the certification, don't worry). We also look at how to design coaching offers that SELL, from low-end right through to the tens of thousands this week.
Week Five is MORE COACHING OF ME (yay!) and is also the week we break down how to KEEP GROWING and flowing no matter how many clients, programs, offers you've got going on, how to get everything done and still have a life (actually, your DREAM life), and also how to SELL like a mofo, daily on repeat.
After Week Five, if you want to be a #KatCoach in my company, as well as in order to receive your Certification, you'll be required to complete an interview / assessment with me, based on the work we've covered. **PLEASE NOTE THAT COMPLETING THE CERTIFICATION IS FIRST AND FOREMOST FOR YOU, not just 'cause you wanna work in my company!
Interested? Awesome!
You need to be:
ALREADY certain that coaching and mentoring is part of your life's work. There is no component in this program on 'how to know if you're a coach', or 'why to coach'. It needs to already be in your heart, your soul, you can't NOT want to reach out and impact others with your truth and the things you've learned as well as continue to learn, along your pathway.
Even though coaching is in your blood and you just can't help yourself, you are a CREATOR and MESSENGER first and foremost. You believe there is something inside of you which must come out.
You are actively already PUTTING IT OUT, in some way shape or form. This is critical as I have no interest in training people how to be kick ass coaches simply by imprinting my own beliefs or systems! You need to already be owning that your message and art / work impacts people, but now you want to know how to get it – and you! – out there in a bigger way, as well as to learn from somebody who has a multi 7-figure PURPOSE driven online coaching business, about how best to COMMUNICATE the message within and also, sell it.
You need to be fully aligned with MY message and truth. If you need to ask what it is then it's not for you just yet. I'm looking for #katcult coaches, plain and simple 🙂
About the Investment + How to Apply
Application is via Facebook Messenger only, and in the form of a 2-minute video from you explaining why this is for you. In that video I'd like you to also share what the message is which you most want to impact the world with. This does not need to be some kind of fancy professional video! The quicker your application gets in the better.
From there, if it's a fit, I'll give you a bit more 'what to expect' info on the program, and also run through investment details.
Places ARE limited in the High Vibe Coaching Certification, so if this is calling to you then act now! Please feel free to share this post or tag a friend who you think might want to ROCK it as a High Vibe Coach!
PS
Expansion.
10 Days of Live Soul Transmissions, to Help You Find and Follow the Messages Within
Day 1) Trust
Day 2) Certainty
Day 3) Self-Belief
Day 4) Empire Creation
Day 5) Your Deepest Message
Day 6) Following Soul Guidance in All Areas
Day 7) Faith vs Fear
Day 8) Accessing Flow, and Superflow
Day 9) Expanding Time
Day 10) Expanding Money
Every day will be a LIVE soul led transmission.
This will take place on Facebook video, held at a variety of times in order to account for varying time zones, and scheduled only once we have begun. Our daily soul transmissions will be guided from MY higher self and directed from and for YOURS, to help you find and FOLLOW the messages within. The messages of your spirit, your consciousness, of the who you've always been and yet have managed quite well to cover up a lot of the time.
This is about stripping away –
And getting back to the CORE.
We'll dive day by day into the above mentioned areas –
And you'll receive all content and bonuses to keep for life.
There will be daily spirit prompts which you'll receive after each training.
And plenty of time opportunity connect with me throughout, receive transmissions direct to YOUR questions, and absorb more even than what comes through on the trainings, via the energy we'll create in this collective!
It's very rare for me to know in advance exactly what is coming through day to day.
I certainly don't have the details of each day's content. But I know that these areas have been on my heart to talk about, in particular around belief, around certainty, around living from FAITH.
We know that exactly what is meant to come through for you WILL, and then some. And that if you intend and allow for it to, it will change, most likely before we even begin, due to your energetic commitment, the direction of your LIFE!
Meaning: direct it back to absolute soul alignment.
*** NEVER Seen Before Bonus! ***
As part of this, I've been guided to offer a NEVER before seen bonus … one I feel super vulnerable about sharing!
It's the exact journaling I did to allow the download of THIS offer through. How I allowed the idea to bubble up. You'll see my doubt, uncertainty, annoyance. You'll see what I discarded. How I went through the layers. And how I KNEW, this was the one.
I'll ALSO add in copies (screenshots) of my conversation with my COO Ash, where I was talking through the idea and allowing it to come to life.
I want to show you the exact Idea to Launch process!
This bonus alone is EASILY worth the cost of this program, particularly when you hear the mindset side of it, in terms of STAYING THE COURSE and refusing to back away from my self until the idea showed up!
I refuse not to create!!
AND, when you register for EXPANSION today (and how could you not?!) you'll also receive early access to the Pre-Work. This is ALSO never seen before, and brand new just for you – and it's a guided meditation on remembrance, to help you connect back to deepest self and the most certain truth of your destiny, before we even begin.
Perfect priming, for when we expand RAPIDLY into all that is coming through in this work!
Of course I could now go on and on here, about what I could or should have charged for this, and what it's actually going to be …
Or about all my accomplishments on line and off, with money, with purpose, with passion, with flow …
I think you know all this anyway. Even if you just me! Your soul feels what matters. And that's ALL that matters.
But I will say this:
You've always known it's supposed to be about ALL that is inside of you. That it's meant to COME from a place of purpose, passion, and SUPER super flow. And that if you just.freaking.trusted, and showed up FULLY from that place, you'd be living in a different reality already.
THE ONE INSIDE OF YOU.
If that's true for you right now, then LET'S GO CREATE THAT REALITY.
Right now
Press play for regular, (super fuck yes!!) upfront or payment plan
OR
Press play like a VIP, and receive the full course, plus 10 days direct photos or screenshots of my ACTUAL personal journaling, so you can see how I create and expand my life, PLUS a VIP only follow-on live Hotseat, where you'll receive a personal transmission just for you, if you'd like one! Payment plan also available.
>>> https://thekatrinaruthshow.com/expansion
We start Monday 17 December, US time!