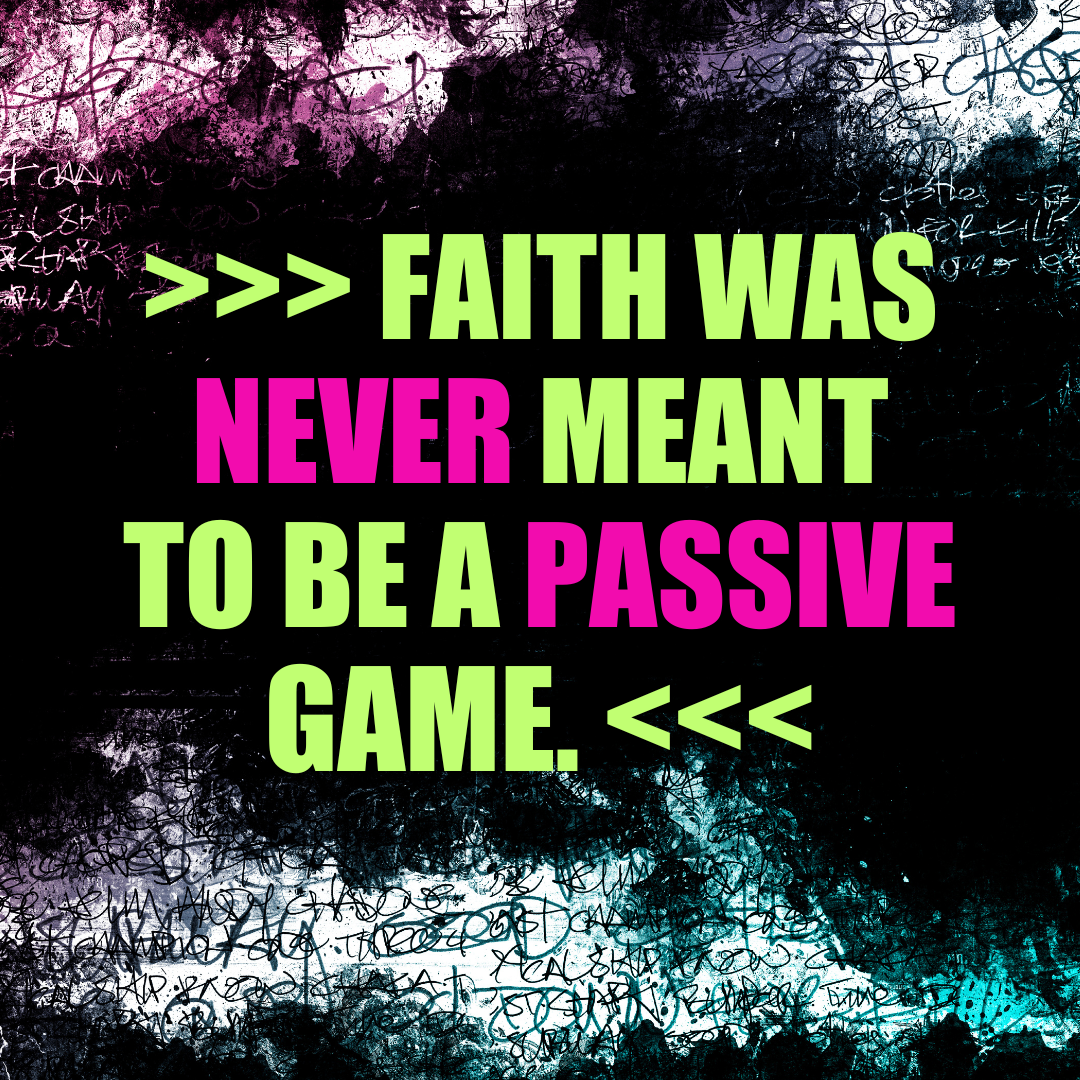 Purpose
RIP THE BANDAID. RIP THE BANDAID. RIP THE BANDAID. NOW.
The things you want and which are FOR you are on the other side of you consistently choosing to show up, do the freakin' thing, be bold and audacious ANYWAY, and all in all?
Be the person now who you believe you're going to one day be.
The thing with being shown a VISION … having a new reality made KNOWN … getting a sneaky peak behind the veil of what's to come, a glimpse into the realm of what there IS and what here SHOULD be is …
NONE OF THAT MEANS IT'S GONNA HAPPEN FOR YOU.
It doesn't mean that if it's promised and shown it's not THERE AND TRUE.
It also doesn't mean it SHOULDN'T happen for you.
It should! It is supernaturally complete! It is the thing! YOU are the thing! It's true! YAY!
But, well, hm. How do I say this?
IF YOU DON'T ACTIVELY BOLDLY AND WITH FULL LINE IN THE SAND FAITH CHOOSE IT THEN BABY GIRL IT AIN'T HAPPPPPPEEENNNIING.
No way.
Now how.
>>> FAITH WAS NEVER MEANT TO BE A PASSIVE GAME. <<<
Sometimes I think that we get this idea which actually NOBODY EVER SAID AND THEY CERTAINLY DIDN'T DEMONSTRATE RESULTS FROM IT of faith, trust, being Spirit AND / or spirit led being a situation of 'now I sit and do nothin' and wait'.
*munches Doritos while looking around waiting for her life to show up*
But that is not what faith is!
That is not what God says!
Okay maybe some crazy peeps on the internet teach the LITERAL do nothing approach, but the thing with faith is … it is RELEASED through our belief. Our words. And our ALIGNED AND RIGHTLY LED ACTIONS.
Just because force and push and hustle OUTSIDE of alignment is not and no way the vibe, that doesn't mean that the do nothing approach is the vibe!
And a thing you have been shown?
BABE.
It's a thing you're meant to run with. Stand on. DECLARE. Believe FULLY. Expect to see MORE of.
And WALK OUT FROM WHAT YOU'VE ALREADY BEEN GIVEN.
This means, in a literal sense, if you got the download, vibe, title, concept of the thing. Write it. Announce it. Siteth thy butt-eth in the chair-eth and ask 'what is it then; what's the next detail'.
EXPECT TO BE SHOWN THE NEXT STEP AS YOU TAKE THE ONE IN FRONT OF YOUR FEET.
If you know there's 'something' there, with that particular situation, or person, or thing, you don't need a full blown militay level of detail and organisation plan of all the things it could or should become and precisely what needs to be done. You just need to follow the something!
>>> What is the obvious / shown / YES you already know next move, breath, action, step?
You simply cannot expect to be shown the new thing when you refuse to do the you already KNEW thing.
And a lot of it is just …
quit listening to whiny complainy fear-based nonsense. Yeah, I mean your own. Everybody else's too! But mainly –
WHAT IF YOU JUST DECIDED TODAY WAS THE DAY YOU RIP THE BANDAID AND BECOME THAT PERSON ANYWAY?
Which means:
There is a position you've been shown and a way you SHOULD now walk.
After all –
Life is Now. Press Play.
Kat
PS.
There is a position you've been shown and a way you SHOULD now walk.
Do you feel it? Is it time? OF COURSE IT'S FREAKING TIME.
> time for you to stand up
> step out
> and POUR FORTH AS THE LEADER YOU CAME HERE TO BE
And what it really comes down to … for every facet of the business, the revenue streams which WILL appear, the connections, collaborations, ROOMS YOU WILL WALK INTO AND HELM is …
what if you just decided that today was the day you rip the bandaid FULLY,
and become the person you're being shown to be?
Now here is how I can help:
I've just opened my new God-led | inspired | directed + partnered with private mentoring container, Supernaturally Called & Ordained.
This is mastermind style PLUS full private. It is 10 weeks together. It is 12 places. It is for the LEADER who has been called by God and simply knows it is time to POUR FORTH FULLY.
We're talking the practicalities of what SHOULD now happen (and how) in your business and money.
And the inner game of what MUST now occur within you.
IF YOU'RE SUPPOSED TO BE IN … quite simply –
you're supposed to be in.
Message me for details. And to know.
PPS
Designed to be a Dreamer is my new one time live masterclass, happening start of next week!
As the title says … it is for those who were designed to operate, flow in, create from, and show UP from – spaciousness. Time. DROPPING IN. And dreaming.
This class + blueprint of what YOU now get to do will have you walking out COMPLETELY reset back to WHO AND WHAT YOU ALWAYS WERE,
plus understanding exactly what that means in a practical AND mindset set for the moves you should now take.
What it is most of all? A remembrance back to the part of you who simply sees who she is,
and steps forward into it.
At masterclass / workshop prices! Full details at: