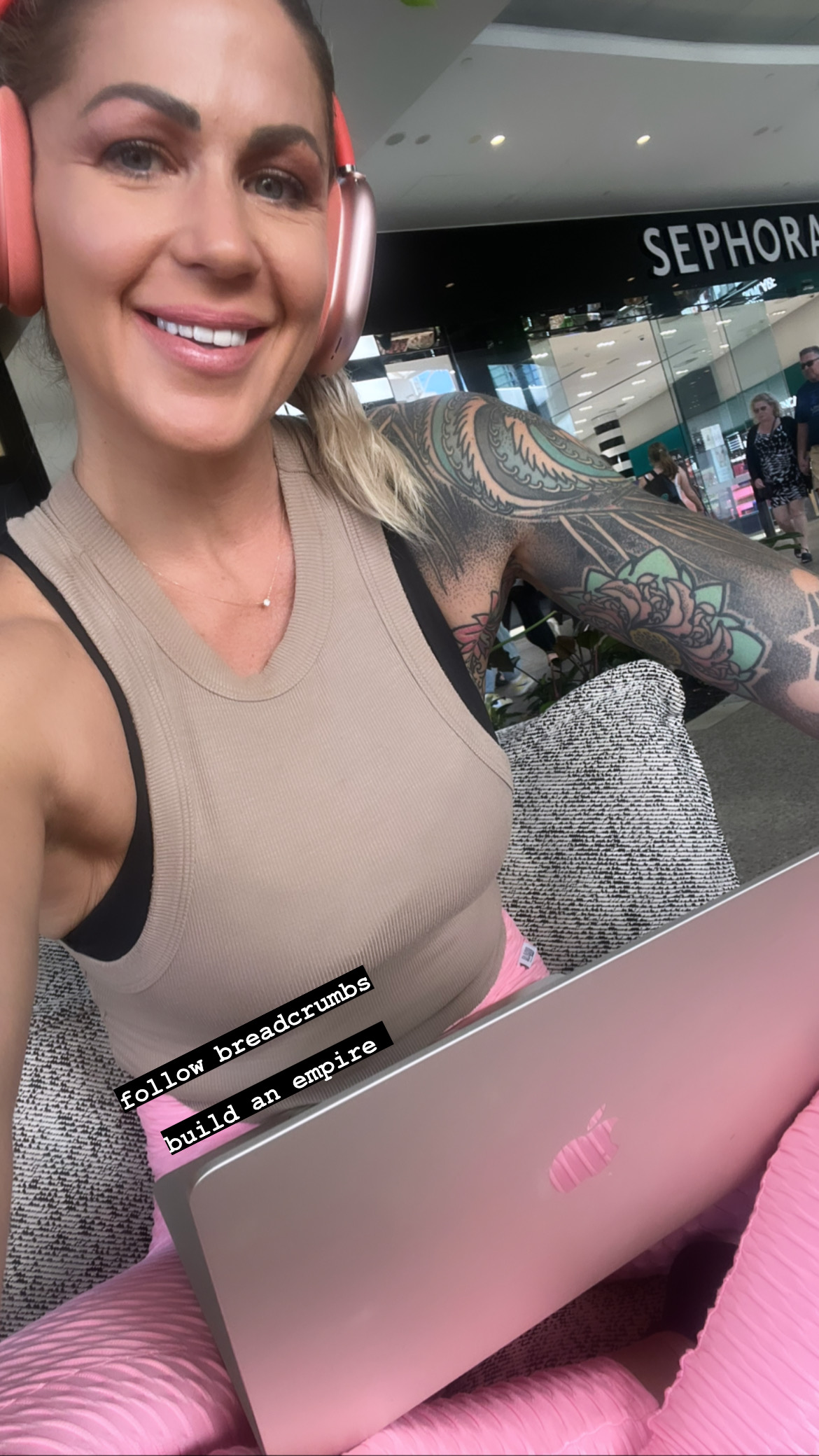 Purpose
Follow Breadcrumbs. Build an Empire. Let's Go.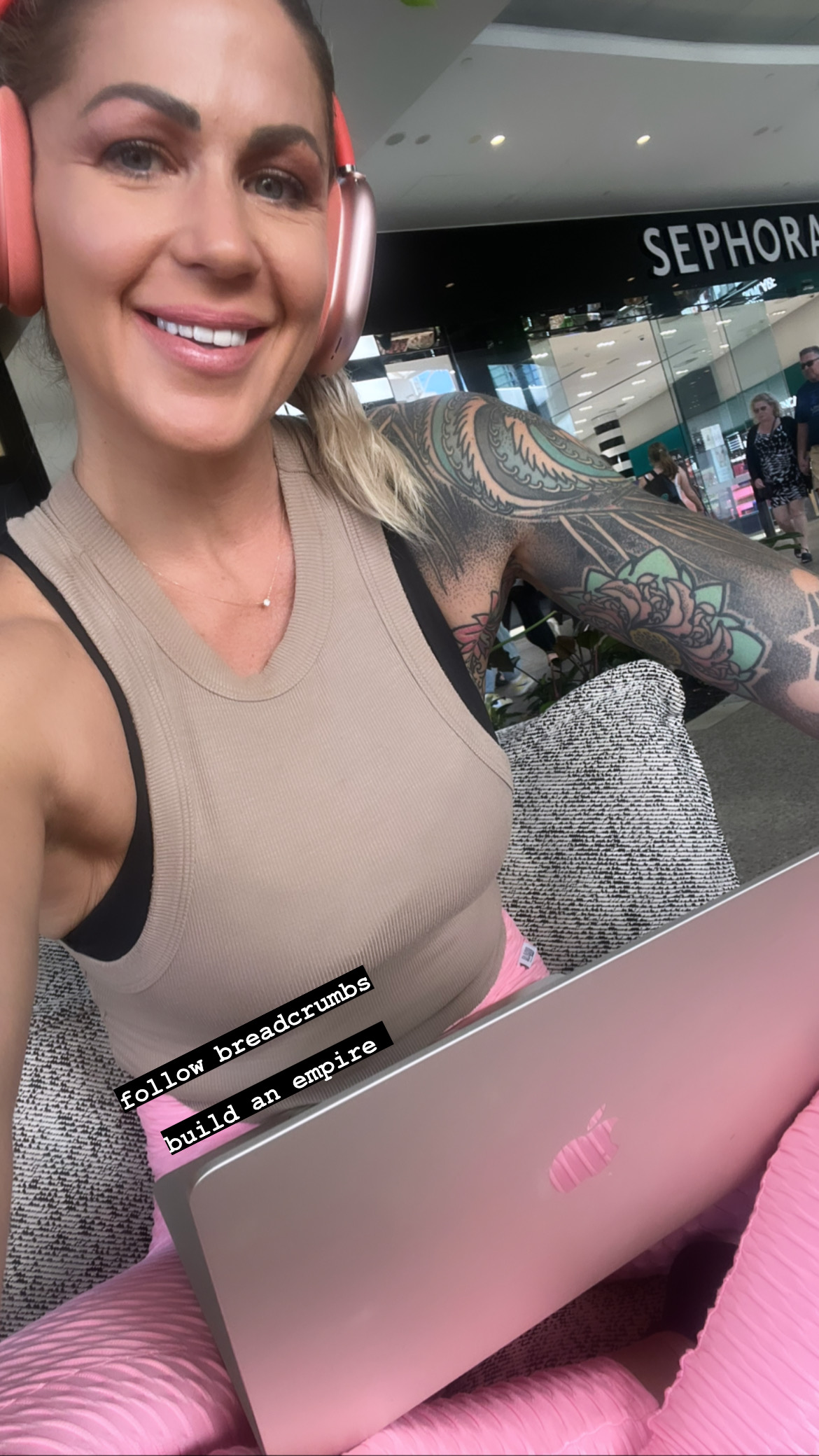 The whole entire thing is really just a game of following breadcrumbs,
continually disregarding the random stuff your mind is bothering you that you 'should' do,
handing over outcomes and the idea of trying to GET somewhere,
and all in all?
Just picking up the next thing you see in front of you, regardless of what it apparently has to do with ANYTHING,
and saying "yep" –
"I'll do that".
Do you want to know how an empire is built? Like – REALLY know?
> It's not built it's revealed
> It's not built it's shown
> It's not built it just HAPPENS,
on the way to being you
and the fact that on THAT road?
There was no should
There was no try
There was no 'I better'
There was no 'so that' or 'in order to'
There was ONLY –
this is the art the creation the download the pouring FORTH
I came here for
THIS –
is what I can't NOT let out and so it MUST come out and now watch me LET it out,
HOWEVER IT COMES OUT
oh and THERE –
plop it down
maybe put a little bow on it
a pretty filter
a nice branded catch line
IF IT'S A VIBE
but REALLY … all that STUFF … YOU know … the 'things you apparently should have in order to build a business' … which is to say the things you think you should have in order to IMPRESS people, make it FANCY, make it ATTENTION or PAYMENT worthy, or simply RIGHT –
YOU DON'T CARE ABOUT THAT STUFF
YOUR CLIENTS DON'T CARE ABOUT THAT STUFF
THE PEOPLE YOU CAME HERE TO LEAVE AN IMPRINT ON DON'T CARE ABOUT THAT STUFF
And despite what 'THEY' will tell you .. and the part of you who simply doesn't back herself to just GO ALL IN ON THAT FLOW THAT ONLY YOU KNOW …
THE WORLD YOU'RE TRYING TO GET INTO OR SIMPLY KNOW YOU SHOULD BE IN?
It don't care about that stuff either.
– You don't need a pretty fancy website to get your message out in a big way
– You don't need reams of polished proof to mentor or counsel the best in the world if that's who you're meant to be serving
– You don't need a sales page that looks like it got spat out the vagina of a perfect AI marketing femmebot in order to make sales, even millions of $ of 'em
– You don't need reels that trend like everybody else's trend if that's just not a yes within YOU
– You don't need to BUILD AN EMPIRE, because when you sit your pretty butt down and do what only YOU can, the way only YOU can, following breadcrumbs that only YOU see, and which excite your soul right down to the spirit it should be PLANTED in, and it's just YES YES YES THIS IS RIGHT, not NO NO NO WHY DO I HAVE TO EVEN WITH THIS –
GUESS WHAT FREAKIN' HAPPENS?
An empire is revealed.
An empire is REVEALED.
And meanwhile, you? You were just the girl with a backpack and a laptop. A tote bag and an idea. A dream and a delusion which was actually God speaking to her and telling her –
you came here to do something
you came here to say something
you came here to be somebody
so now
do that
and that …
is actually all.
So put it down, sister. Put it down, girlfriend. Put it down, my dear.
The idea that you need to bother with ANY of it.
The THING you think you're trying to BUILD,
is a REALITY which already exists
in the place where you just go say yes
and then?
pick up the next thing in front of you.
Now remember – !
Life is Now. Press Play.
Kat
PS
The empire you came here to SEE, it exists in the place where you exit stage-left, opt out ENTIRELY, of trying to DO, or BUILD, or GET.
YES,
your thing unfolded will have systems and structure and automated fabulousness of income and growth and more!
IT WILL BE A REAL SERIOUS REALLY REAL BIZ-NIZ. To the next NEXT level, and beyond, of everything you've always known,
and been shown.
But it will NOT
be because you sat your pretty butt down
AND THEN FORCED IT INTO A CONTAINER OF BUILDING, GROWING, GETTING.
YOU, you came here with that supernatural somethin' which just can't be hacked.
So why are you trying to paint-by-numbers the thing?! That shiz is taught to the people who don't HAVE what we have.
It's just a reality.
The answer always is and only can be:
AND THEN YOU JUST TORE IT ALL UP AND DID SOMETHING ACTUALLY FUN, ACTUALLY FLOW, ACTUALLY COULD ONLY BE YOU.
Want to know how?
THE PLAY LIFE #RULEBREAKER SOCIETY HAS JUST OPENED.
6 weeks LIVE with me. First live training TOMORROW. The business building course where you finally exhale into the lens of THEN SHE JUST DID.
SOME of us,
came here to do something supernaturally amazing.
SO LET'S JUST DO THAT.
www.thekatrinaruthshow.com/playlifesociety
LET'S TEAR IT ALL DOWN AND BUILD SOMETHING ACTUALLY FUN.
Doors close in just 2 days! The journey has just begun, and the train? WE'RE PULLING OUT OF THE STATION.
YOU'RE MEANT TO BE IN.