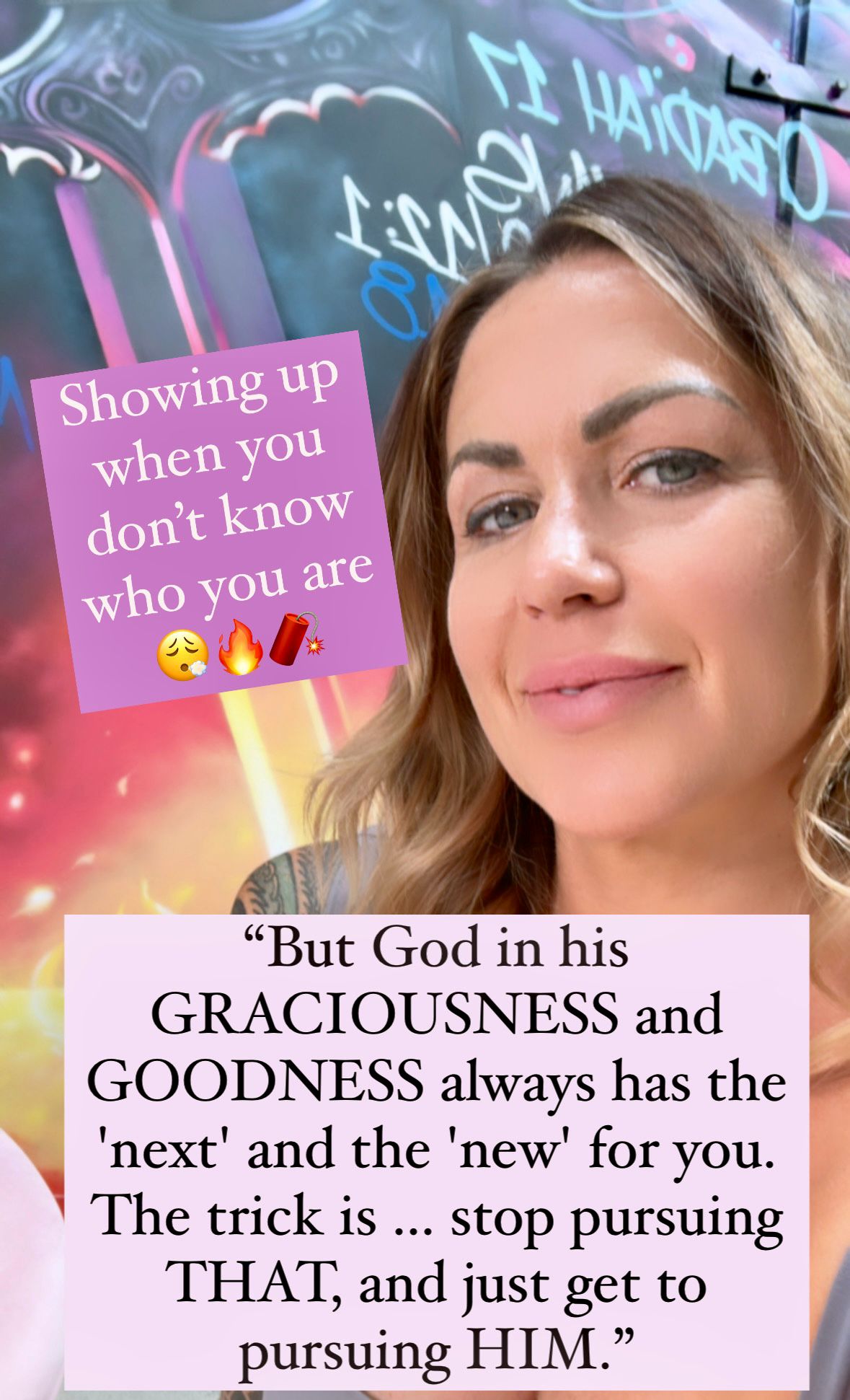 Purpose
SHOWING UP WHEN YOU DON'T KNOW WHO YOU ARE
One of the greatest myths or mistruths around using the gifts you've been given, including the gift of being YOU, is that you first need to be able to fully define or know what that means.
"If I knew exactly what my niche is, and exactly who I'm speaking to and what they want right NOW, then I could do the thing!"
I've been teaching 'you are the niche' for 10 years now (lolol at half the internet I noticed last week acting like this was a revolutionary idea because Gary Vee (I think) posted it) … but honestly –
this is just a starting point when it comes to dissecting the nonsense which stops you from simply showing up and BEING who it is God is calling you to be right now, regardless of where you think it needs to go or how you gonna get there.
Think about this:
What if there weren't even a conversation around niche?
What if you'd never even heard of 'target market' or (let's say it more conscious like ;)) 'soulmate audience or peeps'?
What if the whole entire thing were NOT in fact about building a business, being seen, being known, gettin' paid and reaching whatever lauded heights you currently have your sights set on, because WHAT if –
it were simply about the fact that there is a thing God has planted inside of you,
which wants to come out.
A thing which, for every day you don't let it out,
simply builds
grows
expands
but eventually
festers
binds you
and tangles you in untruths like 'maybe you're not really meant to do this thing at all'
What if,
the whole entire thing were a simple matter of "God, what would you have me do today?"
"But Kat, I DO wanna build an actual structured business! I DO want my message to reach more people! I DO want to see my platforms grow. I DO want that next level income!"
Yes yes.
I KNOW.
But let me ask you something. Maybe two things ;).
Firstly –
how is the endless pursuit of 'getting there' working out for you?
Secondly –
ARE you fully pouring forth what is in you to pour forth, or do you feel 'not able to' because you've accepted an idea that you first need to figure things out or get clear?
And finally –
Do you fundamentally have faith that if you would just let go and show up fully for TODAY, you would find your way to the place you are meant to be, aka walk your true path of DESTINY, and that whatever is FOR you on that path would, when your eyes are fixed in the right place,
occur?
It's a simple yes or no question, and if the answer is 'no' or 'not sure', well.
By all means. Continue the path of seeking the 'right' or 'best' or most 'now' things you SHOULD do to stand out, to sell, to be seen, to GET somewhere and BE someone, and I guess I'll be seeing ya in a year or two when that finally gets old and you realise it was ALWAYS gonna be about trusting.
If it's a yes or even an 'I think so and I'm willing to step over the line to CHOOSING 'yes' even if I feel scared or nervous' …
then let me tell you something that is going to save you likely 90%+ of the time and effort you are currently putting in and would continue to, in that QUEST TO BE AND DO ENOUGH.
>>> WHAT YOU ARE BORN FOR, HERE FOR, CALLED FOR, ANOINTED FOR, AND NOW ALSO APPOINTED FOR IN THIS SEASON CAN NOT *NOT* SHOW UP IF YOU SIMPLY WALK FORWARD IN WHAT YOU'RE BEING SHOWN TODAY. <<<
Does that make sense?
Do you get the SIMPLICITY of this?
Eyes on God.
"What are we gonna do today?"
Repeat.
It's not that complicated.
Stop wandering off the path of your destiny, and that includes agreeing with a voice that is NOT God or your own true inner knowing in Him, that first you need to go 'get' or 'be' something.
And just imagine –
Imagine!
That from this day out you showed up as though you understood it was really just about doing today's work today.
I wonder,
what you'd see.
I wonder,
what you'd encounter.
I wonder,
who you'd become,
when you finally quit the path of trying,
to be.
Now don't forget –
Life is Now. Press Play.
Kat
PS.
Oh my goodness me. Oh my WOW 'what even is this'. Oh my 'HAVE YOU EVEN SEEN?!'
Honestly … on the one hand, this past week since God showed me to quit the pursuit of ambition and success, and as such the entirety of the multi 8-figure coaching empire *I* built, has been a whirlwind.
But on the other hand, actually – nah. Not so much. It's kind of – "WOW GOD WOW, NOW WHAT AND WHAT DOES THAT EVEN MEANNNNNNN", coupled with – "meh. Cool. You'll show me what's next as and when it's time and meanwhile I TRUST you".
It's not like it came out of nowhere. Even though it kind of felt like it did! But really, it's just the continuation of what we shall refer to as 'The Year of Stripping'. And I am SO so here for it!
Do you know what's cool? Like…. crazy cool?
Since I said YES, which honestly was IMMEDIATELY and without pause, and willingly (again!) went into the void of the 'unknowing yet knowing it is ALL (always) taken care of in Him, God has done what only He can do and SHOWN UP WITH THE REVELATIONS A-PLENTY in a way which simply can NOT occur when we try to keep one foot in the old whilst saying we want the new.
"Remember not the former, and consider not the old" is one of my go-to verses (Isaiah 43:18) and one I often remind myself of. I couple it with something God told me personally a few months ago which was "WHERE WE ARE GOING THOSE THINGS CAN'T COME!". Hehe. I didn't realise it meant the whole business at the time.
But God in his GRACIOUSNESS and GOODNESS always has the 'next' and the 'new' for you. The trick is … stop pursuing THAT, and just get to pursuing HIM. The more I simply fix my eyes on Him and stop even LOOKING for answers, the more He shows me and blesses me with.
Honestly –
IT'S SO RELAXING.
Not gonna lie, it also feels a bit weird as the 'old' me pattern of 'what should I do / am I doing enough / I feel like I should be doing more; surely!' keeps popping up.
I just bomp it on the head with the Name of Jesus though, and be on my way. lol. FOR REAL FOR REAL.
Anyway –
God has revealed two massive and WONDERFUL things to me (well, two that are relevant to you. Plenty more just for me!) this past week.
If you're in The Secret Garden, you know what they are and also that they are gifted to you! If you're not in The Secret Garden … which is my membership, and the place God GAVE me for the faith-led entrepreneur who is ready to go all in on ALL things purpose, mission, calling, business, money, love and LIFE in Him …
why not?
THIS IS THE NEW THING AND ALSO THE CORE THING GOD HAS GIVEN ME THIS YEAR, AMIDST SO MANY GOOD GIFTS! It is also now half of the cost that it has been this past month or two, as I felt last week to just revert it to the original price God had shown me.
And all of my smaller courses + masterclasses and the like (sold separately) are included for you free once you're in.
If you yearn for a place where you can truly land and expand into EXACTLY who God is showing you to be right now, and you desire to understand how it all just gets to work together THROUGH Him …
(PS always feel free to DM me if you have a question!)
Now here is just a little bit about the 'revelations' I mentioned. Because if you're not ready to coach fully with me and to join The Secret Garden, you can buy these separately. (It works out better value, way better, to just join 😉
1) I have begun working on a guided workbook which God showed me, and it encompasses 'everything' you need to ponder, journal, pray on, meditate on, consider, and also in a practical sense ACTION or know, to completely vision (with God!) the business + life it is time for now, and walk forward with HIM in bringing it to life.
This is unlike anything I have ever created before, and I am kind of shocked I never thought to just do this. Think: what would typically be in SEVERAL multi-thousand $ courses, yet all put together in one beautiful visioning workbook for you to see the vision it's time for for YOU to come through now.
I said to God "how have I never thought of this before?!", and He said "because it's my thought not yours". lolol. I got to work on it right away, and the initial 'how to vision and reimagine' sections are already ready!
I'm going to be building this guided workbook week by week as God directs and guides it, and am inviting you right now to pre-order if you already know you want a copy! Your pre-order will not only give you a discounted total price, but it means you will receive early and 'as I create' access to the exercises, visioning work, prompts, and tools I am included.
This workbook, quite literally, will be THE 'one-stop' place where the most powerful exercises + visioning work I have to share with you are all housed together, allowing you to repeatedly dive in to the blueprint it is NOW time for, as you vision and partner with God in your work!
You can sign up now for the pre-launch and you will receive Part 1 this week!
Click here to order 'Re-Imagined: Business, the God Way' (oof for that title!) now! You can pay upfront or in 3 parts. This is the early access cost; once it's complete it will be launched at full cost.
2) MONEY, BUT GOD'S WAY
The last thing I would have thought last week, in the midst of quitting the pursuit of success, ambition, and MO-ney, is that next minute I'd announce a live masterclass on money!
But God has put it on my heart to do exactly that. This one-time live (and fully recorded) masterclass will be on Tuesday November 21 at 11am AEST / Monday November 20 at 8pm EST, and your ticket + the accompanying workbook is just $99, or 2 x $54.
This class is about how to LET GO OF THE PURSUIT of more, of enough, of being or feeling safe around money, and of seeing money (and success / accomplishment in general) as your source.
It is a fully scripturally backed class and dives deep into what God wants you to understand around money, success, wealth in general and also the surrender and TRUST we get to be in in Him, whilst simultaneously being a big-dreamin' entrepreneurial sort of a person.
If you know your sights are set more on money than on God, you are DONE with that but can't seem to actually BE done, and you deep down believe that all that is for you exists in the place IN God where you stop seeking it … and you want to be free finally to truly dream the dream it's time for now and also to SEE it –
this class is a do not miss.
Click here to secure your place.
3) Both of the above are included in The Secret Garden! If you know it's time, and you're ready, say yes to the whole shebang with me in the place God gave me for you, and join The Secret Garden here:
https://thekatrinaruthshow.com/thesecretgarden
* If you're not sure about going all in with me yet, and you purchase the money class or Re-Imagined, or both, and then decide to join The Secret Garden within one week of purchase, your investment will be credited back to you.
Okay!
ON WITH THE WORK GOD IS CALLING ME TODAY.
I'm not gonna lie – sometimes I just want to pull a blanket over my head and hide from the enormity of what He is showing me, and the enormous SURRENDER inherent in it, but then?
I remind myself I can do all things in Christ who strengthens me, I hand over my worries and anxiety, indeed command it to leave in Jesus Name if needed, and I return to being led by HIM, because it sure ain't MY might or power doing all of this.
I love you and I'm praying for you!
Kat x