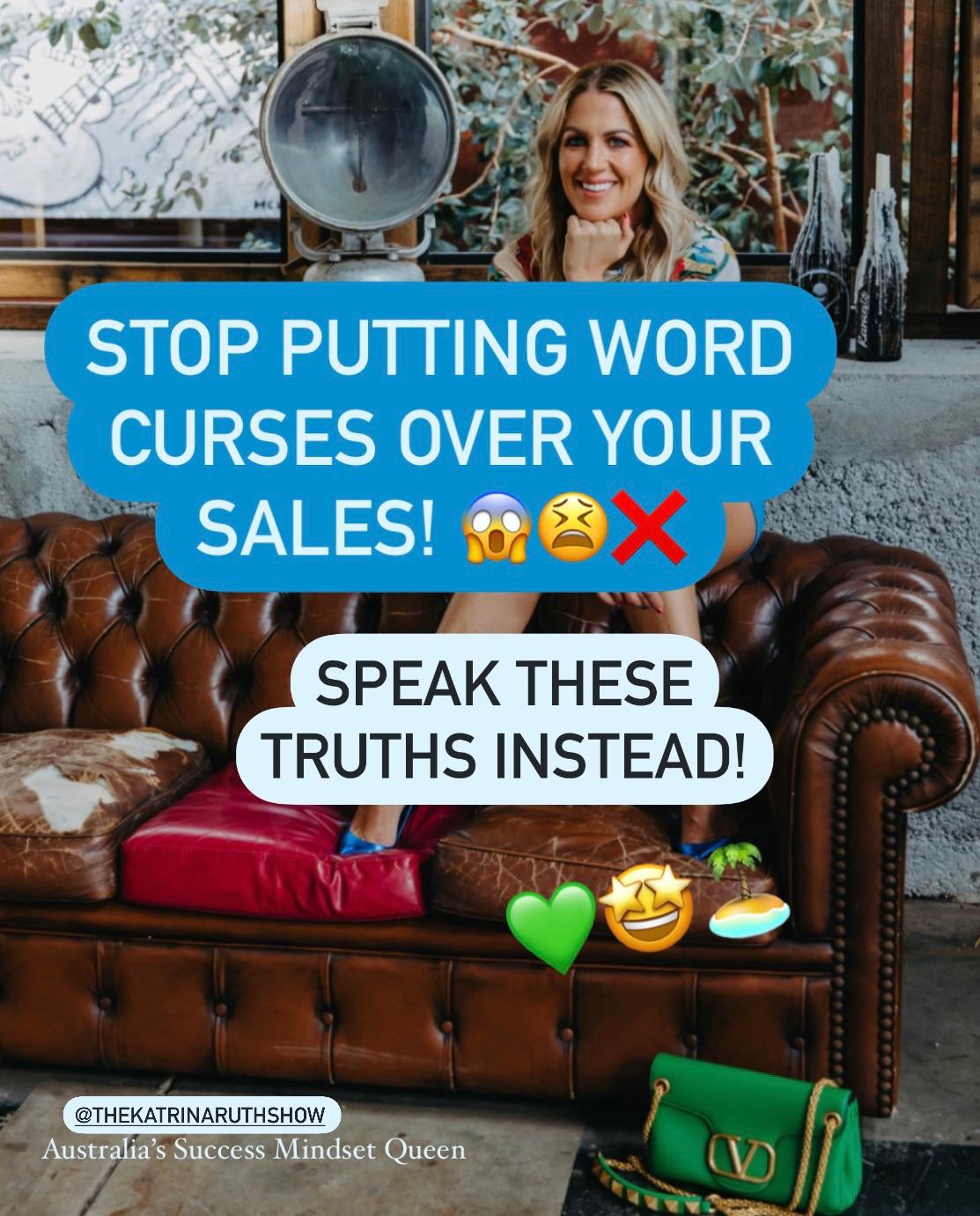 Business Mindset
STOP PUTTING WORD CURSES OVER YOUR SALES + SPEAK THESE POWERFUL TRUTHS!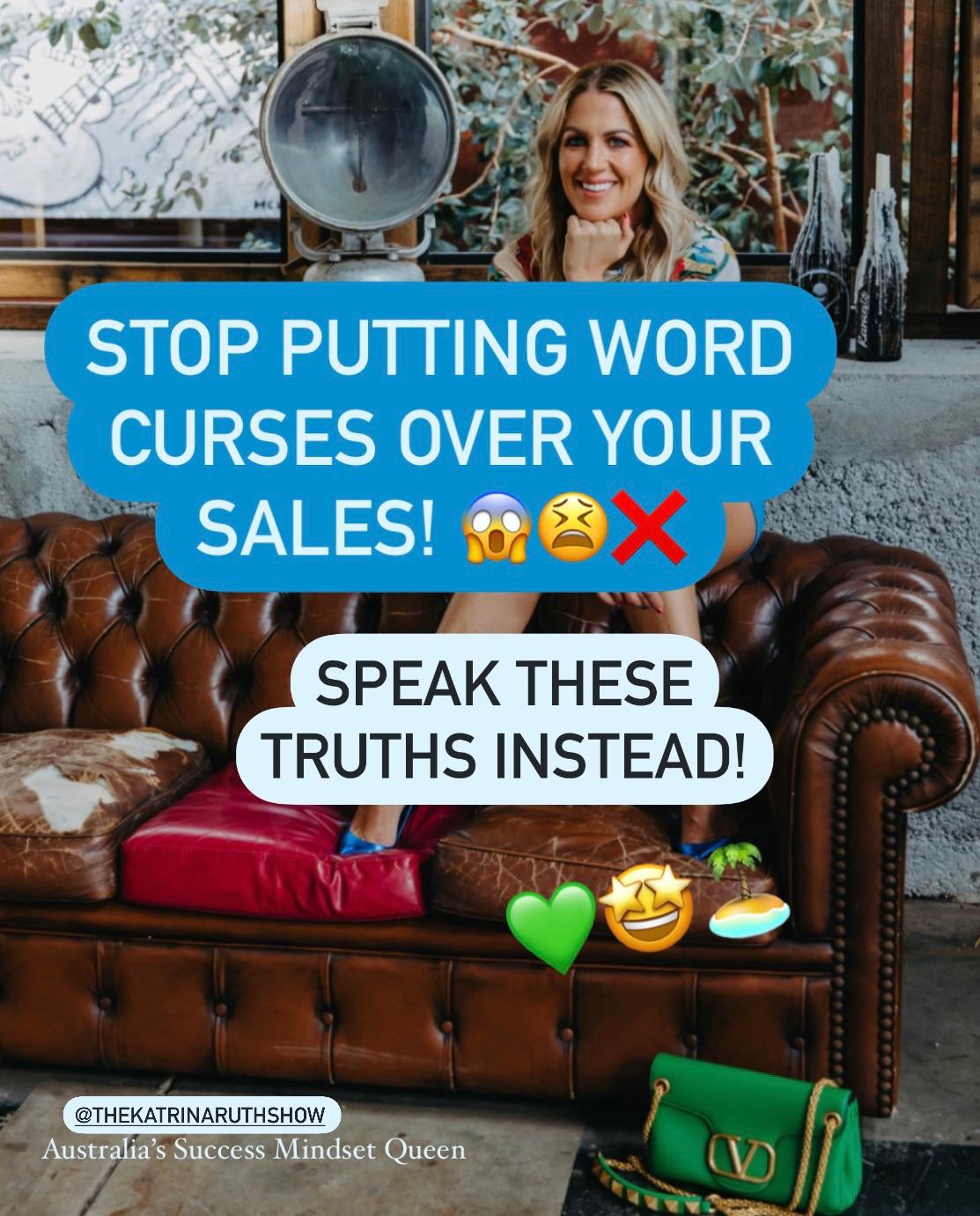 You are cursing yourself with every word and thought if you are not actively proclaim SUCCESSFUL SELLING AND MARKETING is your norm.
You are ACTIVELY calling in hardship and struggle if you are not ACTIVELY expecting people to buy, sales to fly, your marketing to work, and?
Your business to grow the WAY YOU DON'T QUITE DARE TO DREAM OF AND EXPECT YET SOMEHOW THINK YOU'RE GONNA CREATE … maybe.
You have to understand that your MENTAL RESILIENCE, your BUILDING of faith and great expectations, your TENACITY to dig deeper and decide BIGGER STILL when at first it doesn't success is all just … choice.
YOURS.
Yes,
these and all other INCREDIBLY HELPFUL AND ALSO ESSENTIAL beliefs and characteristics are all GIFTS God wants to give us.
But you gotta be open to receive.
You gotta ask.
You gotta plant yourself in to a PATTERN of expecting miracles, great ones, expecting sales, that is just NORMAL, expecting growth beyond what your FEAR-bound mind or even your 'let's just be cautious' mind would consider okay.
'Let's just be cautious, let's not get our hopes up too high, let's be realistic' is straight up EVIL.
Did God tell you to dream a smaller dream EVER?!
YES,
we need to get equipped in every area of our life, and business is one of those areas!
But do you understand that your CHOICE to expect people to buy, on repeat, and as a matter of course is one of the things you have ALREADY BEEN EQUIPPED WITH?!
And you have it sitting in the box collecting dust while you buy into an entire that your success depends upon you somehow engineering more impressive or fancy sales processes, pathways, or funnels.
No! These things are a FOLLOW on. A follow on to the fact that you DECIDED:
– I have a business
– It is a SUCCESSFUL business
– It is a business that serves 'x' amount of PEOPLE (don't hold back!)
– It is a business that is PROFITABLE
– It is a business that makes money daily
– It is a business in which sales, revenue, profit, and my / our ability to give back and to overflow INCREASES CONTINUALLY!
etc.
etc.
etc.
Meanwhile, what did YOU actually decide?
"I have a business".
….. (silence)
Expect it's not silence, is it? Because what it is is WHATEVER YOUR THOUGHTS AND WORRIES ARE DAILY, AND YOU NOT CHOOSING TO CAST 'EM OFF AND REPLACE 'EM.
– Business is hard
– I can't figure it out
– I'm constantly overwhelmed; there is too much to do!
– I've tried and it didn't work
– I bet nobody / only a few people will buy
– I don't know what I'm missing
– I'm terrified of not being able to pay my bills
– I'm terrified maybe I'm never going to make it and maybe I'm just not that person!
DO YOU SEE WHAT YOU ARE SPEAKING OVER YOURSELF EVERY DAY?
This is no light matter. Your EFFORTS tapping away at your computer, seeking to do great work in the world, and putting in time | your heart | your soul | and a true desire to BE WHO YOU CAME HERE TO BE …
cannot override what you are proclaiming and bringing to life every day in what you speak.
So let's STOP.
Let's pull UP.
And let's start to SPEW FORTH GREAT EXPECTATIONS.
"MY BUSINESS IS SUCCESSFUL, WILDLY PROFITABLE, AND OF GREAT GREAT TRANSFORMATIVE SERVICE"
"I AM HOLY SPIRIT LED AND GUIDED AND THUS SUPERNATURALLY EMPOWERED IN ALL THAT I DO, SO I LITERALLY CAN'T GET IT WRONG"
"GOD BREATHES ON MY FAITH-LED ACTION!"
"PROSPERITY IS FOR ME NOW!"
"I MAKE GREAT CHOICES!"
"I AM GREAT AT BUSINESS AND GREAT WITH MONEY"
"NEW PEOPLE ARE FINDING AND FOLLOWING ME EVERY DAY, AND THEY BUY, BUY ON REPEAT, AND REFER THEIR FRIENDS"
"MY SALES ARE GROWING DAILY AND MY BUSINESS IS SO FUN AND JOYFUL!"
"I AM PROUD OF MYSELF AND I EXPECT GREATER AND GREATER THINGS!"
This is DAILY.
If you THINK daily, you better be mastering your thoughts daily.
Otherwise you're just a girl on a laptop, with a dream she doesn't even want to grasp hold of when it's dangling right there in front of her.
And that's just kind of weird.