News
The Dark Side Of The Health Industry
Amidst all the "save the world; let's make it a better place" ethos of the health industry at large there is a deeper and darker side. One that you may well have never come across. It's the 'us
versus them' war; a story that has been played out time and again through all manner of industries – and it's a war that doesn't appear to be growing old. We all accept that, when it comes to health, other people do not believe what we believe. We know that there are opposing views to oppose every view, and for those who've ever begun a battle of science we also know that there are studies to oppose every study! So we base our beliefs not only on science and written or visual evidence, but also on our own innate logic about what seems right, coupled with the reality of what we can prove or disprove on our own physiology.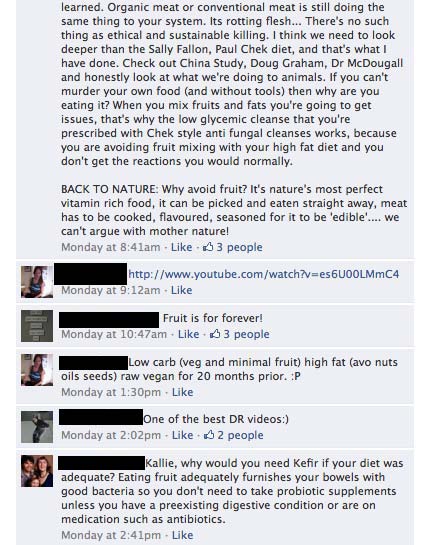 I'm talking about the war between the carnivores and herbivores. Yesterday I got trapped as an (almost) lone carnivore in the midst of a group of VERY committed herbivores. So committed in fact, that, well – see for yourself. What I'm showing you here today is 30-minutes worth of back and forth from a Facebook comment thread I jumped in on earlier this week. You can read my commentary, or just the comment screenshots; that'll definitely give you the story! I know, I know, I should have walked away from this conversation or probably never even have started it, and possibly I should just let it go now. But hey –  it's been a while since I've had a good rant! And truthfully? I'd love to get your feedback on this.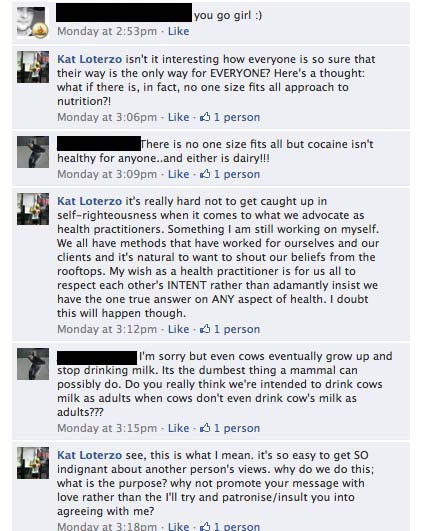 Am I being completely delusional to suggest that we can all keep our different views and still have basic human compassion and respect?
Should I do as my attackers do and look at anyone who doesn't accept my views with a mix of disdain, pity, and a 'why waste time on the lost', sort of attitude? Would I be doing the right thing in trying to spread what I believe to be right and factual by responding with lists upon lists of studies, even stuff that I've seen repeatedly undoing the infamous China Study and other well-known anti-meat texts? My point of just trying to all respect each other as humans was completely swept up in an attack on my beliefs, and an assumption that they're not factual. I chose not to respond with the facts of my case because really, why bother? I certainly don't have a self-appointed mission to convert non-meat eaters into flesh-tearing-beasts such as myself.
My mission, with my business, the example I try to set in my own life, and through this blog as well as all my writing, is to inspire and to empower people – YOU – to take control of your health, your body, and even your life. To live your best life, dare I say! Yes, I also aim to educate, but to do so in a compassionate manner.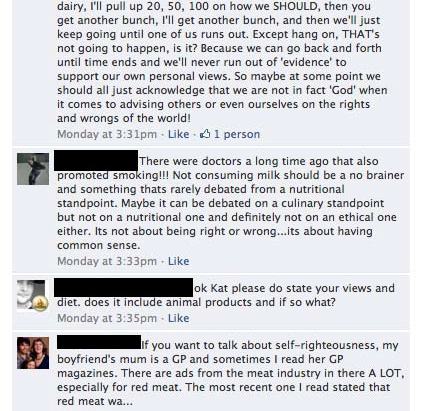 My personal mission with my writing is to feel good about making you and my other readers feel good both inside and out (and I'm talking physically as well as emotionally), not to feel sanctimonious and puffed up about how effectively I tore someone else down!
Nor would I imagine for a second that such an approach might be effective in sharing my message or 'converting' those who I may quietly (or not apparently :)) see to be mis-led! I've given up on trying to be a writer who summaries science as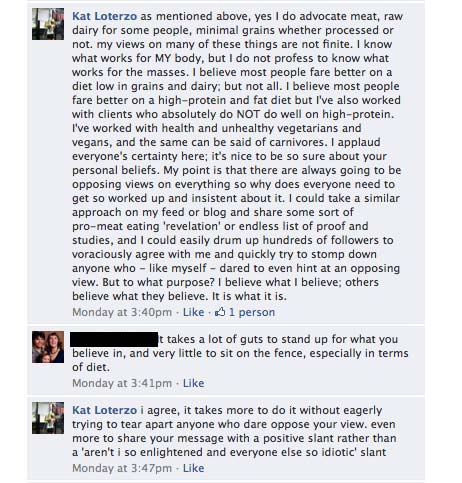 a) my passion is not purely in stats and figures,
b) I know you guys want inspiring and interesting food for thought rather than lists of links and research to wade through, and
c) the people who want me to 'prove' something to them are never asking out of a genuine desire for me to do that.
Now I may not always succeed, but when I write, I try to respect where other people are coming from, and the fact that they are entitled to form their own beliefs based on their own experiences and research.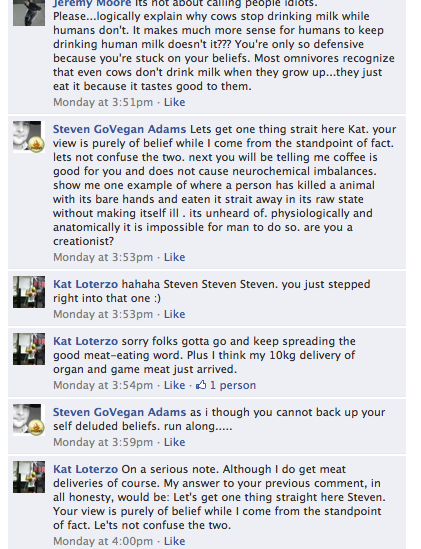 Yes, I hope that my writing promotes change in the way people see healthy living, fat loss, and even in the way they follow their life purpose or passion, but I simply cannot come to terms with trying to change someone by being patronising or insulting.
It just doesn't make sense to me!
And I know I'm not alone; in the midst of all this back and forth I received 2 private messages from people I didn't know, saying they agreed with me and thought it was good that I was standing up against the attacking attitude put fort.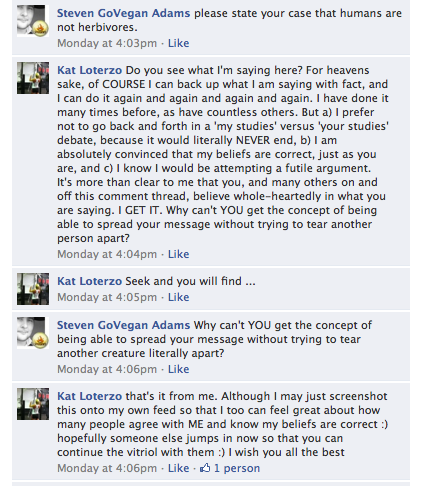 So how about you – does it make sense to you?
Should I be spouting forth science in an effort to show how informed I am and how uninformed others are?
Or should I just do as I'm told and run along … back to this blog and other happy places where I know people will be nice to me and each other?
Perhaps I have it all wrong; perhaps the health industry should be about verbally beating the 'non-believers' into either submission or intimidated withdrawal?
Vote now! [poll id="3″] As well as voting, please have your say below in the comments – please do! I'd really like to know you think about all this.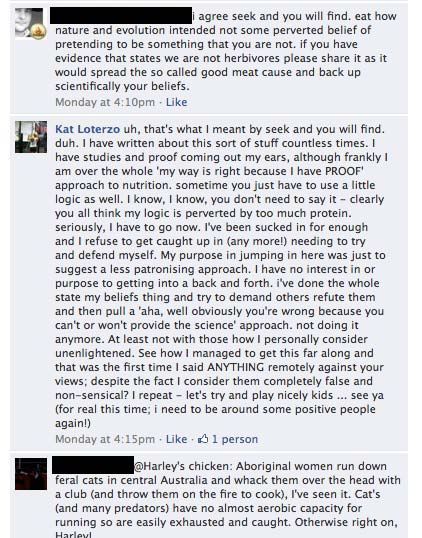 And remember – Life is Now – and it won't be forever. Is it so naive to think we can all get along as we 'press play'?
Kat PS: Writing this piece has reminded me why I blog – it's not just about 'eat this; eat that', 'do this; do that', it's also about being passionate about something and wanting to hear the thoughts of a like-minded community! Thankyou for being part of my community.
PPS: Coffee – yes, I would be saying it's good for you 🙂 And yes (sigh) – I have seen more studies than just this one!