News
WANNA RECEIVE MORE, WANNA RECEIVE FASTER? SURRENDER
Hoooo mama, this one is one of those juicy | crunchy | infuriating but also freakin' amazing things that NEVER gets old.
How many times is too many times to surrender? NEVER.
When is a good time to surrender, let go, lean into trust and faith? ALWAYS.
When do you know you should hold your hand up to your own self like a stop sign and refuse to make a damn move UNTIL you surrender? EVERY single time you notice you're not where you wanna be and some part / any part of you is holding on or attached to 'having' or 'needing' to be there!
When should you kick your own booty like CRAZY and start tearing some strips off a bitch (you) because you're completely full of shit about whether or not you ARE in attachment??
I think you already know the answer 😉
And here's the deal, okay?
EVERY single person who has got to where you would love to be, whether that be relevant to a tangible result or outcome in their life, whether they are rockin' the flow-led rich bitch luxe life, or whether it's more (and this is the good stuff, obviously) that they embody that something something you can't quite put your finger on but which represents the intangible essence of a person owning ALL of the all that they are, lemme tell you –
At some point along the way they learned to damn.well.surrender.
And often? They GOT to learn it a few times over before it finally dropped TF in. I can't tell you how many times I've had high level badasses who happen to be my clients want to rip my head off because they came to me fraught with despair or frustration over something that STILL hadn't shifted, or, more infuriatingly still, had returned, and I hit them with that one word they REALLY didn't wanna hear again, SURRENDER.
I swear I would have validly feared for my life a few times if it wasn't that technology separated us haha. I've often felt the energy of somebody wanting to reach through their computer screen and punch me, and in fact, famously, one of my Inner Circle private clients when he first joined introduced himself to my other clients with the kind side note of "I'm sure, like many people here, you want to reach through the computer and punch her at first". Hehe. You are welcome. But don't be surprised if I just KEEP on saying shit that drives you mad BECAUSE I WILL KEEP ON SAYING IT TIL YOU FINALLY GET TO FULLY LEARN THAT LESSON.
And here is how I usually explain it:
You WILL 'get' to keep on learning the lesson until you learn it. So, if you feel like "I shouldn't have to go through this again, I already DID the surrender thing", well – get over yourself! Or, to be more specific / action based: decide that you're done learning it now, which means – actually follow through!
So what does it mean to surrender, and how exactly is this linked to money? Well the truth is that it's linked to receiving or 'getting' anything. When we hold on tightly to an idea that we need or desperately want something, often because some part of us feels that having this thing would make or allow us to in some way be enough, be safe, be happier, or finally be 'there', whatever 'there' means to you, then we actually push that thing away. We make it hard to obtain or come by or receive or to integrate into our beingness. And, if we do manage to get hold of some little bit of it, we typically quickly lose it again.
Have you ever experienced that? Money, or some other thing that you finally SEEMED to be gettin' hold of, slipping through your fingers?
It's NOT because it's not available. The opposite! It's because some part of you either believes you don't really 'get' to have that, or that it comes at a great cost, or that YOU NEED OR HAVE TO HAVE IT IN ORDER TO BE HAPPY, WHOLE, SAFE, FREE, 'THERE'.
Etcetera 😉
So that's the 'why' of surrender … and I'd suggest you have a bit of a think about where in ALL of all of your life do you need to let go in order to allow … but how about the HOW of surrender?
It's a bit of a funny one, because oftentimes people actually get attached to the idea of having to, well, not be attached! They worry about whether they're surrendering properly to receive, and they end up NON-surrendered about surrender! I guess we can just write that one off as being human AF 😉
So the how is simple, really, as all things are in the end:
You decide.
You decide daily, or even more often. (The way I would do it is just whenever it comes up, comes through, is shown to you, you feel that little inner nudge or whatever … consider it basically as a reminder to self to ahhhhhh, breathe out. And let go again).
You follow the decision with action. The action might be partly internal, such as saying inside your head, or just feeling into 'I let go', 'I hand it over', 'I trust'. Think of it like placing an order at a restaurant, once you placed it you TRUST that it will be delivered, you expect the food to turn up, you don't then sit there anxiously worrying about it, or going in to the kitchen to try and oversee the damn situation! For multiple reasons, that would not be a good idea. Instead, what do you do? You come back to the NOW. You come into presence. And you do whatever being present in the moment would be.
Exactly like that is what you must do when it comes to handing over and trusting relevant to money, or to anything. You consciously choose to let go, and then you ask yourself, as far as practical action / follow on:
What would trust do?
If I had handed it over, and I really believed that money is gonna show up for me, because I PUT MY ORDER IN and asked for it, and I trusted that I could trust myself to then take whatever action I am meant to take and that I ALWAYS make the right decision … what would my next move be right now?
And then you do it.
Tune in to get the next one.
And so on.
That is the PRACTICAL side of surrender. As far as the feel of it, honestly? Don't worry about it or GO LOOKING for it. The feeling will click in to follow the action. But loosely, what surrender feels like?
Is breathing TF out, and knowing you are taken care of.
Still desperate to feel it?? Quit looking at it backwards. Act as though the feeling is there, and allow who you are choosing to be to allow that feeling to show up.
Action / Journal Prompt:
What would I ask for if I trusted and knew that what I feel inside of me is real, available, available for me, available for me NOW, and if I also knew I can trust in HANDING IT OVER?
If I HAD handed it over, and I was in allowance and trust, what would my next move be? And then? What else?
Don't worry about coming up with a whole list, the only moment you have to live right now is this one anyway. Just be sure you're living it.
Remember –
Life is Now. Press Play! 
Kat x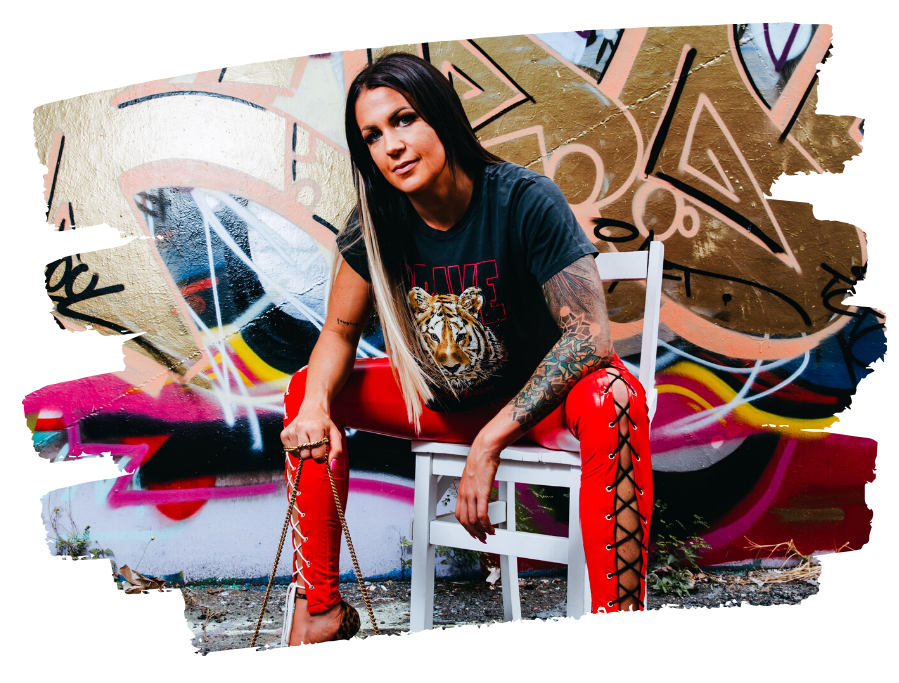 PS.
– dreamer. wanderer. soul led creator. One who was born for MORE.
I'm creating my new course, Big $ollar Energy, for the one who always knew she is here for millions,
to make it. To impact them. To create. And to LEAD.
Big $ollar Energy
The Money & Expansion Course for the Soul-Led Wanderer Who KNOWS It's Time to Go All in on HER,
and Let the Damn Receiving Take Care of Itself. The Way it Was Always Meant to Be.
Which means?
Identifying and releasing everything that gets to go, from the way you're thinking you need to do shit now, to the purposeless bits of the push or biz that it just don't need to be about, to the hidden junk in your psyche that gets to go.
>>> It's not about the do. The push. The win. When who you are when you only go within naturally PLACES you at the top,
but of the right fucking mountain.
The one that was always YOURS.
And then you finally WENT there.
Here's the thing, for us, about allowing an expanse of RECEIVING.
IT HAPPENS WHEN WE GO TO THE PLACE WHERE IT JUST IS.
And always was.
Class starts LIVE on Monday May 24, however early access + Big $ Energy vibes will open from Monday May 17 in our Telegram chat + join now bonuses are open already!
www.thekatrinaruthshow.com/bigdollarenergy
> it's time.