Purpose
The right kind of disturbed
When did you forget to be FUN, huh?
When did you stop being motherfucking fabulous, an activator who actually activates her SELF, beyond?
When did you let it dial back to such a drab –
Mundane –
Flat out MEDIOCRE –
same same-iness as everyone?!
Was it when you started worrying (again!) about fitting in? Was it when you noticed the way THEY were all doing it, and it brought up your feelings of being 'less than'?
Was it when you got tired, and stopped trying? Or was it when you got tired of trying TOO hard, because you forgot for a minute that you are fucking MAGICAL baby, and you don't gotta bother with … all of THAT?!
And why DID you start bothering with all of THAT, huh?!
"I gotta improve my marketing. I gotta improve my brand. Things need to be better organised. I need to do it PROPERLY. We need to get these things in place to scale, to grow, to be!"
But BABE –
YOU WERE BORN KNOWING HOW TO MOTHERFUCKING BE.
And when you take the gloves off and LET yourself BE. WELL. YOU –
Are FABULOUS.
Funny | crazy | just the right kind of disturbed as ALL get out.
A MESMERISING FREAKING RIOT ACT.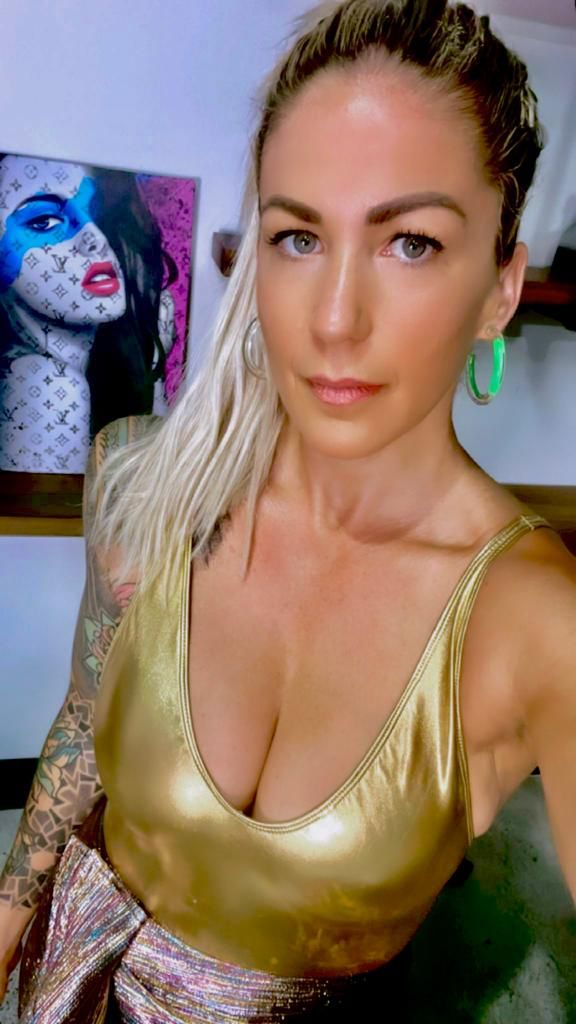 And a conduit for a message | fire | truth that NOBODY can look away from.
Nobody who is MEANT to, that is.
And do you REALISE?! Do you freaking REALISE, how EASY it is! To magnetically COMPEL your true people into your space, such that they can't say no and hell don't WANT to,
when you just step in to the energy of being YOU?!
NOT –
When you pretty.
When you proper-make.
When you fluff and polish things just so.
When you worry about how to BE.
"Am I doing it right?"
NO GIRL, NO. The fact you're asking the question makes it an automatic no!
And here is what ELSE –
When you are lit up with the TRUE fire, the true VA-VA-VOOM of the thing, the true SPARK THAT CAN'T BE QUELLED WITHIN YOU –
You ain't got no time for thinking. For wondering what will work. For could I should I. You are IN.YOUR.CERTAINTY.
And ONLY good and true things flow from that place.
Sister. MAGIC maker. WAY maker. MAGICAL FUCKING WARRIOR QUEEN.
WHEN DID YOU OPT OUT OF ALL DAY EVERY DAY CERTAINTY AS YOUR NATURAL FUCKING BIRTHRIGHT?
I'm not TALKING about now having those surface emotions come along and fuss at you from time to time. That's human! But beneath that –
THAT'S SUPER HUMAN.
That is YOU.
SHE KNOWS WHO AND WHAT SHE IS.
SHE IS UNAPOLOGETIC.
SHE IS FIRE, SPEWING.
SHE IS GOLD.
SHE IS FUNNY!
SHE IS TOO MUCH.
SHE IS HAVING THE TIME OF HER LIIIIIIFFEEEEE!
AND HER WORK?
BABE –
When did you forget to have fun?
When did you forget the FIRE we can't look away from, the one which lights YOU on fire from the inside out.
And when did you forget that it gets to be as simple as this:
Your soul. Expressed.
AND THEY CAN'T LOOK AWAY.
DON'T FORGET –
Life is Now. Press Play.
Kat
PS.
Is it time to go all in with me, 1:1? Breakthrough Private Mentoring is open now.
This is about BLOWING UP your business + money results …
by BREAKING off what is no longer needed or never was –
REVEALING the heart and soul and unapologetic raw wild YOU-ness of it all …
and combining the inner game | energetics | GOD-led supernatural + spiritual as well as the hands on do-the-WERK bits,
of being the leader who CAME here to make and impact millions –
start a revolution –
and knows that it is now TIME.
This is for you if you are already 'successful',
yet you feel in many ways as though you are barely warmed up
and you KNOW there is something so much deeper
Parts you've been ignoring
Parts which need breaking off
and an IMMEDIATE expansion of money | business | soulmate community but most of all YOU flow,
which gets to occur.
Message me,
IF IT'S TIME.