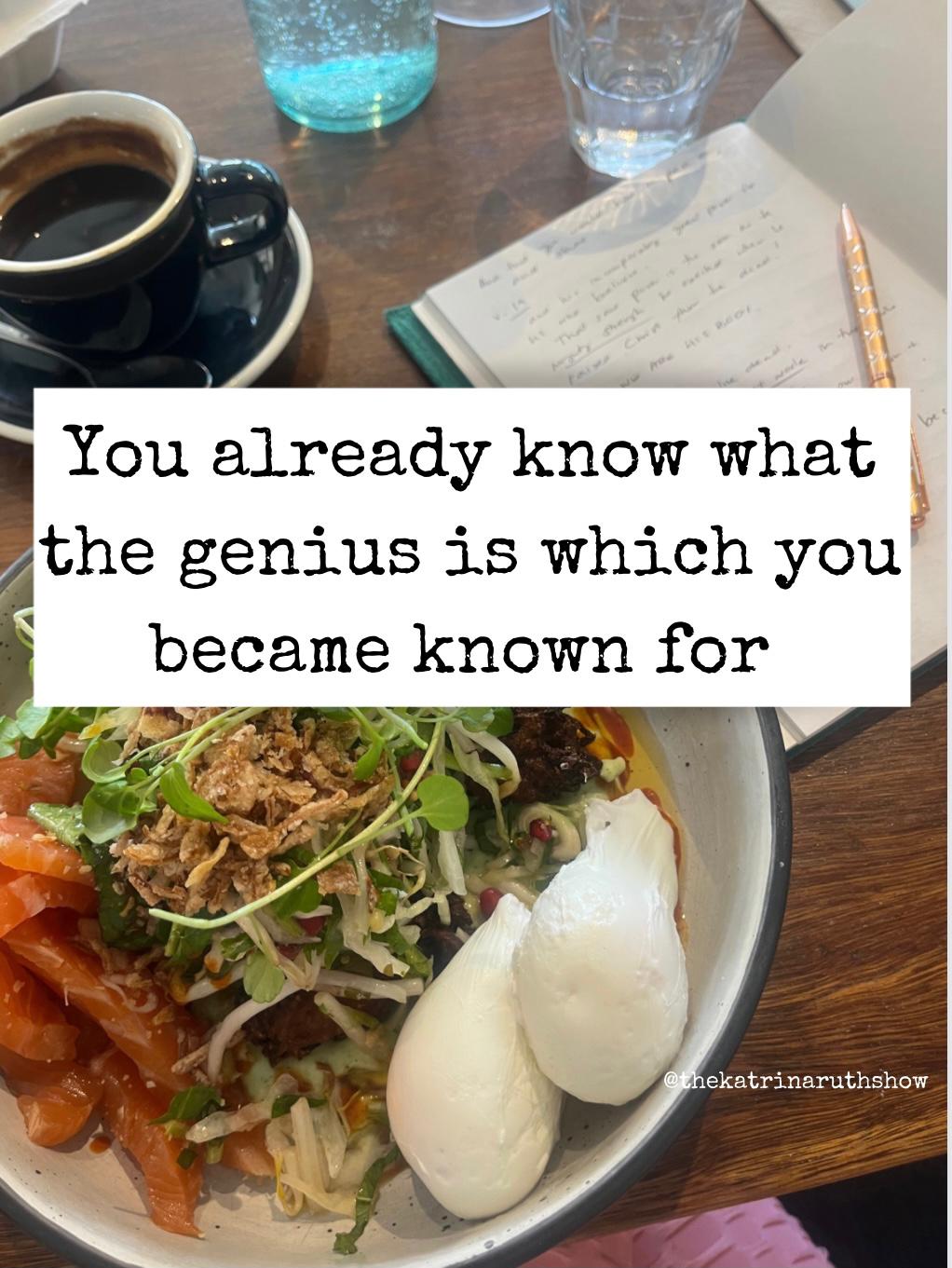 When you look back from the place where it all just works and flows, the place you finally fell into where you no longer try to figure out what makes it grow, and instead you JUST –
do
this
– what is the 'this' that you see?
– what is the way it was always going to be?
– what is it that would have you say 'this could ONLY be me!', and you feel EXCITED about that, so RIGHT about that, there is no way it could have BEEN but that because it is SO,
obviously
YOU?
It's a simple question. It's an easy question. It's a question the answer to which has been written within you since before you even GOT here.
And it is also a question which, if you do not pull yourself firmly OUT of looking to the world around to tell you how to be, you may well spend the entirety of the remainder of your life running from.
Just as you in some way perhaps have TIL now.
Because here is the truth. The truth you KNOW, deep down in the place you don't frequently enough GO.
>> YOU ALREADY KNOW WHAT THE GENIUS IS WHICH YOU BECAME KNOWN FOR.
Yes I said BECAME. Past tense.
And in case it's not BRILLIANTLY glowingly clear, by known for I mean … you are living your true calling such that it magnetically and magnificently and unceasingly POURS FROM FROM YOU AND GUSHES IN OVERFLOWING RIVERS TO ALLLLLL THE PLACES,
it is meant to go.
Here is what that genius is not:
– It is not you trying to do a thing which your head or FEAR has convinced you to do
– It is not you trying to catch up, keep up, or make up, for what you didn't already do, or for what you think you need to do in order to be validated or approved of in GROUPS OF PEOPLE WHO ARE NOT YOU
– It is not you trying to figure out whether you should do this or that, to stand out, get paid more, be seen
And most of all …
– It is not you trying desperately and with increasing grief, the grief which can only come from a life surrendered on repeat to FEAR, to DOUBT, to 'I yearn for THIS, but better do THAT', to find a way to get the fullness of the gift you've been given out into the world in such a way where it DANCES TO THE TUNE OF THAT WORLD.
Do you get it yet? Are you ready? Are you WILLING? Are you willing to admit that it simply can't simultaneously be what is IN you, whilst also MEETING AND MATCHING THE EXPECTATIONS OF THE WORLD AROUND YOU?
I'm talking whichever world comes to mind for YOU when you read this.
And I am talking about the fact that IF you have a gift. To lead. To message. To create. To pour forth. To REVOLUTIONISE WITH WHAT COMES THROUGH YOU, RIGHTLY.
Then it is a responsibility and also a choice for you to FREE AND STEP INTO THE FULLNESS OF THAT GIFT.
And it flat out cannot be done while trying to make the gift fit into a certain type of box or way of being.
Which means that the only thing, the ONLY thing you can do?
Is GO ALL IN ON YOU. On the you who God has MADE you to be. And the way you see, when you look within and to Him, it simply must come THROUGH.
In a practical sense this means:
Stop freakin' concerning yourself with how a SINGLE 'nother person is doing or building, and GET TO SEEING WITHOUT EYES,
LETTING YOUR DREAMS BE SHOWN FROM THE SKIES,
and simply?
Writing | speaking | painting | unleashing | creating | sharing what you see.
Not the way it 'makes sense right now online'. Or in business. Or in ANY place.
But the way it simply comes out.
When your eyes are fixed where they should be fixed, and then?
YOU JUST RELEASE WHAT YOU SEE,
WHO YOU ARE,
AND THUS –
THE GENIUS YOU CAME HERE TO BE.
It's NOT that complicated. And you DO know how. But not when you keep trying to know first or to make it make sense.
That's all.
And let's be honest –
It's only a whole thing you already knew,
as I remind you:
Life is Now. Press Play.
Kat
PS
Gorgeous one. Dear one. REVOLUTIONARY LEADER ONE. It is the day. It has arrived. TODAY … well today when it hits today USA time …
the doors to Become the Leader Now will begin drawing together.
Monday is the FINAL day to say yes.
Are you ready? Are you willing? Is it time?
Would you like to coach with me live for the next 10 weeks and see FULLY brought to life both the inner AND the practicalities of the business it is actually meant to BE about, for you?
It's only what I do …
but it requires YOU to say yes to you
and to discontinue TRYING TO GET SOMEWHERE YOU NEVER CAME HERE TO GO.
It's just a switch flick babe. An activation. A CHOICE.
And?
I MADE THIS FOR YOU.
PPS
You're supposed to be in 😉