News
You Don't Get Fat Accidentally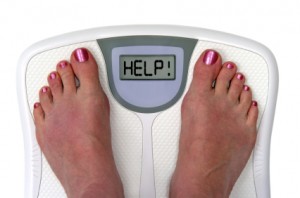 Fellow Melbournian and blogger/fitness guru Craig Harper recently made a comment which really caught my eye. It was one of several useful points in a blog post of his and was simple this –
"You don't get fat accidentally"
And I guess, when it comes down to it, that this is true. At the end of the day, someone has to take responsibility for the state of your health and wellness, and ultimately that someone has to be you. Sure, your Mum might have stuffed cookies and ice-cream down your throat when you were young, and maybe you really did have zero positive influence in the health arena while growing up. Maybe bad genetics play a part, or perhaps you just spent years not even being aware that there was an alternative way of eating, a way that didn't result in a slow but steady rise of the scales. And it could be that you've been unfortunate enough to suffer some kind of physical, emotional or otherwise impairing ailment that really has restricted your ability to eat well and exercise.
But the long and short of it is that, like it or not – and whether or not you're fully to blame – the body that you're walking around in is the direct result of the foods you've put into it, the thoughts and subsequent actions you've allowed to take place, and the amount of movement that you've made room for in your busy life. And you might think that poor health or a greater waist girth than you'd like is something that just snuck up on you, but the truth is that you kinda knew things were going wrong a while ago, didn't you? It's just that, for whatever reason, you didn't feel ready to face facts. To square your shoulders and admit to yourself that whatever you'd been doing was clearly not working out for you. And that more of the same would absolutely, most certainly, in fact irrevocably lead to more of the same.
And hey. Who am I to talk? I spent at least 3 or 4 years in my early days as a Personal Trainer a good 6-10 kg overweight, pretending that it wasn't an issue, trying to convince myself I was getting away with not practicing what I preached, going out to dinner nearly every night and then finally, eventually, having to look myself in the mirror and admit that I wasn't happy with what I saw. And that despite the fact that I'd been working 80 hour weeks (and therefore had the 'excuse' of having no time for exercise or food preparation) and despite being constantly 'dragged' out for less-than-healthy meals by my then partner, the image I was looking at was a direct outcome of my behaviors. I was the one who had chosen to let things slip, and I was the one who was paying the price. So it stood to reason that I was the one who had to do something about it.
Your situation may be more complex than that. I was lucky enough to figure all this out at an age where hard work and good eating alone was enough to (slowly) turn things around. And I didn't have any underlying hormonal issues holding me back, at least nothing that a few week's of proper sleep couldn't sort out. Nor did I have kids or any other sort of serious responsibilities to worry about. You might have so much going on in your body let alone the rest of your life that you feel as though – accident or not – your current physical state is a battle your gradually losing and that you really don't know if you can do anything about it.
But the good news is that just as you don't lose control by accident, you don't get it back by accident. Why is that good news? Well sure, it would be wonderful if the magic fairy came by and waved her wand and you were suddenly looking at the you you've always longed to be, but we both know that ain't gonna happen. And really, who wants to live in a world where success depends on chance?
You're lucky enough to live in a world where you do have the power. You can decide right now who you want to be 100 days from now. You can decide right now what you're going to put in your mouth from here on out. And whether or not you're going to continue to kid yourself, to justify the treats, the 'surely-this-little-bit-won't-hurts', the missed workout opportunities, the constant waiting for the right time to really be tough on yourself and find out just what you're capable of. And what are you waiting for? You wouldn't be scared at all, would you? Afraid of what might happen if you do man up? Square your shoulders, look yourself straight in the eye, and admit that you really haven't been giving things a proper shot? Because when all is said and done, if somebody has to take responsibility for the state you're in (and they do), then isn't it best that that person is you? Assuming of course, that you have your own best interests at heart.
But if you're okay with always wondering, or if you truly don't mind the added bulge, then that's fine. Don't face the fear. Don't finally take the plunge, truly commit to eating, thinking and training right day in and day out. The choice is yours, after all. There are no accidents in the weight loss game.
Life is Now. Press Play.
Kat
And if you know that you need support or added guidance, then you know that's what I'm here for. Leave a comment or contact me with your questions or just let me know where you struggle when it comes to staying on track or even knowing where to start.
If you liked this post please tweet it. Thankyou!
If you're a regular reader and haven't been active in the BodyIncredible community then now is the time – I want your involvement, your feedback, and your questions! So why not make this the day to leave a comment before you go – if you're reading from RSS or email you'll have to enter the blog to do this. You can do that by clicking on the title of this piece. 'Post a comment' is at the article end, right under the 'share this' and 'related posts' options.
If you haven't yet subscribed to this feed, what are you waiting for? Do it now. You can choose either email or RSS by clicking here. If you enjoyed this article please forward to your friends. Thank-you!
PS
Expansion.
10 Days of Live Soul Transmissions, to Help You Find and Follow the Messages Within
Day 1) Trust
Day 2) Certainty
Day 3) Self-Belief
Day 4) Empire Creation
Day 5) Your Deepest Message
Day 6) Following Soul Guidance in All Areas
Day 7) Faith vs Fear
Day 8) Accessing Flow, and Superflow
Day 9) Expanding Time
Day 10) Expanding Money
Every day will be a LIVE soul led transmission.
This will take place on Facebook video, held at a variety of times in order to account for varying time zones, and scheduled only once we have begun. Our daily soul transmissions will be guided from MY higher self and directed from and for YOURS, to help you find and FOLLOW the messages within. The messages of your spirit, your consciousness, of the who you've always been and yet have managed quite well to cover up a lot of the time.
This is about stripping away –
And getting back to the CORE.
We'll dive day by day into the above mentioned areas –
And you'll receive all content and bonuses to keep for life.
There will be daily spirit prompts which you'll receive after each training.
And plenty of time opportunity connect with me throughout, receive transmissions direct to YOUR questions, and absorb more even than what comes through on the trainings, via the energy we'll create in this collective!
It's very rare for me to know in advance exactly what is coming through day to day.
I certainly don't have the details of each day's content. But I know that these areas have been on my heart to talk about, in particular around belief, around certainty, around living from FAITH.
We know that exactly what is meant to come through for you WILL, and then some. And that if you intend and allow for it to, it will change, most likely before we even begin, due to your energetic commitment, the direction of your LIFE!
Meaning: direct it back to absolute soul alignment.
*** NEVER Seen Before Bonus! ***
As part of this, I've been guided to offer a NEVER before seen bonus … one I feel super vulnerable about sharing!
It's the exact journaling I did to allow the download of THIS offer through. How I allowed the idea to bubble up. You'll see my doubt, uncertainty, annoyance. You'll see what I discarded. How I went through the layers. And how I KNEW, this was the one.
I'll ALSO add in copies (screenshots) of my conversation with my COO Ash, where I was talking through the idea and allowing it to come to life.
I want to show you the exact Idea to Launch process!
This bonus alone is EASILY worth the cost of this program, particularly when you hear the mindset side of it, in terms of STAYING THE COURSE and refusing to back away from my self until the idea showed up!
I refuse not to create!!
AND, when you register for EXPANSION today (and how could you not?!) you'll also receive early access to the Pre-Work. This is ALSO never seen before, and brand new just for you – and it's a guided meditation on remembrance, to help you connect back to deepest self and the most certain truth of your destiny, before we even begin.
Perfect priming, for when we expand RAPIDLY into all that is coming through in this work!
Of course I could now go on and on here, about what I could or should have charged for this, and what it's actually going to be …
Or about all my accomplishments on line and off, with money, with purpose, with passion, with flow …
I think you know all this anyway. Even if you just me! Your soul feels what matters. And that's ALL that matters.
But I will say this:
You've always known it's supposed to be about ALL that is inside of you. That it's meant to COME from a place of purpose, passion, and SUPER super flow. And that if you just.freaking.trusted, and showed up FULLY from that place, you'd be living in a different reality already.
THE ONE INSIDE OF YOU.
If that's true for you right now, then LET'S GO CREATE THAT REALITY.
Right now
Press play for regular, (super fuck yes!!) upfront or payment plan
OR
Press play like a VIP, and receive the full course, plus 10 days direct photos or screenshots of my ACTUAL personal journaling, so you can see how I create and expand my life, PLUS a VIP only follow-on live Hotseat, where you'll receive a personal transmission just for you, if you'd like one! Payment plan also available.
>>> https://thekatrinaruthshow.com/expansion
We start Monday 17 December, US time!