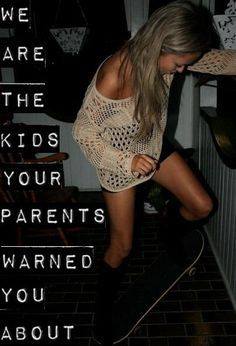 Purpose
YOU USED TO BE A WILD CHILD, WITH REBEL FUCKING STANDARDS. WHEN'D YOU GET SO DAMN MEASURED AND BORING?!
You used to be a wild child who couldn't be tamed, a rebel with a cause which at its root was just about not living the normal life, or conforming to what's expected, an upstart who had self-created STANDARDS to fucking uphold, about what she insisted upon, for herself, and demanded, from life.
It was unheard of for you to not be the best, run the furtherest, push the hardest, be the last one standing, do what others simply WON'T in order to live a life they can't.
You wanted it all.
You wanted it now.
And you didn't care whose comfort zone you had to mess up getting there, least of all your own.
Other people sought to reach an acceptable standard of success, to be average, maybe a little bit ahead, but not too much. Just the right amount of pretty, of fit, of confident. A good job, a good income, the usual traps and trimmings.
This is how the normal people do success.
Carefully carefully.
Within the lines.
Don't rock the boat.
How they do success? It's how they do LIFE. But you, you didn't give a fuck! You wanted what you wanted so.damn.badly that you were prepared to push so far beyond the pale that you long ago forgot there WAS even a pale, and it became normal, what even other people expected of you, and certainly what YOU expected of you, for you to be so far and away and OUTRAGEOUSLY ahead of the rest that there really was never a question, was there?
You, you were BORN to be different.
You were going to rip the world apart with your bare HANDS.
Put it back together JUST the way you wanted!
And DANCE THE FUCK ON TOP OF IT, in your POINTIEST of heels and with not only the money, the business, the lifestyle, but the damn fine ass and hot as FUCK relationship to boot.

You were a wild child who couldn't be tamed, wild in the sense that if anybody even gave you a LOOK that hinted you should in some way be like the rest you'd come rearing up like a possessed dervish, DETERMINED to prove once again that YOU'RE NOT LIKE THEM.
And you were so COMMITTED to this cause, to creating your purposeful life, that there really never WAS a question of motivation. Of COURSE you got up and did the fucking work, WHAT ELSE WOULD YOU DO?
And of COURSE you took it in your stride if others looked down upon you, triggered by how hard and all out you played life and how it highlighted that they DIDN'T, and of course you just kept going.
You were driven from within.
Obsessed.
Relentless.
CRAZY as ALL get out for sure.
Constantly doing the wrong thing, breaking the rules, wreaking havoc or causing mutiny, and if by chance you ever somehow DID find yourself caught up with the normal people, doing the normal things, you'd for SURE find a way to crash it all down, or re-create it to suit YOU, or simply –
Stealth exit.
Stage left.
Don't you look back on those days and smile at your madness, your possessed determination, your failure to say no to ANYTHING your soul craved, your INSISTENCE that the world conform to meet YOU, and how it always of course DID?
Ah …
THOSE were the days!
The crazy ones, hey …?
And I wonder, I just wonder, you know, as I look at you and look back and smile with you –
What in God's good name HAPPENED to you?
When did you become so MEASURED?
So BLAND?
So concerned with toeing the line, with doing it right, with being SAFE?
When did you stop being a wild child, with rebel fucking STANDARDS to maintain, and become so –
Damn –
BORING?
And do you THINK – even a little – that there's a snowflake's chance in hell you might one day wake up, say fuck THIS shit, tear off the stepford fucking mask and second skin you've somehow managed to glue on all OVER you, and SHOW US WHAT YOU'RE ACTUALLY MADE OF?!
Or is it that this is how it is, hey?
Grown up –
Seeing the wildness of your youth as folly –
Forgetting that it was never even ABOUT being a fucking rebel or a black sheep it was just about CARING for something and the fact that you wanted to LIVE THE LIFE YOU WANT and you were prepared to cop the FALLOUT that would come at you in doing so.
Can I tell you something?
You've still got it, you know.
The WILDNESS.
The CRAZINESS.

I SEE that glint in your eye, the naughty streak which just wants to tear shit UP.


And I see you –
Turning your back on it.
Creating content and a business and a LIFE which is, well, yes –
Very nice, thank you very much.
Really VERY nice.
Quite –
Quite –
Nice.
And I just wonder, you know?
Is that actually all that's left in there?
You were SUPPOSED to be a wild child.
You were SUPPOSED to make waves.
You were SUPPOSED to uphold your own fucking standards.
You were SUPPOSED to push and push and push and run and run and run and GO and GO and GO until you nearly burst a lung and vomited on the floor, until everybody stared on in horror but YOU KEPT GOING because you LIKED it, you WANTED it, you THRIVED on it, and when you SAID you'd do what it takes and be the BEST, you fucking MEANT it! And so what if it fucking HURT or was SCARY or felt like it was turning you inside out; that was the POINT!
You were SUPPOSED to have it all.
At what point PRECISELY did you decide that having it all meant 'so long as it's done carefully, and right?'.
Take a look in the fucking mirror baby.
MAYBE there's a ghost of a chance –
You could wake the fuck back up and be you.