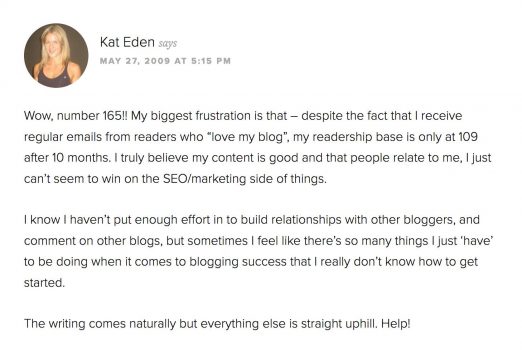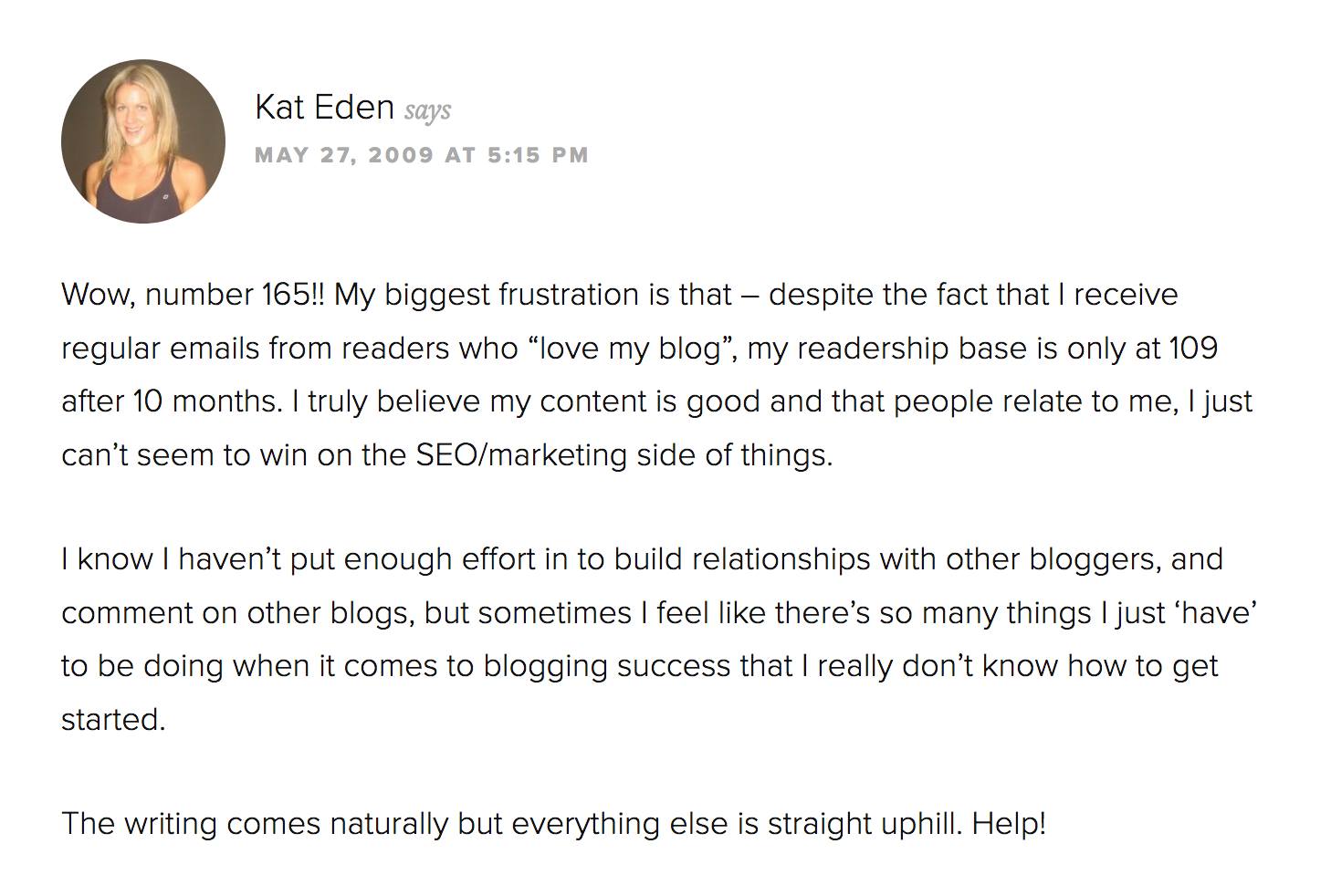 Purpose
I HAD 109 SUBSCRIBERS, AND I WAS READY TO GIVE UP …
The screenshot below is from May 27, 2009.
The post below is one I made about 6 months after that, for Copyblogger.
I was 10 months into my first 'real' blog, 3 years into blogging and being online. 3 years … 3 years not making money yet! So, y'know … quit whinging
😉
EVERYBODY started somewhere.

You see me now with a multi-million dollar online business, 'leading the leaders'.
Well, back in May 2009 I was a frustrated blogger with 109 subscribers and feeling like I was just about ready to give up.
Jon Morrow was a key person in my life who helped me to regain belief in myself that had always been there …
I remain so grateful to him for this influence to this day, and every day I seek to pay it forward and empower at least one person that they have what it takes. This is my greatest mission … to empower those who know they have something special to share with the world to 'press play' and let it out.
I know from firsthand experience how much you sometimes just need somebody to say – "hey … yes. What you feel inside of you is real. You DO have it"
If you're reading this – let this be that voice for you today.
I loved re-reading this post just now as I dug it up while putting the finishing touches on an article James Altucher asked me to write.
Who would have thought …
Pay close attention to the actual missing link I share in this post.
It is everything.
===
– The post I wrote for Jon, late 2009 –
In the past 6 months I've created an additional 25,000 in income from blogging, and I'm well on the way to exceeding that figure over the next 6 months. Starting a blog has been one of the most lucrative endeavors I've ever embarked upon.
If you're thinking I seem a little smug about my success, well – you'd be perfectly right
🙂. But before you write me off as one of the lucky ones to whom overnight success just 'happens', let me take you back …
If there's one thing I've learned over the past 3 years it's that blogging success depends on staying power. When I started my first 'real' blog in August 2008, I made one very deliberate commitment to myself. I promised myself I would never, never, never quit. After all, my dream was to be a writer and to make an income from doing so, and blogging seemed a smart path to take. Perhaps, I thought, I might even grow my then fitness business along the way.
The first few months saw me wading through various blogging mentoring courses which, while full of great advice, frankly just overwhelmed and even depressed me. Keeping up with the weekly tasks would have equated to 40+ hours, and I was already working full time for myself as a personal trainer. On top of that, I liked to keep busy with a little exercise, plenty of socialising, and – of course – the requisiste 'me-time'. Occasionally I even liked to get a good night's sleep!
If burning myself out doing tasks I didn't really want to do was what it was going to take, then I wasn't really interested. I decided to do things my way, posting consistently 2-3 times per week but otherwise throwing 'the rules' out the window.
Looking back, it wasn't my best choice …
After blogging this way for 10 months, I had an impressive 109 readers. I knew that the definition of madness was to keep doing the same thing repeatedly and expect a different outcome, but I really just didn't know where to start. It was all so overwhelming (and still can be!) – perhaps I should just admit defeat and move on.
everyone deserves a break now and then
I'd been thinking that way for a while when I came across a Copyblogger post called 'Screwed up your Blog? Here's what to do.' It was written by Jon Morrow, a blogger and Associate Editor of Copyblogger. The final paragraph had me nearly jumping off my chair:
"Over the next few weeks, I'm going to do around 20-30 telephone consultations. I'll get on the phone with you for 30 minutes, and you can tell me what's troubling you about blogging. I'll then give you advice specific to your exact situation."
What an awesome opportunity! I scrolled past 164 comments and made my entry:
I know you can imagine how over the moon I was when I received an email from Jon saying I'd been chosen. I felt like I'd won the lottery, and literally counted the days until my consult! Looking back, I am convinced that this was the turning point for me. That 30-minute consult is the reason that today, when I release a full-day event at between $200 and $500 a ticket I sell out in weeks. It's the reason I've been able to sell 161 copies of my US$37 e-book, and fill a 12-week telecoaching program in days. Indirectly it's even how I've ended up writing for national publications like The Australian Women's Weekly! And it's allowed me to forge some pretty amazing connections with other bloggers and writers. I still have Jon's advice saved on my computer. In a nutshell, this is what he told me:
writing guest posts is the best way to build a relationship with another blogger and broaden your audience
comments can work as well; best to include a personal life experience
I should come up with a list of 10 blogs relevant to mine, and seek to link my subject matter to theirs when guest posting
stop writing 3 posts a week for my own blog, and instead write 2 plus 1 guest post
Jon also taught me how to properly pitch a guest post, and gave my confidence a boost by telling me my writing was good enough to pitch to blogs with 30,000+ subscribers!
back to the grind
So it was back to the grind for me, but with a real vengeance! I could do this. I would do this! And the best part was I could do it by employing my existing skills, not by figuring out every in and out of online marketing or blog design!
As you can see, the key piece of advice Jon gave me was to broaden my reach by guest posting weekly and leaving regular comments. I certainly implemented Jon's advice to the letter, and when I tallied the outcomes in the above article half a year later I was convinced that my traffic growth and resulting financial success was due entirely to these two weekly or daily actions.
It wasn't until years later that I realised it was the less strategy-based side of my conversation and follow-on email and Skype communication with Jon that was the real key to my success. In fact, the true gift that he gave me was something I now consider to be one of the top 2 overall reasons I've reached the heights I have after now 7 years online …
In the meantime, I did attribute my somewhat rapid growth to my relentless pitching of my work. Through 2010 I wrote many guest posts, some of them for major blogs like Dumb Little Man and Pick the Brain, some for smaller and lesser known sites.. I pitched everyone, and sometimes I wasn't answered, but most of the time the response was encouraging.
A key lesson from this period was how important it is to persist even when you're not getting the results you want. Sometimes I'd find myself knocked back weeks in a row – it would have been easy to give up but I kept my eyes firmly focused on just continuing to put one foot in front of the other. I had my confidence back and was newly convinced that if I simply refused to give up I would succeed.
Really, and I'm sure I don't have to tell you – what Jon had taught me wasn't rocket science. I just hadn't heard this stuff specific to me. I hadn't been told 'you can do this; you've got what it takes', and I think that's what made the difference for me.
I felt empowered and it gave me the energy I needed to keep going. Jon's advice – and the results I got when I truly took it to heart – gave me the motivation I needed to spend 2010 building a blog with close to 2000 subscribers and getting my name out there as someone to reckon with.
I remember proudly the day one of the 'net's biggest regular bloggers at the time Ali Hale commented to me that "you're everywhere at the moment". "Yes I am!" I thought. "And this is just the beginning"
–
turns out –
I was right.
Don't forget to stay the course …