News
7 Tips To Super-Charge Your Morning Mood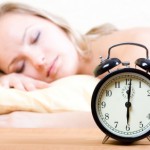 There's nothing worse than dragging yourself out of bed (after hitting snooze 3 or 4 times) to face a long and tiring day when all you really feel like doing is putting the pillow over your head and maybe surfacing around midday for a nice cafe brunch. But let's face it. There's only so many mental health days you can realistically get away with, and honestly – would you really feel so great about life or yourself anyway if you actually did follow your morning instincts?
A far better choice is to take action to boost your morning energy. I guarantee this will also improve your mood and ultimately your motivation to (enthusiastically!) get through the day ahead. Here's a few ideas that have worked wonders for me. In fact, I'd go so far as to say I actually am a morning person now, and I really never thought that would happen!
1. Try a salt water re-boot
This tip will re-boot your adrenal (stress) glands, and give you a hearty dose of vital minerals. At night, simply stir a decent pinch of real (pink, grey or black organic) sea salt into a tall glass of water. Drink it first thing on arising. If you're quite toxic you may experience a detox reaction, so stay close to a toilet for at least 10 minutes! This won't happen on an ongoing basis, and may not happen at all. More likely you'll just notice that morning fog clear and a welcome energy boost.
2. Get things moving with a dose of fiber and lemon
Freshly squeezed lemon in warm water is an old trick for improved morning digestion. Actually there's not really any science behind the idea, but it works for nearly everyone and that's good enough for me! You can add lemon to your salt water, or use a second glass – two glasses of water first thing is preferable anyway. If you really want to get things moving and enhance toxin removal, add 2 rounded teaspoons of a quality fiber. I'd do this in just half a glass water and then follow with another big glass.
3. Avoid eating 2 hours before bed
Food in your belly right before bed will reduce your quality of sleep and leave you feeling grump – possibly even hungover – come morning. If your body is focused on digestion you won't be able to produce growth hormone (GH) whilst asleep, and considering GH is vital to a healthy metabolism I'd say it's best to go to bed a little hungry.
4. Keep the room completely dark
Your sleeping environment is absolutely paramount to the quality of sleep you enjoy and therefore to your overall energy and health. I read a study in which simply shining a small red light behind the knee of a person caused melatonin production to drop and cortisol production to increase. Not good. Use an eye mask if necessary.
5. Maintain a comfortable temperature during sleep
It's also important that you don't become too warm whilst asleep. A cosy electric blanket or night-time heater is appealing when getting into a cold bed but you know how yucky you feel waking in a too-warm room – your head pounds and you feel as though your whole body has been left out to dry. Set the heater on a timer, and avoid the electric blanket altogether unless you like the idea of constant radiation whilst sleeping. If it's summertime, use a slow fan. The noise might even help you sleep!
6. Move that ass – preferably outdoors
No excuses – as soon as you get out of bed chuck your shoes on (leave PJs on if necessary!) and take a quick 5-10 minute walk around the block. An alternative is to do 5-10 minutes of bodyweight squats, lunges, push ups in your garden or on your balcony. Unless you're unfortunate enough to live right next to a sewerage plant, morning air – no matter how cold – will definitely clear your head and the accompanying exercise will leave you feeling exhilarated for hours.
7. Take 10 minutes to consider the day ahead
This is my favourite morning habit, and one I really wish I made time for more often. I like to combine a cup of quality java (which, as we recently learned, is lowering my heart disease risk!) with 10 minutes of journalling or just staring into space and thinking. I think it was Ghandi who said "I have so much to do today that I don't have time not to spend an hour on my knees". Another quote I love is  "the unexamined life is not worth living" (who said that?). You get the idea. Take some time to consider what's important to you today; what would you have to do to feel great about the day and I guarantee you'll feel great for it.
How 'bout you? What works for you in the early hours?
Don't forget –
Life is Now. Press Play.
Kat x
PS
I HAVE SOME BIG NEWS TO SHARE!
As of today, I'm opening up the doors to my Inner Circle, my 12 month private client mastermind.
This is THE most badass high level mastermind in the world for women who want it all – and are prepared to do what it takes to get it! Really what we're talking about is being prepared to be the PERSON.
And that's what I do. I help you remember ALL that you were, and then become it. ALL Of it.
This is my highest level private mentoring circle. The exact place where I have personally mentored dozens of this industry's most elite female entrepreneurs to break income barriers ranging from 10k months to multiple 7 FIGURE months, and everything in between. But more importantly than that – to become who and what they always were.
But know that this is not only (obviously) not just for the masses, this is also not just for someone who can afford to invest in a high level private coach. Being willing to throw money down is something which has absolutely zero correlation to being somebody who has what it takes to TRULY go next level as a leader.
If anything, in this industry, investing in a high level coach such as myself, is a rite of passage which veers just a little too much on the side of 'trend'. It's become something which 'everybody does', almost as a way of proving they play business and life a certain way.
Maybe even of trying to prove it to themselves.
Here is the reality which those who I am truly here to personally mentor and lead KNOW, the reality which my clients and all women like me as well as of course me personally have ALWAYS known:
We are VERY VERY DIFFERENT.
We are simply, smarter, faster, and have more presence. We can do more in our minds before breakfast than what most people can do in a freakin' WEEK, a month, a year.
We are not basic ass coaches trying to heave ho our way up a few extra thou a month.
We are the ones who have ALWAYS known we are 1% within the 1% within the 1% in terms of how we think, create, operate, how and WHAT we are tapped in too.
This is not arrogance, this is fact.
And there has NEVER been any question but that we will go all the way.
My clients are high level badasses who do the work, who have a proven track record BEFORE coming to me, and a BEING-ness which unquestionably separates them from the rest. They don't come to me to save them or lean down and hold my hand out so they can clamber up. They come because they are, quite simply, ready to go to the next level, already absolutely on their WAY there, and see in me something which they recognise because it is in them.
That 'can't stop won't stop' fire, and a level of 'unapologeticness' which, when truly understood and applied, can literally be the difference between 5-figure or low 6-figure and 7 or multi-7-figure entrepreneur.
So if you know who you are and it is THAT –
And you feel certain that you are ALREADY well on your way to to precisely where you're meant to be, but that being in MY energy could help you to drop in and get there even faster, and that with a couple of simple tweaks your current revenue could be doubling, tripling, heck QUADRUPLING and beyond in months, as it has done with numerous of my clients previously, well then –
PM me here http://m.me/katrinaruthofficial and we'll see if it's a fit. I'm excited to talk to you, and maybe – do biz and life with you.