News
7 Tips To Super-Charge Your Morning Mood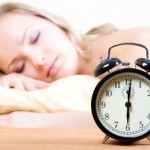 There's nothing worse than dragging yourself out of bed (after hitting snooze 3 or 4 times) to face a long and tiring day when all you really feel like doing is putting the pillow over your head and maybe surfacing around midday for a nice cafe brunch. But let's face it. There's only so many mental health days you can realistically get away with, and honestly – would you really feel so great about life or yourself anyway if you actually did follow your morning instincts?
A far better choice is to take action to boost your morning energy. I guarantee this will also improve your mood and ultimately your motivation to (enthusiastically!) get through the day ahead. Here's a few ideas that have worked wonders for me. In fact, I'd go so far as to say I actually am a morning person now, and I really never thought that would happen!
1. Try a salt water re-boot
This tip will re-boot your adrenal (stress) glands, and give you a hearty dose of vital minerals. At night, simply stir a decent pinch of real (pink, grey or black organic) sea salt into a tall glass of water. Drink it first thing on arising. If you're quite toxic you may experience a detox reaction, so stay close to a toilet for at least 10 minutes! This won't happen on an ongoing basis, and may not happen at all. More likely you'll just notice that morning fog clear and a welcome energy boost.
2. Get things moving with a dose of fiber and lemon
Freshly squeezed lemon in warm water is an old trick for improved morning digestion. Actually there's not really any science behind the idea, but it works for nearly everyone and that's good enough for me! You can add lemon to your salt water, or use a second glass – two glasses of water first thing is preferable anyway. If you really want to get things moving and enhance toxin removal, add 2 rounded teaspoons of a quality fiber. I'd do this in just half a glass water and then follow with another big glass.
3. Avoid eating 2 hours before bed
Food in your belly right before bed will reduce your quality of sleep and leave you feeling grump – possibly even hungover – come morning. If your body is focused on digestion you won't be able to produce growth hormone (GH) whilst asleep, and considering GH is vital to a healthy metabolism I'd say it's best to go to bed a little hungry.
4. Keep the room completely dark
Your sleeping environment is absolutely paramount to the quality of sleep you enjoy and therefore to your overall energy and health. I read a study in which simply shining a small red light behind the knee of a person caused melatonin production to drop and cortisol production to increase. Not good. Use an eye mask if necessary.
5. Maintain a comfortable temperature during sleep
It's also important that you don't become too warm whilst asleep. A cosy electric blanket or night-time heater is appealing when getting into a cold bed but you know how yucky you feel waking in a too-warm room – your head pounds and you feel as though your whole body has been left out to dry. Set the heater on a timer, and avoid the electric blanket altogether unless you like the idea of constant radiation whilst sleeping. If it's summertime, use a slow fan. The noise might even help you sleep!
6. Move that ass – preferably outdoors
No excuses – as soon as you get out of bed chuck your shoes on (leave PJs on if necessary!) and take a quick 5-10 minute walk around the block. An alternative is to do 5-10 minutes of bodyweight squats, lunges, push ups in your garden or on your balcony. Unless you're unfortunate enough to live right next to a sewerage plant, morning air – no matter how cold – will definitely clear your head and the accompanying exercise will leave you feeling exhilarated for hours.
7. Take 10 minutes to consider the day ahead
This is my favourite morning habit, and one I really wish I made time for more often. I like to combine a cup of quality java (which, as we recently learned, is lowering my heart disease risk!) with 10 minutes of journalling or just staring into space and thinking. I think it was Ghandi who said "I have so much to do today that I don't have time not to spend an hour on my knees". Another quote I love is  "the unexamined life is not worth living" (who said that?). You get the idea. Take some time to consider what's important to you today; what would you have to do to feel great about the day and I guarantee you'll feel great for it.
How 'bout you? What works for you in the early hours?
PS
Expansion.
10 Days of Live Soul Transmissions, to Help You Find and Follow the Messages Within
Day 1) Trust
Day 2) Certainty
Day 3) Self-Belief
Day 4) Empire Creation
Day 5) Your Deepest Message
Day 6) Following Soul Guidance in All Areas
Day 7) Faith vs Fear
Day 8) Accessing Flow, and Superflow
Day 9) Expanding Time
Day 10) Expanding Money
Every day will be a LIVE soul led transmission.
This will take place on Facebook video, held at a variety of times in order to account for varying time zones, and scheduled only once we have begun. Our daily soul transmissions will be guided from MY higher self and directed from and for YOURS, to help you find and FOLLOW the messages within. The messages of your spirit, your consciousness, of the who you've always been and yet have managed quite well to cover up a lot of the time.
This is about stripping away –
And getting back to the CORE.
We'll dive day by day into the above mentioned areas –
And you'll receive all content and bonuses to keep for life.
There will be daily spirit prompts which you'll receive after each training.
And plenty of time opportunity connect with me throughout, receive transmissions direct to YOUR questions, and absorb more even than what comes through on the trainings, via the energy we'll create in this collective!
It's very rare for me to know in advance exactly what is coming through day to day.
I certainly don't have the details of each day's content. But I know that these areas have been on my heart to talk about, in particular around belief, around certainty, around living from FAITH.
We know that exactly what is meant to come through for you WILL, and then some. And that if you intend and allow for it to, it will change, most likely before we even begin, due to your energetic commitment, the direction of your LIFE!
Meaning: direct it back to absolute soul alignment.
*** NEVER Seen Before Bonus! ***
As part of this, I've been guided to offer a NEVER before seen bonus … one I feel super vulnerable about sharing!
It's the exact journaling I did to allow the download of THIS offer through. How I allowed the idea to bubble up. You'll see my doubt, uncertainty, annoyance. You'll see what I discarded. How I went through the layers. And how I KNEW, this was the one.
I'll ALSO add in copies (screenshots) of my conversation with my COO Ash, where I was talking through the idea and allowing it to come to life.
I want to show you the exact Idea to Launch process!
This bonus alone is EASILY worth the cost of this program, particularly when you hear the mindset side of it, in terms of STAYING THE COURSE and refusing to back away from my self until the idea showed up!
I refuse not to create!!
AND, when you register for EXPANSION today (and how could you not?!) you'll also receive early access to the Pre-Work. This is ALSO never seen before, and brand new just for you – and it's a guided meditation on remembrance, to help you connect back to deepest self and the most certain truth of your destiny, before we even begin.
Perfect priming, for when we expand RAPIDLY into all that is coming through in this work!
Of course I could now go on and on here, about what I could or should have charged for this, and what it's actually going to be …
Or about all my accomplishments on line and off, with money, with purpose, with passion, with flow …
I think you know all this anyway. Even if you just me! Your soul feels what matters. And that's ALL that matters.
But I will say this:
You've always known it's supposed to be about ALL that is inside of you. That it's meant to COME from a place of purpose, passion, and SUPER super flow. And that if you just.freaking.trusted, and showed up FULLY from that place, you'd be living in a different reality already.
THE ONE INSIDE OF YOU.
If that's true for you right now, then LET'S GO CREATE THAT REALITY.
Right now
Press play for regular, (super fuck yes!!) upfront or payment plan
OR
Press play like a VIP, and receive the full course, plus 10 days direct photos or screenshots of my ACTUAL personal journaling, so you can see how I create and expand my life, PLUS a VIP only follow-on live Hotseat, where you'll receive a personal transmission just for you, if you'd like one! Payment plan also available.
>>> https://thekatrinaruthshow.com/expansion
We start Monday 17 December, US time!