News
All The Small Things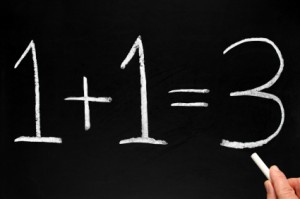 If you're familiar with my teachings on ideal exercise for fat loss you may be surprised to know there was a time when I was proud to be known as a certified 'cardio queen'. Yep. I'd do hours and hours of the stuff each day let alone each week. All in the eternal quest to burn off more energy than what I consumed. Which – considering my low-fat, lean protein, sensible carb diet – I was most definitely achieving. Of course the long and the short of it is that it never quite worked. It was a constant struggle to stay 'almost' in good shape, and if you're currently a fan of endurance training and low-cal eating then I'm guessing you're finding the same thing.
The Most Important Thing I Can Teach You About Weight Loss
You see, when it comes to being in great shape and brimming with health, math is not your friend. One plus one most certainly does not equal two, or – in this case – burning off more calories than you eat and creating a so-called deficit does not necessarily result in fat loss. If only it were that simple.
The truth is that your body answers to the laws of biochemistry, not math. There are a myriad of factors which dictate every aspect of your health, your energy, and your physical state. Nutrition and exercise are merely the starting point. Your hormones are powerful enough to override even the best of food and workout choices and can sometimes create imbalances that fight against you no matter what you do. Heck, even your mind has the ability to control how well you do or don't shape up. It can be a little frustrating to feel that you're doing everything 'right' but things still aren't adding up as you thought they would, can't it?
But Here's The Good News
Your metabolism is like a bank. When you make regular contributions, not only do you feel pretty damn good about yourself in the short-term but you start to notice long-term results that far outweigh a simple 1+1=2. You notice that you can 'get away' with the occasional treat in a way you never used to be able to. You realize your body is recovering quicker from exercise despite the fact that you're working harder. You notice you're fitting more in each workout and yet leaving the gym sooner. That your clothes are gradually becoming ever looser. That you can take a week or two off for a holiday and bounce back into shape within a matter of days. You might even notice things like your ability to recover from a hangover is reverting to that of a 20-year old! (Not that I'm advocating heavy drinking unless it's resveratrol filled red wine of course!)
The point is that looking and feeling your best is not as simple as plus or minus, but it is something you can slowly but surely control when you live your life according to certain principles –
Choose foods that intrinsically satisfy you and are as unprocessed as possible
Don't be afraid of natural fats or indeed anything truly natural
Mimic 'real life' movements in your training rather than doing unnatural bouts of cardio
Include as much incidental exercise as possible in your day – not for the calories it burns but because your body was designed to transport itself not sit or be transported all day
Spend your thoughts on life and on living in the moment, on enjoying the day to day rather than fretting about the big picture
Believe that you're becoming healthier each week and let your actions follow those thoughts
Avoid plastics, microwaved foods, excessive toxin exposure, drugs, vaccinations and antibiotics and indeed anything else that could play havoc with your hormonal system
Be open to traditional approaches to health such as herbs, superfoods and the like
When you're getting frustrated or beating yourself up for having a 'bad' day just accept that it is what it is and that this too, will pass. There's no benefit to dwelling on negativity when you could use that energy for good.
The little things really do make a difference. Being successful (whatever that means to you) at this game is something you're going to get better and better at with time. So next time you feel like your contribution for that day is too small to make a difference remember that the results are in the long-term growth. And that every choice you make is either money in the bank or money down the drain. And of course, always always remember –
Life is Now. Press Play.
Kat
What are some of the little habits that you have formed in your day-to-day life to contribute to overall health and weight management?
If you liked this post please tweet it. Thankyou!
If you're a regular reader and haven't been active in the BodyIncredible community then now is the time – I want your involvement, your feedback, and your questions! So why not make this the day to leave a comment before you go – if you're reading from RSS or email you'll have to enter the blog to do this. You can do that by clicking on the title of this piece. 'Post a comment' is at the article end, right under the 'share this' and 'related posts' options.
If you haven't yet subscribed to this feed, what are you waiting for? Do it now. You can choose either email or RSS by clicking here. If you enjoyed this article please forward to your friends. Thank-you!
PS
Expansion.
10 Days of Live Soul Transmissions, to Help You Find and Follow the Messages Within
Day 1) Trust
Day 2) Certainty
Day 3) Self-Belief
Day 4) Empire Creation
Day 5) Your Deepest Message
Day 6) Following Soul Guidance in All Areas
Day 7) Faith vs Fear
Day 8) Accessing Flow, and Superflow
Day 9) Expanding Time
Day 10) Expanding Money
Every day will be a LIVE soul led transmission.
This will take place on Facebook video, held at a variety of times in order to account for varying time zones, and scheduled only once we have begun. Our daily soul transmissions will be guided from MY higher self and directed from and for YOURS, to help you find and FOLLOW the messages within. The messages of your spirit, your consciousness, of the who you've always been and yet have managed quite well to cover up a lot of the time.
This is about stripping away –
And getting back to the CORE.
We'll dive day by day into the above mentioned areas –
And you'll receive all content and bonuses to keep for life.
There will be daily spirit prompts which you'll receive after each training.
And plenty of time opportunity connect with me throughout, receive transmissions direct to YOUR questions, and absorb more even than what comes through on the trainings, via the energy we'll create in this collective!
It's very rare for me to know in advance exactly what is coming through day to day.
I certainly don't have the details of each day's content. But I know that these areas have been on my heart to talk about, in particular around belief, around certainty, around living from FAITH.
We know that exactly what is meant to come through for you WILL, and then some. And that if you intend and allow for it to, it will change, most likely before we even begin, due to your energetic commitment, the direction of your LIFE!
Meaning: direct it back to absolute soul alignment.
*** NEVER Seen Before Bonus! ***
As part of this, I've been guided to offer a NEVER before seen bonus … one I feel super vulnerable about sharing!
It's the exact journaling I did to allow the download of THIS offer through. How I allowed the idea to bubble up. You'll see my doubt, uncertainty, annoyance. You'll see what I discarded. How I went through the layers. And how I KNEW, this was the one.
I'll ALSO add in copies (screenshots) of my conversation with my COO Ash, where I was talking through the idea and allowing it to come to life.
I want to show you the exact Idea to Launch process!
This bonus alone is EASILY worth the cost of this program, particularly when you hear the mindset side of it, in terms of STAYING THE COURSE and refusing to back away from my self until the idea showed up!
I refuse not to create!!
AND, when you register for EXPANSION today (and how could you not?!) you'll also receive early access to the Pre-Work. This is ALSO never seen before, and brand new just for you – and it's a guided meditation on remembrance, to help you connect back to deepest self and the most certain truth of your destiny, before we even begin.
Perfect priming, for when we expand RAPIDLY into all that is coming through in this work!
Of course I could now go on and on here, about what I could or should have charged for this, and what it's actually going to be …
Or about all my accomplishments on line and off, with money, with purpose, with passion, with flow …
I think you know all this anyway. Even if you just me! Your soul feels what matters. And that's ALL that matters.
But I will say this:
You've always known it's supposed to be about ALL that is inside of you. That it's meant to COME from a place of purpose, passion, and SUPER super flow. And that if you just.freaking.trusted, and showed up FULLY from that place, you'd be living in a different reality already.
THE ONE INSIDE OF YOU.
If that's true for you right now, then LET'S GO CREATE THAT REALITY.
Right now
Press play for regular, (super fuck yes!!) upfront or payment plan
OR
Press play like a VIP, and receive the full course, plus 10 days direct photos or screenshots of my ACTUAL personal journaling, so you can see how I create and expand my life, PLUS a VIP only follow-on live Hotseat, where you'll receive a personal transmission just for you, if you'd like one! Payment plan also available.
>>> https://thekatrinaruthshow.com/expansion
We start Monday 17 December, US time!