News
All The Small Things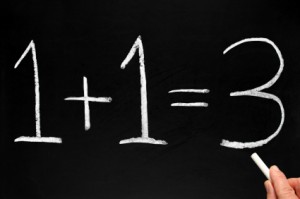 If you're familiar with my teachings on ideal exercise for fat loss you may be surprised to know there was a time when I was proud to be known as a certified 'cardio queen'. Yep. I'd do hours and hours of the stuff each day let alone each week. All in the eternal quest to burn off more energy than what I consumed. Which – considering my low-fat, lean protein, sensible carb diet – I was most definitely achieving. Of course the long and the short of it is that it never quite worked. It was a constant struggle to stay 'almost' in good shape, and if you're currently a fan of endurance training and low-cal eating then I'm guessing you're finding the same thing.
The Most Important Thing I Can Teach You About Weight Loss
You see, when it comes to being in great shape and brimming with health, math is not your friend. One plus one most certainly does not equal two, or – in this case – burning off more calories than you eat and creating a so-called deficit does not necessarily result in fat loss. If only it were that simple.
The truth is that your body answers to the laws of biochemistry, not math. There are a myriad of factors which dictate every aspect of your health, your energy, and your physical state. Nutrition and exercise are merely the starting point. Your hormones are powerful enough to override even the best of food and workout choices and can sometimes create imbalances that fight against you no matter what you do. Heck, even your mind has the ability to control how well you do or don't shape up. It can be a little frustrating to feel that you're doing everything 'right' but things still aren't adding up as you thought they would, can't it?
But Here's The Good News
Your metabolism is like a bank. When you make regular contributions, not only do you feel pretty damn good about yourself in the short-term but you start to notice long-term results that far outweigh a simple 1+1=2. You notice that you can 'get away' with the occasional treat in a way you never used to be able to. You realize your body is recovering quicker from exercise despite the fact that you're working harder. You notice you're fitting more in each workout and yet leaving the gym sooner. That your clothes are gradually becoming ever looser. That you can take a week or two off for a holiday and bounce back into shape within a matter of days. You might even notice things like your ability to recover from a hangover is reverting to that of a 20-year old! (Not that I'm advocating heavy drinking unless it's resveratrol filled red wine of course!)
The point is that looking and feeling your best is not as simple as plus or minus, but it is something you can slowly but surely control when you live your life according to certain principles –
Choose foods that intrinsically satisfy you and are as unprocessed as possible
Don't be afraid of natural fats or indeed anything truly natural
Mimic 'real life' movements in your training rather than doing unnatural bouts of cardio
Include as much incidental exercise as possible in your day – not for the calories it burns but because your body was designed to transport itself not sit or be transported all day
Spend your thoughts on life and on living in the moment, on enjoying the day to day rather than fretting about the big picture
Believe that you're becoming healthier each week and let your actions follow those thoughts
Avoid plastics, microwaved foods, excessive toxin exposure, drugs, vaccinations and antibiotics and indeed anything else that could play havoc with your hormonal system
Be open to traditional approaches to health such as herbs, superfoods and the like
When you're getting frustrated or beating yourself up for having a 'bad' day just accept that it is what it is and that this too, will pass. There's no benefit to dwelling on negativity when you could use that energy for good.
The little things really do make a difference. Being successful (whatever that means to you) at this game is something you're going to get better and better at with time. So next time you feel like your contribution for that day is too small to make a difference remember that the results are in the long-term growth. And that every choice you make is either money in the bank or money down the drain. And of course, always always remember –
Life is Now. Press Play.
Kat
Don't forget –
Life is Now. Press Play.
Kat x
PS
I HAVE SOME BIG NEWS TO SHARE!
As of today, I'm opening up the doors to my Inner Circle, my 12 month private client mastermind.
This is THE most badass high level mastermind in the world for women who want it all – and are prepared to do what it takes to get it! Really what we're talking about is being prepared to be the PERSON.
And that's what I do. I help you remember ALL that you were, and then become it. ALL Of it.
This is my highest level private mentoring circle. The exact place where I have personally mentored dozens of this industry's most elite female entrepreneurs to break income barriers ranging from 10k months to multiple 7 FIGURE months, and everything in between. But more importantly than that – to become who and what they always were.
But know that this is not only (obviously) not just for the masses, this is also not just for someone who can afford to invest in a high level private coach. Being willing to throw money down is something which has absolutely zero correlation to being somebody who has what it takes to TRULY go next level as a leader.
If anything, in this industry, investing in a high level coach such as myself, is a rite of passage which veers just a little too much on the side of 'trend'. It's become something which 'everybody does', almost as a way of proving they play business and life a certain way.
Maybe even of trying to prove it to themselves.
Here is the reality which those who I am truly here to personally mentor and lead KNOW, the reality which my clients and all women like me as well as of course me personally have ALWAYS known:
We are VERY VERY DIFFERENT.
We are simply, smarter, faster, and have more presence. We can do more in our minds before breakfast than what most people can do in a freakin' WEEK, a month, a year.
We are not basic ass coaches trying to heave ho our way up a few extra thou a month.
We are the ones who have ALWAYS known we are 1% within the 1% within the 1% in terms of how we think, create, operate, how and WHAT we are tapped in too.
This is not arrogance, this is fact.
And there has NEVER been any question but that we will go all the way.
My clients are high level badasses who do the work, who have a proven track record BEFORE coming to me, and a BEING-ness which unquestionably separates them from the rest. They don't come to me to save them or lean down and hold my hand out so they can clamber up. They come because they are, quite simply, ready to go to the next level, already absolutely on their WAY there, and see in me something which they recognise because it is in them.
That 'can't stop won't stop' fire, and a level of 'unapologeticness' which, when truly understood and applied, can literally be the difference between 5-figure or low 6-figure and 7 or multi-7-figure entrepreneur.
So if you know who you are and it is THAT –
And you feel certain that you are ALREADY well on your way to to precisely where you're meant to be, but that being in MY energy could help you to drop in and get there even faster, and that with a couple of simple tweaks your current revenue could be doubling, tripling, heck QUADRUPLING and beyond in months, as it has done with numerous of my clients previously, well then –
PM me here http://m.me/katrinaruthofficial and we'll see if it's a fit. I'm excited to talk to you, and maybe – do biz and life with you.