News
Appetite Control Made Easy With This Hormone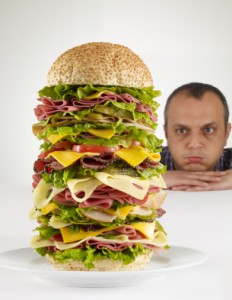 Let's talk about appetite control.
Today I'm going to tell you how to access to a substance that not only controls your cravings, but guides you to either devour or ignore starchy carbs, and even tells your body to either store or shed fat.
I know, I sound like I'm about to sell you something. I'm not 🙂
I'm talking about a natural substance to control your hunger and help you lose weight, and it's one that won't cost you a thing.
I'm talking about a hormone, one of the lesser known ones but absolutely one of the most powerful.

do you even recognise your natural appetite?
If your day is anything like mine, you're basically inundated with food temptation from dawn to dusk.
With my husband's penchant for an after-dinner treat every evening, I can't even open my own pantry without being faced with a buffet of confectionary. Even if you keep your house wholesomely clean, the reality is you can't even grab a morning coffee without having to face processed 'goodies' both sweet and savoury. And lunch with your colleagues or an after-dinner drink? Riddled with often-tough decisions!
Personally I've trained myself to eat very clean 80-90% of the time, and I enjoy doing so. My weakness? When it comes to quantity I can eat like 3 hungry men! And if you give me a chance, I can do it at each and every meal. Sometimes I think I'm still like a little kid who gets excited about going to a birthday party or having a treat.
All of which has made me think that life would be so much easier if I just had some kind of natural appetite suppression button.
The truth, which both you and I need to face up to, is that I do. We all do. It's just a matter of understanding how to activate it – and perhaps even restore a natural appetite rather than a 'see-food' approach to eating.
easy, everyday appetite control
Haven't heard of leptin or not quite sure what it is and if you even care? Leptin is your natural appetite suppression hormone, and it's one you can learn to have total control over.
The Leptin low-down
Low levels of leptin result in increased hunger and food cravings.
People with more body fat have higher levels of leptin.
People with low body fat have lower levels of it.
So basically, your brain should tell your body to produce more leptin if you have enough or extra fat.
And in theory, high leptin should tell your body to start burning fat.
However – calorie restriction leads to lowered leptin levels, which is why a low-cal diet is so tough to follow. Your body just wants you to eat!
This in turn slows down your metabolism and signals your body to start storing fat. Don't get me wrong – I wouldn't say calories are irrelevant, but severely restricting them rather than focusing on proper food intake is not the fat loss solution you're looking for!
It's possible to be more leptin resistant in certain areas of the body, meaning you will store more fat there. Mainly this happens around your belly and your internal organs. All the more reason to control appetite by understanding leptin! As your hunger and your body fat drop you will find it increasingly easier to manage fat in these stubborn areas.
Interesting fact – leptin is actually derived from the Greek word 'leptos', which means thin!
how to control appetite with leptin
There are a few basic principles you can employ to take control of leptin and make weight loss a thing of greater ease.
1. Have a treat day now and then. After eating clean for a period of time your leptin levels start to really drop down. By introducing a smart c carb-based treat meal or treat day every 5-7 days (for maintenance, an initial fat loss program would be different), you can sky-rocket leptin levels for as much as 4-6 days. This basically super-charges your metabolism, as well as makes it easier for you to stay on track.

2. Include fiber in your diet. From vegies and some fruits, for sure, but if you're wanting to detoxify excess body fat I recommend excess fiber as well. It may well be the best fat loss supplement out there.
3. Supplement with Omega 3's. They help you burn more fat, lower cravings, decrease inflammation, boost brain power, and control leptin levels. Enough said?!
4. Aside from too much exposure to leptin (from over-eating), fructose and natural or artificial sweeteners will increase your resistance to leptin. Leptin resistence increases sugar cravings, as it makes it hard for your body to access fat for fuel and therefore it relies on sugar for energy. In fact, your body is even capable of turning your bone into sugar if you have severe leptin resistance. This means that eating too many of these foods can result in you losing the ability to tune in to your body's natural appetite controls.
Follow these simple principles, and enjoy a diet of mainly organically-raised animals and plants, and watch as food cravings and an out-of-control appetite become a thing of the past.
And remember –
Life is Now. Press Play.
Kat
Leave a comment! Have you previously heard of leptin and it's ability to control appetite – and whether yay or nay is there anything you would now change?
PS
Expansion.
10 Days of Live Soul Transmissions, to Help You Find and Follow the Messages Within
Day 1) Trust
Day 2) Certainty
Day 3) Self-Belief
Day 4) Empire Creation
Day 5) Your Deepest Message
Day 6) Following Soul Guidance in All Areas
Day 7) Faith vs Fear
Day 8) Accessing Flow, and Superflow
Day 9) Expanding Time
Day 10) Expanding Money
Every day will be a LIVE soul led transmission.
This will take place on Facebook video, held at a variety of times in order to account for varying time zones, and scheduled only once we have begun. Our daily soul transmissions will be guided from MY higher self and directed from and for YOURS, to help you find and FOLLOW the messages within. The messages of your spirit, your consciousness, of the who you've always been and yet have managed quite well to cover up a lot of the time.
This is about stripping away –
And getting back to the CORE.
We'll dive day by day into the above mentioned areas –
And you'll receive all content and bonuses to keep for life.
There will be daily spirit prompts which you'll receive after each training.
And plenty of time opportunity connect with me throughout, receive transmissions direct to YOUR questions, and absorb more even than what comes through on the trainings, via the energy we'll create in this collective!
It's very rare for me to know in advance exactly what is coming through day to day.
I certainly don't have the details of each day's content. But I know that these areas have been on my heart to talk about, in particular around belief, around certainty, around living from FAITH.
We know that exactly what is meant to come through for you WILL, and then some. And that if you intend and allow for it to, it will change, most likely before we even begin, due to your energetic commitment, the direction of your LIFE!
Meaning: direct it back to absolute soul alignment.
*** NEVER Seen Before Bonus! ***
As part of this, I've been guided to offer a NEVER before seen bonus … one I feel super vulnerable about sharing!
It's the exact journaling I did to allow the download of THIS offer through. How I allowed the idea to bubble up. You'll see my doubt, uncertainty, annoyance. You'll see what I discarded. How I went through the layers. And how I KNEW, this was the one.
I'll ALSO add in copies (screenshots) of my conversation with my COO Ash, where I was talking through the idea and allowing it to come to life.
I want to show you the exact Idea to Launch process!
This bonus alone is EASILY worth the cost of this program, particularly when you hear the mindset side of it, in terms of STAYING THE COURSE and refusing to back away from my self until the idea showed up!
I refuse not to create!!
AND, when you register for EXPANSION today (and how could you not?!) you'll also receive early access to the Pre-Work. This is ALSO never seen before, and brand new just for you – and it's a guided meditation on remembrance, to help you connect back to deepest self and the most certain truth of your destiny, before we even begin.
Perfect priming, for when we expand RAPIDLY into all that is coming through in this work!
Of course I could now go on and on here, about what I could or should have charged for this, and what it's actually going to be …
Or about all my accomplishments on line and off, with money, with purpose, with passion, with flow …
I think you know all this anyway. Even if you just me! Your soul feels what matters. And that's ALL that matters.
But I will say this:
You've always known it's supposed to be about ALL that is inside of you. That it's meant to COME from a place of purpose, passion, and SUPER super flow. And that if you just.freaking.trusted, and showed up FULLY from that place, you'd be living in a different reality already.
THE ONE INSIDE OF YOU.
If that's true for you right now, then LET'S GO CREATE THAT REALITY.
Right now
Press play for regular, (super fuck yes!!) upfront or payment plan
OR
Press play like a VIP, and receive the full course, plus 10 days direct photos or screenshots of my ACTUAL personal journaling, so you can see how I create and expand my life, PLUS a VIP only follow-on live Hotseat, where you'll receive a personal transmission just for you, if you'd like one! Payment plan also available.
>>> https://thekatrinaruthshow.com/expansion
We start Monday 17 December, US time!