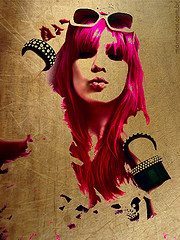 Everybody talks about being authentic online.
You have to be TRUE to yourself, they say.
You have to listen to your heart, to your soul, and find your message. You have to share your REAL gifts with the world and refuse to get caught up in doing what others say you should do.
Because if you're not authentic? You won't be happy, not really! (they say) Even all the money in the world will feel wrong, and you'll probably manage to sabotage it! (they say) People will see through you and know you're not genuine! (they say) and you might have a level of success but it will feel like HARD WORK and won't flow like it's supposed to! (they tell you)
And you know what?
THEY are right!
But what if you don't know what authenticity looks and feels like, for you?
Not because you're trying to pretend or wear a mask, but because you just can't quite work out what you want, who you want to be, how you want the world to see you, and where to start with ANY of it.
What if right now you're doing your thing, running your business, making some money and as much of course sometimes you just want to tear your hair out you actually are kinda loving the whole thing and the fact that you're DOING something, but yet –
But yet you have this niggle.
This kind of, sense, that things are not quite right or at least not as good as they could be.
And the thing that bothers you the most is that you sort of feel as though you're selling yourself short. Not in a way that the rest of the world would ever notice but in a way that YOU can't help but be fully aware of even when you're not thinking of it at all.
Something is missing.
You don't know what it is.
You don't know where to look.
You just know that when you wake up each day, when you go about your work, when you coach your clients or put on that smile around others, there is this undercurrent of slight anxiety. And part of you is pretending. It's the same part of you that asks you, often late at night or first thing in the morning –
Is this what you want?
Didn't you say you were going to do that thing this year? You know, the thing you've been talking about, pushing off, saying you don't know how to do for SO long now?
Aren't you supposed to KNOW that you're doing the right thing for you when you're doing it, aren't you supposed to be SURE?
It's the same part of you that pricks it's ears up at certain inspirational blogs or Ted Talks, at the idea that there COULD be more, that you SHOULD be able to live life 100% on your terms and that right now?
You're not.
Wanna know what's going on here?
I am a big believer in authenticity in business and in life. I'm not even talking about honesty towards others, although of course that's important.
What I'm really talking about, is honesty towards YOU.
So if you wanna figure out how to be authentic, that's where you have to start.
Ask yourself –
Where am I not being honest?
So simple.
And so hard.
But let's make it easier. Try this for an example –
Run through everything you did yesterday. Got up, had breaky, played with kids, went to cafe, worked for 2 hours, took daughter to the park, had lunch, went home, reviewed my to-do list, met friend for coffee, and so on. Run the movie of yesterday.
Now go back to the start and play it more slowly in your mind. Anywhere that felt really RIGHT and GOOD – smile. Make note of the smily places. And anywhere that felt just a bit 'sigh' – pause. And make note of that.
When you're being honest you feel in flow. You can't explain it and the tasks or activities you're doing at the time are not necessarily the ones that you think you need to be doing to stay on track or get ahead, but yet it feels right.

You feel light.

Happy.

Uplifted; empowered, even.

And when you do those things first in the day you have this weird sense that you could do nothing for the entire rest of the day and the day would be a success. Despite your logical mind telling you that's not true at all, that you haven't done any of your money activities or important admin or whatever.
Authenticity is not about having to define a deep and mystical soul purpose and then avidly follow it.
Authenticity is simply about taking the time to listen in, to pay attention.
To note what's working, and what's not.
To note it from the point of view of how it makes you FEEL rather than whether your logical or planner brain thinks it's necessary or important.
Feelings are seriously underrated in business.
Yes success is about money, and figures, and tracking, and ticking things off.
But if you're in this for creating your DREAM business and life not just for making money or getting things done no matter the cost, then the starting point for your true and success is not at all logical. Not at all factual. And can't be counted or tracked; often can't be explained to anyone else.
True success is no more and no less than how you feel.
What would you need to do today to feel like a winner in YOUR eyes?
What COULD you do right now that you know would make you feel alive, in flow, proud of yourself?
What is one activity that you've been perhaps not making time for, that if you consistently spent an hour a day on it, would have the power to completely change your life a year from now?
Either you believe it's possible to have the 'recognised' success and money on your terms, or you don't. And if even 1% of you thinks – KNOWS – it's possible for others and therefore that it HAS TO BE possible for you, then every day you DON'T move towards that? Is a day you're living a lie.
So think about it.
Run the movie of your past day, week, month, year.
How much of it makes you smile?
This is where success is found.
This is where honesty lies.
This is where you find your way to authenticity in business AND in life.
Do more of it. And start today.
Because ultimately, this is where you really know –
DON'T FORGET –
Life is Now. Press Play.
Kat
PS.
My Success Incubator is back for 2023, and intake has JUST kicked off.
This is high level performance coaching for the TRUE 1% within the 1% entrepreneur who is already creating SUCH epic flow, and now?
Ready to blow shit up. TO WHAT IT ALWAYS WAS GONNA BE.
> Full private mentoring / unlimited 1:1
> Curated Success Incubator only video activations + deep dives
> Live mastermind style zooms with my other 'playing all the way big' private clients
> 3 month container
Details,
+ how to apply,
at www.thekatrinaruthshow.com/successincubator
For the woman who is ALREADY the woman,
and knows it's time to go deeper!