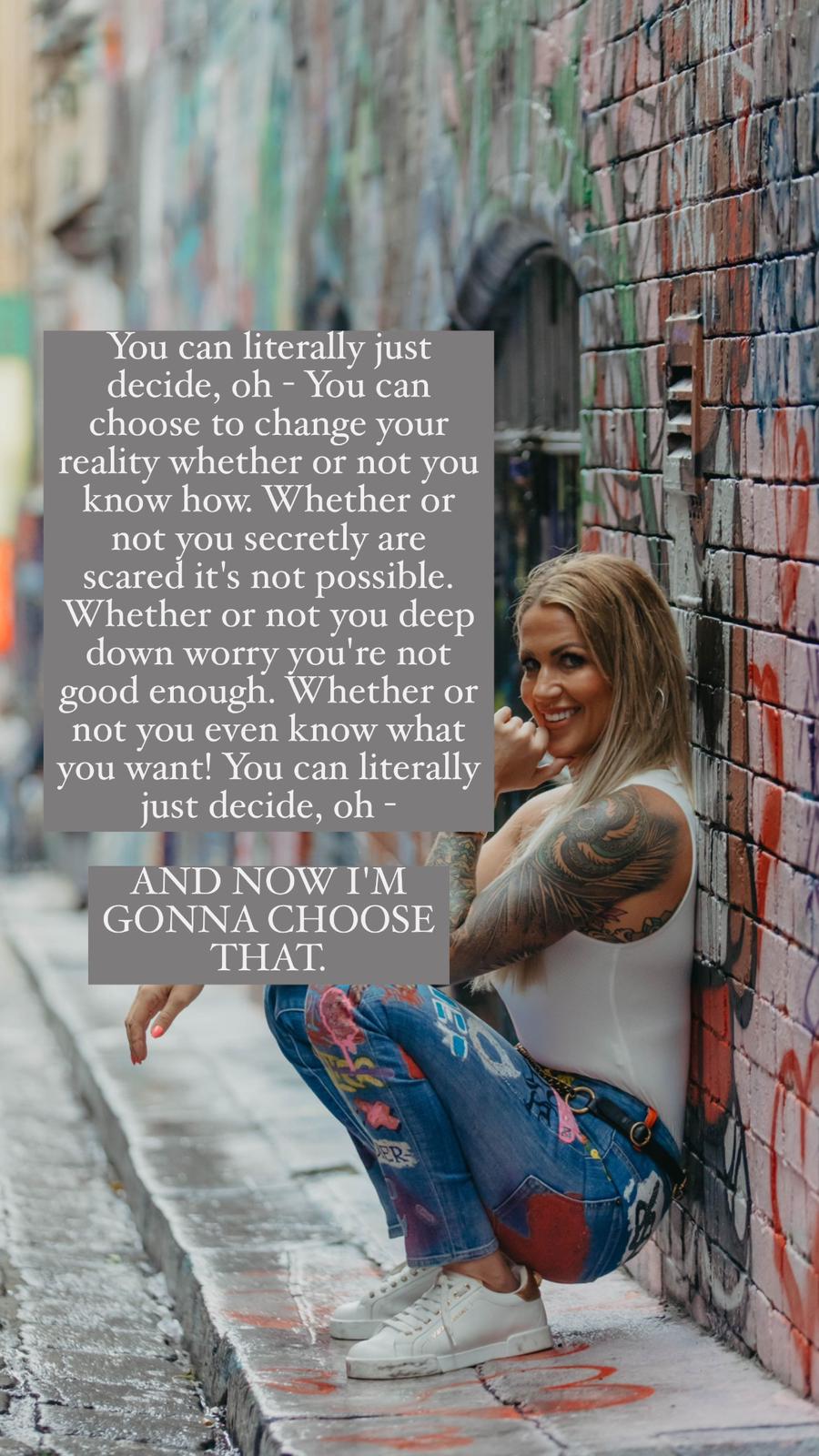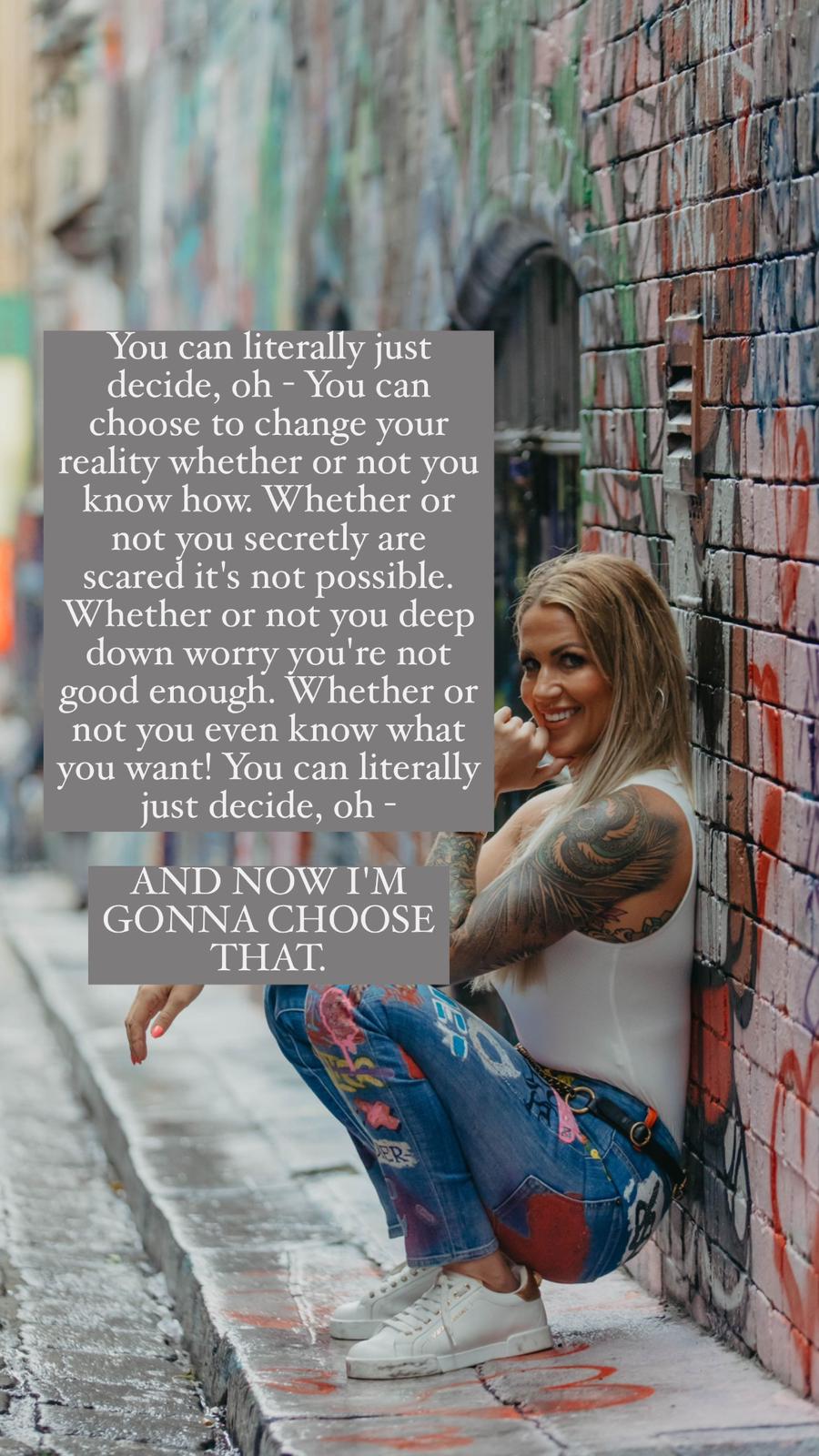 If you want to create a new reality, you're going to have to create a new reality.
If you want the patterns you're caught in to change, you're going to have to change the pattern.
If you want to have different outcomes show up? You're going to have to change the way your CURRENT showing up is creating outcomes.
And if you want a whole different way of doing business, life, or you?
You're gonna have to start a whole different way of doing business. Life. And you.
It's not that complicated and you CAN change right away, in any area, and no matter your anguish about not knowing howwwwww.
The reason you don't?
> You make it 'real' that your lack of knowing how matters
> It's easier to get up each day and default into once again progressing your current reality forward
> You let fear be more of a dominant voice than faith
> You haven't yet realised that another thing which doesn't fucking matter is whether or not you really BELIEVE
Because here is the thing about success. About having it all, the version YOU see inside of you. The 'it all' which is for you, and always has been. Would be right now, if only you'd claim the damn thing.
>> YOU CAN CHOOSE TO CHANGE YOUR REALITY WHETHER OR NOT YOU KNOW HOW. WHETHER OR NOT YOU SECRETLY ARE SCARED IT'S NOT POSSIBLE. WHETHER OR NOT YOU DEEP DOWN WORRY YOU'RE NOT GOOD ENOUGH, AND NEVER COULD BE!
You can literally just decide, oh –
I'm gonna have that.
Choose that.
Create that.
ALLOW that.
And then?
Watch it show up.
Over simplifying much Kat? Sure, if you want. But also, nah …
not really.
> I became a millionairess and then a multi-millionairess and then kept going before I really 'felt' like it was real. In fact, it still felt too good to be true years into my consistent making of millions. And I still had money shit I was clearing and understanding. I just chose it anyway. The feelings followed.
> I created my dream body not just in terms of aesthetics but also my soul-aligned relationship with my body and with food while I still secretly felt like a girl who was never pretty enough, never good enough, never attractive enough and always 'got it wrong'. The feelings of owning all of THAT followed me in choosing the real change.
> I created a world famous wildly successful coaching and personal brand where I am known as an unapologetic badass and leader of / private mentor to the world's most elite and game-changing maverick entrepreneurs while I still felt like I was just making shit up, and my inner shy / not cool girl was wondering why anyone would want to listen to me. I STILL FEEL THAT WAY SOMETIMES. Yet I've privately mentored hundreds upon hundreds of the greats of online business and soul-led entrepreneurialism, and also privately consult with some of the top CEOs and leaders in the offline world. I just said yes to what was inside of me anyway.
Do you get it yet?
It's all just a dream in your head, a one day fantasy you're scared you're not good enough for, something you don't know how to do or worry you'll always get wrong and then.you.choose.it.ANYWAY.
It's NOT –
X choose it when you feel it
X you can only achieve it when you believe it
X know what the fuck you're doing or even what it will look like and THEN you can have it
It IS –
* choose it because you decide it's time
* acknowledge you've been doing the work for years before you even knew you were
* DECIDE you are fucking ready and.it's.time
* follow soul + God guidance on the ONE next action to take
* keep on handing it over and knowing it will show up when it shows up but YES BABE IT WILL SHOW UP
* when fear, doubt, uncertainty pops up again tell it to fuck off and CHOOSE AGAIN ANYWAY
Quit over complicating it.
You're either choosing your dream life today,
or you're driving the damn bus of your past forward BECAUSE THAT'S WHAT YOU'RE CHOOSING and then complaining that you're stuck on the bus.
Get off.
Exit stage left.
And GO GET YOUR LIFE.
Wanna bitch that it's not that easy.
Be my guest.
You'll prove whatever you decide.
So decide fucking different.
And come play life with the ones who get it,
and who will yes your YES.