Purpose
DO YOU REALLY HAVE TO DO THAT TO SELL YOUR SHIT?
Here is the problem, kay?
You DO know what you want to sell, what you'd be more than happy to have cashola rollin' in that door for, and what you damn straight feel SHOULD be selling. You know what you want to DELIVER, whether it be via mystical energetic pathways of ze internets that you have nothing to do with, or whether it be the highest of high end touch from you. (No need to be rude, you know what I mean!)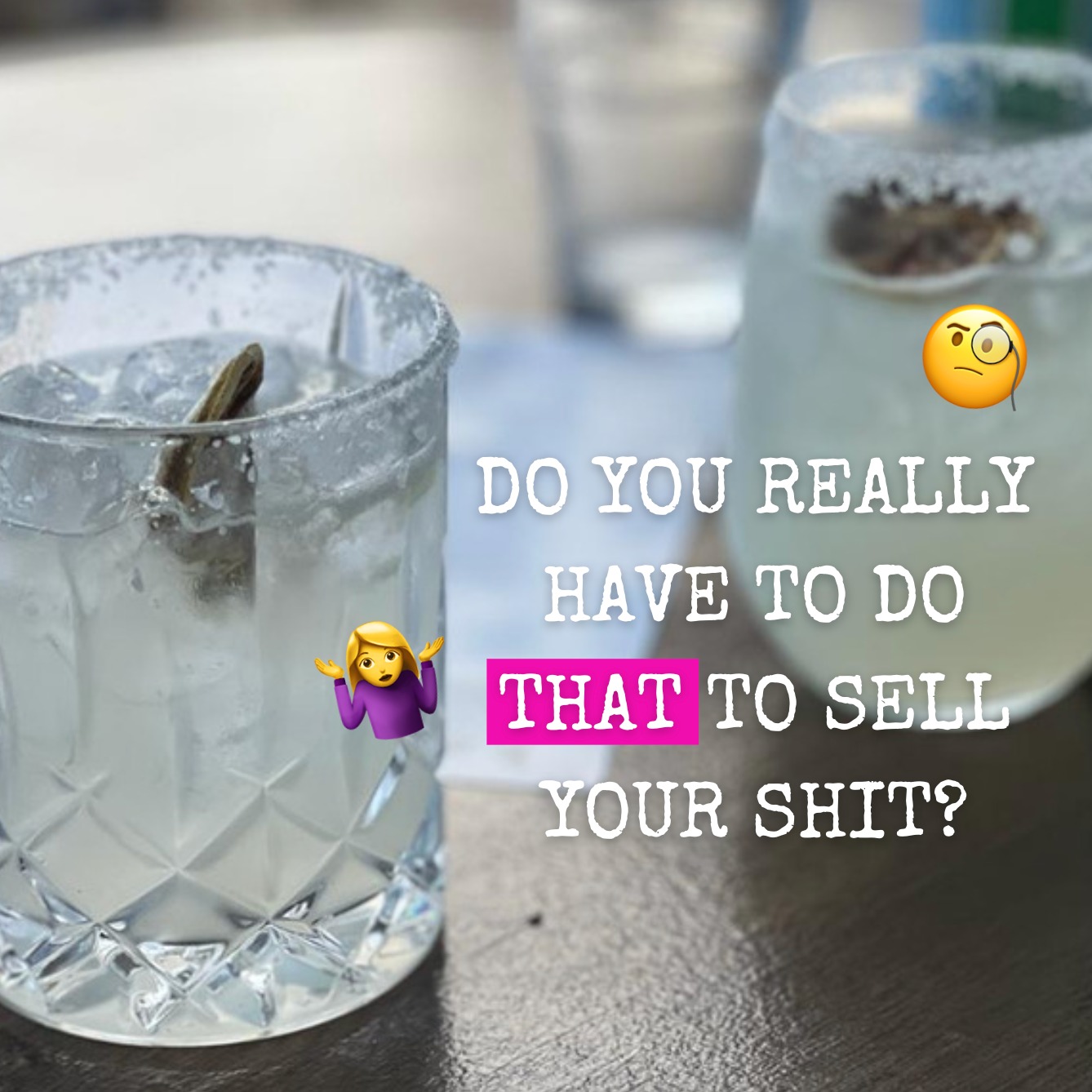 What you maybe do NOT know, or, well, if we're more straight up about it, what you've been LYING LIKE A LYING LIARSON TO YOURSELF ABOUT, is HOW you wanna sell it.
Meaning – what you are actually prepared to do to sell it. Not 'prepared to do' like 'willing to bend over and take up the ass like a rockstar if it means that diamond encrusted Rolexes are what's being shoved up said ass and so it's worth it' …
but:
prepared to actually do meaning it feels YES. Like an EXHALE. ALIGNED. And SO mofo flow. Sure, maybe there's a niggly little ounce of resistance … a slight pushback and 'I don't wanna!' from soul. But that's more than likely just a conditioned response to the idea of doing ANYTHING (ha), or else your 'stuff' coming up to try and throw you off path by having you question whether or not you're good enough to just do this thing and get PAID.
Hint:
How you know this is true:
CAUSE YOU THOUGHT OF THE IDEA.
Can it really be this easy?!
IF YOU LET IT THEN FOLLOW THROUGH.
So … be honest now. What ARE you actually prepared to do to sell your thing? As opposed to: what do you THINK you gotta do or jump around on the internet like a dancing monkey begging for peanuts for?
Because, reality: you never have to do what you think you have to do. You DO have to do what you wish you could just do.
Do that.
DON'T FORGET –
Life is Now. Press Play.
Kat
PS.
Is it time to go all in with me, 1:1? Breakthrough Private Mentoring is open now.
This is about BLOWING UP your business + money results …
by BREAKING off what is no longer needed or never was –
REVEALING the heart and soul and unapologetic raw wild YOU-ness of it all …
and combining the inner game | energetics | GOD-led supernatural + spiritual as well as the hands on do-the-WERK bits,
of being the leader who CAME here to make and impact millions –
start a revolution –
and knows that it is now TIME.
This is for you if you are already 'successful',
yet you feel in many ways as though you are barely warmed up
and you KNOW there is something so much deeper
Parts you've been ignoring
Parts which need breaking off
and an IMMEDIATE expansion of money | business | soulmate community but most of all YOU flow,
which gets to occur.
Message me,
IF IT'S TIME.