Purpose
FAITH DOESN'T REQUIRE YOU TO HAVE ALL THE ANSWERS. FAITH IS ABOUT – IT'S TIME FOR ME TO SAY YES NOW NO MATTER WHAT.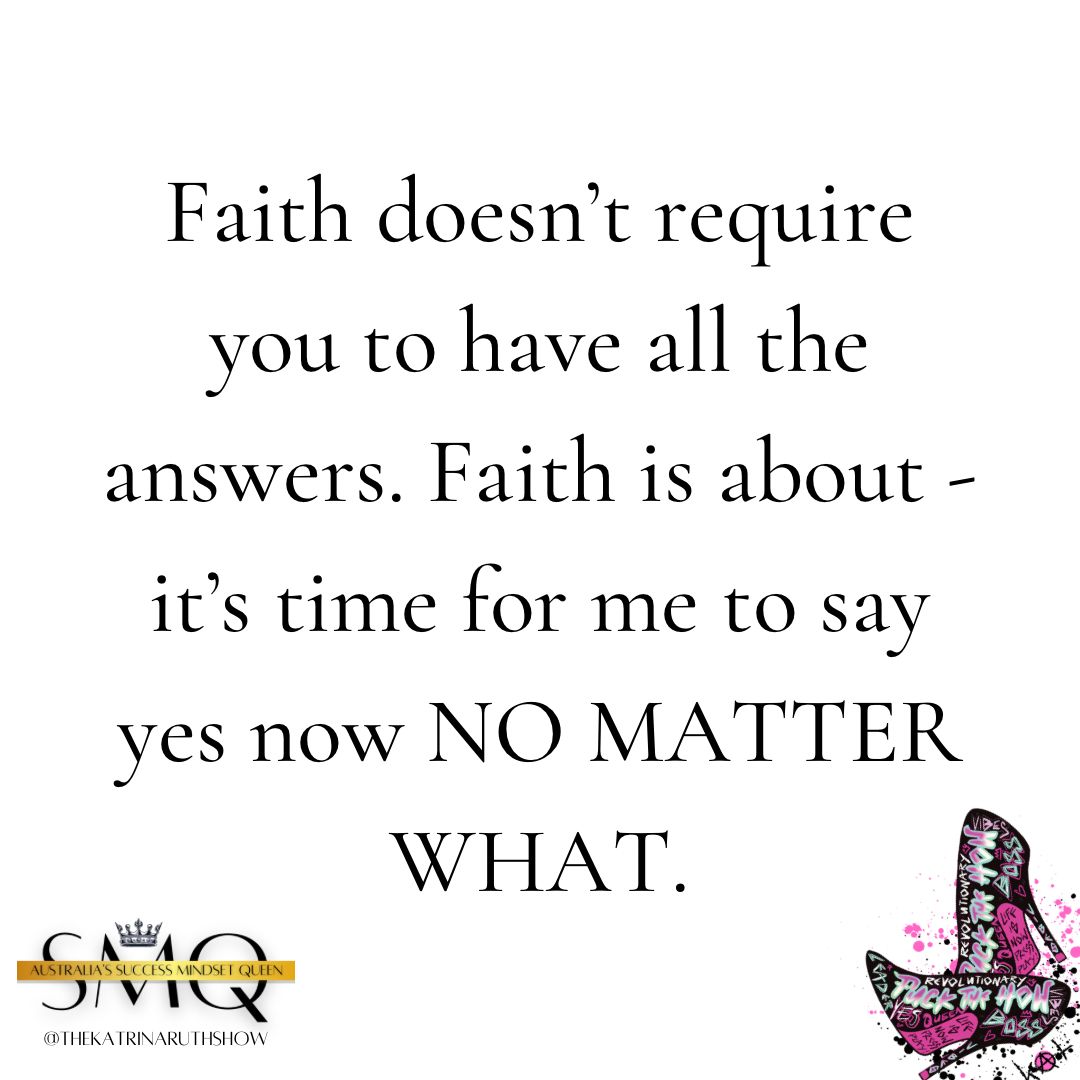 Faith is about – I'm saying yes NOW. I'm taking the step being shown to me NOW. I'm not trying to hurry and scurry all over the place to go back in time and undo or fix or attend to everything I now see as not RIGHT,
and I'm also not trying to do tomorrow's work today.
I'm here now.
And I'm saying yes now.
This means OBEDIENCE, it means SUBMISSION, it means SURRENDER, it means being willing to take that deep breath and then go do what you need to do and do it without hesitation, but no it does NOT mean knowing it all,
or having all possible outcomes already prepared for just in case.
Know what it also doesn't mean?
Asking repeatedly for validation. Proof. Assuredness. When you already know.
And TRUST ME –
YOU ALREADY KNOW.
It's okay to DESIRE reassurance, and it's also okay to ask for it, but the very MOMENT you know an action is true for you to take, step into, or discontinue, guess what you better be doing?
TAKING IT
STEPPING INTO IT
DISCONTINUING IT
ETC!
It's not that complicated and it's not out of reach of your choices TODAY.
Quit playing a game of "I'll do today's work tomorrow, once I'm sure".
It may well cost you your life.
And it'll definitely make your business and life in the meanwhile suck.
Now remember –
Life is Now. Press Play.
Kat
PS.
GORGEOUS ONE. WARRIOR WOMAN. LEADER. REVOLUTIONARY. CALLED ONE. YES, YOU.
WARRIOR LEADER begins May 1st. Our PRE-WORK begins this week! (It is personalised to you!)
And?
The initial price has been extended / is still on!
Here is what this comes down to though. Because it's not really whether or not you join in the initial price intake.
This is 6 weeks in which you will be SHARPENED THROUGH FIRE TO BE WHO HE SENT YOU TO BE.
Yes this pertains to business.
It pertains to life.
It pertains to YOU.
This is work unlike anything I've ever led or created before.
And unlike anything you've ever encountered.
It is 100% God revealed. God led. And God ENTRUSTED.
It is,
quite simply,
WHAT IT IS TIME FOR
FOR WHO IT IS TIME FOR
AND NOW
Details
+ your place
+ visions God shared with me for you
www.thekatrinaruthshow.com/warriorleader
WARRIOR LEADER:
For the Woman With a Burning Desire for MORE, Who Is Ready to See Fire Raining From the Heavens in Every FACET of Her Life as She Says Fully Yes to Who God Designed Her to Be.
FOR YOU.