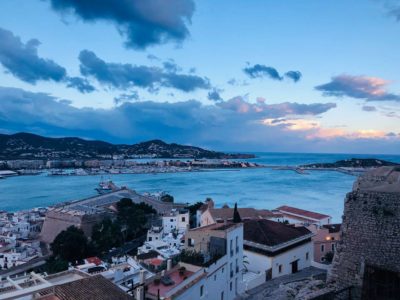 Purpose
I SUCK AT FOLLOWING THROUGH
Today I am very much feeling the pull of NOT honouring my commitments, of walking away from what is planned, what I 'should' do, and what I said I would.
It's a funny thing, don't you think?
How, even after all these years and all this work (OH, how we do the work!), we still have such deep conditioning around SHOULD.
I remember being in my mid-twenties, walking to the gym where I was a personal trainer every morning at 5am, and listening as I did so to Tony Robbins – my mentor and guide since I was 11 years old, actually! – passionately exclaiming that I was 'shoulding all over the place!'.
I know he was saying it just for me 
And yet still to this day, there's that AWKWARDNESS and squirminess I feel when I bow out on something I said yes to.
Like just now, for instance, sending a message to say "I'm not going to come today. (to the retreat which I'm here in Ibiza attending). I'm strongly feeling the desire to drop into some solo soul nourishment, just writing, messaging, a massage, walking in to the Old Town again, and so I'm going to follow that soul guidance".
Squirm!
And yet, at the same time – ahhhhhhhh. BREATH. And certainty, that this is what I was meant to do today.
Turn away.
And in doing so, make space to drop deeper in.
The mind wants to tell you that failing to follow through on something you said you would do is bad! Wrong! Lazy! Unprofessional! Impolite, perhaps! And, worst of all, a SIGN THAT YOU'RE NOT GONNA MAKE IT.
Well, I think it's fair to say I've 'made it' quite nicely in my business and in my life. I'm certainly never done – OH, how the work continues! – but I did the thing of creating a multi-million dollar PURPOSE driven empire, where I get to wake up each day, just be me, follow the flow of the day, and do it ALL on my terms, all while honouring ALL the areas of my life which I value.
Wanna know I made that happen??
You already know 
It was – and is – by following the damn flow.
In the past, I would have said I'm a 'non-finisher'.
Nearly EVERY thing I have committed to along the way, I've walked away from! Business, and personal! I am FABULOUS at walking away from things before they're done, before I said I would.
Back when I had jobs, when I was about 19 or 20 or so, I was infamous for going on my lunch break and then never returning! Even the fact that my irresponsible exit resulted in me not getting a final week salary, I would just walk, and never once look back.
My freedom mattered more to me.
The amount of seminars, and learning experiences I've walked out on, too! Oh boy, I remember when I went to Landmark. A friend had RAVED about it, and so I signed up. Within 10 minutes of being in the room I KNEW it wasn't for me. Sorry NOT sorry, but I was already SO far beyond the work they were doing there, in terms of my own inner work. And this over a decade ago!
I stuck it out for a few hours, and then – as with SO many things in my life which I've early exited on – I just COULDN'T.
I had to escape.
Well, they were having none of it! They made me do an EXIT interview. They literally sat me down and grilled me on every area of my life, looking for somewhere I wasn't content.
"How about your mother? Your father? Daddy issues? Stress? Happiness? General malaise?"
Stubbornly, I insisted that everything was perfect and needed no work, but actually I remember thinking – huh. I really DO have none of these issues. I'd just spent a heavy year or two walking away from my entire life (first marriage, job, life savings, everything except my cat, basically!) and re-creating the whole damn thing, and I was truly on path.
Finally they let me out, and I walked down the block to the Arts Centre in Melbourne, and went to the Museum. I felt SO FREAKING FREE!
MOST educational events I have been to I have walked out of by lunch on the first day.
Of course there have been exceptions, and in fact the work that I am doing here this week, in this 7-day Body Awakening retreat is NEXT LEVEL. I am LOVING it. There's nothing I desire to walk away from. It's been an INCREDIBLE experience, not just to drop stories and attachment around food (it's raw vegan) but also with the DEEP healing work we've been doing in the quantum, on the chakral systems, with sex and love trauma, DNA recoding and frequency work, family lineage work, bathing in magnetic seas, and much more!
It's one of the best things I have ever invested in.
So why am I breaking my commitment, and not attending today?
It's simple:
My commitment is first and foremost to my soul. So in actual fact, what I'm doing is staying TRUE to my highest values.
For all that I've always been that person walk walk walking away, repeatedly FAILING to finish SO many things in my life, squirming and avoiding and feeling like I 'should' do something and then inevitably giving in and bailing anyway, somehow –
Some way –
I've built all this.
I think that's a pretty strong testimonial for following soul, don't you?!
This morning I journaled on dropping deeper into my message, my writing, my soul work. On how I HATE that 'hurtling' feeling I sometimes get, where I'm putting out content and doing my thing but yet not quite DEEPLY connecting … rushing too much to do so, or coming at things from a place of scarcity or 'should' … and how CRITICAL it is to me to make space to let the message out, however it must COME out.
It takes GREATER courage still, to be an artist who is disciplined enough to say no to anything which is taking AWAY from that art, when it is always, and only, the art, and the following of soul which matters most.
I used to think that failing to follow through was a flaw.
Now I understand that in actual fact? It might just be the most powerful discipline I've ever cultivated.
And I wonder –
Do you, today, feel you can be brave enough to choose soul? To choose purpose? To choose passion? To choose flow?
The higher commitment is to soul, and to highest self, remember this.
And as you do so, take a moment, and take note –
Think about your business, for example, and what it is you put out into the world.
Are you MEANT to be doing what you're doing right now? Hurtling and flailing and pushing and TRYING to get people to hear you, trying to get people to buy something that you would NOT talk about all day and night if you weren't getting paid for it?
What is it you can't shut up about? Sell and stand for THAT!
It's ALWAYS been the thing it's always been!
And if that doesn't relate, for business, then know this:
In life, it's always been the thing it's always been.
What you want, is what you've ALWAYS wanted.
And your soul has known, the entire time, what it needs.
This week, as we come into Halloween, the time when the veil is thinnest and we have powerful access to our intuitive powers, beyond even the norm, powerful access to the other realms, and spaces, and places, I urge you –
Drop deeper into your truth.
The closer you live to it, the more everything is revealed.
Flows.
And is known.
Just as it's always been.
You can continue to live for should, and make yourself a pretty nice life.
Or you can live for soul, and create the world you dream of.
Don't forget –
Life is Now. Press Play.
Kat
📷– Ibiza Old Town, view from the castle which I walked up to yesterday
Life is Now. Press Play.
Kat x

PS
I want to help you to build a business you LOVE, and that meets your every want and desire, in a real and true way, whilst also resulting in you making a LOT of money, fast, and impacting a lot of people, also fast, in the way you know you were born for!
My most transformative 1:1 intensive EVER … shifting people into EPIC income and success since 2016 is back, for the first time in 2019! I'm so excited to bring this signature transformative work back!
Rich Hot Empire!
Work With Me for 6-Weeks Personally to Grow Your Perfect Cult Tribe, Create and Launch Your Low-High End EMPIRE, and Set Up Multiple Recurring Income Streams to Take You to Multiple 7-Figures and Beyond, Doing What You Love!
This round is even more special as I will be re-recording all original content, with you there live with me and alongside me AND you will also receive all original content; the exact trainings which has made this program my most successful ever, with clients repeatedly saying they achieved more in 6 weeks with me than they had in 2 YEARS beforehand! This work is for entrepreneurs at ANY starting point, as it's about who you are as a person not where you're at. I've had clients anywhere from total start-up, to already doing 500k+ / year go through Rich Hot Empire and all who have done this work have gone to a level of income as well as alignment and FLOW which they couldn't previously even imagine!
6-week personalised intensive high level mastermind
Weekly group training and support; multi-media training: visual + audio
'Done for You' Templates and Step-by-Step Worksheets
Personalised 1:1 coaching included, plus DAILY unlimited 1:1 access
My personal hand on your business success
Weekly group coaching call and hotseat with my other private clients
24/7 mastermind forum, networking and support
Very limited spaces
Results guaranteed
Not for everyone
STARTS THIS MONTH!
I'm so excited to do this work with a small group of badasses who are willing to SHOW UP FOR THEIR SOUL no matter what. To walk away from all that is not serving, not actually working, not FILLING you. And to all yourself to bring your truest desires to life. If that's you, or you've felt the call to work with me at this level, PM me now. Bonuses and fast action-taker investments apply to all successful applicants, but for the first 5 to say yes there is a very special $2000+ bonus specific around Soul Shifts & Money Makin', and which, in and of itself even before we begin RHE will have shit changing for you FAST.
Apply via PM only. I can't wait to speak with you!
PPS
HAVE YOU JOINED PURPOSE PASSION FLOW ACADEMY?
My 'Going Fully Quantum' training will break down ALL of what we've discussed today, and teach you the finer details and finesse of it, as well as exactly what needs to be true for you to APPLY it, not only into the practical actions you need to create THAT money flow and THOSE results, but also in terms of ALL the energetics of it, especially the 'being and non-being' around dropping in to superflow so you can be shown, create, receive, AND of course the being around not being one of those people who just can't seem to choose faith and are ruled by fear. We'll also talk about creating and integrating the exact wording, beliefs, emotions, energies YOU need for all of this to switch effortlessly for you, as you've always known it would.
In other words: EVERYTHING you need to know to go fully quantum, and double your income in 30 days or less, or whatever else you choose!
Where will you find this training?
Why, it's one of the very first training in 'Remembering Who You Always Were', which. is our June intensive for Purpose Passion Flow Academy, my SUPER low-cost monthly membership mastermind!
And this training?
Will change your freaking reality. Well – it will REMEMBER it.
It's all available to you gorgeous.
You know this already.,In the quantum it is DONE. And in Purpose Passion Flow Academy, and especially our June intensive 'Remembering Who You Always Were'? We gon' done do it.