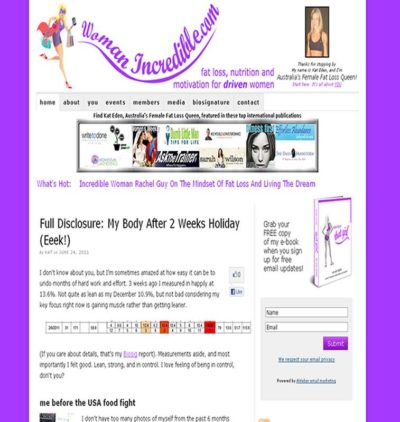 When I began in online business, long before I even knew or considered the idea that I was in online business, long before I ever heard the words 'internet marketing', back when I was just a blogger who accidentally ended up creating a multiple 6-figure income by selling all $99 and under online courses and the like, I had no strategy or sales plan except for that I wanted people to have an awesome time being part of my community –
And I wanted to feel certain that I was sharing EVERY possible thing I could about what worked for me, and what I did, so that they too could change their bodies and change their lives.
The only other focus or intention that I really had with it all, both for me and my girls (as I called them), was that the whole thing had to be FUN, a genuinely happily connected community, a place where everybody wanted to be!
My business at the time was fitness, I was about rapid fat loss and body transformation for DRIVEN women who knew they could have it all, but my real message and passion was of course the same as it is now:
I wanted to work with driven badass women who knew they could have it all, and were willing to do what it takes to make that happen!
Why? Because that's who I am baby, and I like hanging out with women who do life similarly to how I do. Namely, with no excuses and no regrets, and DEEPLY driven by soul purpose!
The change your body side of things was just the surface stuff. Sure, I taught on nutrition, and on working out, most of my offers in my first few years online were to do with having a bikini body, or a flat stomach, or getting lean, also a few thrown in around emotional eating, and self-belief and the like, but that was just because my career at the time was Personal Trainer. I hadn't yet figured out that I could just be me, and that that was enough. And, also, of course – I was passionate about fitness. I still am! I just acknowledged some years back now that that doesn't mean it's what I'm here to teach.
Back in the early days of my online journey (which started with a homemade little website-in-a-box and then blog in 2006), whether I was in person with people in the gym or whether I was posting pics and posts on 'this is how I eat', and 'this is how I train' on Facebook, and even when I was running my signature Look Great Naked Bikini Body Bootcamp, REALLY my whole underlying message, and what I was passionate about preaching and teaching on, was the same as it is now:
You have one life to live. It's THIS ONE RIGHT HERE. Everything you feel inside of you is real, available, available for YOU, available NOW! You CAN live a life of purpose, passion, flow, and fulfil your destiny, but if you want it, if you want ALL of it, then you have to be willing to do what it takes, no matter what it takes, until it takes, and then keep going!
In other words –
Life is Now. Press Motherfucking Play!
A few things have changed over the years, I have a website and online presence a little fancier than that first homemade blog (not too much fancier mind you!), and of course I'm no longer known for fitness, and now my business makes hundreds of thousands per month instead of per year, and I guess I have a few offers that cost more than $99 – although plenty of super low cost stuff still, it's always been my fave! – but really?
Nothing has changed at all.
I'm still just that girl who wants to inspire, motivate, educate and empower you to live your life according to your values, and say yes to your soul!
It's always been about that for me, whether I'm using fitness or business or anything else as a way of presenting the message the message itself remains unchanged.
I suspect that if you're honest with yourself, you'd find that for you too the message is UNCHANGING AND ALWAYS WILL BE.

Here's what did change though, somewhere along the way, and where I'd say I royally screwed it up … if I believed in screwing things up, which I don't, because I know that EVERY choice I make is for my learning and growth, as well as the greater good of myself and of others, and certainly that shows itself to be true!
What changed –
Was that somewhere along the way I learned about internet marketing.
About making money online.
And about the rules.
It's not the first time I've told this story, if you've followed me for a while, you'll know that this is old news!
– Knew nothing about anything, was one of the first ones selling online courses and such, figured it all out myself just by building an awesome community and listening to them, and focusing on providing KILLER (and fun!) value
– Made multiple 6-figures per year online with not a single proper sales page or funnel in site; hadn't even heard the word funnel OR internet marketing
– Freaked out that I must have fluked it and went off like a good student to try and learn how to do it properly, so I could improve on what I thought I had just 'gotten away with'
– Imploded the whole damn thing as a result of not being me, and ended up soul-shrunken-and-shrivelled and over 145k in debt
– Finally said fuck THIS shit, and committed to just.being.me, and people could get fucked if they didn't like it! Also swore that no matter what I would NEVER follow another so-called rule online again, I knew that when it had worked it was only and ALWAYS when I was following my own flow!
– Shot like a shooting star (with a few bumps along the way) into the multiple 7-figures a year stratosphere, with one of the highest profit margins in the industry, all by JUST being me, doing only what I love, following NO rules, working only with a soulmate community who I love, and basically ignoring EVERYTHING that the internet market-y people say to do!
What a story, huh?!
Only thing is, as is often the case, there's been times ever since then, now and again, when I FORGET WHO I FUCKING AM, and somehow the whole 'there's a better way than me just being me' mindset sneaks back up on me again.
I'm nothing if not a sucker for falling for the same stuff I warn you not to fall for! How do you think I know it's so seductive? 
I guess what it comes down to is, we all still have that little girl or boy inside of us who doesn't feel good enough … who feels like somebody else must be smarter and better than us … who feels like it would be just a LITTLE BIT MUCH – and perhaps too ego-centric! – to just FULLY trust that we know best!
For me, where this has shown up is not so much in the day to day way I message and create and sell online. My social media game is from soul, alignment, flow, I say what needs to be said, and I do what I can't not!
Hence – I get killer results!

It's more to do with the 'building of the business machine', that I find I have a little bit of a blind spot. It's like I feel, that when it comes to automated emails, funnels, the automated and more 'behind the scenes' income side of things, that I act as though I DON'T JUST TRUST IN ME.
In other words –
I get caught up in the idea that there is a right way to do it to make it work, to make it convert better and have more people join my list.
This, it has been proven to me, categorically and also repeatedly ('cause I apparently love to learn the same lesson over and over again before I eventually get it!), is 100% certified and laminated bullshit.
It's a simple case of forgetting who I am.
And then I remember, and tear the whole damn thing down and start again. Which is what I am currently doing, with my funnel.
Let's take the word 'funnel' for a moment, and talk about what it really is and what it is meant to be –
AN AWESOME FUCKING EXPERIENCE FOR PEOPLE WHO HAPPEN ACROSS YOU ON THE INTERNET AND SAY YES TO HEARING FROM YOU.
And sure, those people may also choose, as part of that experience, to buy your shit.
Let's talk about what it is not, and what it SHOULD not be –
Some sort of God-awful numbers-driven piece of engineering which does NOT come from your soul, and is designed with the idea that if you get every moving piece right then the peoples will give you the monies.
UGH.
But yet, I fell for it again this year!
I choose to love and accept myself anyhow, and see this for what it is –
A fabulous opportunity to (especially now I've awakened to it!) remember who I am and then drop deeper into that!
You know what's SO funny to me though, relevant to this?
A few days ago, somebody in one of my courses asked how I used to do my sales, especially higher ticket sales, before people knew who I am and just messaged me to want to work with me.
At first I started to answer that, well, I did sales calls. I did it the 'sell right' way. (Which I now refuse to do as I know it is NOT flow, and also not needed).
And then I remembered, as I replied to her, huh, hang on –
NO.
Before I was known.
Before I had a big following, or even ANY.
Before I had a JOT of social proof.
No I did NOT do sales calls! People just EMAILED me (maybe referred by somebody, or maybe they saw a blog or one of my little 'this is how I eat' Facebook posts, or read a raw story of truth about my own vulnerabilities, such as binge eating), and then I told them how I could help.
And then they signed up.
My PRIVATE coaching back then was not as high-ticket as it is now, but it was still thousands, i.e. for a 12-week package.
The reason why this worked was the same reason I 'accidentally', without even noticing it was happening, built my not-actually-an-online-business little blog income up to 35k+ per month online selling ONLY $99 and under products back then –
I wasn't trying to sell SHIT.
I wasn't trying to AUTOMATE shit.
I wasn't trying to CONVERT shit.
I wasn't trying to GROW shit.
I was certainly asking for the sale and I was certainly rapidly and consistently building both my income and my following, but that was a product of what I WAS focusing on, which was only, and simply, this:
I had created a community, through my homemade little WordPress blog (back when people used to chat in blog comments!), and my early Facebook days, of driven badass women who I loved to hang out with and share my best truths with!
The community was what I would call a HELL YES EXPERIENCE THAT MADE PEOPLE WANT TO STAY FOREVER!

The focus of what I did was simple:
Community
Conversation
Connection
Namely – I just shot the shit, spoke about what I did and what worked for me, then, when I caught the download, I made cool shit either for an optin or to sell, I always priced it based on what my soul said, and I never did ANYTHING I didn't want to do.
Why would I? I wasn't TRYING to make millions online. I was EXPECTING to, I knew it was coming, but since I knew it was coming, why would I focus on it? It was already coming, duh! I hadn't HEARD of internet marketing, and nobody told me any rules.
So, I did what I'd always done in the gym and what made sense to me. Freakin' HELPED people, and had a good time with them!
And then they gave me the monies.
What's funny to me, I mentioned it being funny before, is how frequently, at this 'lofty' stage of my online journey, I have to remind myself to just return to the stuff I did before I knew anything!
The whole damn thing is really just a game of remembering …
Before I knew anything, I just created an awesome community and experience for people, it was super fun, I gave EVERYTHING away and then sold on top of that, sold whatever felt cool and helpful to me, and even my early funnels were simply an extension of that.
It was all and ONLY about the experience, and killer content to help people. This made me a lot of money, and it really did feel 'accidentally', it just kind of happened. BECAUSE THE MONEY WAS AN EXPECTATION BUT NOT WHAT DROVE ME, AND NOT MY FOCUS. 
Then I learned how much I didn't know and forgot who I was, and repeated that cycle a few times, in certain areas!
And then?
Well then of course I remembered.
And now here I am, remembering again. Once again tearing fancy shit down (in my funnel) in order to go back to basics, back to the way I did biz before I knew anything. Back to what has ALWAYS worked, which is following soul and flow, and being of service. Back to making EVERY part of my business simply a hell yes experience you don't wanna walk away from! Not just for YOU, by the way, but also because the other bores and saddens me to tears.
And I wonder –
I just wonder, don't you?
What would happen if you did the same?
You've always known.
You still know.
And there's not a single thing outside of you which will work better than you just trusting in what you know –
And letting it show.
Remember –
Life is Now. Press Play.
Kat x
PS
Rich From Your Soul Work is here beautiful, and it is one of THE most soul-thrilling things I have ever created!
CRAZY low cost, too! Today is Day 4 just of PRE-work, and the Facebook group is already kicking! We start Friday US time, but when you join today you get to join in the EXCAVATION OF TRUTH phase aka the daily pre-work in the lead up 
https://www.thekatrinaruthshow.com/richfromyoursoulwork
RICH FROM YOUR SOUL WORK 💙💎
11 Days with Katrina Ruth to Connect Back to Your Core, Drop ALL Agenda and Strategy, and Realise That Your Pathway to RICH, SEEN, KNOWN is and Always HAS Been to Just.Be.You.
https://www.thekatrinaruthshow.com/richfromyoursoulwork
It's time to acknowledge, own, and step up to the fact that you didn't COME here to be a coach – 💫
Teach people the surface stuff around business, or body, or love, or live –
Live and die for that –
And ONLY that. 💫
YES, coaching is in your blood, you're the sort of person who can't NOT mentor people, guide them, impart deep wisdom and soul truth from your heart to theirs!
Not to mention that people have always been and WILL always be drawn to just your PRESENCE, wanting to pay to be around you, and hang off your every word! So it's not as like you could avoid being a guide even if you tried …
We know this.
And yet –
And yet –
AND YET – !
YOU WERE NOT BORN TO JUST BE A COACH AND THEN DEAD!
We know THIS. ♥️
In fact, there's something about even that word … as far as a LABEL … which just makes you … well.
Shrink.
Flat out, when you think of yourself as a COACH you feel annoyed. Frustrated. NOT expanded. Resentful. At who? Probably your own self I guess, since you're the one who created this! And most telling of all perhaps –
You feel SAD.
This is not how it was meant to be, and …
It hurts.
It's contractive.
It's actually fucking BULLSHIT, is the truth of the matter, when you KNOW you came here to LEAD A DAMN EMPIRE, but even THAT isn't quite right, is it?
The truth BEYOND the truth is that you didn't come here to lead ANYTHING –
To coach ANYBODY –
Or in fact to DO anything! Even though yes of course you ALWAYS WILL DO ALL THOSE THINGS!
What you CAME here to do –
What you were BORN to do –
What you bloody well BETTER do, or you'll go MAD from not doing it – !
Is you came here to JUST.BE.YOU.
And people SHOULD just pay you for that!
In fact it's bullshit that they don't! Well, in fact they already DO, some of 'em, the ones who you've let SEE YOUR TRUE SOUL and understand that you just SHARING what's in that soul, through your words, your speaking, your art, sure, but predominantly just through your BEING, the ones who have seen that HAPPILY pay for it!
They pay just to be in your presence, and they ALWAYS WILL because it's THAT damn powerful and transformative.
They might call you their mentor, their coach, their guide …
They might talk of you as being a badass, a healer, a leader, a POWERHOUSE …
But really it's just –
You.
Something about you.
That they can't look away from.
That they have to be around.
That they want to soak UP.
When this happens, and for those who have seen it, answer me THIS –
ARE YOU OR ARE YOU NOT JUST BEING FULLY IN TRUE DEEP HONOURING OF YOUR SOUL WORK?!
Yes. You are.
And perhaps it's that, with certain people, or existing clients, let's say, or in certain moments, you've simply allowed yourself to feel fully safe to just and ONLY be.
You're not trying to make money in that moment …
You're not worried about what the right thing to say or do or sell is, to get attention or to grow your business or to get paid …
You have NO AGENDA and you're just connected to your truth.
Which brings me to the main point I came here today to make:
What if you had no agenda and you were just connected to your truth?
And what if that were always the case?
And WHAT if –
You knew you could also be rich beyond measure –
Impact the WORLD –
And be KNOWN in the exact way you dream of and know you must be –
JUST.
FOR.
LETTING WHAT'S IN YOU – 
What's REALLY in you – 
Out.
Well –
Then what?
Well, maybe this 🙂
Rich From Your Soul Work is open NOW for registration AND early FB group access, and this might just be my most 'hell yeah no brainer low cost offer EVER!'
RICH FROM YOUR SOUL WORK ♥️
11 Days with Katrina Ruth to Connect Back to Your Core, Drop ALL Agenda and Strategy, and Realise That Your Pathway to RICH, SEEN, KNOWN is and Always HAS Been to Just.Be.You.
https://www.thekatrinaruthshow.com/richfromyoursoulwork
PPS Time to drop all agenda and strategy, isn't it?
You've always known what will really work. 
It's never been some fancy ass shit.
And if you'd JUST be you and share what's in you, with a heart to serve and help and have FUN, I promise you – 
They won't be able to look away.
Let's make that happen for you, now. Yes? Freakin' YES. 
😉
https://www.thekatrinaruthshow.com/richfromyoursoulwork
📷: one of my first (and homemade!) websites. Back before I knew I was in online business!
PS
Expansion.
10 Days of Live Soul Transmissions, to Help You Find and Follow the Messages Within
Day 1) Trust
Day 2) Certainty
Day 3) Self-Belief
Day 4) Empire Creation
Day 5) Your Deepest Message
Day 6) Following Soul Guidance in All Areas
Day 7) Faith vs Fear
Day 8) Accessing Flow, and Superflow
Day 9) Expanding Time
Day 10) Expanding Money
Every day will be a LIVE soul led transmission.
This will take place on Facebook video, held at a variety of times in order to account for varying time zones, and scheduled only once we have begun. Our daily soul transmissions will be guided from MY higher self and directed from and for YOURS, to help you find and FOLLOW the messages within. The messages of your spirit, your consciousness, of the who you've always been and yet have managed quite well to cover up a lot of the time.
This is about stripping away –
And getting back to the CORE.
We'll dive day by day into the above mentioned areas –
And you'll receive all content and bonuses to keep for life.
There will be daily spirit prompts which you'll receive after each training.
And plenty of time opportunity connect with me throughout, receive transmissions direct to YOUR questions, and absorb more even than what comes through on the trainings, via the energy we'll create in this collective!
It's very rare for me to know in advance exactly what is coming through day to day.
I certainly don't have the details of each day's content. But I know that these areas have been on my heart to talk about, in particular around belief, around certainty, around living from FAITH.
We know that exactly what is meant to come through for you WILL, and then some. And that if you intend and allow for it to, it will change, most likely before we even begin, due to your energetic commitment, the direction of your LIFE!
Meaning: direct it back to absolute soul alignment.
*** NEVER Seen Before Bonus! ***
As part of this, I've been guided to offer a NEVER before seen bonus … one I feel super vulnerable about sharing!
It's the exact journaling I did to allow the download of THIS offer through. How I allowed the idea to bubble up. You'll see my doubt, uncertainty, annoyance. You'll see what I discarded. How I went through the layers. And how I KNEW, this was the one.
I'll ALSO add in copies (screenshots) of my conversation with my COO Ash, where I was talking through the idea and allowing it to come to life.
I want to show you the exact Idea to Launch process!
This bonus alone is EASILY worth the cost of this program, particularly when you hear the mindset side of it, in terms of STAYING THE COURSE and refusing to back away from my self until the idea showed up!
I refuse not to create!!
AND, when you register for EXPANSION today (and how could you not?!) you'll also receive early access to the Pre-Work. This is ALSO never seen before, and brand new just for you – and it's a guided meditation on remembrance, to help you connect back to deepest self and the most certain truth of your destiny, before we even begin.
Perfect priming, for when we expand RAPIDLY into all that is coming through in this work!
Of course I could now go on and on here, about what I could or should have charged for this, and what it's actually going to be …
Or about all my accomplishments on line and off, with money, with purpose, with passion, with flow …
I think you know all this anyway. Even if you just me! Your soul feels what matters. And that's ALL that matters.
But I will say this:
You've always known it's supposed to be about ALL that is inside of you. That it's meant to COME from a place of purpose, passion, and SUPER super flow. And that if you just.freaking.trusted, and showed up FULLY from that place, you'd be living in a different reality already.
THE ONE INSIDE OF YOU.
If that's true for you right now, then LET'S GO CREATE THAT REALITY.
Right now
Press play for regular, (super fuck yes!!) upfront or payment plan
OR
Press play like a VIP, and receive the full course, plus 10 days direct photos or screenshots of my ACTUAL personal journaling, so you can see how I create and expand my life, PLUS a VIP only follow-on live Hotseat, where you'll receive a personal transmission just for you, if you'd like one! Payment plan also available.
>>> https://thekatrinaruthshow.com/expansion
We start Monday 17 December, US time!