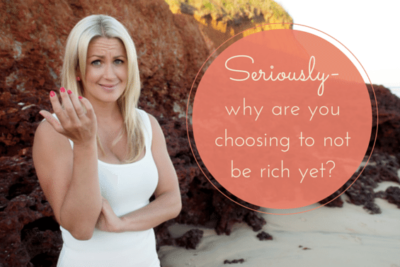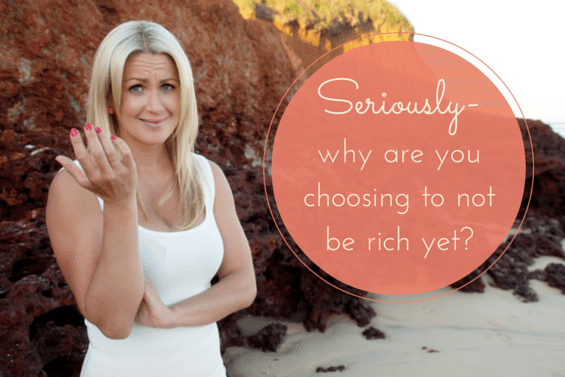 The most transformative lesson I learned on my path from extreme debt to true wealth was also, I'd have to say, the most infuriating. In fact, even though it's been responsible for over half a million of direct cash received income since then it still makes me want to tear my hair out!
But ugh, I'll come back to that in a second. For now, here's a quick newsflash for ya today my kickass soul sister, and something that's been on my mind heavily as I've put the finishing touches on It's Only Money, Honey.
You ready?
The money situation you currently have? Is PRECISELY the one you have been asking for and CONSCIOUSLY creating. Another way to put it: you chose this situation so if you wanna change it? Make a different choice!
And why not start today?
Let's face it (and this might sting a little)
You may very well be taking action every day
Working your toushee off, no less!
Putting offers a-plenty out into the world, and actively and REPEATEDLY seeking to better understand what your audience need
Doing the inner work, the journaling, the meditating
Choosing to believe
Doing the outer work, the lead gen, the sales, the marketing
Reading everything you can get your hands on about it
And essentially just doing what it takes, as much as you know how, and without EVER stopping
But yet you still don't have the money you (say) you want.
Is this because you're not really working as hard as you think you are, or because you're not smart enough to crack the money code, or because you're just not going to EVER get there?
No.
It's none of those things.
And no.
The answer is NOT going to be to add even more 'action taking' to that list right now, at least not before you do this –
Figure out what the payoff is.
Because if you don't know WHY you've been choosing not to be rich yet (and like it or not it IS a choice, because you ALWAYS get what you choose and what you ASK for, and your current OUTCOMES speak far louder than anything you SAY you want!) then how on earth do you ever expect to be able to actually ALLOW yourself to be rich.
There's something holding you back.
It's coming from within you.
And it's enough of a 'good reason' that it is OVERRIDING any of the so-called 'good reasons' you THINK you have for getting rich. The PAYOFF is the thing that you believe, deep down, that is essentially like the thread that joins all of the other threads together. It's the thing that, right now, whether you can recognise it or not, is a DAMN good reason and even a MUST for you NOT to create financial wealth no matter what you do or how you do it.
It could be an alignment issue …
It could be that you have deepset beliefs that being rich would mean something 'bad' … like too much hard work, or relationship upsets, or that you inherently would be one of "those" people, or a trillion other things that your mind may have created or decided …
It could be that the story you're telling yourself is you wouldn't be able to maintain it anyway, that it would all come crashing down, that you'd open yourself up to public ridicule or spectacle, or attack …
Or it could be, quite simply, that the ways you are currently trying to 'get rich' are not ways that deep down match the vision you have for the life you truly want to create and the you who you truly long to be.
In my experience, and absolutely talking personally, this is the biggie.
And here's something so true I wish I could come and shout it RIGHT into your ear:
[pq]YOU CANNOT CREATE WEALTH FROM A PLACE OF THE WRONG SERVICE.[/pq]
This means:
You wanna be rich, SERIOUSLY rich, and in every sense of the word?
THEN START ACTING LIKE SOMEONE WHO BELIEVES IN HERSELF.
In her RIGHT to BE herself.
And who ACTIVELY THEN GOES ON OUT AND DOES BE HERSELF.
You being ANYTHING less than the real leader and game changer you were brought here to be is NOT gonna cut it.
Another way of saying it:
Stop lying to yourself about what you will do or are prepared to following through if only it pays off.
'Cause the real payoff, and the only one you're EVER going to actually accept? Is one that you deep down believe supersedes everything else.
In It's Only Money Honey (my new business and money breakthrough program for women who want it all, NOW, and KNOW they're gonna have it all!) one of the key areas we delve WAY deep into is the payoff question.
Because the truth is that the practical and EVEN the internal work that you do means FUCK ALL if you don't actually have a damn good deep down reason you believe in for wanting to be rich.
I was INFURIATED – with myself! – when I realised that I kept myself broke and stuck in ever-increasing debt and fear by CHOICE for so many years. The reason it was so damn infuriating, aside from the obvious side of it which was the broke bit, was that I had been WAITING to be the true leader and no BS ass-kicking coach I really am, until I 'got my head above water'.
I'd been waiting to be ALLOWED to be aligned, completely, in all that I do in my business.
I'd been waiting to do ME, completely, in all that I do in my life.
I'd been DESPERATELY following the rules of how to get ahead, grow my list, launch my stuff, reach more people, make more MONEY, hanging off what just about ANYBODY said on the topic and then diligently IMPLEMENTING it yet all the while KNOWING, deep down, that I had bigger plans and that if I was really honest I just didn't wanna do business that way.
Life that way.
Or me that way.
Once I realised my PAYOFF for not having ALLOWED wealth in I was SO DAMN GRATEFUL I never got there while NOT in alignment.
Can you imagine what it would have said about business, about success, about me, if I was ABLE to get rich by NOT being me?
Ding.
For me this was a lightbulb revelation.
So what's the lightbulb revelation you need to learn about YOU?
What is the PAYOFF that is actually a CRITICALLY IMPORTANT reason you can NOT yet 'get rich'.
And what do you need to do to figure it out, understand it, and then MOVE THE FUCK ON FROM IT?
I can tell you one thing: no point bothering about more action taking if you don't figure THIS shit out!
So … if you are READY to figure it out and you're also ABLE to take conscious responsibility for the money situation you have CURRENTLY chosen, and you'd like MY help in moving forward, then come on over and see what I've made for you.
https://thekatrinaruthshow.com/onlymoneyhoney
It's Only Money, Honey has been designed to show you that you know what?
It really is only money.
You CAN breathe it all in.
As much as you choose.
However you choose.
And whenever you choose.
But if you want it? You're going to have to go on out there and take it, and that means starting with the underlying TRUTHS about what you've chosen now, and then making a DIFFERENT CHOICE THAT STICKS.
https://thekatrinaruthshow.com/onlymoneyhoney
You can keep on following the same hard-worn path. Or you can find the one that's always been there waiting for you.
You decide, but either way, remember –
Life is Now. Press Play.
PS The doors of It's Only Money, Honey! are open until next Wednesday however until tonight only (midnight EST Thursday night) there is a 2-part payment plan available for you. I'd love to have you on board with us. Time to press PLAY gorgeous!
PS
Expansion.
10 Days of Live Soul Transmissions, to Help You Find and Follow the Messages Within
Day 1) Trust
Day 2) Certainty
Day 3) Self-Belief
Day 4) Empire Creation
Day 5) Your Deepest Message
Day 6) Following Soul Guidance in All Areas
Day 7) Faith vs Fear
Day 8) Accessing Flow, and Superflow
Day 9) Expanding Time
Day 10) Expanding Money
Every day will be a LIVE soul led transmission.
This will take place on Facebook video, held at a variety of times in order to account for varying time zones, and scheduled only once we have begun. Our daily soul transmissions will be guided from MY higher self and directed from and for YOURS, to help you find and FOLLOW the messages within. The messages of your spirit, your consciousness, of the who you've always been and yet have managed quite well to cover up a lot of the time.
This is about stripping away –
And getting back to the CORE.
We'll dive day by day into the above mentioned areas –
And you'll receive all content and bonuses to keep for life.
There will be daily spirit prompts which you'll receive after each training.
And plenty of time opportunity connect with me throughout, receive transmissions direct to YOUR questions, and absorb more even than what comes through on the trainings, via the energy we'll create in this collective!
It's very rare for me to know in advance exactly what is coming through day to day.
I certainly don't have the details of each day's content. But I know that these areas have been on my heart to talk about, in particular around belief, around certainty, around living from FAITH.
We know that exactly what is meant to come through for you WILL, and then some. And that if you intend and allow for it to, it will change, most likely before we even begin, due to your energetic commitment, the direction of your LIFE!
Meaning: direct it back to absolute soul alignment.
*** NEVER Seen Before Bonus! ***
As part of this, I've been guided to offer a NEVER before seen bonus … one I feel super vulnerable about sharing!
It's the exact journaling I did to allow the download of THIS offer through. How I allowed the idea to bubble up. You'll see my doubt, uncertainty, annoyance. You'll see what I discarded. How I went through the layers. And how I KNEW, this was the one.
I'll ALSO add in copies (screenshots) of my conversation with my COO Ash, where I was talking through the idea and allowing it to come to life.
I want to show you the exact Idea to Launch process!
This bonus alone is EASILY worth the cost of this program, particularly when you hear the mindset side of it, in terms of STAYING THE COURSE and refusing to back away from my self until the idea showed up!
I refuse not to create!!
AND, when you register for EXPANSION today (and how could you not?!) you'll also receive early access to the Pre-Work. This is ALSO never seen before, and brand new just for you – and it's a guided meditation on remembrance, to help you connect back to deepest self and the most certain truth of your destiny, before we even begin.
Perfect priming, for when we expand RAPIDLY into all that is coming through in this work!
Of course I could now go on and on here, about what I could or should have charged for this, and what it's actually going to be …
Or about all my accomplishments on line and off, with money, with purpose, with passion, with flow …
I think you know all this anyway. Even if you just me! Your soul feels what matters. And that's ALL that matters.
But I will say this:
You've always known it's supposed to be about ALL that is inside of you. That it's meant to COME from a place of purpose, passion, and SUPER super flow. And that if you just.freaking.trusted, and showed up FULLY from that place, you'd be living in a different reality already.
THE ONE INSIDE OF YOU.
If that's true for you right now, then LET'S GO CREATE THAT REALITY.
Right now
Press play for regular, (super fuck yes!!) upfront or payment plan
OR
Press play like a VIP, and receive the full course, plus 10 days direct photos or screenshots of my ACTUAL personal journaling, so you can see how I create and expand my life, PLUS a VIP only follow-on live Hotseat, where you'll receive a personal transmission just for you, if you'd like one! Payment plan also available.
>>> https://thekatrinaruthshow.com/expansion
We start Monday 17 December, US time!