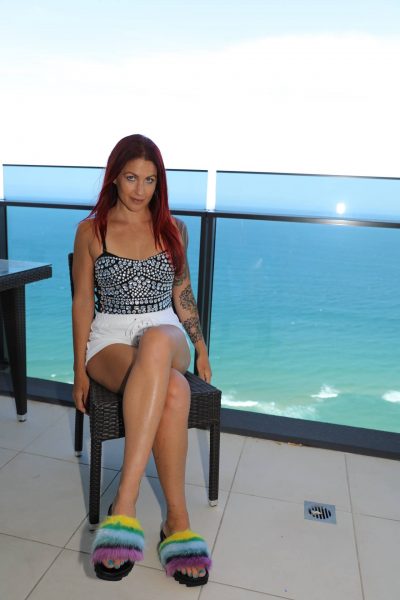 Money Mindset, Success Mindset
I DIDN'T HAVE A PLAN, I DIDN'T HAVE A HOW, I DIDN'T HAVE A CLUE, AND YET I BUILT A MULTI-7-FIGURE LOCATION FREE BUSINESS, DOING WHAT I LOVE. HERE'S HOW
I never set out to try and build the business I have now; that's not how I got here.
I never set out to try and build the business I have now; that's not how I got here.
I didn't have a plan.
I didn't have a how.
I didn't KNOW the fucking DETAILS of any of it, and yet somehow? I ended up creating a multi-million dollar per year location free business, where I get to wake up every day, 'just be me', do what I LOVE, only with soulmate peeps, and have a damn fun time doing so.
At no point in time did I in ADVANCE say I want to sell exactly the sort of programs I do now, or have badass revolutionary fucking clients, or days that are largely me sitting around blogging | livestreaming | unleashing random thoughts onto the internet.
I didn't know.
When I started online I didn't even know you could make MONEY online, or at least I only had a very vague idea of what that might mean.
What people who will never reach their income or impact dreams don't understand, is that it's not that I got here in SPITE of not knowing what 'here' even was, and in spite of knowing NONE of the specifics of it, it's that I got here BECAUSE I understood that not knowing exactly what you want nor how to get it has nothing to do with taking action. It also has nothing to with whether or not you can have faith that of COURSE it will work.
I started to think about this early this morning, because I'd been audio-ing one of my mentors and kind of wailing about how I don't really know what I want when it comes to MAN stuff.
I feel like I want somebody who chooses me every day, I want that day to day connection and love and 'being together', but then at the same time I don't feel I can say yes to monogamy. I'm in love with a man who lives on the other side of the world and who is not available for love right now anyway, even though we both know what we have and have talked about it openly. Truth is I don't know if I'm available for commitment love anyway!
So then my mind says – ugh! Well, if I met somebody here who I felt like I wanted COMMITMENT love with, or ANY sort of 'normal' relationship how how HOW would that work, because I am SO not going to NOT see the first guy when I go there. I'm not available for that! No way. No how. Never mind the other men already in my life, who I also don't want to let go of!
What's been annoying me, is I'm all about manifesting WHATEVER I desire, with ease. I decide something and it's DONE, that's how my life works. Yet in this area I notice I can't even decide what I WANT, and so I've been feeling as though well, obviously I can't GET it if I don't know what IT is.
And I've been trying to make all the pieces work together in a way that makes sense to me, like a jigsaw puzzle. Just … one that never fits or works. "Which piece am I missing or putting in wrong?!", is what my mind was shrieking.
I let all this out late last night to my mentor, and what she replied made so much sense –
"Drop the story. What if you dropped ALL the stories about this guy or that guy or HOW it would all come together, then what would you want?"
When you put it like that, the answer is simple –
I want epic love, connection, conversation, fun, adventure, etc.
No I do NOT need to then 'play God' and answer HOW I can receive that, which dude can fill or meet which different aspects of it and if I need to commit to one or if it's possible to be in love or even be a 'couple' with somebody while also still loving / seeing other people.
Drop the how.
Focus on the vision.
It's only what I teach ALL the time in business
🙂 … and it's EXACTLY and ONLY the way I was able to get to here.
If I had have sat down and tried to paint the picture of the business I have now, telling myself I couldn't create or receive anything or take ACTION without knowing exactly where I was headed and how it would look, I would have never started.
I got here because I had a vision or intent for IMPACT, for speaking my truth, for being heard and seen, and hell yes for making millions and living a life of freedom and choice at the same time.
That was all I knew.
And every single day, for the past 11 years online, in some way or shape or form I have focused on or thought about those things.
I held the vision even when I had NO fucking idea what the hell I should be doing, how I could make money, what would WORK. Which was most of the time, really!
I continued to hold the vision whether or not things I did worked in the day to day of it.
And I continued to hold the vision through all the many periods I felt like I was somehow once again WAY off track and needed to start afresh.
The details and the day to day focus changed CONTINUALLY, but the intent for the vision NEVER left me.
So when you look at what I've now created – it's hardly any surprise, is it? I wanted freedom and choice and to make and impact millions, and so that's what I HAVE. I never said it needed to be an online coaching company, or that I'd become a red-haired tattooed cursing badass, or that I'd have 'x' type of clients or staff or ANY of that.
The details were revealed along the way.
And they may or may not remain the way they are now, because none of THAT is part of my vision. What has mattered and what always mattered is the speaking of my truth, the being heard and seen, the making and impacting millions, ETC.
There are many ways I could live THAT, and I've no doubt that the way I do business and life right now will continue to shift and evolve and that I will continue to live into the vision.
All of which reminded me so powerfully that if what I desire on the relationship side of things is epic love, connection, conversation, sex, fun, adventure, flow, ETC, then THAT is all I need to concern myself with.
I don't need to ask how.
I don't need to worry about who fits what part, or if it's one person or more.
I don't need to try and jigsaw my life.
Release the how.
Focus on the vision.
I ALWAYS get what I focus on and decide!
And actually, it's the same with you. You ALWAYS get exactly what you focus on and decide. Always always always!
But maybe right now you're telling yourself a story that the only way to take action in your business, get seen, build a tribe, get paid, is by knowing exactly how it should all look.
And you're worrying –
– About exactly who you should be marketing to
– About what to use for an optin
– About what to put in your funnel, or what a funnel even is
– About exactly what 'the' thing to sell must be
– About what you're freaking WEBSITE should look like
– And so on and so forth, ad infinitum!
As a result of which you are FROZEN IN OVERWHELM, going around and round in circles in your head not knowing WHICH OPTION TO CHOOSE or where to start or how to even MOVE.
Can you see how this won't work, can't work, is obviously NOT working?!
And can you see how simple it would be if you dropped ALL of the stories and ALL of the how and you ONLY made it about the vision?
Be still for a moment, right now.
Stop thinking for a moment, right now.
Put your hand on your heart for a moment, right now, and ask –
"What do I actually just WANT?"
This is NOT "what do I think I should want", and it's not "what is appropriate or allowed to want?", and it's not "what do I need to DO or CHOOSE in order to get what I want and make it work?".
It's just – what do I want. No stories. No how. No attachment. No excuses or ifs or buts!
If you're anything like me then perhaps what your soul will serve up to you looks something like this:
"I want freedom. I want choice. I want to speak my truth. I want to share my message or art into the world. I want to IMPACT people. I want to make a helluva lot of money and have what I want and be fully supported too!".
And so on.
And so forth.
And I can tell you, from personal experience, that if you JUST focus on that and you REQUIRE yourself to not start freaking out about HOWWWWWWW and whether it's ALLOWED, you will GET it.
You will always get what you focus on and choose is 'done', no need to KNOW how.
Period.
The End.
I didn't have a plan to get to here.
I didn't know how.
I didn't have a fucking clue about making money online.
I had NO idea where I would start OR exactly where I'd end or ANY of the in between bits.
But I had a vision.
I focused on the vision.
I BELIEVED in the vision being available for me.
And I DECIDED – not just once, but over and over again, that that would be my LIFE.
I still just keep deciding, and I still just keep my mind and soul on the vision.
And as for what I DID along the way, the 'how'?
I just got up every day.
Vision always there.
And did what felt best or right or yes for that day.
The truth is that even though there were a million ups and downs and I often felt like EVERYTIHNG I was doing was bullshit I NEVER doubted the vision. I KNEW I would get here because I DECIDED to. So any sort of turmoil or hurdle along the way was just that, and it was always 'okay? what next then?', and I'd come back to choosing, as best as I could for that MOMENT the next action to take.
The only moment we can choose to live ANYHOW is now, so really – why WOULD we try to figure out anything else.
So stop.
Stop looking for a plan or a how or trying to figure out how to put all the pieces together in your head.
Stop freaking the fuck out about the details.
Stop worrying about what's right or wrong or allowed or acceptable.
Stop asking what next.
Stop WAITING for clarity and a plan in order to press play; that's a myth!
Your ONLY job, if you want to live your dreams in business and life, is simple:
Decide your vision.
Decide it's done.
Fuck the how.
And then take a breath and take a step in this moment, from faith, and based on whatever feels RIGHT. NOT based on outcome. NOT based on what the next step beyond that should have to be. JUST based on faith and the fact that if you fucking decided something and you hold it in your mind?
It's going to be done.
Also, don't forget –
Life is Now. Press Fucking Play.
Kat
Life is Now. Press Play.
Kat x

PS
I want to help you to build a business you LOVE, and that meets your every want and desire, in a real and true way, whilst also resulting in you making a LOT of money, fast, and impacting a lot of people, also fast, in the way you know you were born for!
My most transformative 1:1 intensive EVER … shifting people into EPIC income and success since 2016 is back, for the first time in 2019! I'm so excited to bring this signature transformative work back!
Rich Hot Empire!
Work With Me for 6-Weeks Personally to Grow Your Perfect Cult Tribe, Create and Launch Your Low-High End EMPIRE, and Set Up Multiple Recurring Income Streams to Take You to Multiple 7-Figures and Beyond, Doing What You Love!
This round is even more special as I will be re-recording all original content, with you there live with me and alongside me AND you will also receive all original content; the exact trainings which has made this program my most successful ever, with clients repeatedly saying they achieved more in 6 weeks with me than they had in 2 YEARS beforehand! This work is for entrepreneurs at ANY starting point, as it's about who you are as a person not where you're at. I've had clients anywhere from total start-up, to already doing 500k+ / year go through Rich Hot Empire and all who have done this work have gone to a level of income as well as alignment and FLOW which they couldn't previously even imagine!
6-week personalised intensive high level mastermind
Weekly group training and support; multi-media training: visual + audio
'Done for You' Templates and Step-by-Step Worksheets
Personalised 1:1 coaching included, plus DAILY unlimited 1:1 access
My personal hand on your business success
Weekly group coaching call and hotseat with my other private clients
24/7 mastermind forum, networking and support
Very limited spaces
Results guaranteed
Not for everyone
STARTS THIS MONTH!
I'm so excited to do this work with a small group of badasses who are willing to SHOW UP FOR THEIR SOUL no matter what. To walk away from all that is not serving, not actually working, not FILLING you. And to all yourself to bring your truest desires to life. If that's you, or you've felt the call to work with me at this level, PM me now. Bonuses and fast action-taker investments apply to all successful applicants, but for the first 5 to say yes there is a very special $2000+ bonus specific around Soul Shifts & Money Makin', and which, in and of itself even before we begin RHE will have shit changing for you FAST.
Apply via PM only. I can't wait to speak with you!
PPS
HAVE YOU JOINED PURPOSE PASSION FLOW ACADEMY?
My 'Going Fully Quantum' training will break down ALL of what we've discussed today, and teach you the finer details and finesse of it, as well as exactly what needs to be true for you to APPLY it, not only into the practical actions you need to create THAT money flow and THOSE results, but also in terms of ALL the energetics of it, especially the 'being and non-being' around dropping in to superflow so you can be shown, create, receive, AND of course the being around not being one of those people who just can't seem to choose faith and are ruled by fear. We'll also talk about creating and integrating the exact wording, beliefs, emotions, energies YOU need for all of this to switch effortlessly for you, as you've always known it would.
In other words: EVERYTHING you need to know to go fully quantum, and double your income in 30 days or less, or whatever else you choose!
Where will you find this training?
Why, it's one of the very first training in 'Remembering Who You Always Were', which. is our June intensive for Purpose Passion Flow Academy, my SUPER low-cost monthly membership mastermind!
And this training?
Will change your freaking reality. Well – it will REMEMBER it.
It's all available to you gorgeous.
You know this already.,In the quantum it is DONE. And in Purpose Passion Flow Academy, and especially our June intensive 'Remembering Who You Always Were'? We gon' done do it.