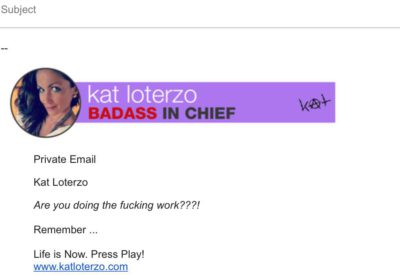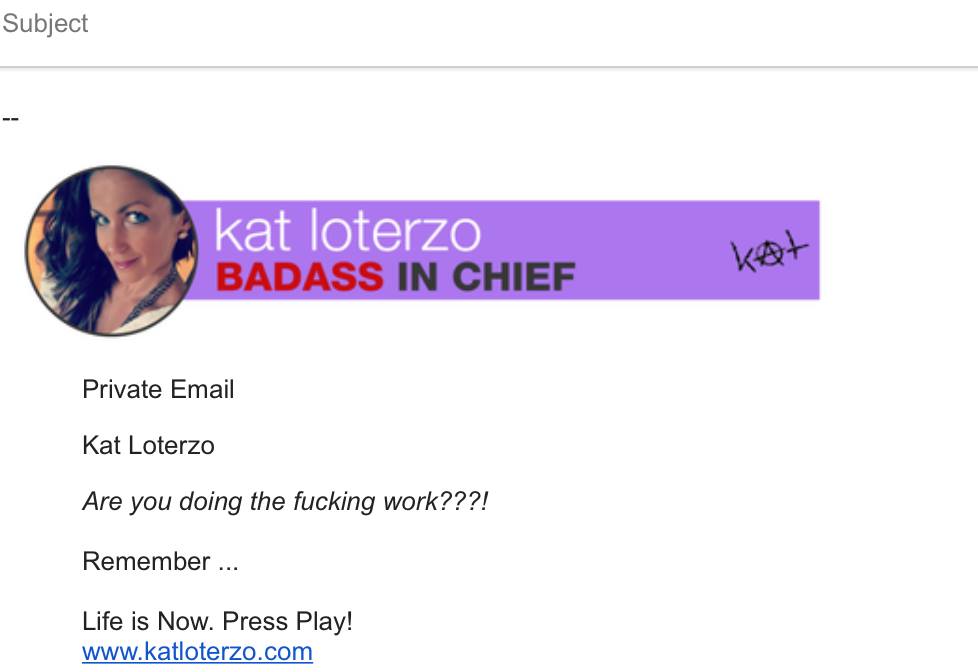 Purpose
FOR FUCKS SAKES! LIVING THE LIFE YOU WANT IS JUST A CHOICE!
It's time to stop fucking around and telling yourself you can't live the life you want in EVERY way, now, and while we're at it, it's time to stop showing up like you run this thing, wisely telling everybody what's up on Facebook, when behind the scenes you got NOTHING.
It's COMPLETE and utter bullshit to in any way imagine that you have anything LESS than ultimate control and choice.
And it's complete nonsense to keep on spouting forth teachings and learnings which you yourself don't live by, or back up.
Long story short, in case you don't feel like reading the rest of this but you DO like the feel of that slap on the face now and then:
It's time to start taking responsibility and doing the fucking WORK, bitch!
And here is what else:
If there's shit going on in your life that you don't like, then guess what? YOU have the power to change it, to CHOOSE your reactions to it, and also to decide how and what you'll create from there on out.
Create for your life, your business, your art? SURE. But what I'm talking about mostly, and of course what really matters, is what you create your SELF into being, because ultimately the path to being able to have your life completely on your terms and achieve EVERYTHING begins with BECOMING that next level version of yourself to whom success is inherent, and created, from within.
I'm fully aware that telling people to own their shit like this is a great way to automatically get some push back, from people who'll let me know I don't understand their particular circumstances, that they really DON'T have control, or choice, whatever, and you know what?
That's true.
I DON'T know what's going on with you, what has gone down, what has happened, or not. I have no idea of the lessons life has given you. But I do know this:
If you believe that you don't have choice in even ONE situation in your life, if you believe you have no control in even a SINGLE circumstance, then it automatically means that how your life plays out is out of your hands.
You relinquish the ABILITY to create your life by design when you relinquish the belief that you have that power to do so. I mean, really –
THAT'S PRETTY FUCKING OBVIOUS!
Of course you're welcome to disagree with me, and go on your way. Far be it from me to tell you how to think! I don't want to, anyway. I've never had any interest in trying to convert people over to my way of doing business or life – the stuff I write is written first and foremost for ME, and second to that for those who, deep down, DO already think like this, and need the reminder slash asskicking.
So, if that's you, allow me to give you a reminder slash asskicking!!
You get to choose.
You get to choose.
You get to CHOOSE, baby!
Every little part of it.
Now.
And forever.
Amen.
And with that being true and it being SAID, and both you and I now REMINDED, let's also take action, yes?
Ain't much point talking about the inner work and nodding our heads solemnly at how awesomely we think and believe, if we're not also taking IMMEDIATE aligned action. What other action is there anyway, aside from immediate? If it's not worth doing now … if it's not worth attending to in the moment … it's not worth it at all, and / or you're once again not CHOOSING to take responsibility for your goals, your outcomes, your LIFE.
So – 'fess up! What do you get to do? What are you avoiding? What BULLSHIT lies are you telling yourself, about why you can't, not yet, you have to delay, again, on the stuff you SAY matters?
Plain and simple: your actions and how you are spending your time show what matters to you REALLY! You can jump up and down and scream and shout all you like and say you're going to do this or that or the other thing, but if you're not doing it NOW, then I DON'T BELIEVE YOU.
And more relevantly –
I bet YOU have stopped believing you.
You're boy who cried wolf-ing your LIFE.
And for each and every day that passes where you do NOT follow through, show up, LOOK resistance in the eye and then DO WHAT YOU NEED TO DO, you LOSE belief in yourself.
Which makes it ever harder to do the next thing.
And sooner or later, that dreamer inside of you starts to just fade away.
From the outside looking in, you might still talk the talk, post inspiring or passion-infused shit on Facebook, whatever.
But you're not here with us.
You're NOT one of us.
There's nothing BEHIND all that talk.
And quite frankly –
You're making a fool of yourself acting as though you have ANYTHING to base all your talk on when there is near to ZERO action going on behind it.
Once again … who CARES what other people, yes also me, think of you, but how do YOU feel about that?
What do YOU feel when you look in the mirror … when your head hits the pillow at night … when you smile and nod and do the things, which you do each day, all day, every day, instead of doing the ACTUAL things you know you're meant to be doing?
It's exhausting.
It's draining.
It's KILLING.
Your soul.
And SAY WHAT YOU WILL, this is what your life is being made up of.
All the small things –
You had to do –
For a moment –
Before you could to doing THE actual things.
That's what your life is about now.
It's how you'll be remembered.
And it's what you'll have to face up to, one day, if you get the chance, before it all ends.
So, just an idea here; do with it what you like:
FACE THE FUCK UP TO IT NOW.
Take responsibility.
And for the love of God –
Remember …
Life is Now. Press Play.
Kat
Life is Now. Press Play.
Kat x

PS
I want to help you to build a business you LOVE, and that meets your every want and desire, in a real and true way, whilst also resulting in you making a LOT of money, fast, and impacting a lot of people, also fast, in the way you know you were born for!
My most transformative 1:1 intensive EVER … shifting people into EPIC income and success since 2016 is back, for the first time in 2019! I'm so excited to bring this signature transformative work back!
Rich Hot Empire!
Work With Me for 6-Weeks Personally to Grow Your Perfect Cult Tribe, Create and Launch Your Low-High End EMPIRE, and Set Up Multiple Recurring Income Streams to Take You to Multiple 7-Figures and Beyond, Doing What You Love!
This round is even more special as I will be re-recording all original content, with you there live with me and alongside me AND you will also receive all original content; the exact trainings which has made this program my most successful ever, with clients repeatedly saying they achieved more in 6 weeks with me than they had in 2 YEARS beforehand! This work is for entrepreneurs at ANY starting point, as it's about who you are as a person not where you're at. I've had clients anywhere from total start-up, to already doing 500k+ / year go through Rich Hot Empire and all who have done this work have gone to a level of income as well as alignment and FLOW which they couldn't previously even imagine!
6-week personalised intensive high level mastermind
Weekly group training and support; multi-media training: visual + audio
'Done for You' Templates and Step-by-Step Worksheets
Personalised 1:1 coaching included, plus DAILY unlimited 1:1 access
My personal hand on your business success
Weekly group coaching call and hotseat with my other private clients
24/7 mastermind forum, networking and support
Very limited spaces
Results guaranteed
Not for everyone
STARTS THIS MONTH!
I'm so excited to do this work with a small group of badasses who are willing to SHOW UP FOR THEIR SOUL no matter what. To walk away from all that is not serving, not actually working, not FILLING you. And to all yourself to bring your truest desires to life. If that's you, or you've felt the call to work with me at this level, PM me now. Bonuses and fast action-taker investments apply to all successful applicants, but for the first 5 to say yes there is a very special $2000+ bonus specific around Soul Shifts & Money Makin', and which, in and of itself even before we begin RHE will have shit changing for you FAST.
Apply via PM only. I can't wait to speak with you!
PPS
HAVE YOU JOINED PURPOSE PASSION FLOW ACADEMY?
My 'Going Fully Quantum' training will break down ALL of what we've discussed today, and teach you the finer details and finesse of it, as well as exactly what needs to be true for you to APPLY it, not only into the practical actions you need to create THAT money flow and THOSE results, but also in terms of ALL the energetics of it, especially the 'being and non-being' around dropping in to superflow so you can be shown, create, receive, AND of course the being around not being one of those people who just can't seem to choose faith and are ruled by fear. We'll also talk about creating and integrating the exact wording, beliefs, emotions, energies YOU need for all of this to switch effortlessly for you, as you've always known it would.
In other words: EVERYTHING you need to know to go fully quantum, and double your income in 30 days or less, or whatever else you choose!
Where will you find this training?
Why, it's one of the very first training in 'Remembering Who You Always Were', which. is our June intensive for Purpose Passion Flow Academy, my SUPER low-cost monthly membership mastermind!
And this training?
Will change your freaking reality. Well – it will REMEMBER it.
It's all available to you gorgeous.
You know this already.,In the quantum it is DONE. And in Purpose Passion Flow Academy, and especially our June intensive 'Remembering Who You Always Were'? We gon' done do it.