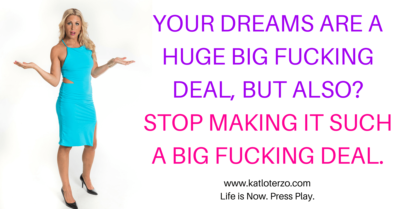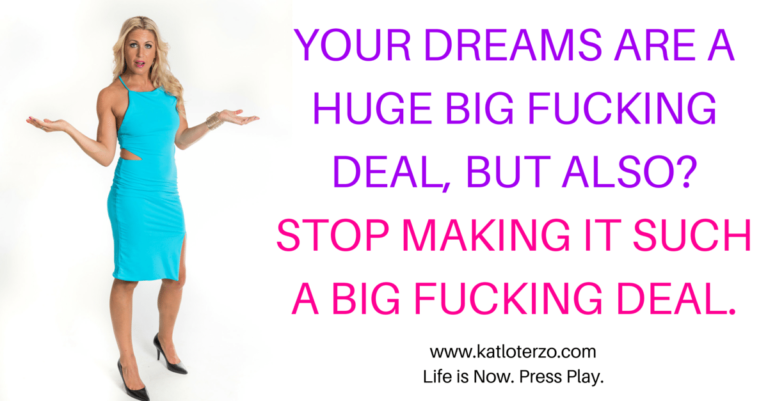 One of the toughest lessons I've had to learn in business (and life, no doubt!) is to let go of the mystic around achieving the impossible.
I was on a call with a client just now and she shared with me how she was quite scared to tell me her big dream, when we first started working together. And then quite … surprised? Maybe. Or really I guess RELIEVED AND RELAXED when my response to this thing, this thing she'd built up to be SO fucking big was pretty much –
"Okay. Cool.
Let's do it."
Now here's the thing.
I totally think that your big dreams (and mine) are a HUGE BIG FUCKING DEAL and should be given due import.
But at the same time?
They're really not such a big deal, and stop making them out to be some kind of magical mystical unicorn fucking IMPOSSIBLE thing you can't achieve!
There was a time in business when I used to think, and tell myself –
I can't do that –
It can't be that easy –
I'm not GOOD enough for that!
Not me –
Who am I to??
It's going to be SO FUCKING HARD slash impossible slash I DON'T KNOW HOW WAHHHHHHHHH!
And for as long as I thought all of these things and allowed these thoughts to rule me, do you know what I did about my BIG dreams?
Precisely fuck all.
I didn't publish my first book.
I didn't pitch myself to be featured in cool places.
I didn't actively work to attract in the clients I really wanted to work with.
I didn't even share my true message with the world, because hey! Who would want to hear that, it's so …. whatEVER.
Interestingly, this is VERY similar to what my client said tonight when I asked her how I can most help her right now.
Namely:
"I feel like my message is still too wishy-washy. I don't know how to put it out there!"
So, I asked her to share her message with me as though I'd NEVER heard it before.
And what I heard? Was so. fucking. powerful. Like I'm talking SERIOUSLY fucking powerful.
And what I said to her?
"Okay, firstly, that was incredibly clear. Not at ALL wishy-washy. But secondly, if you want to LEAD people you need to be a leader so they can follow, and this message of yours? This is fucking POWERFUL and also it is EVERYTHING. Because if people don't understand this they will live their ENTIRE FUCKING LIFE OUT OF ALIGNMENT. And then THEY WILL DIE"
Sound important?
Hell fucking yes.
Can it be packaged up, glossied up, shimmied up into some nice neat little elevator pitch? I guess so, but really, so the fuck what? What does that have to do with ANYTHING?!
You know?
Now here's where it gets really interesting.
For so long I told myself –
You can't be an author!
You can't write a book!
You can't do that!
Not like that!
Not you!
No way!
YOU'RE NOT GOOD ENOUGH YOU DON'T KNOW HOW AND BESIDES I BET NOBODY LIKES YOU ANYWAY!!
And then, do you know what I did? (I admit, it was some SEVERAL years later!!) –
I manned (womanned??) the fuck up and I did it anyway.
I started publishing a daily blog aka my current Daily Asskickery.
I published my first book.
I started a YouTube show.
I actively put out there what sort of clients I wanted to work with, the REALLY FUCKING COOL ones.
I started to claim OWNERSHIP. Over my message. My calling. The business and life I wished to create. Over ME.
Etc.
And do you know what happened?
Now THIS is equally still FASCINATING to me and also INFURIATING because I had to admit how hard I made it on myself for so long and how much SOONER I could have just started doing biz – life – me – the way I was born to!!
Here is what happened:
* People read my daily blogs. Then more people. Then they bought stuff. Then more people did. Then, somehow, it turned into a fucking epically huge business which now allows me to travel endlessly all the while doing what I LOVE and seriously just writing the stuff I was writing ANYWAY for ME first and foremost and somehow people wanted to work with me? A LOT? Huh! So .. that's kinda cool. For so long I told myself people don't want to hear what I have to say, or it's wishy-washy, or it would be REALLY FUCKING SCARY to put it out there  … (which it is, but sothefuckwhatright?) … and then, well, I got over it. And started saying what I thought. And … it turned into THIS? AWESOME.
* That first book moved so many people, who wrote to me and told me, and in fact to this day it is still my top seller (it's the Binge eating one), and since then I have self-published over 30 more books! Because, you know … I like to write. A LOT. And actually? Self-publishing is really easy! And actually? People then want to WORK with me when they read my stuff! HUH! SO FUCKING ANNOYING that I made it out to be such a big deal for so long! But also … pretty fucking cool.
* That first YouTube show which I filmed post-workout in a SUPER dodgy carpark in the Bahamas looking like absolute SHIT because I was so OVER the idea of having to bother with being glitzed and glammed up and just wanted to SPEAK SOME FUCKING TRUTH has since turned into over 70 … maybe 80? … somewhat daily super short messages of inspiration and truth. They take me literally 3-5 minutes to do. They are TOTALLY FUCKING RANDOM. I wonder if there's any point, if anyone cares, and whether maybe I SHOULD put some makeup on after all???? And then I get a message from a bit-time editor telling me: I watch all your videos. I LOVE them. You have to write for us. Etc. And I realise … huh. Really wasn't that big of a fucking deal to do. Just, you know – do it. Or don't. Meh. Either way, right?!
* Those clients I once dreamed of working with, the really COOL ones where they would ALL be truly KICKASS women entrepreneurs out there doing biz – life – everything on their terms and they were the REVOLUTIONARY FUCKING LEADERS, the 1% of artists, entrepreneurs and leaders and WHY WOULD THEY WANT TO WORK WITH ME??? Well the truth is that when I started just calling them in? They came. And now? I don't have a single client that I don't LOVE and wouldn't offer to share my bed with if need be. For realz. And there was a time I was TERRIFIED of most of my clients and truly did NOT like them! And then I just started making it into such a BIG FUCKING DEAL, and I just asked for what I wanted. And then got it. Huh.
* That dream I once had, of empowering others to truly press play, to identify what they wanted from life and then go out and CLAIM it, in business and in ALL of it, and where I for so long told myself I can't! Not like that! People don't want to hear that! Not from me! Well, you know what? I reached my FUCK THAT SHIT point after being over 100k in the hole and hating EVERYTHING and I just started doing what I wanted, in business and in life, and TOTALLY saying what I thought and believed, and following my path from the heart, and, well, owning it. And, well, when I owned it? Others listened. And followed. And bought. And everything I'd for so long told myself I couldn't have just became REAL. HUH.
So here's what it's about gorgeous:
Success, everything you dream of, the stuff you make out to be SUCH a big fucking deal, well it IS a big fucking deal but at the same time you know what?
Not such a big fucking deal.
Do it.
Don't.
Either way.
Just choose!
You know?
Just take the magic and the mystic out of it and realise that the MAGIC WILL STILL BE THERE because it IS as awesome as you think it is and yes it WILL definitely still HURT but at the end of the day you know what else???
You can either do it.
Or don't.
And either way?
You're going to sweat blood. Tears. Etc. And it WILL hurt. And NOTHING is guaranteed and who the hell knows WHERE you will end up, but either way you're going to live. Day by day. And you're going to put the effort in. Day by day. So, you know –
Might as well be for something that counts?
After all –
Remember –
Life is Now. Press Play.
Kat
Life is Now. Press Play.
Kat x

PS
I want to help you to build a business you LOVE, and that meets your every want and desire, in a real and true way, whilst also resulting in you making a LOT of money, fast, and impacting a lot of people, also fast, in the way you know you were born for!
My most transformative 1:1 intensive EVER … shifting people into EPIC income and success since 2016 is back, for the first time in 2019! I'm so excited to bring this signature transformative work back!
Rich Hot Empire!
Work With Me for 6-Weeks Personally to Grow Your Perfect Cult Tribe, Create and Launch Your Low-High End EMPIRE, and Set Up Multiple Recurring Income Streams to Take You to Multiple 7-Figures and Beyond, Doing What You Love!
This round is even more special as I will be re-recording all original content, with you there live with me and alongside me AND you will also receive all original content; the exact trainings which has made this program my most successful ever, with clients repeatedly saying they achieved more in 6 weeks with me than they had in 2 YEARS beforehand! This work is for entrepreneurs at ANY starting point, as it's about who you are as a person not where you're at. I've had clients anywhere from total start-up, to already doing 500k+ / year go through Rich Hot Empire and all who have done this work have gone to a level of income as well as alignment and FLOW which they couldn't previously even imagine!
6-week personalised intensive high level mastermind
Weekly group training and support; multi-media training: visual + audio
'Done for You' Templates and Step-by-Step Worksheets
Personalised 1:1 coaching included, plus DAILY unlimited 1:1 access
My personal hand on your business success
Weekly group coaching call and hotseat with my other private clients
24/7 mastermind forum, networking and support
Very limited spaces
Results guaranteed
Not for everyone
STARTS THIS MONTH!
I'm so excited to do this work with a small group of badasses who are willing to SHOW UP FOR THEIR SOUL no matter what. To walk away from all that is not serving, not actually working, not FILLING you. And to all yourself to bring your truest desires to life. If that's you, or you've felt the call to work with me at this level, PM me now. Bonuses and fast action-taker investments apply to all successful applicants, but for the first 5 to say yes there is a very special $2000+ bonus specific around Soul Shifts & Money Makin', and which, in and of itself even before we begin RHE will have shit changing for you FAST.
Apply via PM only. I can't wait to speak with you!
PPS
HAVE YOU JOINED PURPOSE PASSION FLOW ACADEMY?
My 'Going Fully Quantum' training will break down ALL of what we've discussed today, and teach you the finer details and finesse of it, as well as exactly what needs to be true for you to APPLY it, not only into the practical actions you need to create THAT money flow and THOSE results, but also in terms of ALL the energetics of it, especially the 'being and non-being' around dropping in to superflow so you can be shown, create, receive, AND of course the being around not being one of those people who just can't seem to choose faith and are ruled by fear. We'll also talk about creating and integrating the exact wording, beliefs, emotions, energies YOU need for all of this to switch effortlessly for you, as you've always known it would.
In other words: EVERYTHING you need to know to go fully quantum, and double your income in 30 days or less, or whatever else you choose!
Where will you find this training?
Why, it's one of the very first training in 'Remembering Who You Always Were', which. is our June intensive for Purpose Passion Flow Academy, my SUPER low-cost monthly membership mastermind!
And this training?
Will change your freaking reality. Well – it will REMEMBER it.
It's all available to you gorgeous.
You know this already.,In the quantum it is DONE. And in Purpose Passion Flow Academy, and especially our June intensive 'Remembering Who You Always Were'? We gon' done do it.