News
Fast Workout Advice To Keep You Feeling Fit And Looking Fabulous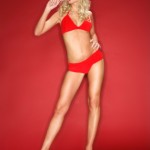 Plan For A Holiday Body That You're Proud Of Regular Mini-Workouts
This is the third article in the series 'How To Be In Great Shape For The Holidays'
How are your Christmas preparations going? Feeling calm and ready? You do know you've only got two weeks to go, don't you?
When it comes to gift shopping and food preparation, at least you can rest assured that it will be pretty much over come December 26. There'll be nothing to show for the craziness of this month except for endless left-over food, and a garbage bin full of wrapping paper. A few hours of domestic attention should take care of any signs that Christmas even occurred.
Except, of course, for the damage to your body. Are you on track to feel and look your best post-Christmas, or are you eating, drinking, and merry-making your way from party to party, convinced that if you don't really think about it then you'll somehow escape the detriment of holiday excess?
It's not too late. If you start today you can save your waistline and your health and still enjoy the holiday season. Mini-workouts are a great way to stay on track with your exercise regime at any busy time of year, but they're particularly useful throughout December and January. After all, if you're anything like me you'll want to make the most of the fun and frivolity, but I'll bet you also want to avoid losing everything you've worked so hard for leading up till now. Ps – even if you're not currently in a regular exercise routine, you can start using mini-workouts as a great way of creating that habit.
Before I get down to it, here are the links for the previous two articles in this series. I'd suggest going back over them if you're truly serious about being in great shape this holiday season:
How To Be In Great Shape Over The Holidays – Part Two
How To Be In Great Shape Over The Holidays – Part One
These two articles will teach you how to quickly assess your current physical state and health, and how to decide what matters most to you and set useful goals for the next 4-6 weeks.
Mini-Workouts To Help You Create Your Body Incredible This Holiday Season
It's Christmas. You're busy. We all are. But I'll bet you don't want to let everything you've worked hard for go to waste. Whether it's your health, your fitness, or your waistline, it's worth making an effort to stay on track with your exercise, and your Body Incredible. Don't make excuses, don't claim you didn't have time, because there is a solution. And it's a pretty simple one. It's about knowing how to burn fat, increase your basal metabolic rate (BMR), and sculpt your body all at the same time – all the while staying on top of work, family and Christmas shopping! Here's how: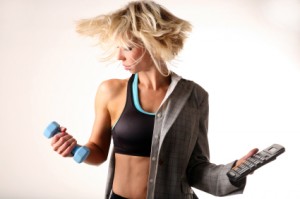 Focus On Weight Training. Now is not the time to be dilly-dallying around on the elliptical machine or the treadmill. The most efficient way to train for looking and feeling great this Christmas is resistance training. Workout out with weights will increase lean muscle which will lift your BMR and help you to release stored body fat.
Rest Is For The Wicked. Save the social training for the new year. Rather than the old '3 sets of 10', choose 3-4 multi-joint exercises and perform them back to back, with no rest between sets. Go right back to the first exercise, and repeat at least 3 times. This is one of the most effective ways of training hard in under 10 minutes, and – combined with a healthy eating plan – really can have you looking lean and feeling great in a matter of weeks. Never say you're too busy to exercise, just make the most of the time you've got.
Big Movement Matters. While it might be nice to take your time polishing your guns during the year, it's a last ditch effort at this time of year, and will not really impact your overall shape. Choose big movements that use several joints, and multiple muscles. This is the best way to shape up fast as you tone your muscles and burn fat. It will also cause your heart rate to elevate higher than most cardio workouts. Some of my favorite big movements are squats, lunges, push-ups, pull-ups, and wood chops.
Functional Exercise vs Machines. Machines might be easy to use, but they're nowhere near as effective as functional exercise. Functional exercise involves using your body in a variety of movements – replicating how our bodies are designed to move. It works you harder, uses more muscles, forces your core to get involved, burns more fat, and it's definitely more fun. If you're not sure what functional exercise is, check out this article.
Every Little Bit Counts. Incidental exercise really does count. I remember spending a couple of weeks two years back without my car. I must have pounded the pavement for a total of 90 extra minutes each day, even if it was all in bits and pieces. I've never been so lean. 90 minutes is a lot, and I'm not suggesting you trek into town if you really don't have the time. But Christmas parking is a nightmare anyway, so why not park a little further away, or walk when you can? Why not even add in the odd sprint for a block here and there. Even if you are carrying a heavy backpack! Every few seconds here and there where you can elevate your heart rate forces your muscles to strengthen and adapt, and your BMR to raise. Who knows – maybe this concept will even motivate you to get involved in that family football game come December 25th!
We're in the final countdown now. If you're not already filling every spare minute with Christmas parties or endless frustrating shopping expeditions, then you soon will be. There is no time to lose and every day really does count – so no more going through the motions of a daily walk or a cruisy cardio session at the gym. If you've been neglecting your exercise, well that's too bad, but it's not too late. I'm sure you can find a spare 10-minutes or so somewhere in your day – if it's truly important to you. Can't you? After all –
Life is Now. Press Play.
Kat
Don't forget –
Life is Now. Press Play.
Kat x
PS
I HAVE SOME BIG NEWS TO SHARE!
As of today, I'm opening up the doors to my Inner Circle, my 12 month private client mastermind.
This is THE most badass high level mastermind in the world for women who want it all – and are prepared to do what it takes to get it! Really what we're talking about is being prepared to be the PERSON.
And that's what I do. I help you remember ALL that you were, and then become it. ALL Of it.
This is my highest level private mentoring circle. The exact place where I have personally mentored dozens of this industry's most elite female entrepreneurs to break income barriers ranging from 10k months to multiple 7 FIGURE months, and everything in between. But more importantly than that – to become who and what they always were.
But know that this is not only (obviously) not just for the masses, this is also not just for someone who can afford to invest in a high level private coach. Being willing to throw money down is something which has absolutely zero correlation to being somebody who has what it takes to TRULY go next level as a leader.
If anything, in this industry, investing in a high level coach such as myself, is a rite of passage which veers just a little too much on the side of 'trend'. It's become something which 'everybody does', almost as a way of proving they play business and life a certain way.
Maybe even of trying to prove it to themselves.
Here is the reality which those who I am truly here to personally mentor and lead KNOW, the reality which my clients and all women like me as well as of course me personally have ALWAYS known:
We are VERY VERY DIFFERENT.
We are simply, smarter, faster, and have more presence. We can do more in our minds before breakfast than what most people can do in a freakin' WEEK, a month, a year.
We are not basic ass coaches trying to heave ho our way up a few extra thou a month.
We are the ones who have ALWAYS known we are 1% within the 1% within the 1% in terms of how we think, create, operate, how and WHAT we are tapped in too.
This is not arrogance, this is fact.
And there has NEVER been any question but that we will go all the way.
My clients are high level badasses who do the work, who have a proven track record BEFORE coming to me, and a BEING-ness which unquestionably separates them from the rest. They don't come to me to save them or lean down and hold my hand out so they can clamber up. They come because they are, quite simply, ready to go to the next level, already absolutely on their WAY there, and see in me something which they recognise because it is in them.
That 'can't stop won't stop' fire, and a level of 'unapologeticness' which, when truly understood and applied, can literally be the difference between 5-figure or low 6-figure and 7 or multi-7-figure entrepreneur.
So if you know who you are and it is THAT –
And you feel certain that you are ALREADY well on your way to to precisely where you're meant to be, but that being in MY energy could help you to drop in and get there even faster, and that with a couple of simple tweaks your current revenue could be doubling, tripling, heck QUADRUPLING and beyond in months, as it has done with numerous of my clients previously, well then –
PM me here http://m.me/katrinaruthofficial and we'll see if it's a fit. I'm excited to talk to you, and maybe – do biz and life with you.