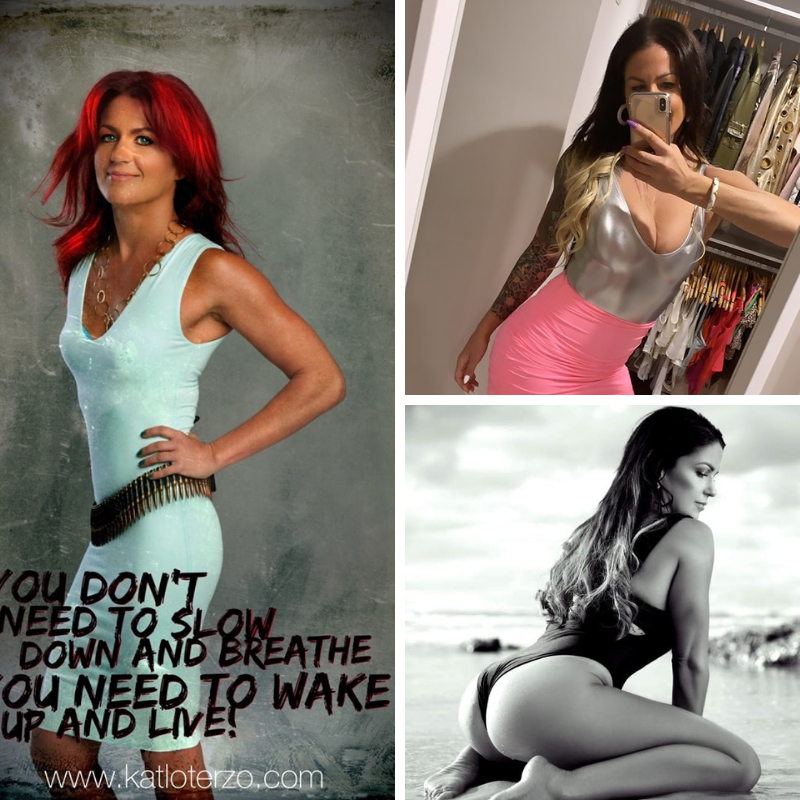 A couple weeks back, a 3 year old photo of me came up in my Facebook memories, which caused me to feel so much shock, followed quickly by curiosity, that it's taken me a few weeks of sitting with it to really understood what I was feeling, and what it meant.
The photo was one of my official branding pics from 2016. It was taken in July of 2016, in Los Angeles, as part of an amazing creative visuals project which I did with my good friend and incredible Brand Designer Chris Collins, and it was at the time one of the most 'fuck yes' pics of myself I'd ever seen.
I was rockin' some big Hollywood hair, I had one of my favourite dresses on, and for a belt I was wearing an ACTUAL bandolier – string of bullets. Real ones! We got 'em at 'the' official movie prop shop in LA. My hair was bright red at the time, and the look we were going for was BADASS AS FUCK.
Nailed it, too 
🙂
I felt confident, sexy, hot, and like I was REPRESENTING.
I used that photo a LOT, for months. I thought it was the hottest picture of myself I'd ever seen. In particular I liked how THIN I looked. I felt sleek, sexy, beautiful … and like you could see that I obviously have damn high standards about being lean and in amazing shape.
Which I do.
But anyway, this photo popped up in my memories like I said, and I literally stopped in SHOCK. I hadn't seen it in years, but obviously I remembered right away how to me that was 'the' photo which most expressed my hotness.
Which was motherfucking confusing to even CONSIDER when I saw it in my memories because actually ALL I could see, all I can see now?
Is how NOT feminine I looked. God, I was like a stick! No boobs, no butt, not a scrap of fat on me, nothing that you could have mistaken for a curve ANYWHERE. My hair looks pretty vibing, but what's funny is that at the time I HATED the hair being so big. I was nearly in tears at the photoshoot over how full on and 'not me' it was, and it took some pretty next level convincing from Chris to get me to go with it. I wanted SLEEK, tight, orderly, anything reflecting that I HAVE CONTROL OVER MY BODY AND WORLD.
Big ass sexy Hollywood hair is not that!
Now, I'm not saying that I now think that I look unattractive in this pic … but I am COMPLETELY taken aback that I thought I looked amazing. The now me is a good 6kg or so heavier (maybe 12-14 pounds), she has a noticeable and pretty damn well built (if I do say so) PEACH, she has boobs that are QUITE 'oh hi there', she has curves all over.
She is softer. More flowy. And her hair when not gym-rat hair is pretty messy sexy girly.
This is not a blog post about that my body has changed.
That I put on a little weight, and intentionally curved up.
That I have a pretty damn on point boobs to butt ratio from a side angle and not in the stick figure way like the first pic.
Or that I'm okay now with big hair!
I couldn't figure it out at first, when the photo came up. Why was it so shocking to me, why did it feel so WOW that that skinny little girl-not-woman look was my perceived ideal for myself? What's the big deal?!
And then this morning, I was trying to explain it to someone, and it hit me –
Oh BOY –
I used to think women with a curvy ass butt were WILDLY unattractive.
I HATED cleavage, thought it was gross.
The idea of being curvy and noticeably womanly in 'that' way was DISGUSTING to me.
Don't get me wrong –
I 100% know womanly can be any body type or shape, including the super skinny shape I used to carry, this is about my own story and just this one possible expression of femininity.
But yeah –
All of this tits and ass and curves and big hair and being so VOLUPTUOUSLY OUT THERE? Revolting.
I used to look at women with a body similar to what I carry now and I was appalled at how THEY were okay with it, or why any men would be attracted to it. So SLOPPY! Things just spilling over in places. Messy! Where's your damn self control? Tighten your shit up! I would think.
I tuned in on this a little as it came up this morning –
Why DID I think that for so long? Is it just that now I'm a little older, and more accepting of myself, have lost the crazy gym bunny ideals I had for so long, or – considering I'm still a crazy gym bunny and lovin' it – maybe just they've changed. Butts are in fashion, after all, more than they've ever been!
But nah –
It's not that.
Not that at all.
As I looked in awe again at this old photo this morning, shaking my head once more in astonishment that I thought that was PERFECT and that now I would be so sad for me if I didn't have all the shape I have now, it hit me –
Femininity was not safe.
Looking like this, gettin' around with a body that screamed I am a nubile sexual OWNING my Queen-dom WOMAN?
Not a fucking chance.
In a weird sort of contradiction, I definitely wanted everyone to think I was hot, and my idea of that was 'tiny and tight as possible', while at the same time, what I see now, is that on a sub-conscious level, I did not want to be seen at ALL.
It didn't feel safe.
So I kept myself streamlined, sleek, everything tucked nicely away, in fact my entire body sculpted so that there wasn't even anything left TO tuck away! Going so far with this ideal that even my HAIR was always (this pic aside) completely flat and glued to my scalp.
See, the choices I made, the growth I needed and chose, in the love and relationship area of my life, since way back now, well –
It did not teach me that it was safe to be a woman.
It did not teach me that I could surrender, or trust.
It did not teach me that I could let go and let being ME flow.
It did NOT teach me that I should allow myself to really be SEEN, because if I was SEEN, then wow –
I would be hurt.
I would be shamed.
I would be mocked.
My 'not good enough-ness' would be revealed.
And I would be WEAK.
'Femininity is WEAK', was the mindset I unknowingly signed up for.
I don't blame anybody for this.
There is no one single 'thing' which happened which resulted in me choosing into this.
It was not because of either of my marriages.
If anything you can say I chose into those marriages and what occurred there because I had already begun choosing into this story. I can remember always wanting the boys to think I was like them. Well, not always, but certainly from my early twenties on. I wanted to stamp out anything that showed I was weaker, or 'girly', couldn't keep up, was not tough enough, or like them. And, I always got the respect of the men from being so tough, so fit, so successful, and I still do.
I'm not saying I was a tomboy, I don't think that's what I mean at all.
I'm also not saying I didn't look like a hot girl to men, 'cause I know for a fact that I did a lot of the time.
The seed was planted who knows when, and certainly with the way things played out in marriage, I watered it like a motherfucker. It WASN'T safe to be feminine, because feminine is soft is weak is vulnerable can be hurt and I learned to God damn PROTECT myself.
The best way to protect yourself?
Shed away anything that is a pattern interrupt, that stands out.
It sounds funny, because in the pic where I am HIDING, I am wearing bullets and have flaming red hair. Not exactly hidden away. Total badass vibes!
But REAL Kat vibes? Surrender vibes? Trust vibes? I am WOMAN hear me roar vibes?
No.
That's not what I see in this photo.
I see a girl who was proud of herself for removing anything OVERT in terms of who she would be if her soul felt safe to FULLY be.
And now –
Now.
Wow.
I look in the mirror each day and I am proud and often have a cheeky little smile on my face as I twist and turn, maybe take an Instagram story, and admire the body I've intentionally allowed to spring free.
As far as the average about to turn 40 year old women's physique goes I'm pretty sure most people will think I'm crazy for suggesting my body is anything other than tight and lean and small.
I'm in great shape.
But that's nothing new, I have been since I first decided to be when I joined the gym at 17, looked at myself in the mirror and said "if I just keep doing this every day I'm going to look fucking amazing at 40, and have arms like Madonna's".
Done and done baby. #manifestedlikeamofo and #aginglikefinewine. Obviously.
What I see though, when I look at the now me, for ME, this is abundant overflow of voluptuous femininity. For ME this is a HUGE representation of allowing myself to feel safe to be a woman. For ME this is a pretty audacious LETTING GO OF CONTROL.
Letting things spill out, letting them curve out wildly, walking down the street with boobs and ass and all the in between bits and mad sexy hair, red lipstick blaring?
And I think she's ready for everything that a woman like this has always known she'll always have.
Which is of course exactly what has shown up.
When I thought it wasn't safe, it was not, and my reality reflected that.
Now? I'm seeing a whole different world in the mirror baby.
It's available for you too.
Don't forget –
Life is Now. Press Play.
Kat x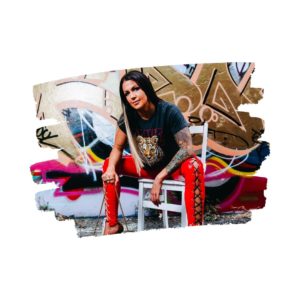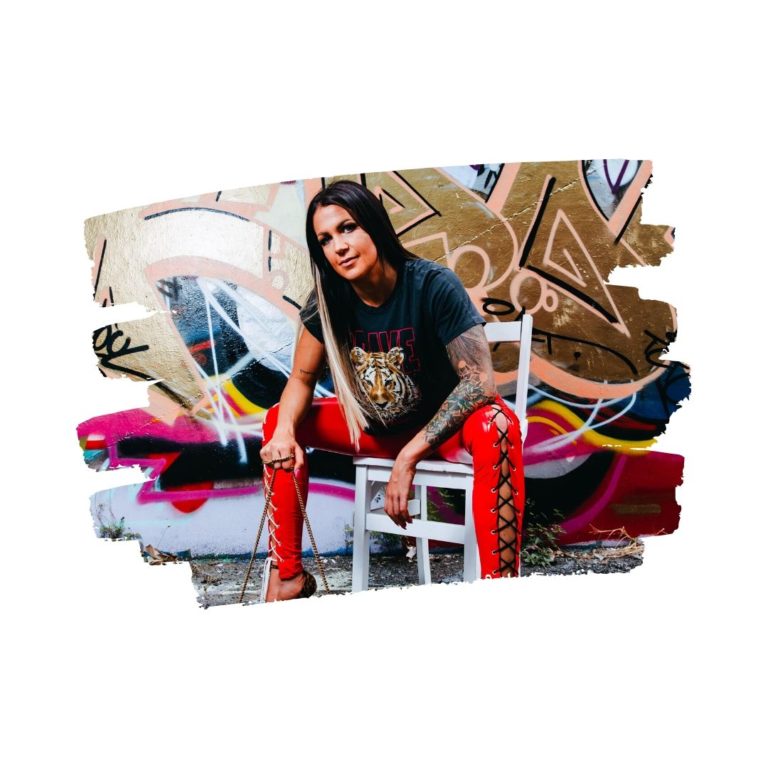 P.S.
I've been doing 100k months (and 4x+ that) since December 2014. I have mentored numerous badass peeps as they crossed that milestone. Now, for the first time ever, I'm taking you into the thought processes, patterns and also showing-up-edness of peeps who do THAT, while simultaneously teaching you how to access, activate and act from the deepest and truest blueprint of YOU.
My brand new digital course, The 100k Per Month Formula is HERE!
Are you sick of trying to teach and shift everyone else on how to expand their mindset and capacity to receive, and wondering where the person is who is going to hold THAT level of space for YOU?
Are you so.freaking.done with EVER having to tell yourself that the next level you're looking for requires you to do a, b or c that you don't wanna do, would rather claw your eyeballs out than do, thank you very much, and deep down don't believe you have to do?
DO YOU NEED SOME KAT IN YOUR LIFE TO KICK YOUR BUTT WITH ALIGNMENT AND LOVE AND MAYBE SOME BONUS BOOTY SLAPS TO WHERE IT'S MEANT TO BE?
The 100k Per Month Formula 

💃

💸

🔥
Registrations are off to a ROARING start already. And no small wonder, when you see all that we're doing.
10 modules + one extra (stealth!) one.
3 killer bonuses (including 2 entire new courses)
All new live course, starting June 8.
For the Entrepreneurs Who Were Always Gonna Run the Damn Thing.
You and me and a group of like-minded revolutionary leaders who specifically desire THAT money goal (and beyond) and know that they know that they know that it's where they should be.
Who are willing to do what it takes,
no matter what it takes,
until it takes,
AND THEN KEEP GOING.
To get there.
With integrity and soul and badass truth and BELLS on.
https://thekatrinaruthshow.com/100kpermonthformula
Check out the bonuses! 🔥
>>> Soulmate support $199 bonus.
A course I'm going to create alongside this one, and sell separately for a full $199, is on building a soulmate team. You will see me launch this at some point in the next month or so. You get this entire course FREE as a bonus with the 100k Per Month Formula!
>>> Mindset of a 100k Per Month and Beyond Entrepreneur –
I'm creating 30 days of journal prompts and mini asskickin' messages for you that go into the mindset of a 100k per month (and beyond) entrepreneur, in order to drop you deeper and deeper into being that person as we go. This is based on what I have observed in myself as well as the MANY badasses on and offline who I have coached who make this sort of money. This bonus could and likely will be sold separately for $199 as a home-study course!
>>> Q&A bonus!
My Q&As are famous for being one of the ways the GREATEST gold and magic comes out from me! You will have live access (and / or replay access) to two Q&A only sessions recorded JUST for 100k Per Month Formula students, and you'll be able to ask or submit your questions on these!
>>> Pay in full bonus!
Claim your place with the upfront payment choice (regular, VIP, or Super VIP) and receive an exclusive and UNAVAILABLE FOR SALE 'Fuck the How' Katrina Ruth graffiti T. Hot off the press, and just for you!
Everything you need to know and feel + your place here! https://thekatrinaruthshow.com/100kpermonthformula