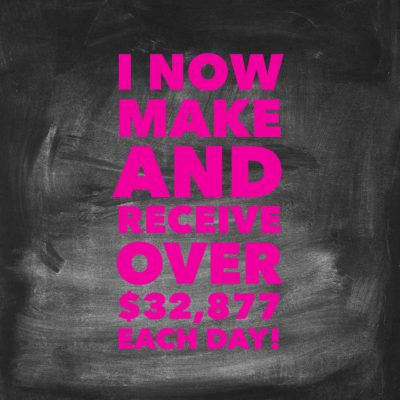 Last night I was messaging back and forth with one of my #RichHotEmpire private clients, talking about whether her new offer from that day had received any bites yet.
It's a high-end offer with only 4 places, and she had NOT yet received any response to what she put out. We started talking about it, just very casually – no magic talk or anything, just a FOCUS – and literally while we were messaging the first inquiry came in, then as we were exclaiming over that the second one came in! It was like she MANIFESTED the responses she wanted just by FOCUSING on it through our conversation! 2 out of 4 places potentially DONE, just like that, because her MIND turned towards basically ASKING for those responses.
When I say it was LIKE she manifested the responses just by focusing on it I actually mean it is that she DID manifest the responses just by focusing on it. I love these little reminders of how damn SIMPLE success is, don't you?
I mean, think about it:
You can have anything you WANT just by THINKING about it!
You can literally just decide you want something – anything! – no matter how big or out there or CRAZY – set your mind to thinking about it, repeat repeat repeat, and THEN IT WILL APPEAR.
Somebody should write about this or something, it's like the key to freaking LIFE! 😉
I am so grateful to at times be reminded just how powerful and true this is, because I think MOST of the time, like most people, I do my very very best to try and complicate things.
I make lists.
I TRY to plan (not very good at it to be honest; too busy thinking of the next thing I wanna create!)
I RESEARCH.
I look for the HOW.
Inevitably, I eventually get fed up with all this, metaphorically throw my hands in the air with a 'fuck it', and then just write down in my journal that it is DONE.
After which it becomes freaking DONE.
You'd think I'd learn eventually to NEVER go down the 'how' path again, yet with the BIGGER or more SCARIER things I still tend to do so; without at first realising. I hereby commit once again to focusing on what I WANT, and fuck the how!
This is not just some 'law of attraction' fantasy you understand. I find it hilarious how everyone who knocks manifestation or LOA type stuff doesn't see the irony in the fact that if you don't believe in it … if you don't FOCUS on it being true … if you INSIST that the road to success has to be a process of figuring out the HOW and then climbing your way there … then, well, DUH –
You're going to manifest THAT.
Aka: you do believe in the Law of Attraction and manifestation, since your reality is reflecting EXACTLY what you believe … as it always does and only CAN!! May as well just get over it then and use it consciously for what you REALLY deep down want!!
Anyway 🙂
Here is how I KNOW that I know that I know that it's true:
EVERYTHING I've created in my life – whether money stuff, body stuff, energy / emotional stuff, relationship stuff, lifestyle, fuck even what time of day I get up or how easily I sleep (right away, every time!), has come about because I BELIEVED IT.
My REALITY always reflects my IDENTITY.
Everything I STATE myself as being becomes true.
This is so much the case that my 'system' when I want something is that I start STATING MY IDENTITY AS ALREADY BEING OR HAVING IT.
Long before I made a penny from writing I stopped telling people I was a personal trainer and I started saying "I'm a writer". Reality HAD to then catch up.
When I couldn't get back in shape after my first pregnancy I simply started saying "I'm a hot, fit Mum!". Before long I was in basically the best shape of my LIFE!
When I wanted to break the million dollar mark in my business, I started DAILY writing out my income as though already RECEIVED, relevant to exactly how much the daily average of a million dollars a year is. Actually I did this ALL the way up the income ladder! I remember all my income 'marks' from over the years.
I remember writing out over and over again (usually it's my password; repetition works – focus works!!) that I earned $411 today … $679 …. $872 … $918 … $1384 … $2680 … $6700 … and NOW I see my DAILY affirmation on my phone that I earn cash RECEIVED over $32,877. That's 10 million a year, if you're wondering 🙂
I can honestly look back at EVERY POINT IN MY JOURNEY and my reality has always reflected my FOCUS, in EVERY area of my life!
It is ASTOUNDING to me that more people don't get and also ACT on, LIVE by this.
GETTING the CONCEPT of manifestation or focus is one thing … LIVING by it and saying "fuck you" to the how or anything that pulls you onto STEP BASED PLANNING rather than OUTCOME FOCUS is NOT the same as actually understanding the incredible power of focus.
You can't say you understand it if you don't live by it!
So why don't you just begin LIVING by it, then?
Why don't you just say a big FUCK YOU to the how, the fear, the uncertainty, the looking for the STEPS? And if you struggle to believe it or you think you HAVE tried but it's not working then FOCUS FREAKING HARDER!!
I often give my clients the assignment of doing manifestation / belief work at least 3x a day until their belief ACTUALLY FUCKING CHANGES, but the truth is I do this stuff all day LONG. I might only sit down and journal / write my reality once or twice a day, but all day every day I am guiding my thoughts further and faster in this direction!
So all of the STUFF I do in my business – the writing, speaking, creating, selling – all of that stuff is an outcome of my BELIEF.
And I can SHOW you the HOW but if you don't have the FOCUS it doesn't matter.
This is just one reason why I am so hellbent on doing the daily MINDSET work with my clients.
I show my Rich Hot Empire private clients EXACTLY what to do, day by day, and exactly how to do it, day by day, to implement EVERY element of online business.
I get them freaking launching and CLOSING within the first 7-10 days working with me for God's sakes!
I will teach you EVERY element of HOW to attract your cult tribe, get sales from day one, create repeat RECURRING income, and blow your empire to multiple 6-figures, then multiple 7. That is what I DO!
But you can bet your ass it won't be without teaching you – IMMERSING you in daily! – the INCREDIBLE power of focus.
You will GET what you expect.
You ARE who you believe you are.
You will CREATE precisely what you decide to!!
Don't forget –
Life is Now. Press Play.
Kat x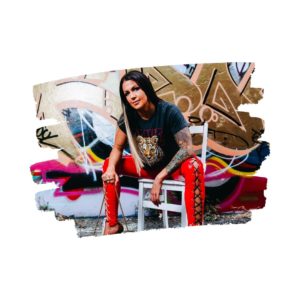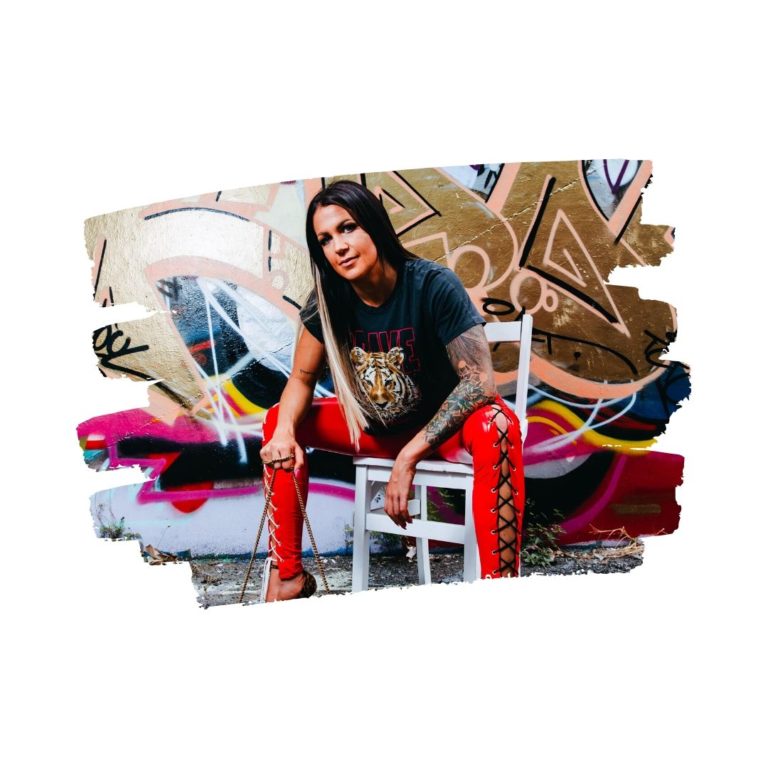 P.S.
I've been doing 100k months (and 4x+ that) since December 2014. I have mentored numerous badass peeps as they crossed that milestone. Now, for the first time ever, I'm taking you into the thought processes, patterns and also showing-up-edness of peeps who do THAT, while simultaneously teaching you how to access, activate and act from the deepest and truest blueprint of YOU.
My brand new digital course, The 100k Per Month Formula is HERE!
Are you sick of trying to teach and shift everyone else on how to expand their mindset and capacity to receive, and wondering where the person is who is going to hold THAT level of space for YOU?
Are you so.freaking.done with EVER having to tell yourself that the next level you're looking for requires you to do a, b or c that you don't wanna do, would rather claw your eyeballs out than do, thank you very much, and deep down don't believe you have to do?
DO YOU NEED SOME KAT IN YOUR LIFE TO KICK YOUR BUTT WITH ALIGNMENT AND LOVE AND MAYBE SOME BONUS BOOTY SLAPS TO WHERE IT'S MEANT TO BE?
The 100k Per Month Formula 

💃

💸

🔥
Registrations are off to a ROARING start already. And no small wonder, when you see all that we're doing.
10 modules + one extra (stealth!) one.
3 killer bonuses (including 2 entire new courses)
All new live course, starting June 8.
For the Entrepreneurs Who Were Always Gonna Run the Damn Thing.
You and me and a group of like-minded revolutionary leaders who specifically desire THAT money goal (and beyond) and know that they know that they know that it's where they should be.
Who are willing to do what it takes,
no matter what it takes,
until it takes,
AND THEN KEEP GOING.
To get there.
With integrity and soul and badass truth and BELLS on.
https://thekatrinaruthshow.com/100kpermonthformula
Check out the bonuses! 🔥
>>> Soulmate support $199 bonus.
A course I'm going to create alongside this one, and sell separately for a full $199, is on building a soulmate team. You will see me launch this at some point in the next month or so. You get this entire course FREE as a bonus with the 100k Per Month Formula!
>>> Mindset of a 100k Per Month and Beyond Entrepreneur –
I'm creating 30 days of journal prompts and mini asskickin' messages for you that go into the mindset of a 100k per month (and beyond) entrepreneur, in order to drop you deeper and deeper into being that person as we go. This is based on what I have observed in myself as well as the MANY badasses on and offline who I have coached who make this sort of money. This bonus could and likely will be sold separately for $199 as a home-study course!
>>> Q&A bonus!
My Q&As are famous for being one of the ways the GREATEST gold and magic comes out from me! You will have live access (and / or replay access) to two Q&A only sessions recorded JUST for 100k Per Month Formula students, and you'll be able to ask or submit your questions on these!
>>> Pay in full bonus!
Claim your place with the upfront payment choice (regular, VIP, or Super VIP) and receive an exclusive and UNAVAILABLE FOR SALE 'Fuck the How' Katrina Ruth graffiti T. Hot off the press, and just for you!
Everything you need to know and feel + your place here! https://thekatrinaruthshow.com/100kpermonthformula