Success Mindset
YES YOU'RE THE MOTHERFUCKING QUEEN AND OF COURSE YOU MANIFEST THE ULTIMATE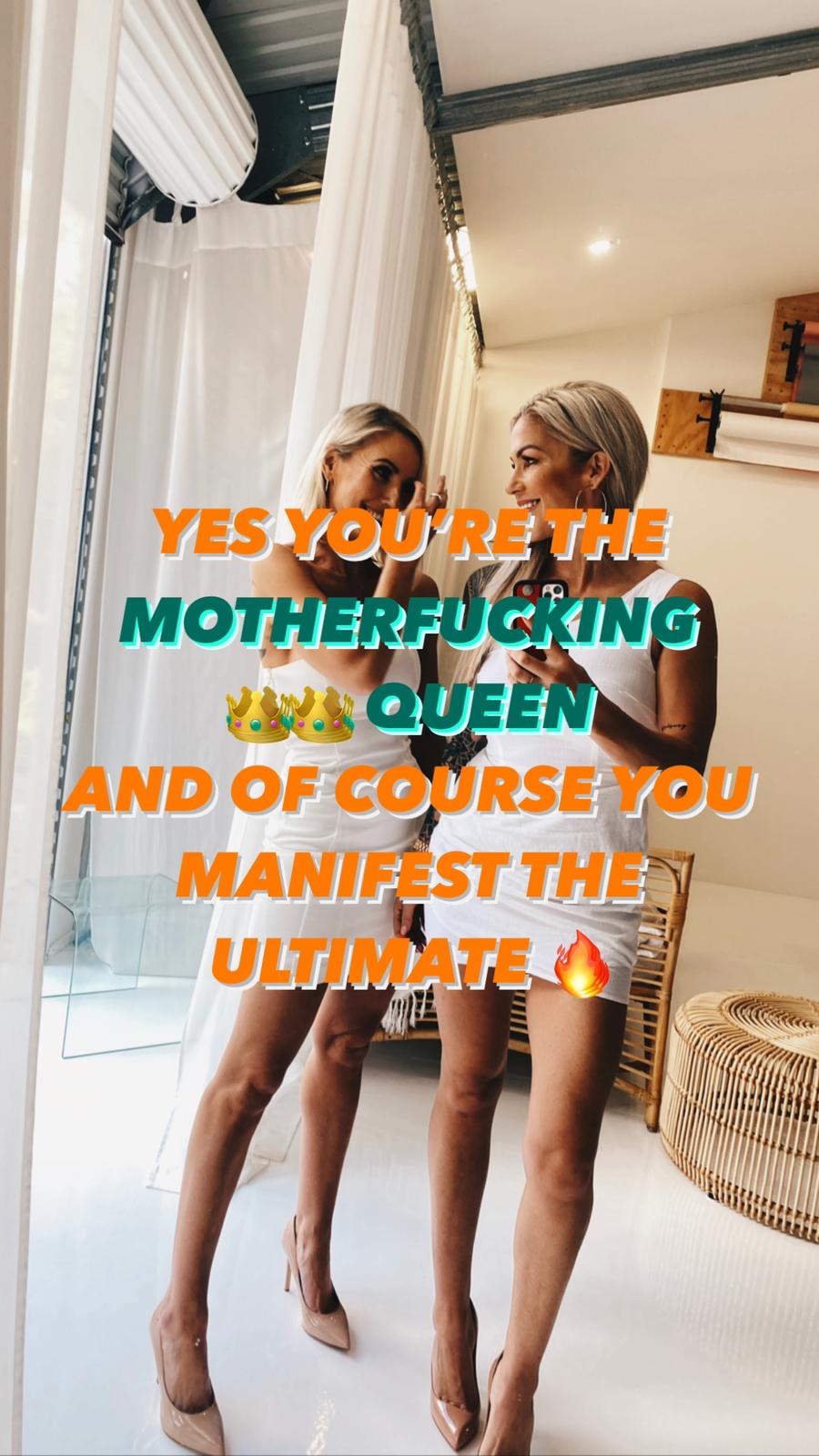 Somebody asked me yesterday if I had manifested the 'ultimate'.
We'd been talking earlier in the day about visioning, how I was taking an hour to lie on the top of the back of the couch (something soothing about that!) and just go into mine. But a few hours later when he asked me, I'd temporarily forgotten my visioning session and had no idea what the question was about.
"Which ultimate are we talking?" I asked. "I always manifest the ultimate!"
And the truth is – I do. I always end up with the absolute fuck yes best in existence and BEYOND my dreams version of every area of my life. But it hasn't always QUITE been that way, because it took me however long it took me to realise that
a) I always get to choose, so just choose better | different | more fuck yes as needed, and
b) I am the motherfucking Queen and so of course I manifest the ultimate.
Let's take a moment to remember what 'manifest' actually means though, yes? The word is flung around so readily and with so little intention most of the time, and is also utilised so often by people who create precisely jack.fucking.shit in their lives, which kinda makes it seem like a bullshit concept of wishful-preneur fuckery.
But actually, all it is is bringing to PHYSICAL (for example) fruition something which already existed elsewhere. In the energetic. On a quantum level. In the secret spaces of your soul, your spirit, the cosmos, and, if we're really gonna go there, the will of God!
MANIFESTING, at its truest, and relevant to the idea of 'magical life changes', is simply 'letting appear in the physical realm something which already exists and is yours'.
It's a very fucking tangible and also rock solid science / physics backed concept.
So the fact that I ALWAYS manifest the ultimate … the better than best version of everything I desire, see inside of me, yearn for, and my soul and God truth WANTS …
is not because I have some kind of ability to conjure up shit outta nowhere, and also – why TF would I want to do that?
Instead, it's because I conjure or more aptly said ALLOW it to show up from within me.
And since I am the motherfucking Queen,
I get the motherfucking best.
The more I get out of my own way, see it for what it is as THAT, and then square up and live my life like I know who I am and I am responsible to the gifts and also service God has given me,
the more it all just works,
and the BETTER IT GETS THE BETTER IT GETS AND KEEPS ON GETTING.
So call it magic if you want,
look to others who 'have it all' and put 'em on a pedestal of special abilities or conjuring tricks that you don't have if that pleases you,
or sit your ass down and be honest with yourself about where you're not living according to your God damn birthright,
sort your shit out and become the Queen (etc!) you're meant to be,
and then START EXPECTING THE ULTIMATE TO SHOW THE FUCK UP THE WAY IT OBVIOUSLY DOES FOR A WOMAN LIKE THAT.
Were you really thinking this whole 'mother may I' approach to life you've got going on was the one you wanted to keep running with?!
DON'T FORGET –
Life is Now. Press Play.
Kat
PS.
Is it time to go all in with me, 1:1? Breakthrough Private Mentoring is open now.
This is about BLOWING UP your business + money results …
by BREAKING off what is no longer needed or never was –
REVEALING the heart and soul and unapologetic raw wild YOU-ness of it all …
and combining the inner game | energetics | GOD-led supernatural + spiritual as well as the hands on do-the-WERK bits,
of being the leader who CAME here to make and impact millions –
start a revolution –
and knows that it is now TIME.
This is for you if you are already 'successful',
yet you feel in many ways as though you are barely warmed up
and you KNOW there is something so much deeper
Parts you've been ignoring
Parts which need breaking off
and an IMMEDIATE expansion of money | business | soulmate community but most of all YOU flow,
which gets to occur.
Message me,
IF IT'S TIME.