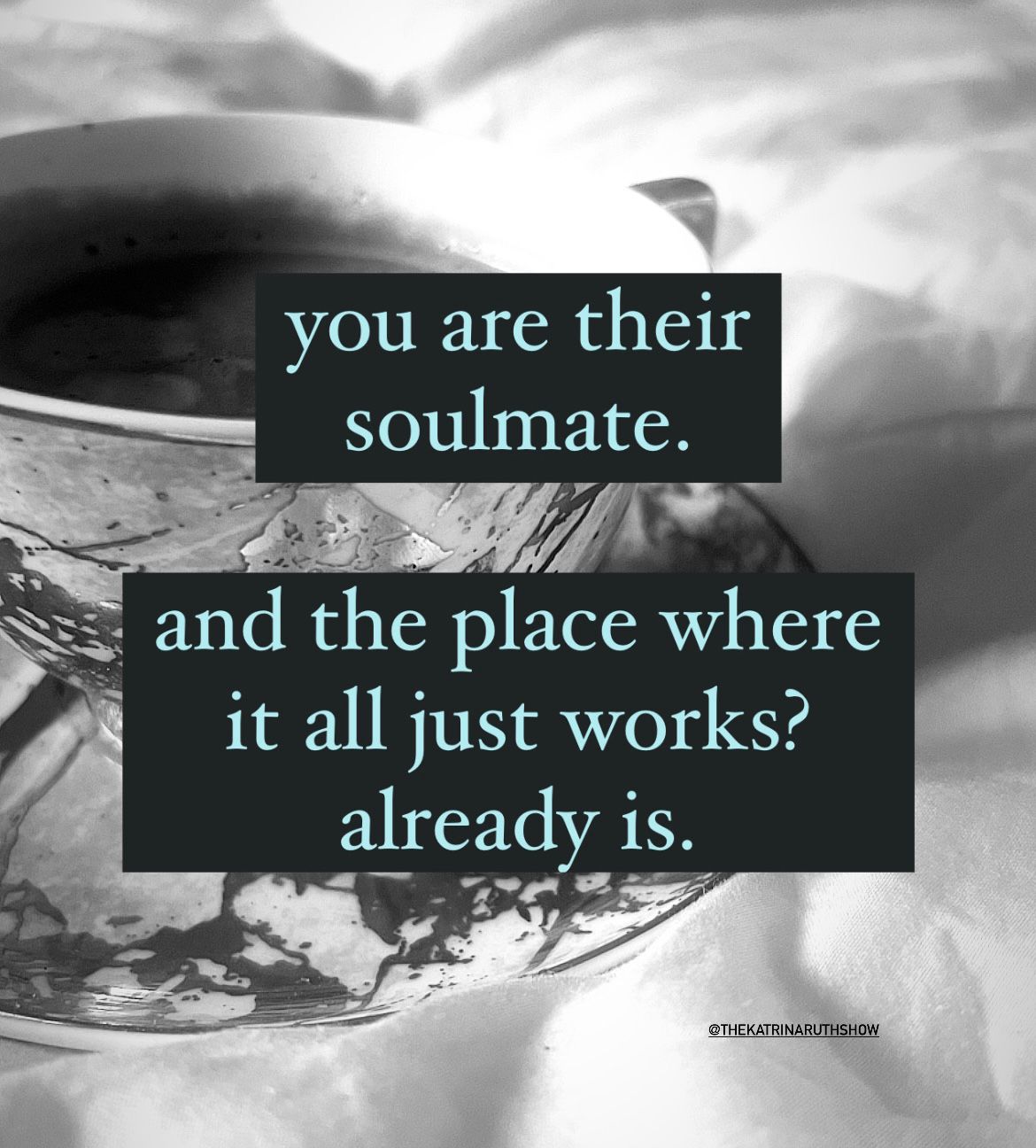 Your work is a salve to their seeking soul, a balm to their wounded heart, an opener and expander to excite their mind, and the activation?
They were meant to receive.
It's not just that they are YOUR soulmates, "I get to have my soulmate clients and audience!", ugh.
'Get to have'. Insert foot stomp-ity energy. Notice where in your life you are using this. Notice how it is pushing away what exists in the place of surrender, of freedom, and of already being, her. And now notice this –
it happened when you truly had just let go, and you were just –
there.
Doing.
Creating.
Pouring forth with.
Drifting.
Dreaming.
BEING.
What truly is true,
for this woman who is you.
You know –
the one you imagine and sense. Know. Have ALWAYS known.
Not the one you think about and push. Force. Worry. About missing.
And no. You don't 'get to have'. You ALREADY have, and are, and it IS. Your soulmate readers … clients … audience … people … LIFE … if they are for YOU,
then you are for THEM.
And the two of you already ARE. What already IS,
does not need to be GOT.
Do you get it?
Will you receive it?
x
How then, (you might ask), do you GO there?
To the place where it already is?
Beautiful dreamer, I'll tell you.
You close your eyes.
You inhale fully. You hold the breath. And RELEASE.
Let everything become a little bit blurry,
a little bit faded,
and free.
Maybe,
you wait.
And wait,
and wait.
Ahhh – there it is. You stopped caring. Stopped thinking. Stopped even,
to be.
It became about more than you.
It became about what must come through.
The place where everything always already was.
This is the place to visit each day.
This is the place where we write the play.
This is the place without which?
There's simply no way.
Because everything you long for and crave and know you 'get to have',
it's there.
GO there, my dear one.
And let the seeking,
retreat.
DON'T FORGET –
Life is Now. Press Play.
Kat
PS.
Is it time to go all in with me, 1:1? Breakthrough Private Mentoring is open now.
This is about BLOWING UP your business + money results …
by BREAKING off what is no longer needed or never was –
REVEALING the heart and soul and unapologetic raw wild YOU-ness of it all …
and combining the inner game | energetics | GOD-led supernatural + spiritual as well as the hands on do-the-WERK bits,
of being the leader who CAME here to make and impact millions –
start a revolution –
and knows that it is now TIME.
This is for you if you are already 'successful',
yet you feel in many ways as though you are barely warmed up
and you KNOW there is something so much deeper
Parts you've been ignoring
Parts which need breaking off
and an IMMEDIATE expansion of money | business | soulmate community but most of all YOU flow,
which gets to occur.
Message me,
IF IT'S TIME.