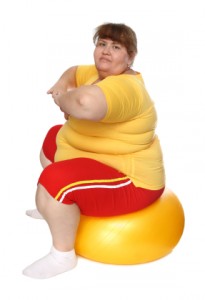 It's all over the internet lately – the question is 'does exercise work', and the answer seems to be a resounding 'NO'. Exclamation mark.
I'm sure you've noticed (haven't you?) that everywhere you turn, everywhere you look, there seems to be another trainer, health expert, or self-appointed guru popping up to tell you solemnly about the pitfalls of exercise.
extra! extra! exercise doesn't work!
Just in case you've missed the hype news, let's take a look at just a few of the devastations this seemingly healthy activity can cause –
It causes a stress response!
It can increase your lower body fat!
It'll ruin your posture!
It's aging!
It's robbing you of sleep, disrupting your body clock, and possibly even causing insulin resistance!
Aerobic exercise in particular is a complete waste of time!
Even if you are making smart exercise choices for health and fat loss you're probably doing it wrong anyway!
And let's not even talk about the fact that you're no doubt a lazy pig the rest of the day; all the while patting yourself on the back for having worked out!
when it comes to weight loss, does exercise work at all?
Well, apparently not.
According to this article by Time Magazine, even if you are somehow managing to forge ahead and feel good about yourself by working out regularly, you're probably just self-medicating yourself fat again by loading the calories afterwards.
"In general, for weight loss, exercise is pretty useless," says Eric Ravussin, chair in diabetes and metabolism at Louisiana State University and a prominent exercise researcher.
I mean seriously, why are you even bothering?
the facts on exercise and weight loss
It's true that more of us are going to the gym gym members than ever before, and according to one study quoted in the above article an average of 57% of us are working out nowadays, as opposed to just 47% in 1980.
But could it really be possible that that's just not good enough? Especially when you consider the impact a workout can have on your appetite:
"If you force yourself to jog for an hour, your self-regulatory capacity is proportionately enfeebled. Rather than lunching on a salad, you'll be more likely to opt for pizza."
does exercise work if the variables are right? heck yes!
(Or, Kat's rebuttal)
Firstly.
Am I the only one offended by the idea that I apparently have no self-control after working out? I don't know about you, but personally I find that I'm more motivated to eat well and move more when I'm training regularly! On the flipside, if I do have a couple of days off that's when I tend to become increasingly lazier and start snacking on food I don't need, healthy or otherwise.
'Fact': The new breed of experts say that exercise makes you hungrier, and that's a bad thing. I say bring it on – but with a side of knowledge about smart refueling (protein, greens, unprocessed starches if you're carb tolerant or lean).
'Fact': They'll tell you that people who pursue exercise as a pass-time tend to be less mobile the rest of the day. My response? It's all about your mindset. If you view exercise and healthy living as something to check off after a designated period of time each day then yeah, maybe you will spend the rest of your time lazing around munching on muffins. More likely – if you're motivated to train regularly or figure out exactly what you need to do to lose weight then you're probably going to commit to putting that effort in when it comes to nutrition and lifestyle as well as gym-time.
but what about cardio and stress?
I actually got so carried away on this train of thought for a few months there that I ended up writing
a definitive piece
on the good, bad and ugly of cardio exercise, just to make sure I made it clear that I definitely do
not
mean avoid it altogether.
points to take home (or to the gym :))
Here's what makes me cringe when I see blog post or article titles like 'Your Workout Is Making You Fat!' – and why I'll never write another post even remotely like that myself:
Scare tactics. If you have the motivation, determination and drive to set aside time to work out and challenge both body and mind, you deserve a massive pat on the back! All too many people whinge their life away, become unhealthier every year, and constantly blame someone else for their woes. You are doing something, and for that you deserve massive kudos, not fear and uncertainty.
Insufficient facts. These studies saying (often categorically) that exercise is 'bad for you' remind me of so-called research stating that eating high protein is bad for you. Yet when you look behind the summary you see that the protein they were using was processed, or poor quality (not organic and grass-fed), or combined with a sedentary lifestyle and processed carbohydrates. Just because some people may reward themselves with too many treat foods or a weekend of sloth doesn't inherently make exercise bad.
Gives you an excuse not to work hard. It's true that I don't love endurance cardio or group fitness as your primary source of exercise. I believe results are about working smart as well as hard, and to me that means a foundation of strength training, with cardio based around circuits and intervals. The occasional endurance session or class is fine for variety or just if you love it. But don't let anyone tell you that sweating is bad for you! The psychological benefits alone make it worthwhile in my opinion.
Implies you will make poor food choices. This one just needs clarifying. Structuring your exercise program around low-intensity cardio will indeed make you crave carbohydrates. This comes down partly to education, and partly to choice. You can choose to be prepared and organised about what you will eat after training (and beyond), and you can also choose to educate yourself about the smartest workout methods for fat loss. But don't throw the baby out with the bathwater.
does exercise work? well this certainly does!
If I had to come up with a definitive rule on exercise and weight loss in general I would say sure, abs are made in the kitchen.
Nobody ever out-trained a bad diet and all that.
But avoiding exercise because you're scared it will make you raid the confectionary aisle and to hell with the consequences? That's just insanity, isn't it? And nobody likes a crazy person 😉
Remember –
Life is Now. Press Play and GET MOVING!
Kat
Don't forget –
Life is Now. Press Play.
Kat x
PS
Programmed to Upgrade is happening gorgeous, and WHOOOOO MAMA is this the work that works.
25 days, you and me, 1:1, to quantum leap like you've NEVER leapt before.
This will be intense …
And a lil bit scary. But buckle up, because you KNOW you're ready for it.
SO fucking ready 😉
Programmed to UPGRADE!
25 Days, 1:1, with Katrina Ruth, to SCREW the Rules, SCREW the Norm, Go So Damn Extra, So Freaking Hot, So Fully SEEN, and Snap Your Future Into the Now So Damn Fast It'd Make Your Head Spin … even as you nod in certainty that of COURSE, this is what was ALWAYS supposed to be ..
Places are already filling, and we begin next week. If you know it's time to say yes to MAGIC, and creating your reality from the supernatural, and you're SO ready to drop the paradigm of always having to DO (and yet still not be there!) then message me now.
I'll get you the full overview, and talk personally with you about whether or not it's for you.
To the supernatural baby, and beyond …
PPS
I HAVE SOME BIG NEWS TO SHARE!
As of today, I'm opening up the doors to my Inner Circle, my private client mastermind.
This is THE most badass high level mastermind in the world for women who want it all – and are prepared to do what it takes to get it! Really what we're talking about is being prepared to be the PERSON.
And that's what I do. I help you remember ALL that you were, and then become it. ALL Of it.
This is my highest level private mentoring circle. The exact place where I have personally mentored dozens of this industry's most elite female entrepreneurs to break income barriers ranging from 10k months to multiple 7 FIGURE months, and everything in between. But more importantly than that – to become who and what they always were.
But know that this is not only (obviously) not just for the masses, this is also not just for someone who can afford to invest in a high level private coach. Being willing to throw money down is something which has absolutely zero correlation to being somebody who has what it takes to TRULY go next level as a leader.
If anything, in this industry, investing in a high level coach such as myself, is a rite of passage which veers just a little too much on the side of 'trend'. It's become something which 'everybody does', almost as a way of proving they play business and life a certain way.
Maybe even of trying to prove it to themselves.
Here is the reality which those who I am truly here to personally mentor and lead KNOW, the reality which my clients and all women like me as well as of course me personally have ALWAYS known:
We are VERY VERY DIFFERENT.
We are simply, smarter, faster, and have more presence. We can do more in our minds before breakfast than what most people can do in a freakin' WEEK, a month, a year.
We are not basic ass coaches trying to heave ho our way up a few extra thou a month.
We are the ones who have ALWAYS known we are 1% within the 1% within the 1% in terms of how we think, create, operate, how and WHAT we are tapped in too.
This is not arrogance, this is fact.
And there has NEVER been any question but that we will go all the way.
My clients are high level badasses who do the work, who have a proven track record BEFORE coming to me, and a BEING-ness which unquestionably separates them from the rest. They don't come to me to save them or lean down and hold my hand out so they can clamber up. They come because they are, quite simply, ready to go to the next level, already absolutely on their WAY there, and see in me something which they recognise because it is in them.
That 'can't stop won't stop' fire, and a level of 'unapologeticness' which, when truly understood and applied, can literally be the difference between 5-figure or low 6-figure and 7 or multi-7-figure entrepreneur.
So if you know who you are and it is THAT –
And you feel certain that you are ALREADY well on your way to to precisely where you're meant to be, but that being in MY energy could help you to drop in and get there even faster, and that with a couple of simple tweaks your current revenue could be doubling, tripling, heck QUADRUPLING and beyond in months, as it has done with numerous of my clients previously, well then –
PM me here http://m.me/katrinaruthofficial and we'll see if it's a fit. I'm excited to talk to you, and maybe – do biz and life with you.